Affiliate Disclosure: This post may contain some affiliate links, which means when you click, I get a small percentage of the purchase at no extra cost to you. This allows me to keep this website running, so feel free to click away! You can read my entire Affiliate Disclosure here.
If you're looking for a unique and budget-friendly travel destination that's steeped in history, culture, and beauty, Berat, Albania is the place for you. This UNESCO World Heritage Site has been called "the city of 1,000 windows" due to its traditional Ottoman architecture.
With winding cobblestone streets lined with colorful terracotta houses leading up a hillside overlooking the river Osum and numerous historical monuments dating back centuries interspersed throughout its picturesque landscape — there are plenty of things to explore during your stay in Berat. Let us guide you through all of them and help you find the perfect place to rest your head after a day adventuring through this stunning region of Europe.
How to Reach Berat
Berat is around an hour and a half car ride or a two-hour bus ride from Tirana. I took the bus, but I recommend renting a car if you are planning on doing an Albanian road trip throughout the Albanian Riviera.
The bus system in Albania can be very unreliable. There really isn't a proper bus schedule. Most of the time, you will show up at the bus station, say where you want to go, and someone will point you in the right direction to the bus.
Buses will generally leave when they are full. Sometimes bus drivers will leave with only a few people, sometimes wait for half of the bus to be full, and sometimes wait for the entire bus to be filled. There's no way to know in advance, so you must be flexible on time. Berat is a popular location from Tirana, so you probably won't have to wait for too long.
Things To Do In Berat
Castle of Berat
High up on a hill overlooking the stunning city of Berat lies the most popular attraction in Berat; Berat Castle. This ancient fortress, known as 'Kalaja e Beratit' in Albanian, was constructed in the 13th century and is fascinating to explore.
Visitors can wander through the maze of crumbling churches and Ottoman mosques, all with their own unique history and charm. From the top of the castle, there are sweeping panoramic views of the city below, making it the perfect spot for some awe-inspiring photographs.
Once a key hub for traders who journeyed between Europe, Asia, and Africa, Berat Castle is a treasure trove of history and culture and a must-visit destination for anyone traveling in Albania.
If you're heading to this magnificent castle, you have a few options to make your way up there. The first and most convenient is to drive, but where's the fun in that?
For a more adventurous approach, you can take the steep stone path up from the old town, which will require some stamina and determination, but the breathtaking views along the way make it well worth it. However, if you're feeling extra daring, why not take the somewhat harrowing hike up the back way? It may be a bit more challenging, but the payoff is incredible – the stunning views from above are truly unforgettable.
The trailhead is easily accessible, located on the north side of Rruga Antipatrea, and the hike should take you around 30 minutes to complete. As you make your way to the top, you'll pass by St. Michael's Church and get a great vantage point of the houses before entering the castle complex from the south end.
Holy Trinity Church
The Holy Trinity Church, situated within the walls of Berat Castle, is a definite highlight of the area. This medieval Byzantine church was constructed centuries ago, making it a fascinating example of the profound influence of the Byzantine Empire in this region.
The church's placement on the western side of Berat Castle offers stunning views of the city and the surrounding mountains, including Mt. Shpirag. Be sure to pack your camera when visiting Holy Trinity Church, as its location provides the perfect backdrop for capturing unforgettable photographs.
Onufri Museum
The Onufri Iconography Museum in Berat, Albania, is an absolute must-see for history and art enthusiasts. The museum's collection of icons, artworks, and artifacts serves not only as a testament to the resilience of Berat's religious heritage but also as a glimpse into the incredible talent of the artists who created these pieces.
The museum is located within the grounds of a restored cathedral, where visitors can marvel at the intricate frescoes and wood carvings that adorn the altar, amvona, and Bishop's Throne. In the gallery-style section of the museum, a vast collection of Orthodox icons and paintings are displayed, including some remarkable pieces by Onufri himself.
The museum offers a 90-minute English audio guide, which I recommend taking it as signage inside the museum is limited.
The Onufri Museum is located on the same hill as the Castle of Berat and the Holy Trinity Church, so make sure to check it out before making the trek back down.
Explore Mangalem Quarter (Old Town)
Berat's Mangalem Quarter was once known as the Ottoman Quarter, where Muslims resided, while Christians in the Gorica Quarter were separated by the Osum River.
Today, the Mangalem Quarter maintains that historic charm with well-preserved Ottoman-era houses boasting symmetrical windows. However, head to the Gorica Quarter for a truly breathtaking view of Berat's thousands of windows. Here, you'll see the windows lining up and stacked together, creating a unique skyline that showcases the city's distinctive character.
While numerous restaurants and bars in the Old Town have decent views, the Gorica Quarter offers the ultimate perspective of Berat's remarkable architecture.
Explore Gorica Quarter
When you cross the Osum River and enter Gorica Quarter, you will be welcomed to a quieter part of Berat. This district may not have any impressive landmarks, but it offers perfect views of the Old Town across the river.
Gorica is a gorgeous place where beauty lies in the details of its old houses. You can see the influence of Ottoman architecture in many of these structures, from the doorbell design to the Ottoman chimneys. To fully appreciate the charm of Gorica, take an hour or two to explore its crisscrossing cobblestone streets. And if you visit around sunset, be sure to go on a hike to enjoy the stunning sunset view.
Day Trip to Osum Canyon
There's no denying that Berat is a captivating city, with stunning architecture and a rich history. However, if you have some extra time during your visit, we highly recommend venturing out to explore the natural beauty of Osum Canyon. This impressive canyon is the largest in Albania, boasting breathtaking views and a peaceful, refreshing river perfect for cooling off in during the summer.
To fully experience the magic of Osum Canyon, we suggest taking a tour that allows you to see the gorge from above as well as hike down into the canyon itself. And for the adventurous types, summer rafting trips here are a must-do activity. While it is possible to drive to Osum Canyon from Berat, we advise booking an organized tour with reliable transportation to ensure a smooth and hassle-free journey.
Top Tours in Berat, Albania
Where to Stay in Berat, Albania
Hotel Colombo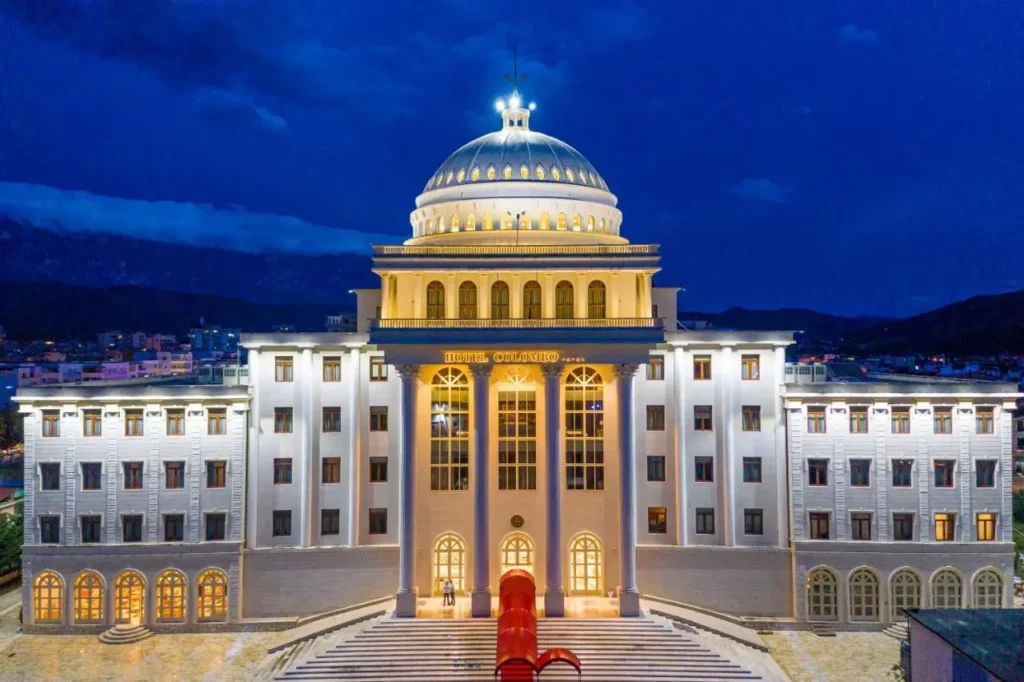 Stay in luxury and comfort at Hotel Colombo, a 5-star hotel located in the beautiful city of Berat. Relax after your journey with amenities such as an onsite fitness center, garden oasis, terrace restaurant & bar, plus free WiFi throughout the property.
Enjoy air-conditioned rooms that are fitted out with seating area flat-screen TVs, satellite channels, safety deposit box, private bathroom hairdryer, bed linen & towels – all designed to make you feel like royalty! Indulge yourself further each morning by taking advantage of breakfast options ranging from buffet to à la carte options or continental choices, followed up perhaps later by playing pool within this exquisite accommodation setting.
Hotel Rezidenca Desaret
Hotel Rezidenca Desaret offers a relaxing oasis in the heart of Berat. Just 500 yards from the Old Town, this accommodation provides visitors with stunning views and modern comforts. Guests will love unwinding in their air-conditioned rooms with flat-screen TVs, private bathrooms with shower facilities & complimentary toiletries.
There's also an on-site bar for guest enjoyment along with nearby attractions such as Ethnographic Museum (350 yards) or majestic Berat Castle, just 0.7 miles away! For added convenience, 24/7 front desk service is available, so you can make your stay hassle-free!
Hotel Vila Twix
Immerse yourself in the beautiful environment of Berat at Hotel Vila Twix, with stunning mountain views and a pleasant garden to explore. Spacious rooms are air-conditioned and come outfitted with comfortable beds, desks, flat-screen TVs, plus balconies or patios, depending on your selection — all providing breathtaking cityscape vistas!
Enjoy tasty buffets for breakfast each morning while the friendly staff provides excellent help around the clock in English and Italian. Come experience comfort like never before amidst this picturesque destination!
How long to spend in Berat?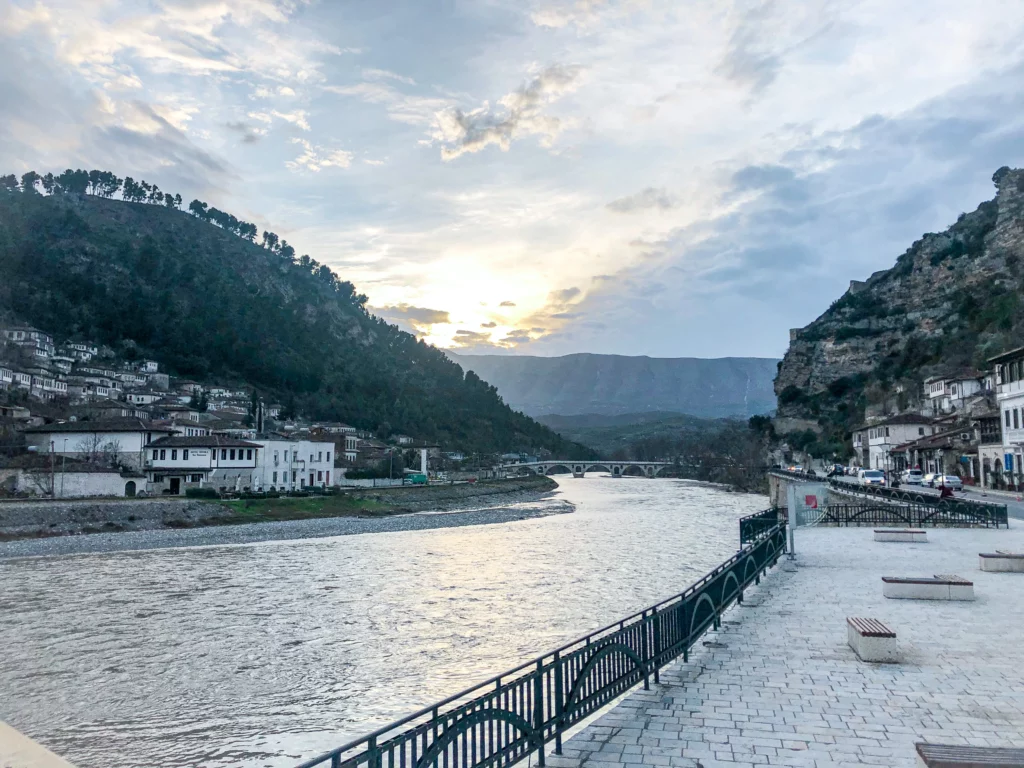 I only spent one night in Berat. I took the bus from Tirana in the morning and then left the following morning. Berat is a small town, so I think this was plenty of time. You can book a day trip to Berat from both Tirana and Saranda. I don't recommend trying to squeeze Berat in as a day trip unless you have your own transportation or you're joining an organized tour.
If you're coming to Berat from Saranda, you might also like to read up on these Saranda travel tips.
How to get around Berat, Albania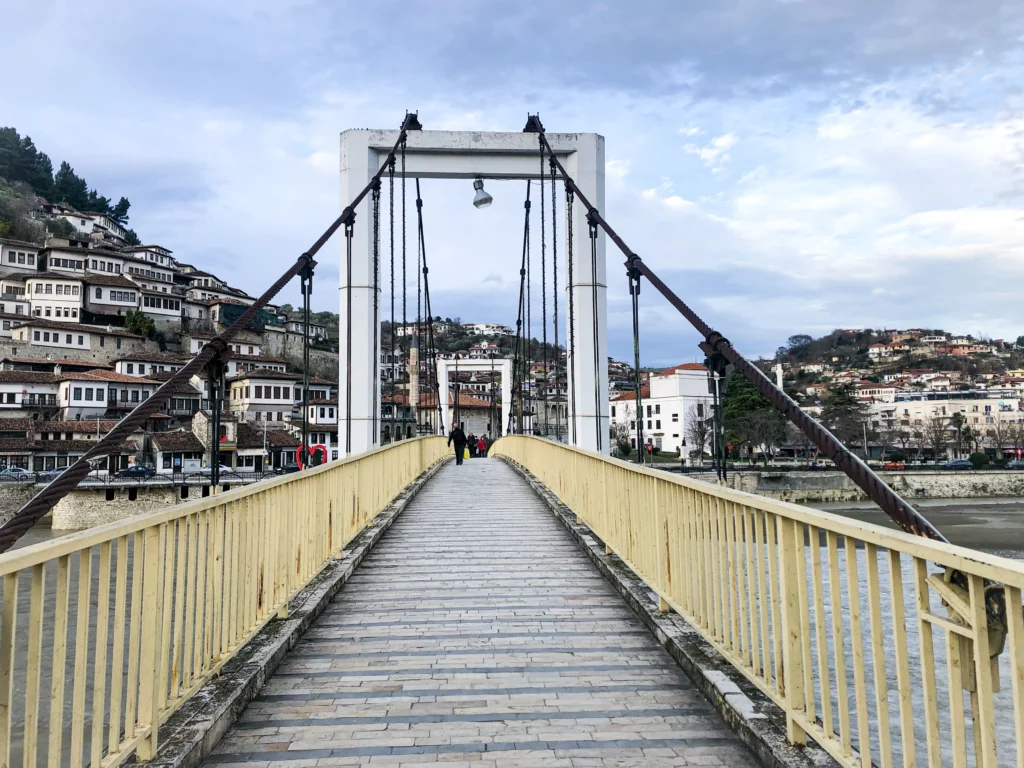 Berat is generally very compact and walkable, so you can explore it on foot without any fuss. However, some of the stone streets can be quite steep and uneven, so it's best to pack your best walking shoes to make the most of the panoramic views.
What to Pack For Berat, Albania
Check out all of my favorite travel products here.
The Best Resources For Traveling to Albania
Plan Your Trip to Albania
I have written some other blog posts that will help you plan the perfect trip to Albania!
Read Next: