Affiliate Disclosure: This post may contain some affiliate links, which means when you click, I get a small percentage of the purchase at no extra cost to you. This allows me to keep this website running, so feel free to click away! You can read my entire Affiliate Disclosure here.
The Albanian Riviera is a beautiful coastline that stretches along the Ionian Sea. Its gorgeous beaches and seaside towns are perfect for travelers looking for an authentic experience in Albania. This blog post will give you everything you need to know about this region, including where to stay, how to get around, and what activities are available.
The Albanian Riviera is the country's most popular tourist destination for both locals and foreigners. And with good reason! The coast offers a wide range of activities, from exploring the ancient ruins at Butrint to relaxing on the beach in Ksamil. With so much beautiful scenery on offer, it can be hard to decide what you want to do first – but don't worry, I've done all of that research for you! This Albanian Riviera travel guide will help you plan your visit step-by-step. So pack your bags and get ready because Albania has some incredible sights waiting for you!
The Main Cities to Visit in the Albanian Riviera
1. Ksamil
When I was in Albania, one of my favorite places to visit were the beaches at Ksamil. It's a small beach town located about 25 minutes south of Saranda, close enough for a day trip.
2. Saranda
Saranda, Albania, is a breath of fresh air for those looking to visit a country that still has the charm and authenticity of an undeveloped destination. The town is surrounded by beautiful beaches on one side and mountains on the other. It's also conveniently located a few hours' drive away from Albania's capital city, Tirana. If you're looking for a relaxing vacation spot where you can enjoy some time away from your everyday life, this may be just what you need!
Saranda is perfect for those who want to take in all that Albania has to offer. If you're looking for a romantic getaway with your significant other or just some time relaxing on the beach by yourself, Saranda should be at the top of your list!
Saranda is located on Albania's Ionian Coast, where many amazing beaches are only 10 minutes away by car from the city center.
3. Himare
Himare is a small town with an even smaller beach. The water here is crystal clear and perfect for swimming. Since Himare is relatively small, I wouldn't spend more than one day here.
4. Dhermi
Dhermi is the town in Albania that I was the most impressed with. Dhermi isn't too popular among tourists, but it is for locals. I wasn't planning to visit Dhermi until one of my Albanian friends posted about it on Instagram, and I knew I needed to go there.
Albania is a developing county and can be quite "rough around the edges." If you are looking for the nicest and most expensive place in Albania, I highly recommend Dhermi.
5. Vlore
Vlore is the former capital of Albania, and it is where the country declared its independence from the Ottoman Empire. Vlore is the perfect town to visit if you are looking for city life on the Albanian Riviera.
17 Things To Do in the Albanian Riviera
1. Ksamil Beaches
If you're looking for some of the best beaches in Albania, then the beaches in Ksamil will be your perfect destination. With its clear blue waters and sandy beaches, it's an ideal place to spend time relaxing.
There are plenty of places to lounge in the sun or shade, depending on your preference.
If you aren't the type of person that likes to sit on the beach all day, make sure to check out this paddleboarding activity in Ksamil!
2. Lekuresi Castle
If you are looking for one of the best views in Saranda, make sure to head up to Lekuresi Castle. This castle has a beautiful view overlooking Saranda, Ksamil, and Corfu.
The castle is now a restaurant where you can order a cup of coffee while taking in the view.
3. Blue Eye
The Blue Eye is a natural spring in Saranda, Albania. It is a famous freshwater spring with an average temperature of 10 degrees Celsius (about 50 Fahrenheit).
The Blue Eye is located about a 30-minute drive from the city center of Saranda, and it is one of the most popular tourist attractions outside the city. People come to soak their feet in its refreshing waters.
4. Hasan Tahsini Boulevard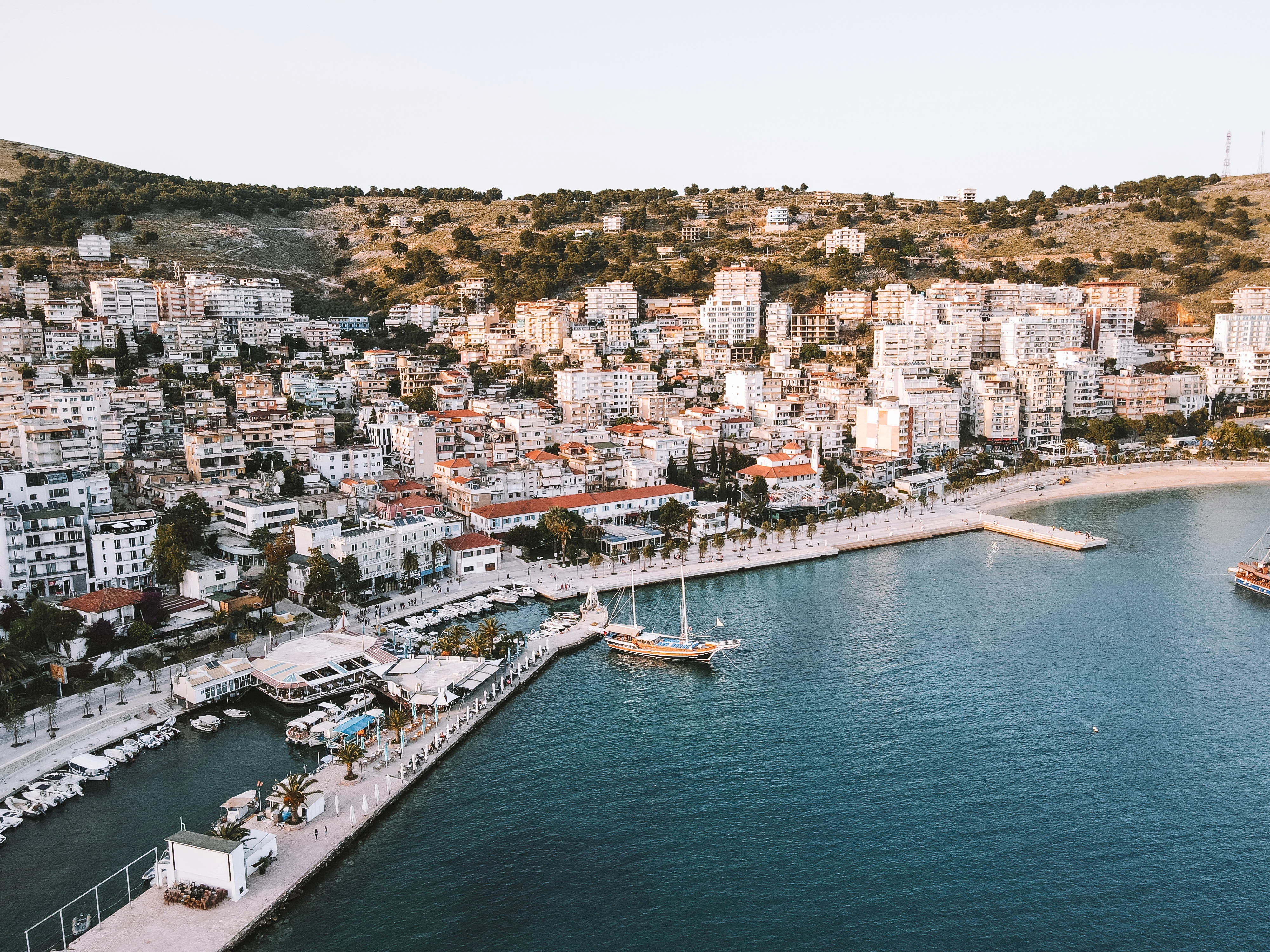 The Hasan Tahsini Boulevard is a street in Saranda, Albania. It was named after Hoxhe Hasan Tahsini, an Albanian astronomer, philosopher, and mathematician during the Ottoman era.
The boulevard has many shops and restaurants lined up. You can walk down the boulevard comfortably without cars passing by or crossing over into your path.
I highly recommend eating dinner at one of the restaurants on the Hasan Tahsini Boulevard one night in Saranda and watching the sunset.
5. Butrint National Park
Albania is known as a country with rich culture and history. One of Albania's best-known national parks is Butrint National Park. It contains the largest collection of ancient ruins in Albania.
The park contains such treasures as a Roman theatre, a Roman temple, and a Greek central square.
Check out this guided tour of Butrint National Park.
6. Ali Pasha Castle
The Ali Pasha Castle is named after Ali Pasha of Tepelene. It was built in the late 15th or early 16th century under Venetian rule, and it was the center of many conflicts of the Ottoman Empire.
The castle was destroyed in 1798 by a retreating French army so it wouldn't fall into the hands of Ali Pasha. Ali Pasha did end up getting control of the castle around 1804.
Ali Pasha castle is located very close to Butrint National Park. You can view the castle from a distance from a parking lot with a viewing platform. You can take a 20-minute walk down to get closer to the castle, but you can only reach the castle by boat or kayak.
7. Mirror Beach
Mirror Beach is one of the most beautiful beaches in Albania, located in Saranda. The water is crystal clear and perfect for swimming.
Mirror Beach is the perfect beach alternative to Ksamil if you are looking for something quieter.
The road leading to Mirror Beach is unpaved. Before I went, I read online that the drive can be pretty dangerous and scary. I decided to park my car at the top on the paved road and walk down to the beach.
Don't forget to bring a kindle or a book to read while relaxing on the beach.
8. Day Trip to Gjirokaster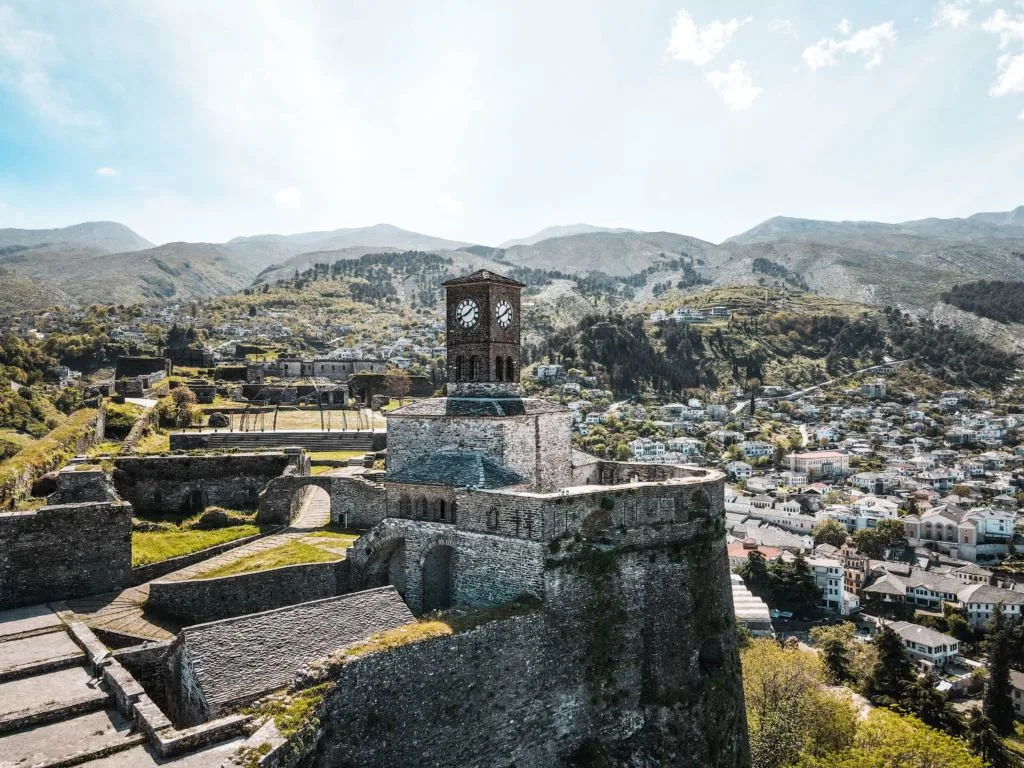 If you are looking for a day trip from Saranda with the perfect balance of culture and adventure, Gjirokaster is your destination. This ancient city is one of the most fascinating destinations in Albania.
Gjirokaster is a town located just over an hour north of Saranda. It is one of two UNESCO World Heritage cities in Albania, and it is worth a day trip to see the city while you are visiting Saranda.
Albania has tons of castles. In my opinion, the castle in Gjirokaster is the best, and the castle alone makes the trip to Gjirokaster worth it.
If you already have the Blue Eye on your itinerary, I recommend going on your day trip to Gjirokaster since it is located halfway there.
If you are interested in taking a guided tour of Gjirokaster from Saranda, check out this day trip here. You will depart from Saranda and head to Gjirokaster. In Gjirokaster, you will visit the Gjirokaster Castle, Gjirokaster Bazaar, Skenduli House, and see the Blue Eye on your way back to Saranda.
9. Visit the Beaches in Himare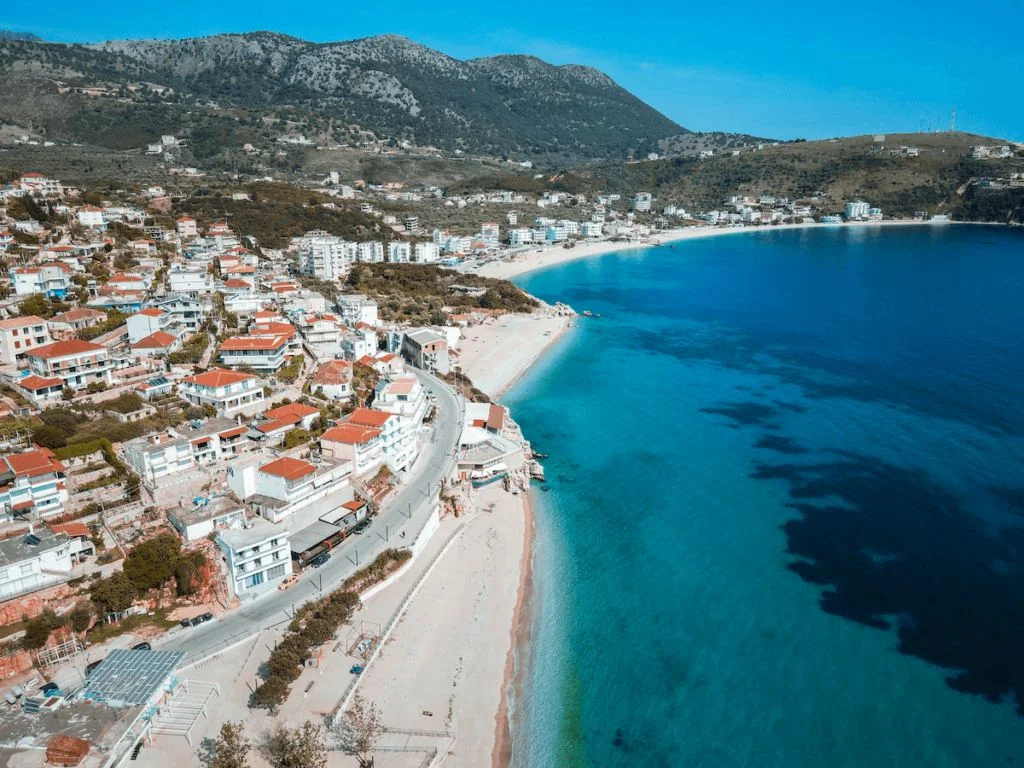 Himare, Albania, is a small town on the western coast of the country. You may have never heard of it before, but there are some incredible beaches that you should visit for your next vacation. The water in this seaside town is crystal clear and blue.
There are three main beaches in Himare: Spile beach, Prinos beach, and Potami beach. Locals frequent Potami beach and Prinos beach, but Spile beach is more popular among tourists because it's within walking distance from the center of town.
10. Porto Palermo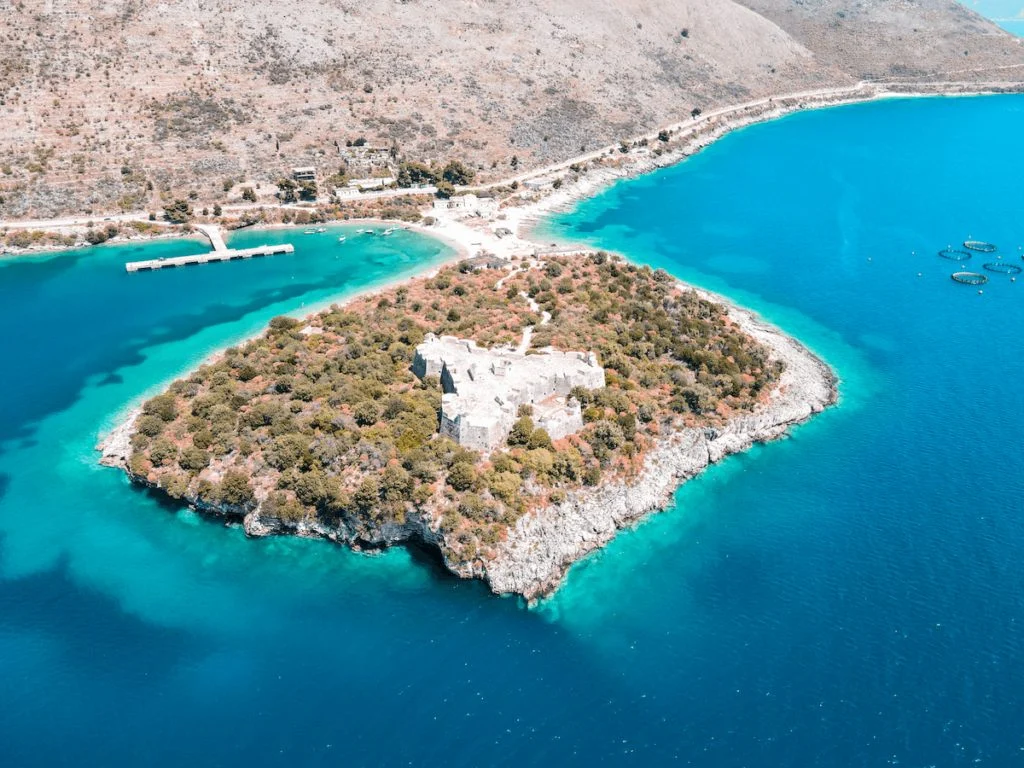 Porto Palermo is a must-visit while you are staying in Himare.
The main attraction at Porto Palermo is the castle. I've heard it called Porto Palermo Castle, Port Palermo fortress, and Ali Pasha fortress. You have to pay a small fee to explore the inside of the castle, but it is worth it.
There is also a small beach in Porto Palermo, but I recommend the beaches near the city center of Himare more.
It is not possible to walk to Porto Palermo from the center of town, and you will either need to rent a car or hire a taxi.
11. Himare Castle and Himare Old Town
The castle of Himare is situated on a rocky hill overlooking the town, and it offers the most spectacular views of Himare.
You will have to walk through the cobblestone streets of Himare Old Town to reach Himare Castle. The castle is free to enter, but it is pretty rundown.
You might even see a few mountain goats along your trek up to the castle.
12. Gjipe Beach
Gjipe Beach is a stunning beach on the Albanian Riviera, yet has none of the crowds. That is partially thanks to the 40-minute walk up and down each way to the beach.
If you've rented a car to travel around the Albanian Riviera, you can drive to the main parking lot, where you can pay 200 LEK (about $2) to park your car. From the parking park, you'll make the hike down to Gjipe Beach.
If you've rented a 4×4, you can drive all the way down to the beach. The path is quite narrow, though, and I'm not sure what would happen if two 4×4 were trying to pass each other.
13. Dhermi Beach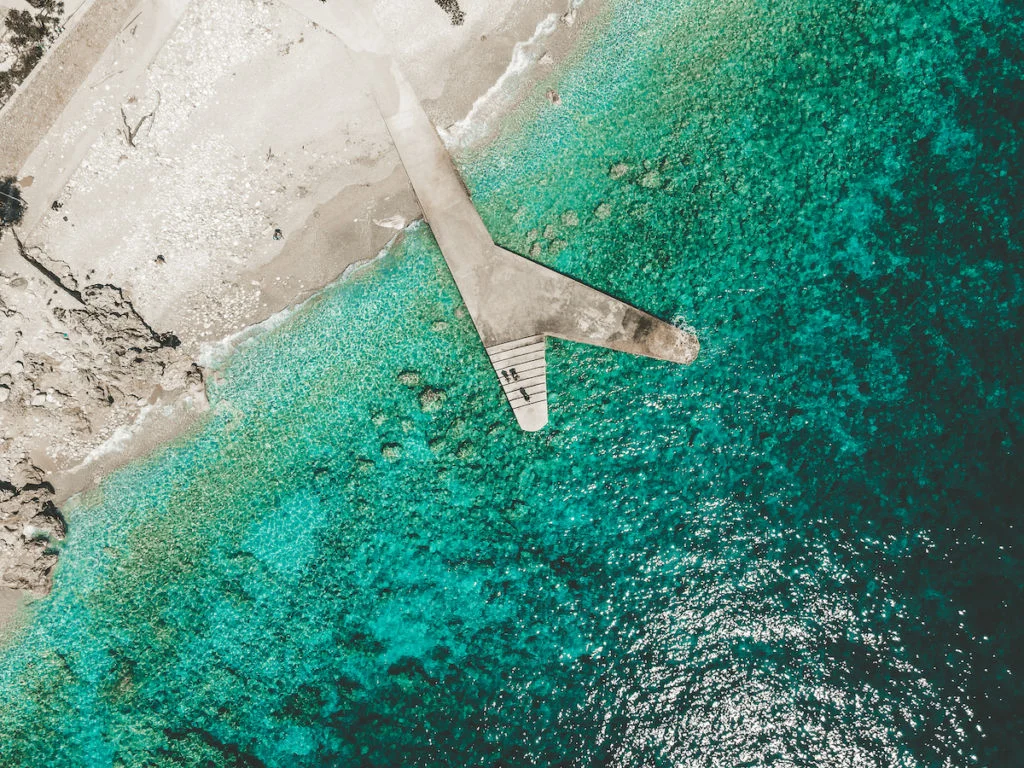 In my opinion, Dhermi Beach is the most beautiful beach in Albania with the most stunning scenery.
Dhermi Beach is has been a popular beach destination for Albanians for many years, and it is growing in popularity among tourists due to its beauty.
The water stays pretty cold year-round. It may be too cold to swim if you come during the spring or fall.
14. Drive Llogara Pass
When you are driving from Dhermi to Vlore, you have to go through Llogara Pass. The drive is worth it, with breathtaking views of the mountains and the sea along the way.
Llogara Pass is one of the most beautiful drives you'll ever take. It's a long, curvy road that takes about one hour to drive through. The best thing to do while driving on this pass is to enjoy the scenery and stop at various points along the way for pictures. You can also visit some of the local restaurants or cafes that are located along the way.
15. Zvernec Island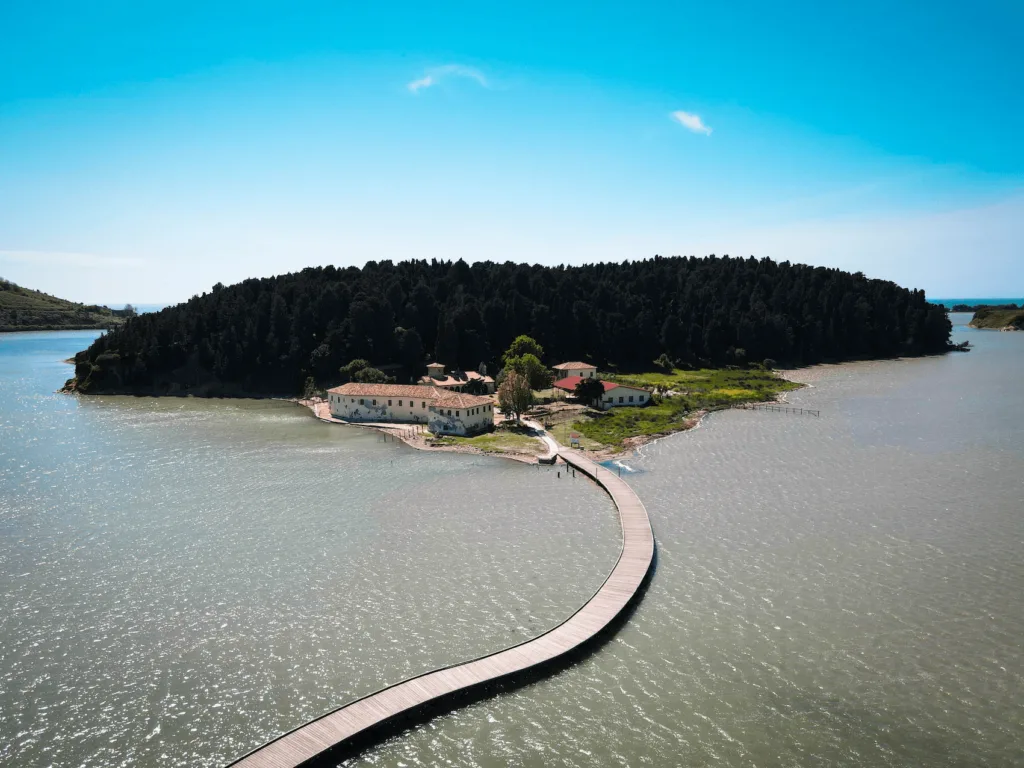 Zvernec Island is located about 13 km from the city of Vlore, and it is a must-visit place while in Albania. The island has a pine forest and a 13th-century Byzantine monastery. You can reach the island by a wooden bridge.
16. Stroll Along the Multi-Colored Building in Vlore
In Vlore, there are a few streets of multi-colored buildings that have coffee shops, restaurants, and shopping. These fun buildings are also very close to the Independence Monument and Muradie Mosque.
17. Take A Ferry From Saranda to Corfu, Greece
Did you know that Corfu, Greece, is located less than two hours away from Saranda by boat? While you may want to plan an entirely separate vacation to Greece, you could go for a day trip if you want a little taste of Greece during your stay in Albania.
The Best Time To Visit The Albanian Riviera
The Albanian Riviera is an up-and-coming destination for summer vacations. The beaches are well maintained, the weather is perfect, there are plenty of activities, and it is much cheaper than many other European beach destinations.
Summer is the best time to visit the Albanian Rivera when the temperatures can exceed 30 degrees Celsius.
While the Albanian Riviera does get a decent amount of tourists during the summer months, there are fewer crowds than in other European countries.
I lived in Albania for five months, and I was told to completely avoid Saranda until at least May because there is almost nothing to do there during the winter.
How to Get to the Albanian Riviera
There are no airports or international trains in the Albanian Riviera. If you are flying into Albania, your best option is the airport in Tirana. This was the only airport in Albania until July 2021, when an airport opened in Kukes. Kukes is even farther north than Tirana, so it is not the best option if you are taking a trip to only the Albanian Riviera.
Albania is also in the process of building a new airport in Vlore. Once this airport is completed, it will be the best option to fly into for a trip along the Albanian Riviera.
If you want to travel the Albanian Rivera by bus, you can fly into Tirana and take the bus to either Vlore or Saranda. These are the two best cities for starting your tour along the Albanian Riviera.
If you plan on driving the Albanian Riviera (this is what I recommend), then you can fly into Tirana and rent a car to drive to either Vlore or Saranda.
Another option is to fly into Corfu, Greece, and then take a ferry to Saranda.
How to Get Around the Albanian Riviera
You can get around the Albania Riviera by bus. Although this is the cheapest option, I highly discourage it.
The bus system in Albania can be very unreliable.
There really isn't a proper bus schedule. Most of the time, you will show up at the bus station, say where you want to go, and someone will point you in the right direction of the bus. Buses will generally leave when they are full.
Sometimes bus drivers will leave with only a few people, sometimes they will wait for half of the bus to be full, and sometimes they will wait for the entire bus to be filled. There's no way to know in advance, so you must be flexible on time.
Some cities are walkable, and others are not. You may end up paying more in taxis, time, and inconvenience by not renting a car.
With that being said, the best way to get around Albania is by renting a car. The great thing about renting a car in Albania is that you do not need an international driver's license.
Where to Stay in the Albanian Riviera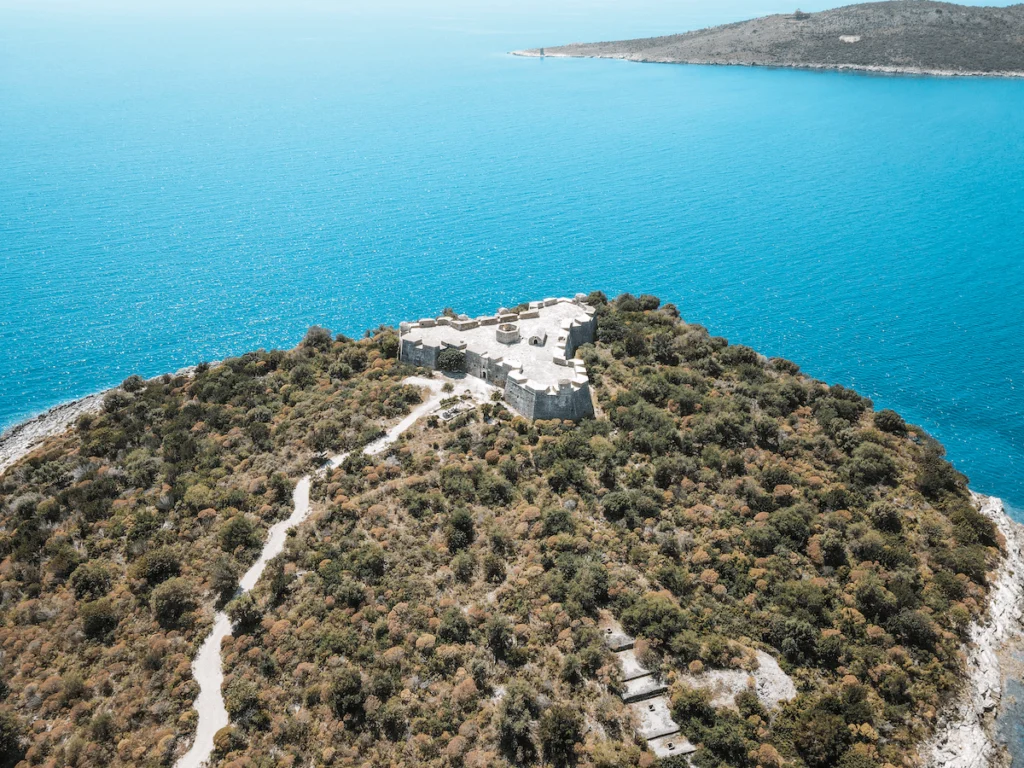 How Many Days to Spend in the Albanian Riviera
For this itinerary, I would recommend spending six days in the Albanian Riviera. You will be changing cities quite a bit. Luckily, Albania is a small country, so driving times won't be long.
Day 1 (Saranda): Visit Lekuresi castle, Butrint National Park, Ali Pasha Castle, and Hasan Tahsini Boulevard.
Day 2 (Saranda and Ksamil): Visit the beaches in Ksamil and Mirror Beach.
Day 3 (Gjirokaster): Take a day trip to Gjirokaster with a stop at the Blue Eye along the way.
Day 4 (Himare): Leave Saranda in the morning and drive for around an hour and a half to Himare. Spend the rest of the day in Himare at the beaches, Porto Palermo, and Himare Old Town.
Day 5 (Dhermi): Leave Himare in the morning and drive to Gjipe Beach. Gjipe Beach is located halfway between Himare and Dhermi. Spend some time at Gjipe Beach before heading off to Dhermi and spending the rest of the day there.
Day 6 (Vlore): Leave Dhermi in the morning and drive through Llogara Pass to Vlore. Spend the rent of the day in Vlore exploring the city center and Zvernec Island.
Is Albania Safe?
I spent five months living and traveling around Albania as a solo female traveler, and I never felt unsafe.
Albania is safe to visit and enjoy, but with the understanding that it is a developing country and there may be less desirable aspects of everyday life. There tends to be a lot of litter throughout the country, but you won't feel threatened. Make sure to take general precautions, and it never hurts to have travel insurance.
Things to Know Before Visiting the Albanian Riviera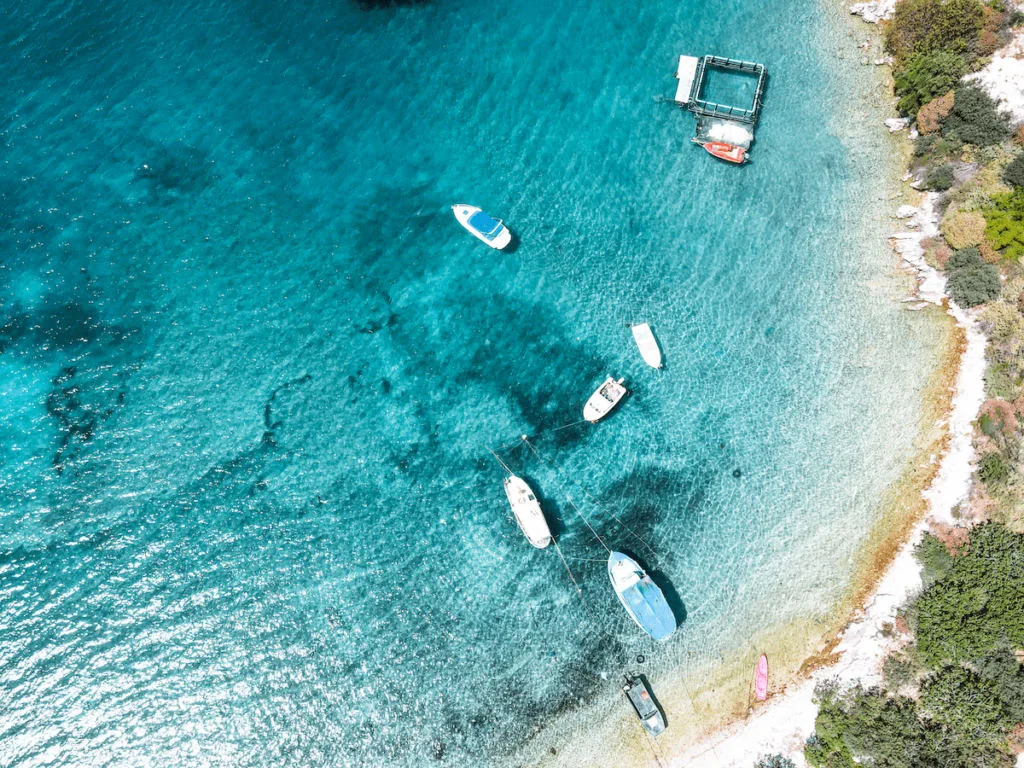 Driving: Although driving is the best way to get around the Albanian Riviera, driving is probably the most dangerous part of being in Albania. Many roads aren't paved, and Albanians don't follow driving rules that you may be used to in your country.
English: For being a country that doesn't receive very many tourists, I was pleasantly surprised by Albania's high level of English.
Cash Only: Cash is king in Albania. Most restaurants and shops will only take cash, not cards. I even stayed at a few hotels that would only accept cash. Albanian LEK is also a closed currency, meaning that you can only exchange it in Albania. Make sure you exchange your cash for Albanian LEK as soon as you arrive and exchange it back to your home currency before you leave. Otherwise, you will be stuck with it until your next trip to Albania.
Smartphone Data: I recommend buying a local SIM card once you arrive in Albania. It is inexpensive, and you won't have to worry about getting lost without any internet access. I usually recommend buying a Skyroam when traveling, but I could never get mine to work while in Albania.
Albanian Riviera Packing Guide
Check out all of my favorite travel products here.
The Best Resources For Traveling to Albania
Read Next: