Affiliate Disclosure: This post may contain some affiliate links, which means when you click, I get a small percentage of the purchase at no extra cost to you. This allows me to keep this website running, so feel free to click away! You can read my entire Affiliate Disclosure here.
Saranda is a popular coastal town located in Southern Albania on the Albanian Riviera. Before traveling to Albania, I had heard that Saranda has beaches that are just as beautiful as the ones in Greece, but without the Greek price tag to come along with them. Corfu, Greece is only about a 1 hour and 40-minute boat ride away, so it makes sense that the beaches in Saranda would be similar to those in Greece.
Saranda is one of the most popular destinations for Albanians to spend their holidays. The town allows you to enjoy gorgeous days without breaking the bank.
Note: The Albanian name for Saranda is Sarandë.
Top 11 Things To Do During Your Visit to Saranda, Albania!
Blue Eye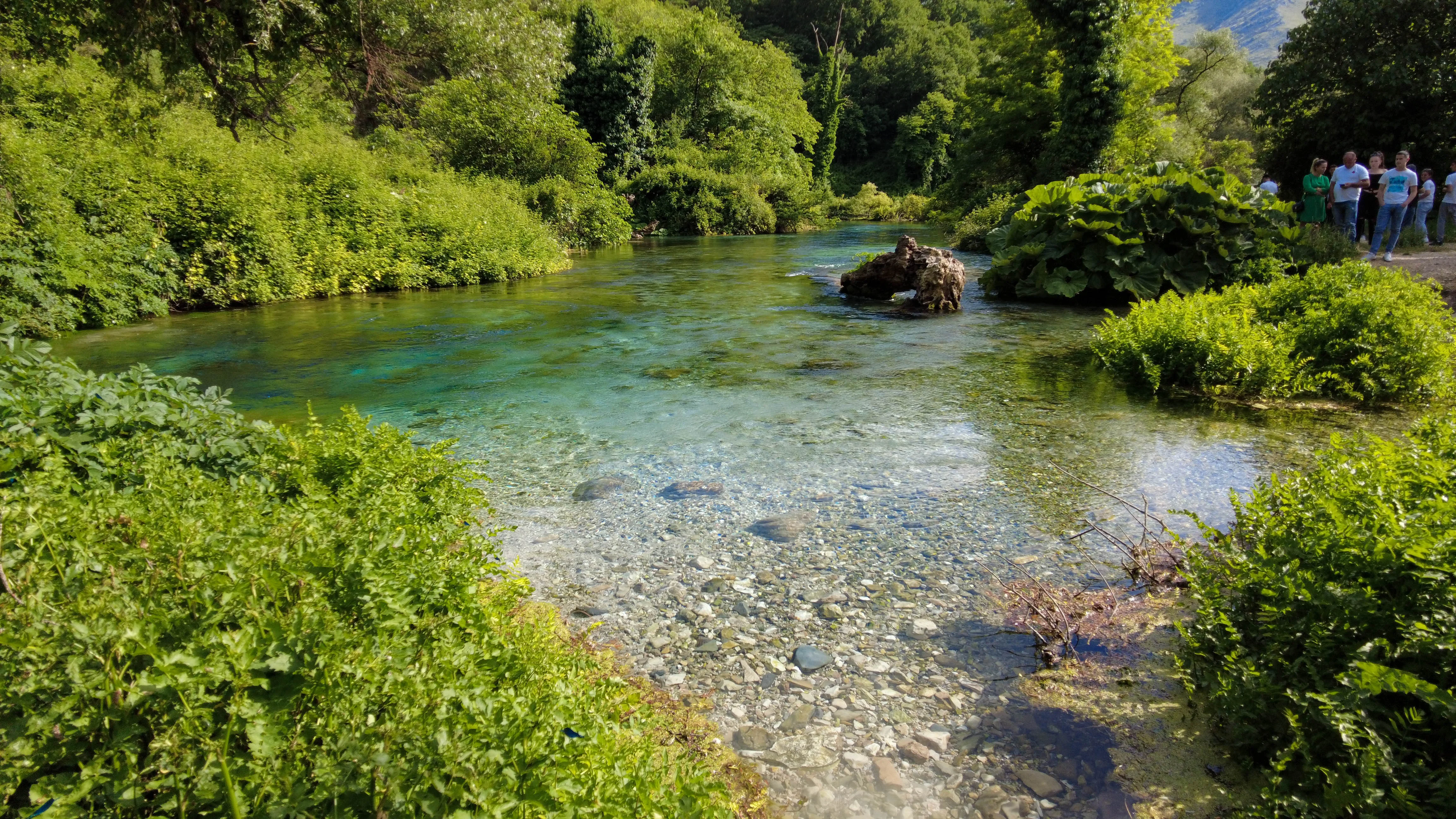 The Blue Eye, or Syri Kalter, is a natural phenomenon located about a 30-minute drive from Saranda. It is a famous freshwater spring that has crystal-clear blue water that is more than 50 meters deep. Divers have only been able to go down to 50 meters before needing to come up because of the extreme pressure, so no one can confirm how deep the Blue Eye really is. You can put your feet in the water, but, warning, the water stays cold year-round.
While you can definitely visit the Blue Eye on your own, here is an option for a guided tour.
Monastery of Forty Saints
The Monastery of 40 Saints is located on top of a hill located near Lekuresi Castle. It is abandoned today, but it does have an important meaning. Saranda comes from the Greek phrase "ayia saranta," which means '40 saints. The most famous legend about the monastery says that in the year 320, 40 Christians were put to death when they refused to abandon their Christian faith. Because of their defiance, they were forced to stay out in the freezing winter temperatures and left to die in the cold.
Lekuresi Castle
Lekuresi Castle has a beautiful view overlooking the town of Saranda, Ksamil, and Corfu. While the castle dates back to Albania's early Ottoman times. Nowadays, the castle houses a restaurant where you can grab a bite to eat or drink a cup of coffee while taking in the view.
To get to the castle, you can either hike for 30-40 minutes (warning: it is quite a hill). You can also get a taxi from the city center. I rented a car to drive to Saranda, so I drove up to the castle.
Ksamil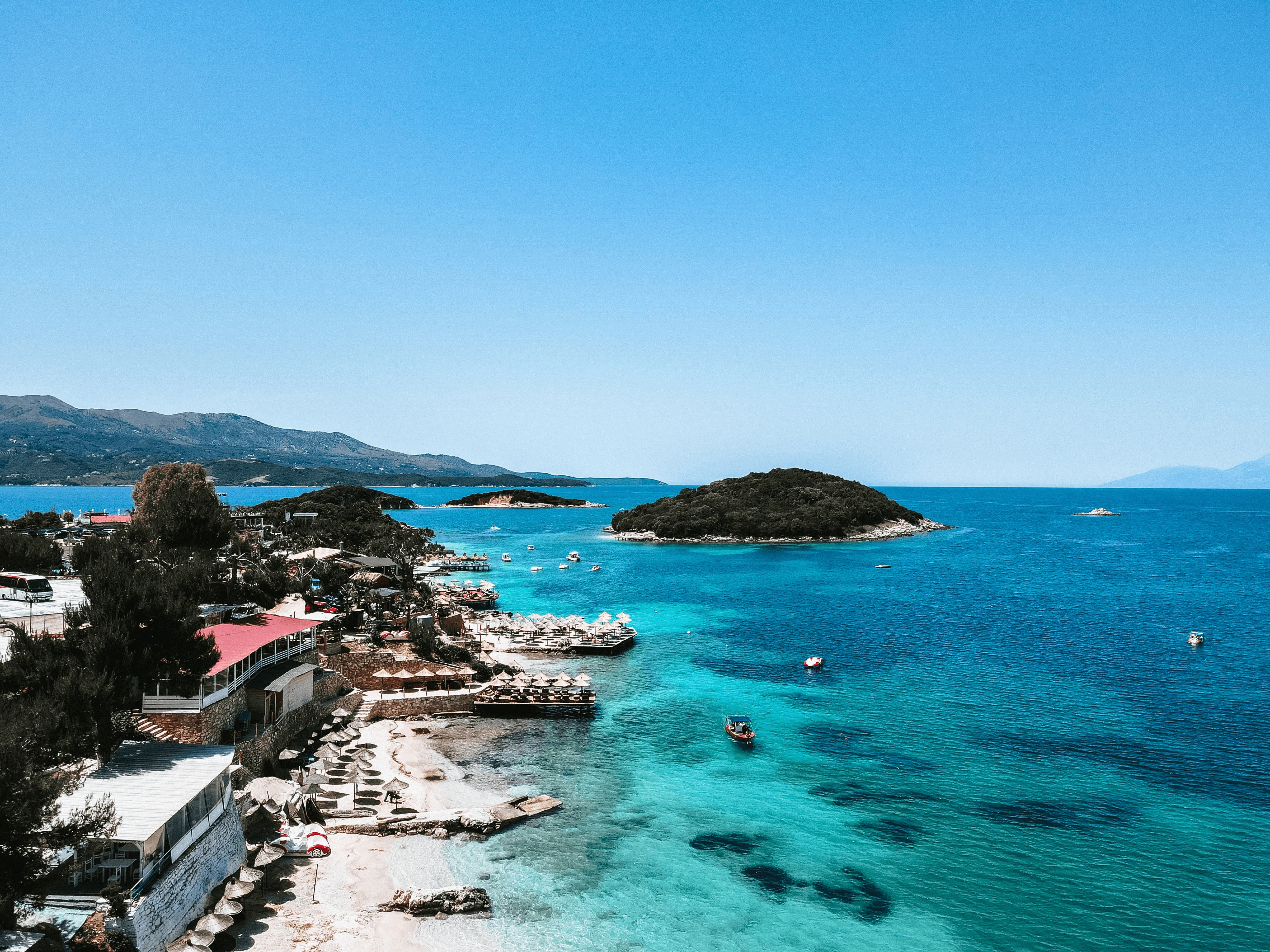 Ksamil is located just a 20-minute drive south of Saranda and offers one of the best beaches in all of Albania. The beaches are filled with beach chairs and umbrellas. There was a lot of construction going on when I visited to build more bars and restaurants. I am excited to see how much more Ksamil has to offer within the next few years.
Don't want to sit on a beach and relax all day? Try this paddleboarding activity in Ksamil!
Stroll the Hasan Tahsini Boulevard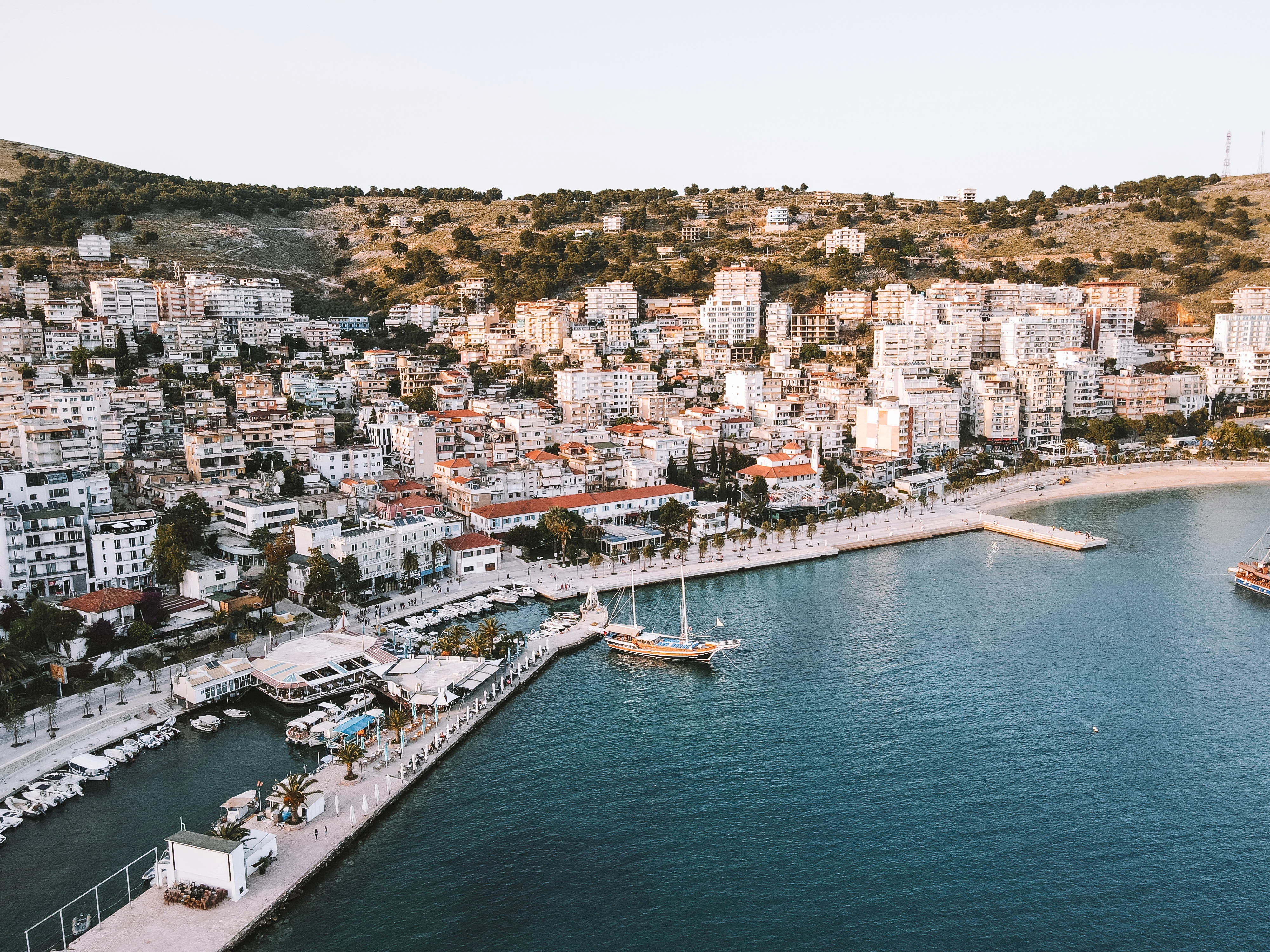 Bulevardi Hasan Tahasini is a long street near the sea that offers a variety of drinks, snacks, and restaurants. Here, you can walk admiring the sea and enjoy a meal or a coffee at one of the restaurants that sits along the Boulevard.
Butrint National Park
Butrint National Park is one of the many national parks in Albania and it is a UNESCO World Heritage Site located 14 kilometers south of Saranda. It's the largest collection of ancient ruins in Albania. It includes sites that date from the 4th century B.C. all the way through 19th-century Ottoman fortifications. The ruins that remain in this ancient city include an early-Christian basilica, a Roman theatre, a Roman temple, and a Greek central square.
Here is a guided tour option of the ancient city of Butrint.
Ali Pasha Castle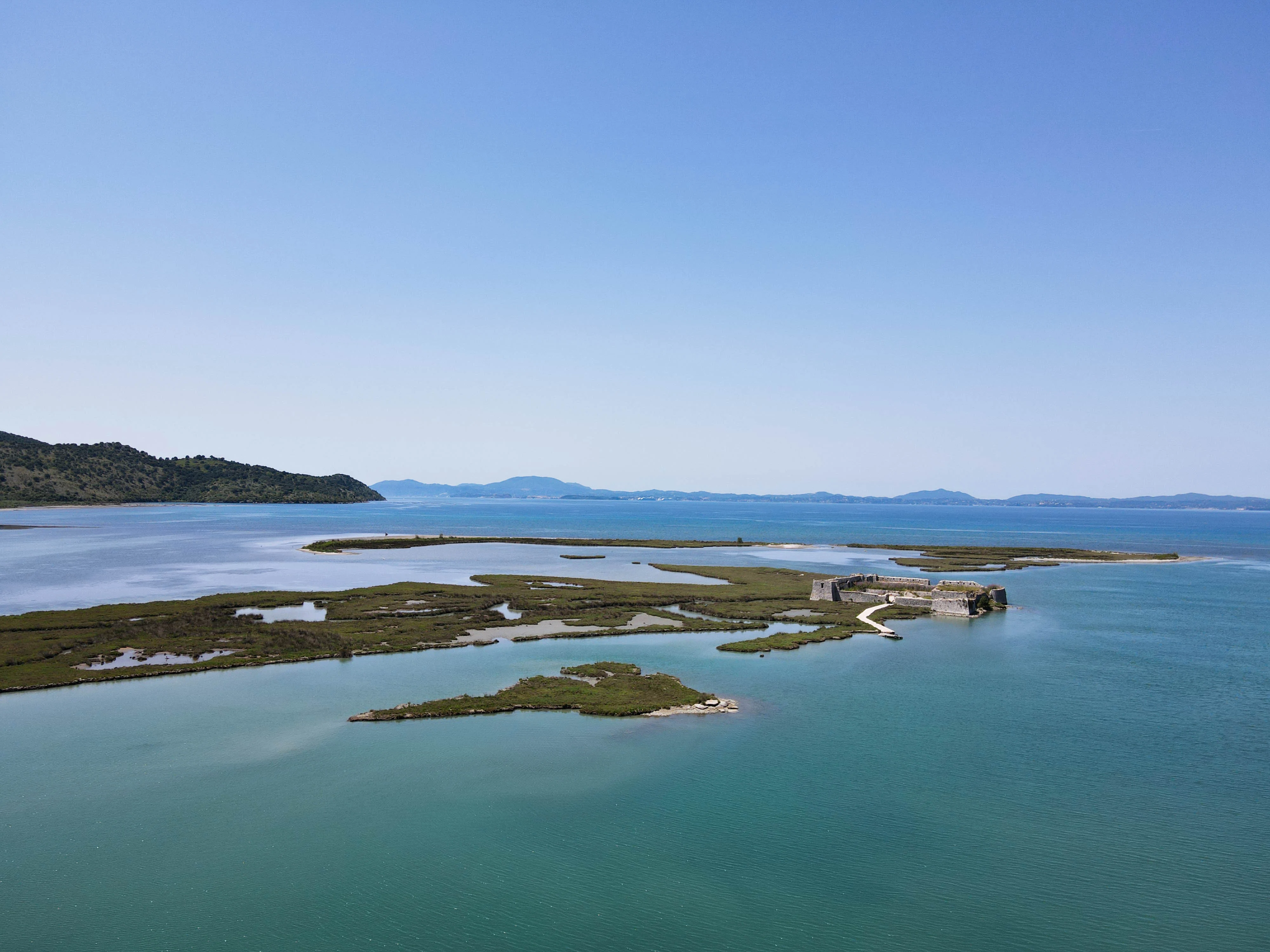 About a minute before you reach Butrint National Park, you'll see a parking lot with a viewing platform where you can see Ali Pasha Castle in the distance. You can only reach the castle by boat or kayak, but you can get much closer to it by taking the 20-minute walk down to the castle.
Mirror Beach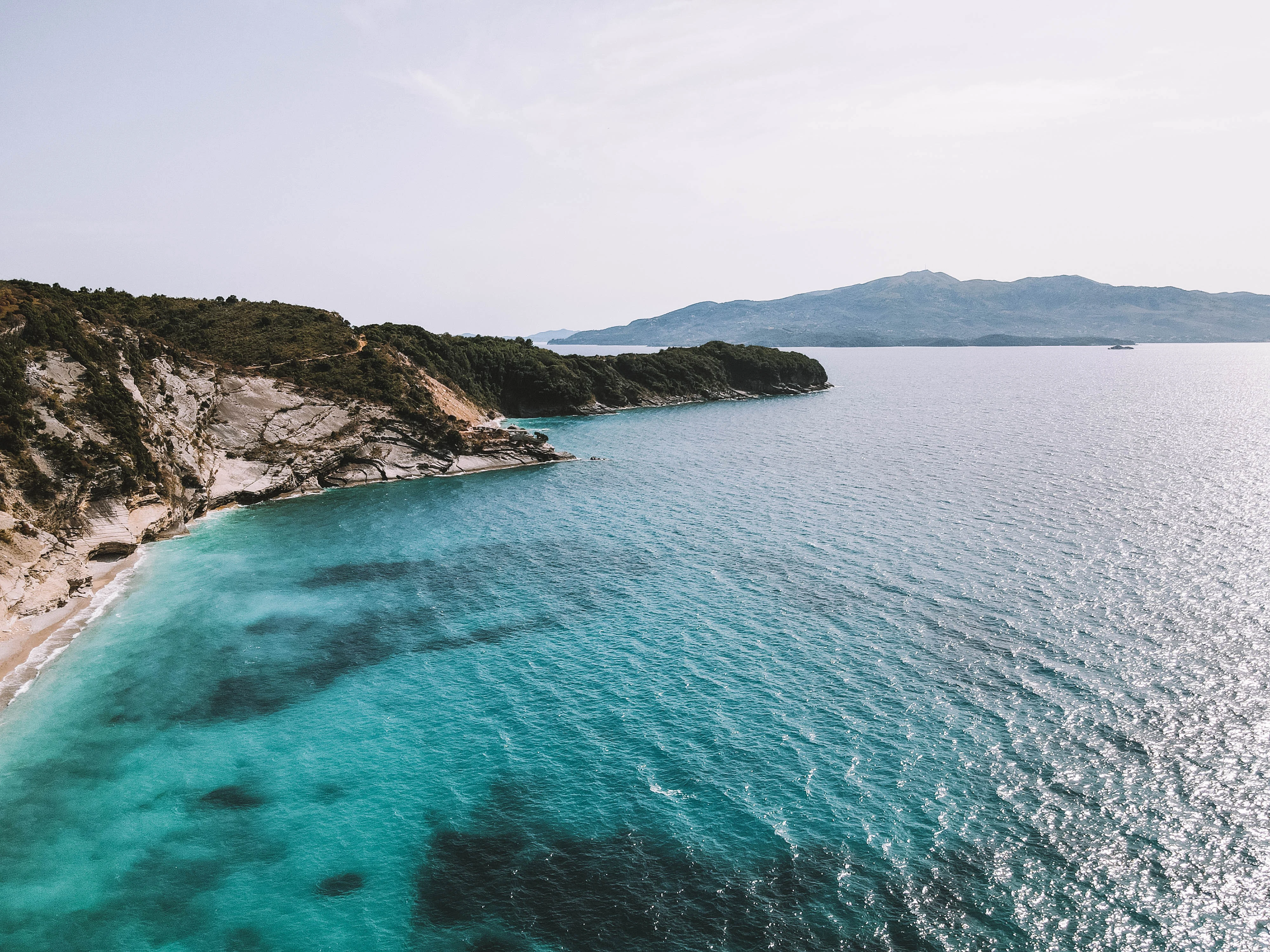 If you want a beach that is much quieter and less crowded than Ksamil, make sure to check out Mirror Beach. Mirror Beach is located south of Saranda, on the way to Ksamil. You can relax surrounded by cliffs and turquoise blue water. You can drive all the way down to Mirror Beach but be prepared that the road is not in good condition. I parked my car where the road was still paved and walked down to the beach from there.
Make sure you bring a book or a kindle to read and relax on the beach!
Day Trip to Gjirokaster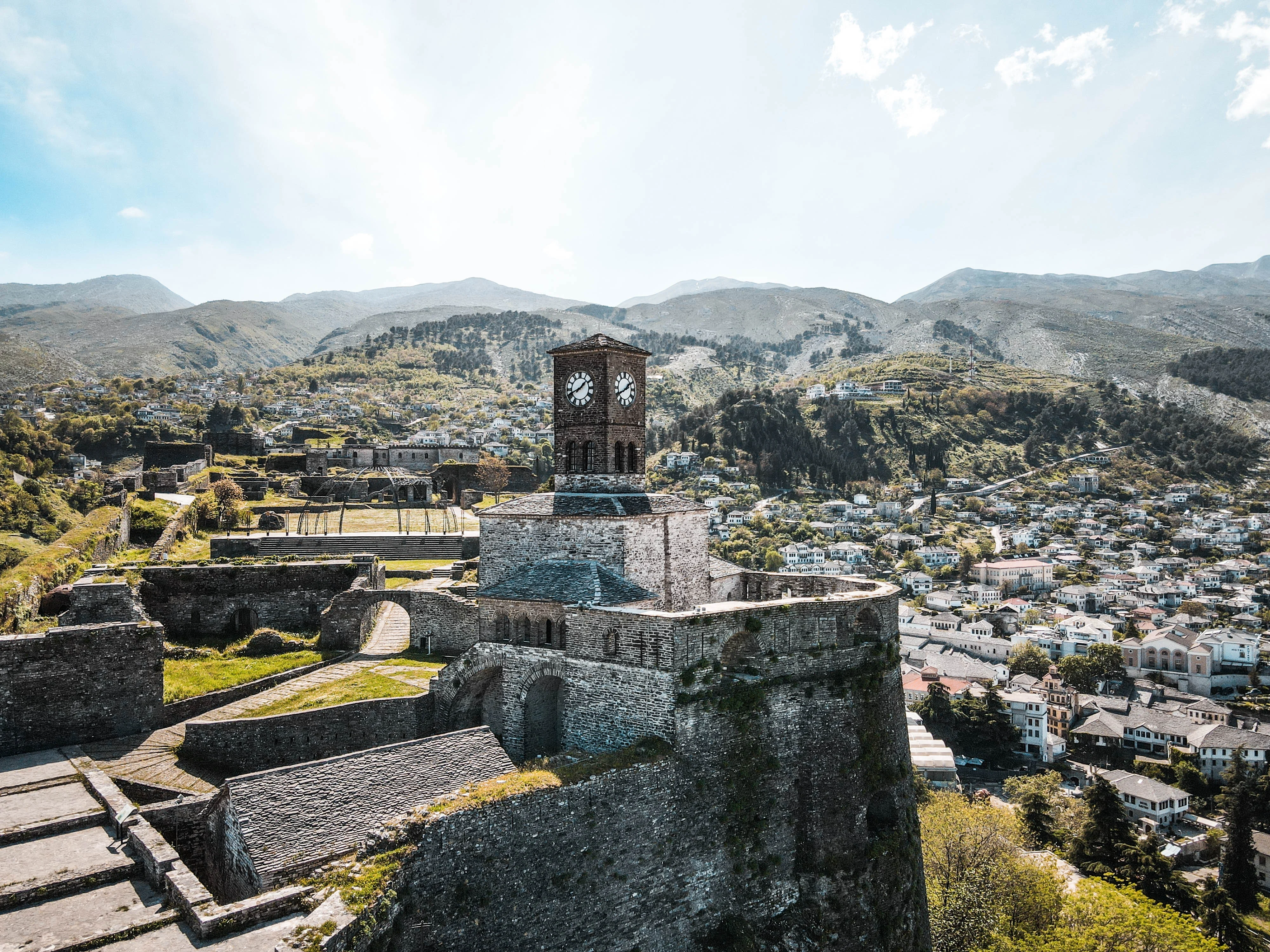 Gjirokaster is a city that is located just over an hour north of Saranda. It is worth taking a day trip to Gjirokaster to see the area while you are visiting Saranda. If you plan on visiting the Blue Eye, I recommend going on your way to Gjirokaster since it is located around halfway there.
If you are interested in taking a guided tour of Gjirokaster from Saranda, check out this day trip here. You will depart from Saranda and head to Gjirokaster. In Gjirokaster, you will visit the Gjirokaster Castle, Gjirokaster Bazaar, Skenduli House, and visit the Blue Eye on your way back to Saranda.
Go to Greece
Corfu, Greece is less than two hours away by boat. While you might want to plan an entirely separate vacation to Greece, you could go for a day trip (or two) from Saranda.
Take A Guided Tour
Guided tours can be a great way to learn more about the place you are visiting and you get to meet people along the way. Here are the top 10 tours in Saranda:
Saranda, Albania FAQ
Now that you know what to do in Saranda, let me answer some questions that you may have.
How to get to Saranda, Albania?
I decided to rent a car for my trip to Saranda, and I was so happy that I did. There are so many places to visit in Saranda and the surrounding areas that would take a long time to walk to or you would need to get a taxi (Ksamil, the Blue Eye, and Gjirokaster for example).
When is the best time to go to Saranda?
The best time to visit Saranda is during the summer months. The water stays quite cold year-round and can be too cold to swim in unless you need to get refreshed from the hot temperatures outside.
Where to Stay in Saranda, Albania?
There is no shortage of hotels to stay in Saranda. I will give you several different options based on your budget.
Budget Hostels
The top 3 hostels in Saranda are Saranda (SR) Backpackers, Wallaby Hostel, and Hasta La Vista Saranda. All of these hostels range between $10 – $14 per night.
Mid-Range Hotels
The top 3 mid-range hotels in Saranda, Albania are Titania Hotel, Hotel Brilant, and Hotel Bahamas.
Luxury, 5 Star Hotels
Sit back, relax, and enjoy your time in Saranda when you stay at Santa Quaranta Premium Resort.
Where I Stayed
I stayed at Hotel Dodona during my stay in Saranda. The hotel's location is a little bit outside of the city center, but I rented a car so this wasn't an issue for me. For only around $40 a night, I stayed in a room with a beautiful view of the sea and a double bed.
Vegan Food in Saranda
Albania isn't exactly the best country to eat vegan. In general, I have had a difficult time eating vegan outside of Tirana while traveling in Albania. One of the few restaurants that offer vegan options in Saranda is Salad Farm. Unfortunately, they are only open in the summer. I spent a weekend in Saranda at the end of May and Salad Farm didn't open until June 1st. Eating vegetarian is quite easy in Albania. While Saranda is known for seafood, it isn't difficult to find vegetarian options at most restaurants.
The Best Travel Resources for Albania
RentalCars.com – the best way to get around Saranda is with a car.
Expedia.com – Book flights, hotels, and rental cars.
TripAdvisor – the best website to research hotels, restaurants, and things to do in the city you are visiting.
HostelWorld – the best website for finding hostels.
Viator – my favorite website for finding guided tours.
World Nomads – Travel insurance will protect you against illness, injury, theft, and cancellations. It is so important to have in case anything goes wrong.
Express VPN – Traveling often means using free wifi available in coffee shops, hotels, and airports. This can leave you vulnerable to hackers. I always use a VPN when traveling to keep my personal information more private and secure. Using a VPN will also allow you to access information that isn't available in the country you are visiting. (For example: watching US Netflix while in Albania).
italki – italki is a language learning platform that allows you to take classes with native speakers. I always try to take at least one lesson before traveling to a new country.
My Favorite Travel Products – This is a list of all of my favorite travel products.
Modern Albania: From Dictatorship to Democracy in Europe – An interesting book to help you to understand some of Albania's history before your trip.
Swimsuits! – Since Saranda is famous for its beaches, you will definitely want to pack some swimsuits with you. Here are a few of my current favorites:

Save To Pinterest: