Affiliate Disclosure: This post may contain some affiliate links, which means when you click, I get a small percentage of the purchase at no extra cost to you. This allows me to keep this website running, so feel free to click away! You can read my entire Affiliate Disclosure here.
Before living in Albania for five months, I always said that the south of the United States (where I am originally from) is the most challenging place to be vegan. Albania definitely changed that opinion for me. It is pretty difficult to be vegan in Albania. Vegetarian food is relatively easy to come by, but vegan is a whole different story. Traditional Albanian cuisine is mainly meat-based. Albania also doesn't receive many tourists, so they haven't felt much demand from tourists to change dishes in restaurants.
Tirana vs. Other Cities in Albania
I lived in Tirana for five months, but I visited many other cities in Albania during that time. Although challenging, it is possible to be 100% vegan in Tirana. It is impossible to be 100% vegan in all most other cities in Albania. I just stuck to eating vegetarian food when I wasn't in Tirana. If you are firmly against eating anything with dairy or eggs, I highly suggest only visiting Tirana or booking Airbnbs in other cities so you can cook your food. Although, even grocery stores probably won't have vegan staples available like tofu.
If you are traveling to other cities in Albania, check out my guide for each city to get my vegan/vegetarian food suggestions:
How to Find Vegan Food in Tirana
The best app to find vegan food while traveling is Happy Cow. I have used this app everywhere I have traveled. While I found some suggestions for vegan options in Tirana, I can't recommend this app for Albania.Happy Cow won't list a restaurant on their app if it sells veal, foie gras, and/or lamb. Lamb is a very popular meat in Albania. If a restaurant serves a vegan dish and a lamb dish, they won't be listed on Happy Cow.One of the primary resources that I used to find vegan food in Tirana was Baboon's food delivery app. I would search the word "vegan" and see which restaurants came up. Because it is a food delivery app, you can view their entire menu before visiting the restaurant. Unfortunately, the app is only in Albanian, so you will have to do a bit of translating if you don't speak the language.
Top 3 Recommended Restaurants for Vegan Food in Tirana
Here are my three favorite restaurants to get vegan food in Tirana. None of these restaurants are vegan or vegetarian, but they all have several vegan options available. They are all listed and explained more further along in this blog post if you would like to learn more about them and what I recommend ordering.
Salt
Opium Sushi Bar
Coko
Vegan Restaurants in Tirana, Albania
There is exactly one fully vegan restaurant in not only Tirana but all of Albania.
Falafel House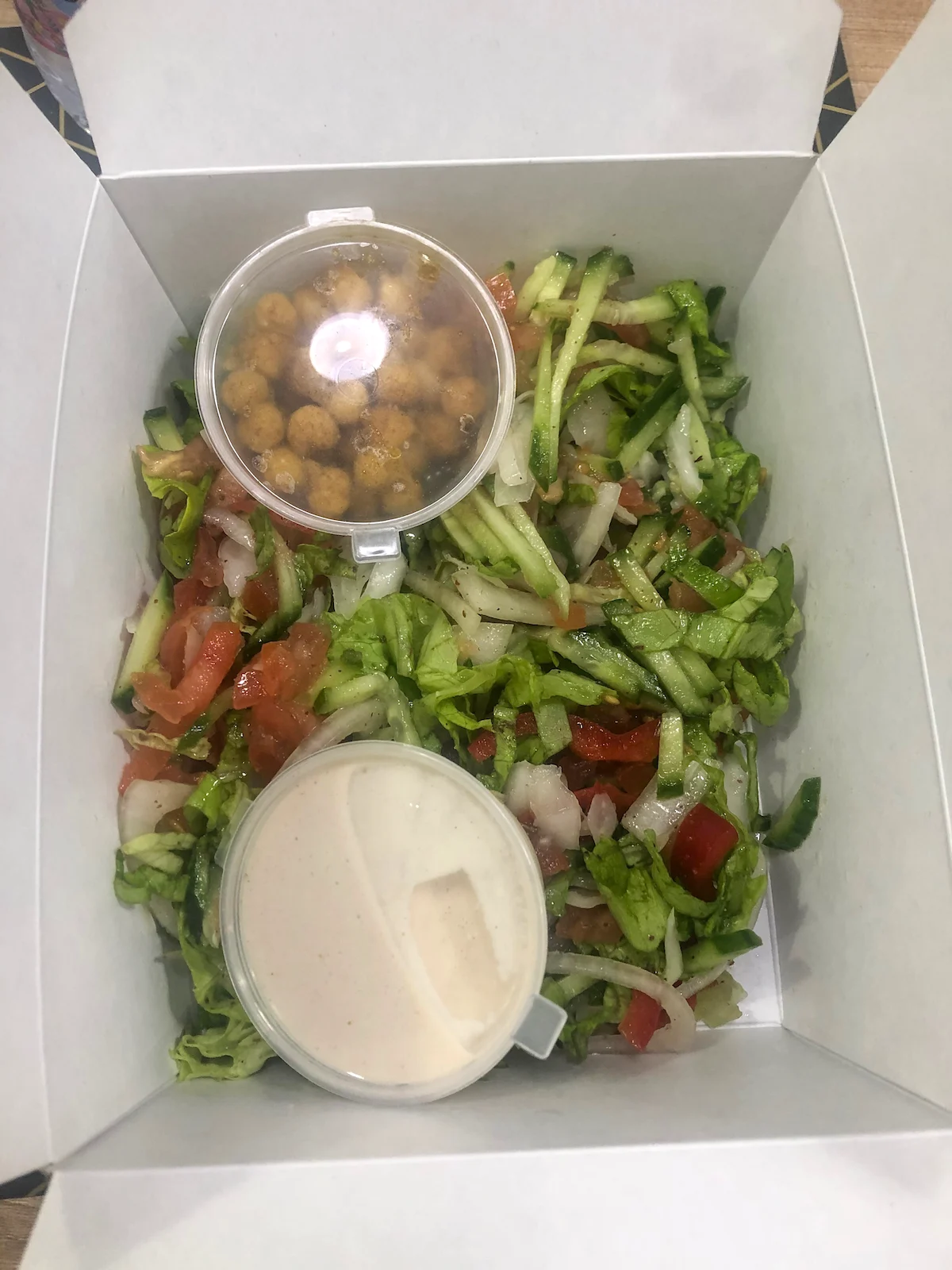 Falafel House only serves falafel (shocking, I know). You can choose between a falafel wrap and a falafel salad. There is also no seating inside of the restaurant, so you have to get it for takeaway. There is a park across the street, so you can bring your food there if the weather is nice and sit on a bench.
Vegetarian Restaurants in Tirana, Albania
There is only one vegetarian restaurant in Tirana.
Veggies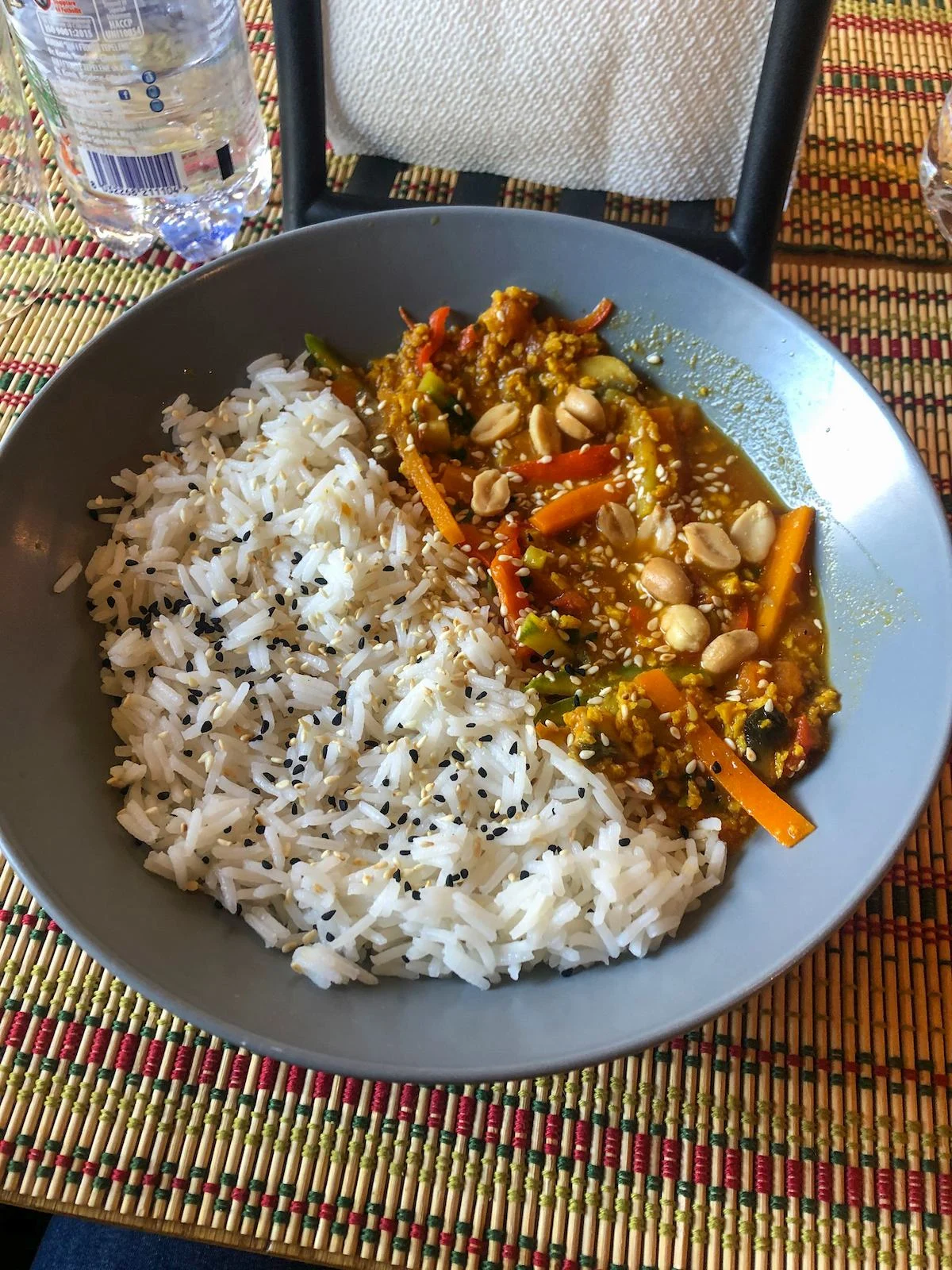 Although Veggies is a vegetarian restaurant, I can't recommend it because I was not fond of their food. I ate here twice, and I didn't like it either time. I ordered a Thai curry the first time and sushi the second time, and I couldn't finish either meal. I did have a friend in Albania (who isn't vegan or vegetarian) who told me that they like the falafel at this restaurant, but I never tried it, so I can't say if it is good or not.
Vegan-Friendly Restaurants in Tirana, Albania
Artigiano
I ordered this vegetarian burger at Artigiano, but I am pretty sure that it is vegan. There is no cheese on the burger. It is topped with mushrooms, tomatoes, and spinach. The patty or bun potentially isn't vegan, but this isn't something that I question too much. It wasn't that great compared to other veggie burgers that I've eaten around the world. I ordered the burger and water. The total was 521 LEK or $4.75.
The Bell Sushi Bar
The Bell Sushi Bar sells vegetarian noodles, vegetarian sushi, and edamame. I think all three are vegan.
Chakra Jone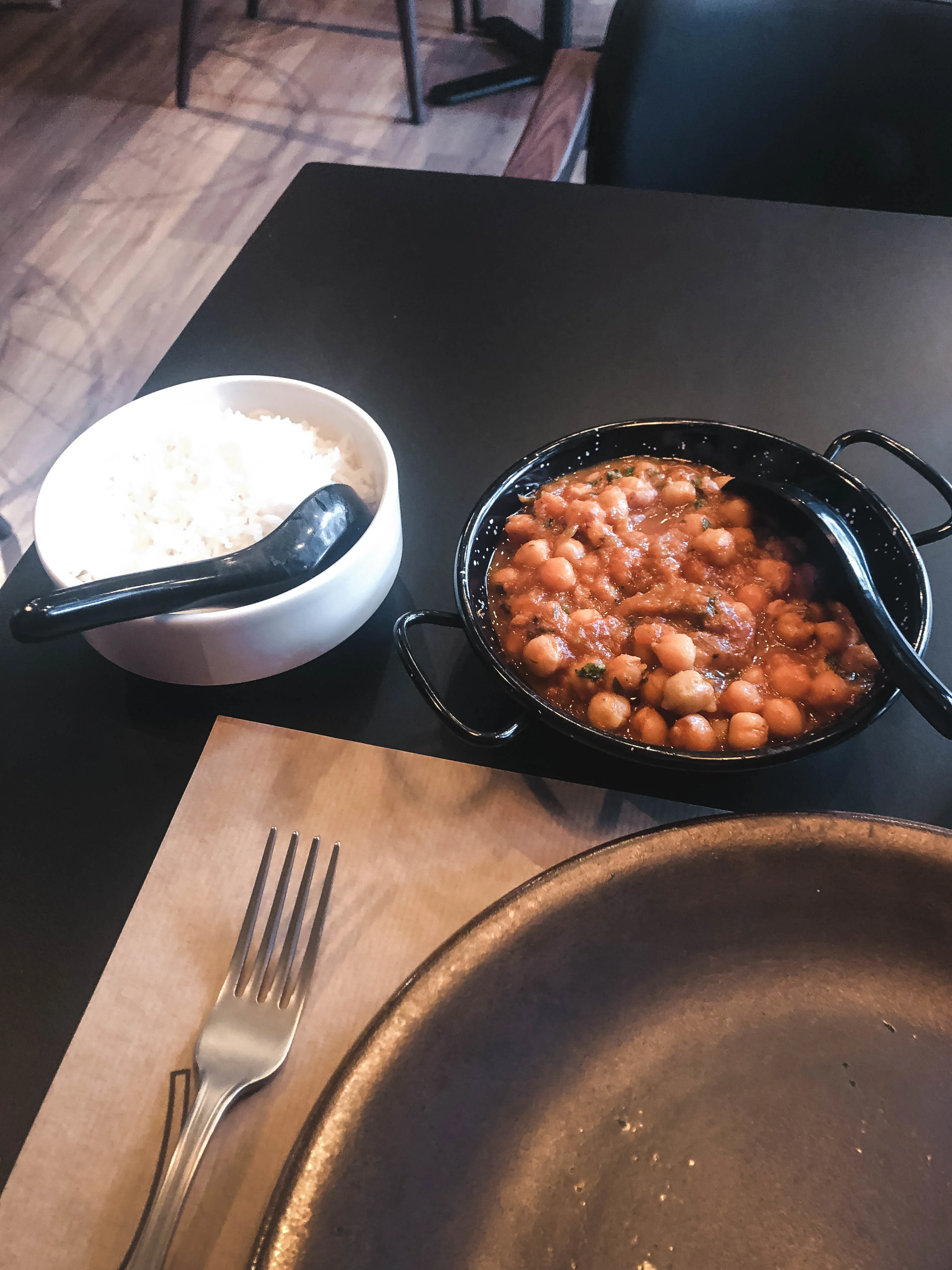 Chakra Jone is the only Indian restaurant in all of Albania. They have a page on their menu dedicated to vegetarian dishes, but the vegan dishes are not labeled. You will have to take your best guess or talk to the waiter about which dishes are vegan.
The first time that I visited Chakra Jone, I ordered the Channa Masala and vegetable spring rolls. The Channa Masala is chickpeas cooked with masala sauce, and coriander served with a bowl of rice. The vegetable spring rolls came with four different dipping sauces. The waiter told me that two of them contained yogurt and two didn't. I just ate the two that didn't include yogurt.
The Channa Masala and the vegetable spring rolls were delicious, and I left feeling full and satisfied. It was a bit pricey for Albania, but nothing ridiculous. I paid $11.92 for both of these dishes, along with a small bottle of sparkling water.
I ordered from Chakra Jone several times from Baboon. I ordered several dishes like vegetable naan, vegan biryani, onion bhajia, vegetable noodles, aloo kulcha, and vegetable pakora. I enjoyed most of the dishes, and this is one of the main restaurants that I recommend for vegans in Tirana.
Coko
Coffee with non-dairy milk is a bit hard to come by in Albania. I usually order an espresso if I want coffee, and the restaurant or coffee shop doesn't have non-dairy milk, but I love to order coffee with vegan milk when available. Coko is one of the few places in Tirana with non-dairy milk for coffee.
Coko has a few different vegan meal options available. For breakfast, they have vegan avocado toast. They also have a vegan risotto and a vegan burger. The vegan burger doesn't look at all like a burger and is much more like a wrap. The vegan burger/wrap was filled with falafel and vegetables.I recommend ordering the vegan risotto. It was one of my favorite vegan dishes that I ate in Albania.
Eatalian's
In case you couldn't tell by the name, Eatalian's is an Italian restaurant. I was in Tirana, Albania, during COVID times. Because of this, the menu was only available through a QR code. The menu was only written in Albanian and Italian. I don't know Albanian, but I do know Italian, so I could pick a meal that seemed vegan-friendly. Perhaps if you are in Tirana in post-COVID times, you can ask for an English menu.The bread was my favorite part of the meal. It did come with a creamy sauce that I did not eat. I ordered the zuppa di verdure (vegetable soup) and spaghetti aglio e olio (garlic and oil spaghetti). Neither of these items were labeled as vegan, but I assumed that they were.I didn't think that the vegetable soup by itself was very good. It did come with a half of a lemon on the side. Once I squeezed the lemon into the soup and added some salt and pepper, I thought it was pretty good.I wasn't a fan of the spaghetti at all. The spaghetti noodles didn't taste like they were finished cooking.
Ejona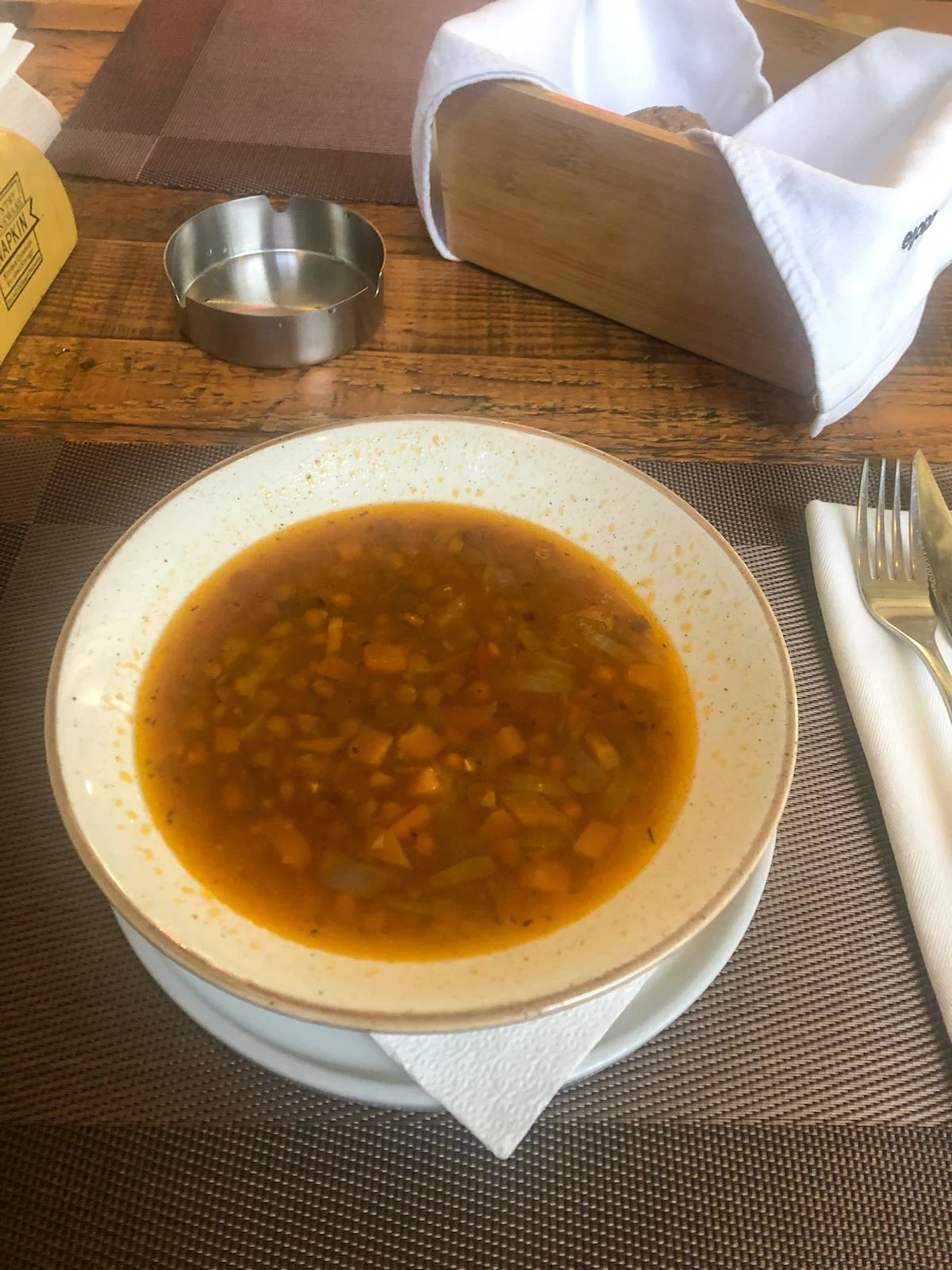 Ejona was my least favorite restaurant I ate at while in Albania. The waiter told me that they don't have a set menu, and the menu changes every day. The only vegan dish that they available was a lentil soup. I also decided to order a vegetarian bowl. The lentil soup was okay, but I thought the vegetarian bowl was disgusting.
ERA
ERA serves traditional Albanian and Mediterranean food. They have a few different vegan options like salad, soup, grilled vegetables, and hummus with bread. I wasn't overly impressed with this restaurant, and I only visited one time while I was living in Albania.
Green & Protein
Green & Protein isn't a vegan or vegetarian restaurant, but they have a large selection of vegan food like veggie burgers, smoothie bowls, wraps, salads, chia seed pudding, oatmeal, and more! I ate here a few different times. I was not too fond of their smoothie bowls, but the rest of their food was good.
Kungfu Express
Kungfu Express is an Asian fast food restaurant that serves meat but has vegan options available. I wanted to go to Kungfu Express to try their vegan sushi, but they were sold out when I got there. I got veg chow mein and a side of vegetables instead. I also thought about ordering the miso ramen, but I was told that it had beef in it. The food that I ordered was just okay. It was not the best meal in Tirana, but not the worst.
MIA Bistro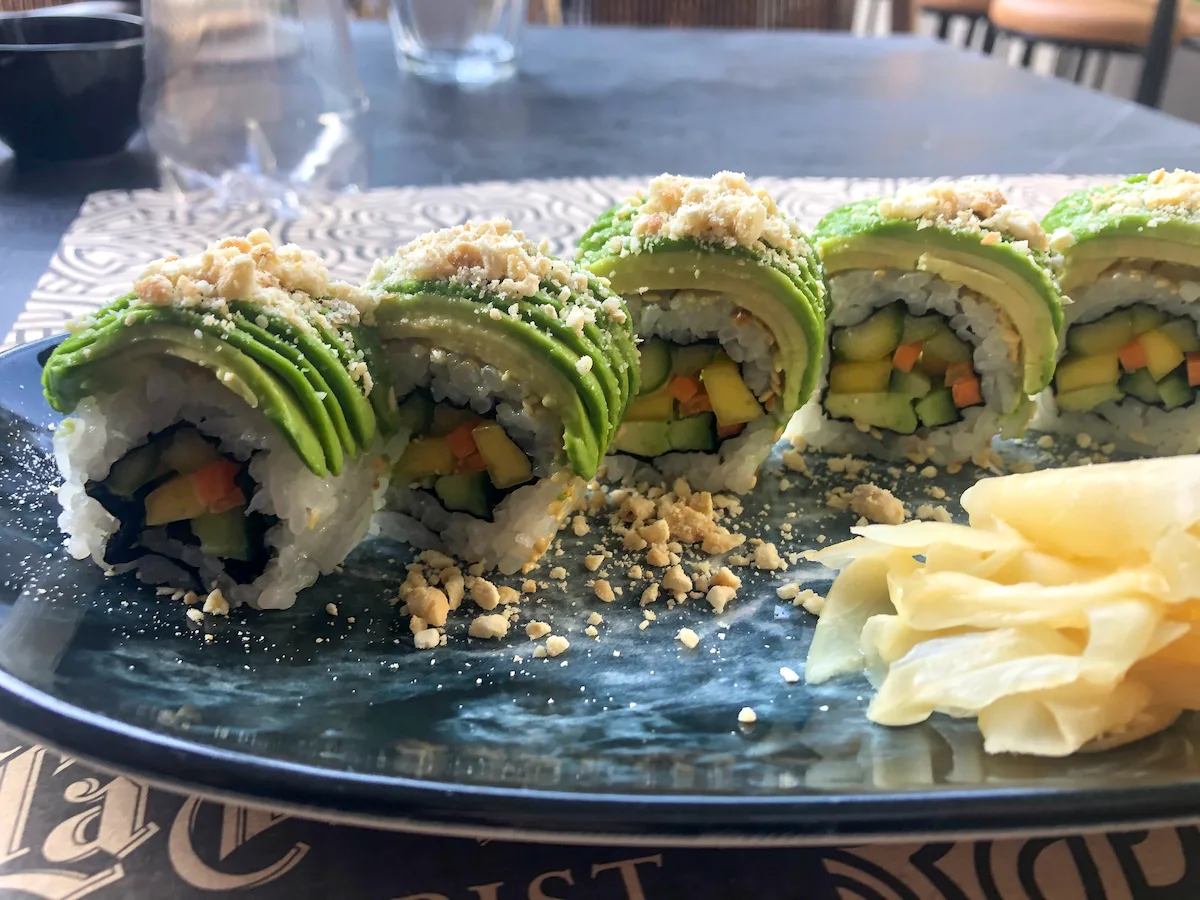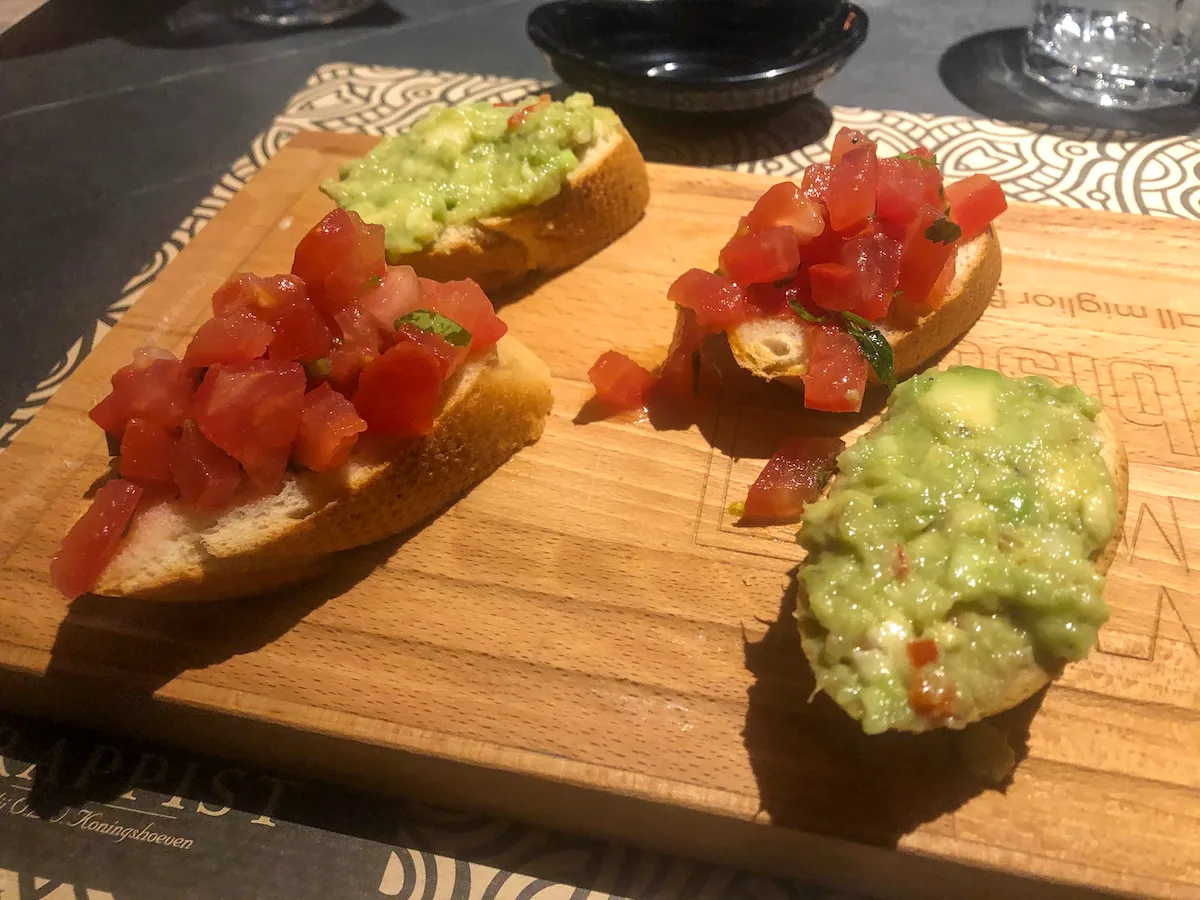 If you are a fan of vegan sushi, you have to go to MIA Bistro. The vegan sushi here is my favorite in Tirana. They also have delicious bruschetta, but you have to ask for it without cheese.
Mulliri Vjeter
Mulliri Vjeter is like the Starbucks of Albania, except it is way cheaper and tastes better. They also have soy milk available for coffee.
ODA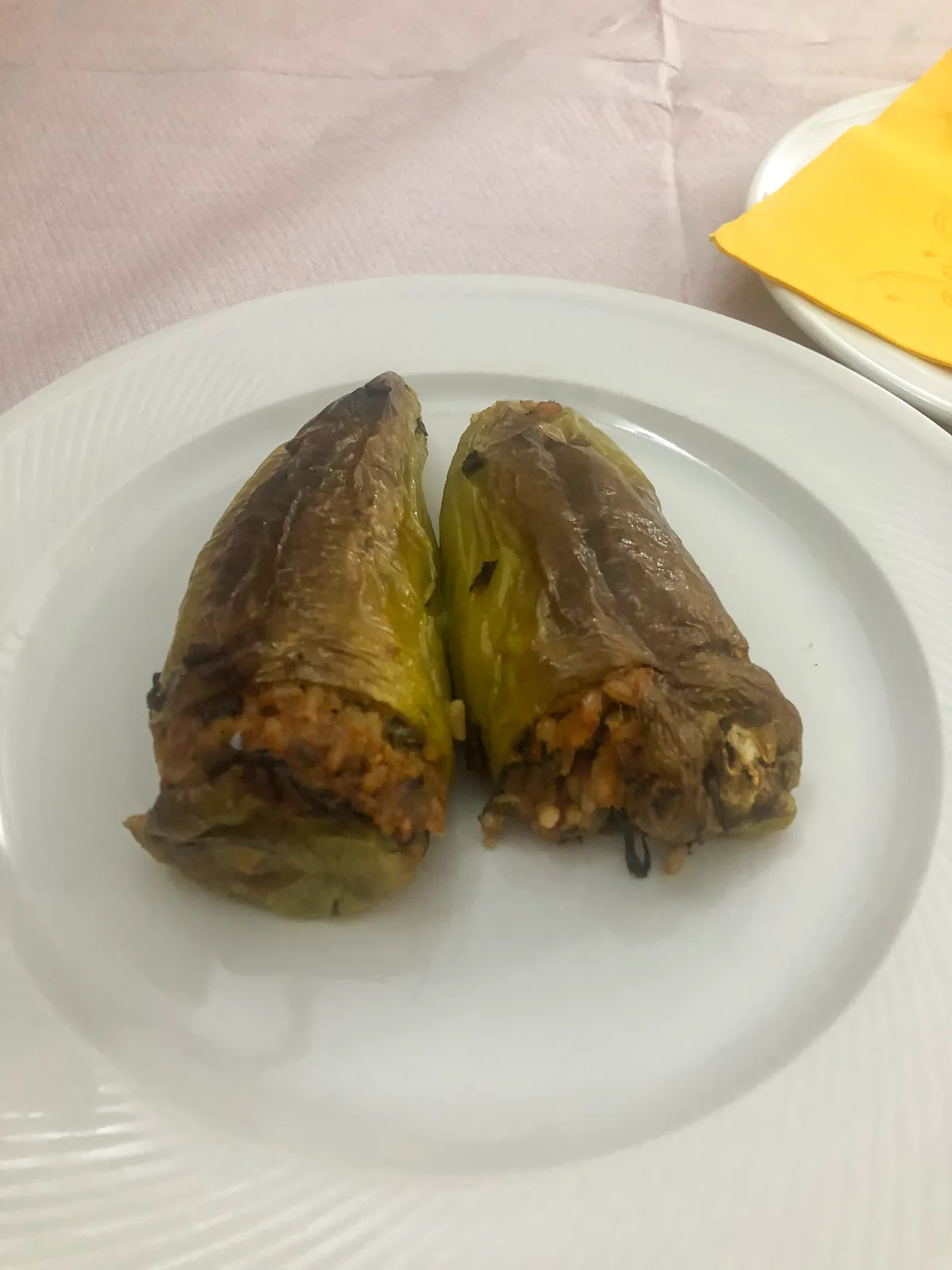 ODA is a tradional Albanian restaurant. It can be challenging to eat traditional Albanian food as a vegan since most dishes have meat. ODA offers a few vegan dishes. I went here several times and ordered the stuffed peppers every time because they were so delicious.
OPA – Greek Streetfood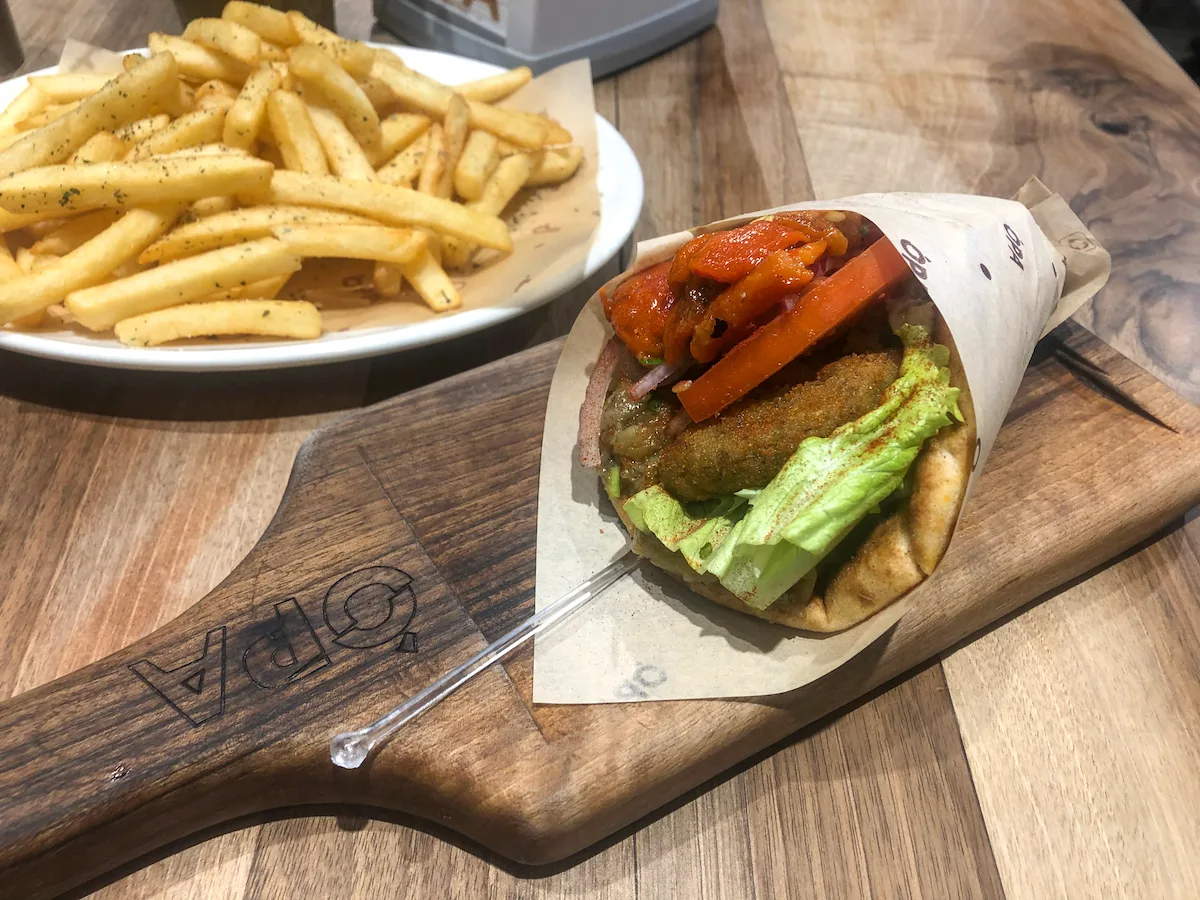 OPA makes Greek food (specifically, gyros), and they have a few vegan options. In my opinion, the food is just okay and nowhere near as good as Greek food in Greece.
Opium Sushi Bar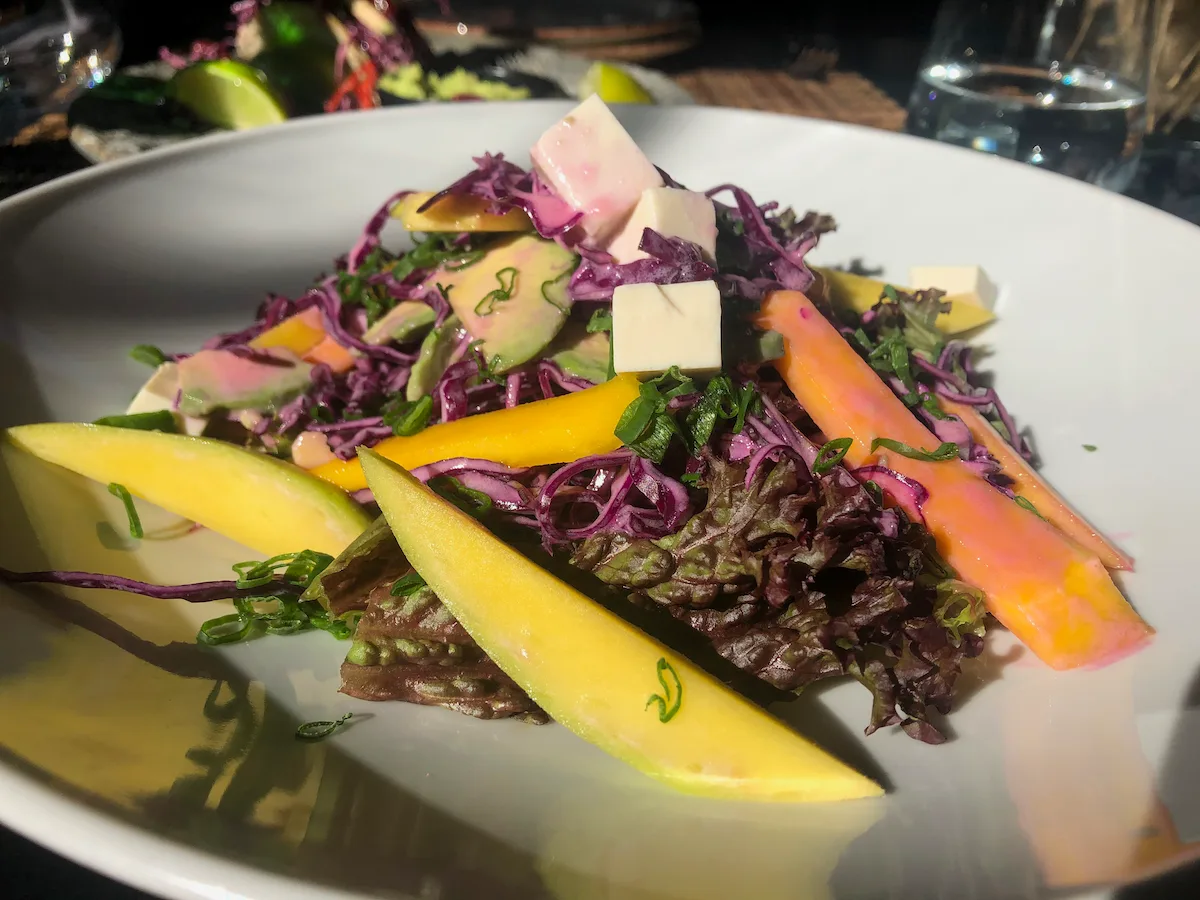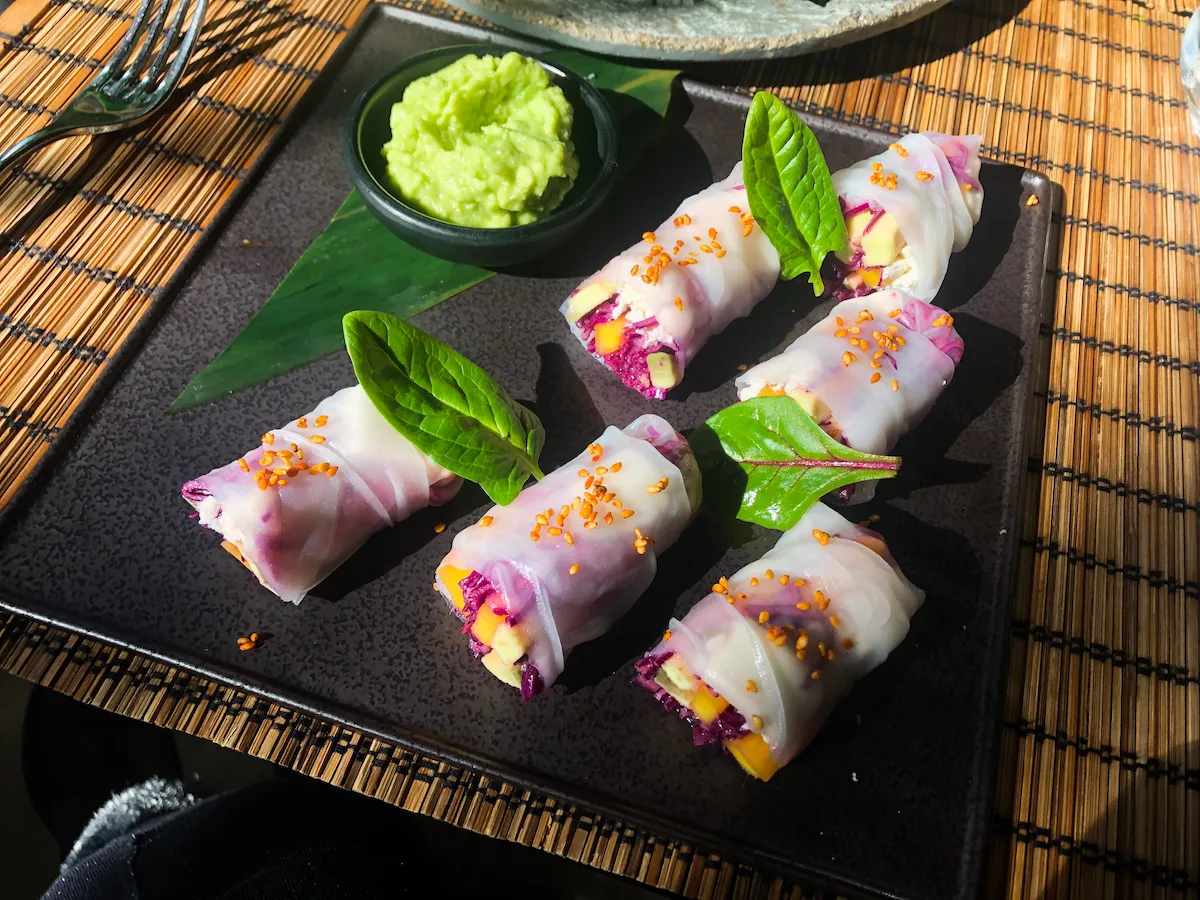 Opium Sushi Bar was one of my favorite restaurants to get vegan food in Tirana. My favorite meals were vegan sushi, spicy edamame, asparagus, spring rolls, and vegetarian tacos. I am not sure if the vegetarian tacos are vegan, but they are delicious.
Pepper
I only ate at Pepper one time, and I wasn't a fan of it. I went there hoping to order their vegan sushi, but the waiter told me that it wasn't available. I decided to order the marina pizza without anchovies instead. The waiter must not have understood me because he brought out the pizza with anchovies. I told him that I had asked for the pizza without the anchovies. He brought the pizza back into the kitchen, and they took them off. I could still take a bit of the leftover anchovy flavor on the pizza, which grossed me out.
Sakura Sushi Bar
Sakura Sushi Bar makes vegetarian maki that I am pretty sure is vegan. They also sell edamame.
Salt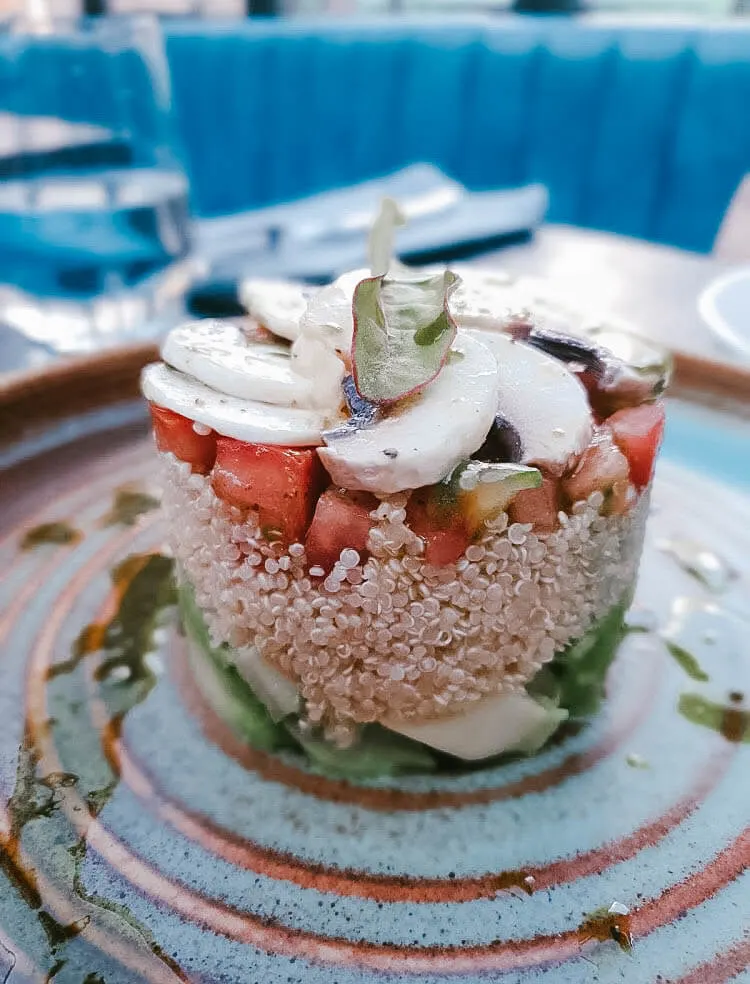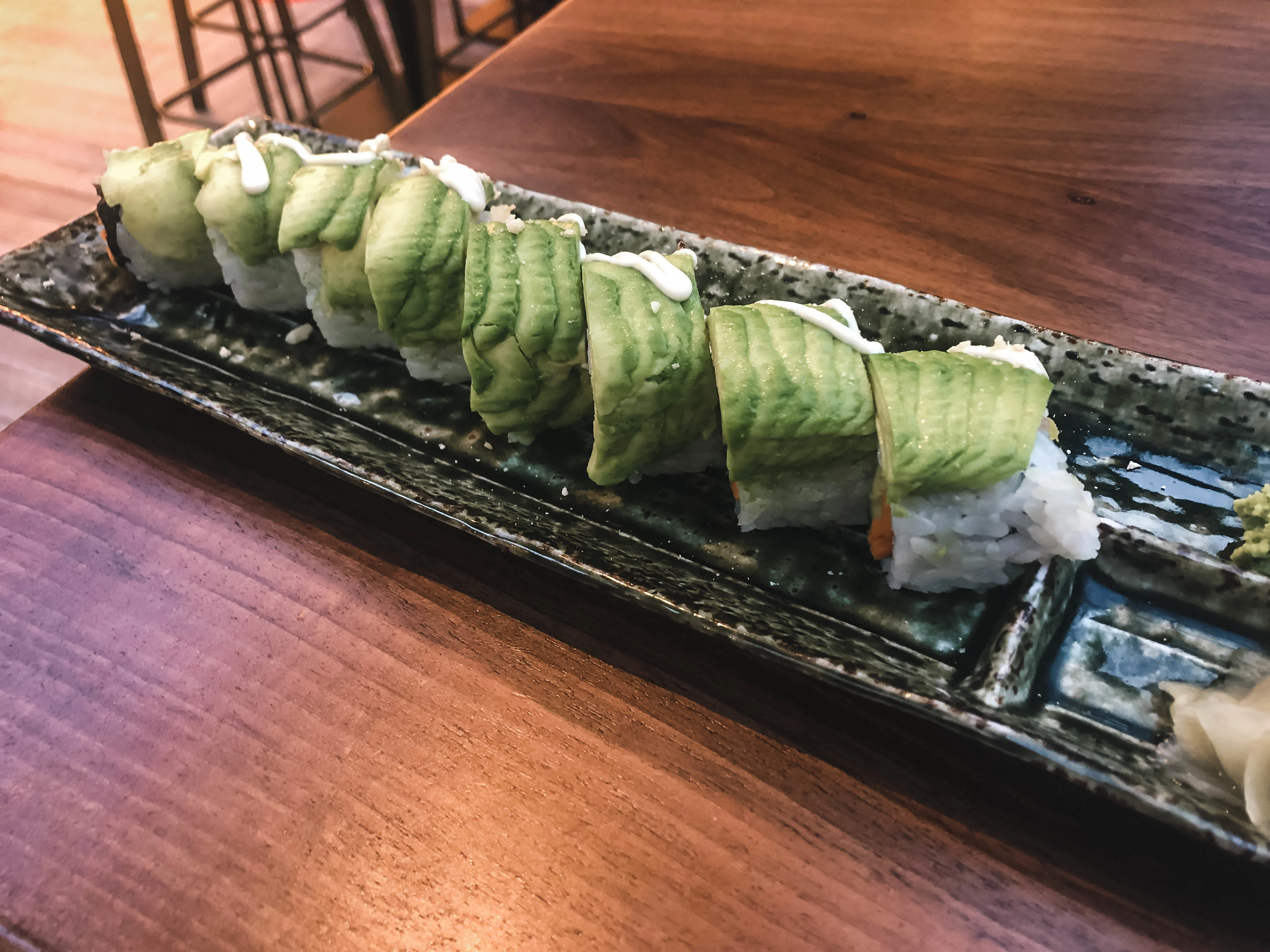 Salt was my favorite restaurant to eat vegan food in Tirana. They have a small vegan section on their menu with falafel, fried zucchini, vegan sushi roll, avocado tartare, and vegan spaghetti. The only dish that I didn't like at Salt was the falafel because they tasted too salty.
Serendipity the Mexican
If you couldn't tell by the restaurant's name, Serendipity the Mexican is a Mexican restaurant. It might be the only Mexican restaurant in all of Tirana. Even though it is a Mexican restaurant, they also had burgers and pasta on the menu.When I arrived at Serendipity, I asked for an English menu, but the waiter told me they didn't have one. Luckily, the Albanian word for "vegetarian" is very similar to English. It is "vegjetarian." Serendipity had a vegetarian section on the menu. Some of the words are the same in English (fajita, burrito, taco), so I decided to order tacos. I figured they would put something like cheese or sour cream on the tacos. I asked the waiter what was on the tacos, but his English wasn't very good, and he couldn't tell me. I decided to order the tacos as-is, and they came with sour cream. I'm not sure what the word is for sour cream in Albanian, but I am sure that you could order the tacos without it.The tacos were very delicious. I also ordered sparkling water, and my total came to 690 LEK.
Someg
Someg is a bakery with several locations. While they don't have vegan desserts available, they sell some of the most delicious bread that I have ever eaten.
Sushi Dragon
Sushi Dragon does sell vegetarian sushi (that I think is vegan), but it was my least favorite sushi that I ate while in Tirana. If you are looking for good vegan sushi, you can find much tastier options at Salt and MIA Bistro.
Yamato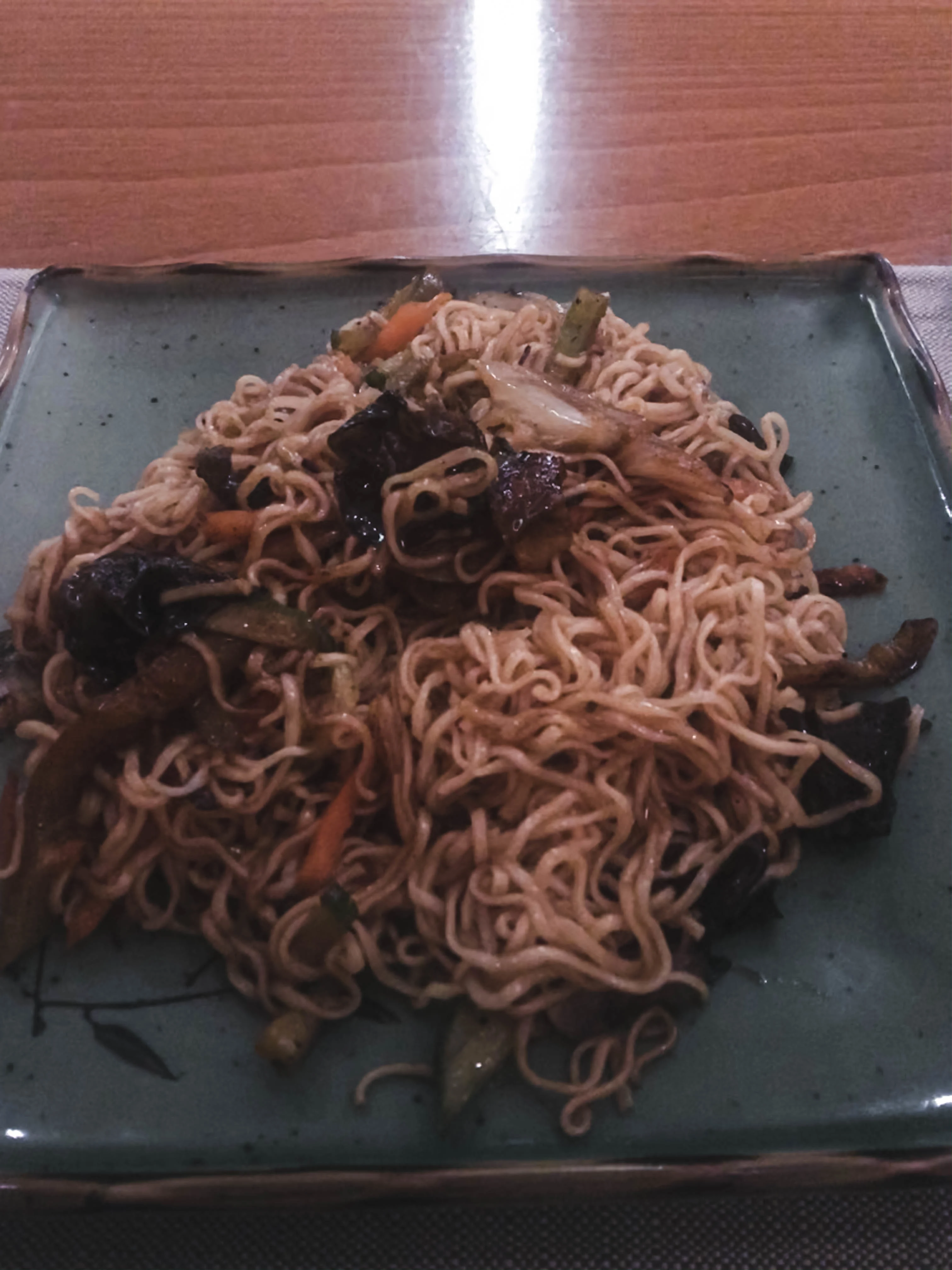 Yamato is an Asian restaurant that serves meat. The vegan and vegetarian dishes are not labeled, so you need to take your best guess or talk to the waiter.I ordered the Miso, which had seaweed and tofu, and the Yaki Soba, sautéed noodles with vegetables.Yamato is a bit pricey for Albania. This meal, along with a large bottle of water, came to 2,050 LEK ($18.67).
Grocery Shopping As A Vegan In Tirana, Albania
All grocery stores in Albania will have pasta, rice, beans, and other vegan staples. If you want vegan specialty items like tofu, vegan cheese, vegan meat, or vegan snacks, you will have to visit one of the two stores mentioned below.
It is pretty inexpensive to live in Albania, especially if you have a Western salary. The one area that you will have to spend more money on is grocery shopping. The vegan specialty items are pretty expensive and more expensive than what you would pay if you weren't eating vegan.
Baronesha
Baronesha was the main store that I shopped at while I was living in Tirana, Albania. They sell tons of vegan products like vegan cheese, vegan meat, vegan snacks, vegan beauty products, and more. Baronesha was also the only grocery store that I could find plain tofu while living in Tirana.The one thing that I did not like about Baronesha (besides the high prices) was that they didn't have consistent stock. You could buy vegan cheese for a couple of weeks in a row, and then the vegan cheese wouldn't come back for two months.As a vegan, tofu is a huge staple in my diet. I went to Baronesha one week to buy tofu, and they told me that I couldn't purchase it because the tofu wasn't in their system (even though it was on their shelves). The following week I went back and was told the same thing. The third week I went back again and asked them when I first arrived about the tofu. They told me that it was still not in their system, but they would enter it while I was shopping so I could buy the tofu. By the time I had finished shopping, the workers still didn't enter the tofu into the system, and they told me that I wouldn't be able to buy it for another few days. The next time I returned to Baronesha, the tofu was gone entirely, and they didn't have any more tofu on their shelves for another month.That's just the reality of eating vegan in Albania, but I hope it changes soon.
BioJu
BioJu has similar items to Baronesha, but I think Baronehsa has a larger supply of vegan items to buy. The one thing that is better about BioJu is that their stock stayed pretty consistent, and I knew that I could always find vegan cheese and vegan meat here.
The Best Resources For Traveling To Albania
Check out all of my favorite travel products.
Save To Pinterest