Affiliate Disclosure: This post may contain some affiliate links, which means when you click, I get a small percentage of the purchase at no extra cost to you. This allows me to keep this website running, so feel free to click away! You can read my entire Affiliate Disclosure here.
Himare is one of the most beautiful and unspoiled places in the Albanian Riviera. It's known for its beautiful beaches and crystal clear water. Himare, Albania is a great place to visit if you want to enjoy nature, go for a swim, or relax in the Albanian sun! There are so many things to do in this Albanian town, and I will give you some ideas of places to see, things to do, and why you should visit.
Top 7 Things To Do During Your Visit to Himare, Albania
Here are my top recommendations of things to do in Himare.
Spend Time At the Beaches in Himare
Visiting the beaches in Himare is a must-do when you come to Albania.
The three main beaches in Himare are Spile beach, Prinos beach, and Potami beach. I visited Spile beach, but Prinos beach and Potami beach are more frequented by locals. Spile beach is popular with tourists since it's within walking distance of the center of town. Visit all three beaches to find out which is your favorite!
The beaches in Himare have crystal clear water and don't get too busy.
The beach is also very long and perfect for walking and running along the shoreline. The beaches are great for families with small children because there are no big waves and the water doesn't go out too far.
Porto Palermo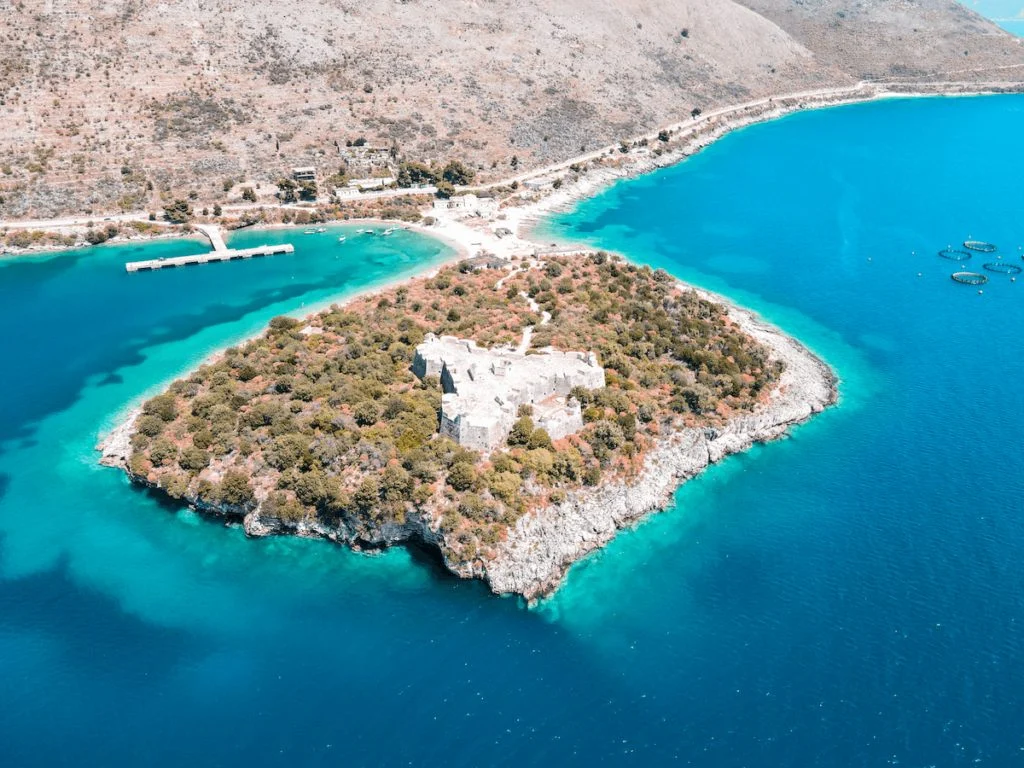 Porto Palermo is a must-visit while you are staying in Himare. At Porto Palermo, you will find a beautiful bay with water bluer than the other beaches in Himare.
The castle at Porto Palermo has a great view of the shoreline. It's a perfect place to take photos and watch the sunset.
If you take the trip to Porto Palermo, you have to visit the castle. I've heard it called Porto Palermo Castle, Port Palermo fortress, and Ali Pasha fortress.
You have to pay a small fee to explore the inside of the castle, but it has been preserved as a monument to Himare's long history.
Explore Himare Castle and Himare Old Town
If you want an incredible view overlooking the city, head up to Himare Castle. You will have amazing views of Himare and also get great photos!
The actual castle is quite rundown, but it has a fantastic view overlooking the city worth the visit. The castle is also free to get into.
Be aware that you will have to walk up hills on cobblestone streets to get to the castle and the incredible view at the top.
It's a nice walk through Himare Old Town, and I also saw a few mountain goats.
Take A Guided Tour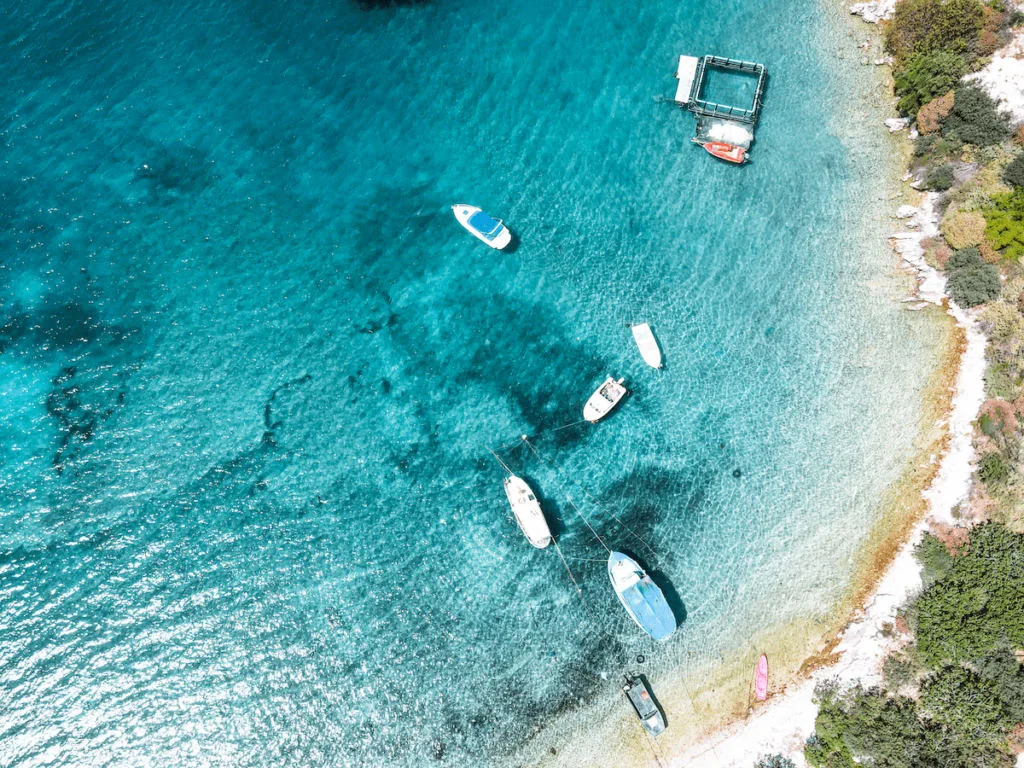 Here are the top guided tours you can take in Himare, Albania:
Gjipe Beach
Gjipe Beach is one of the most popular beaches near Himare and one of the most famous in Albania.
It is located halfway between Himare and Dhermi, and it is worth the visit.
If you are driving to Gjipe Beach, you can drive to the furthest point, where there is a small parking lot. I had to pay 200 LEK to park. To reach the beach, you must walk (unless you have a 4×4). It takes approximately 40 minutes to walk down to the beach, but the view is beautiful along the way.
Go to Dhermi, Albania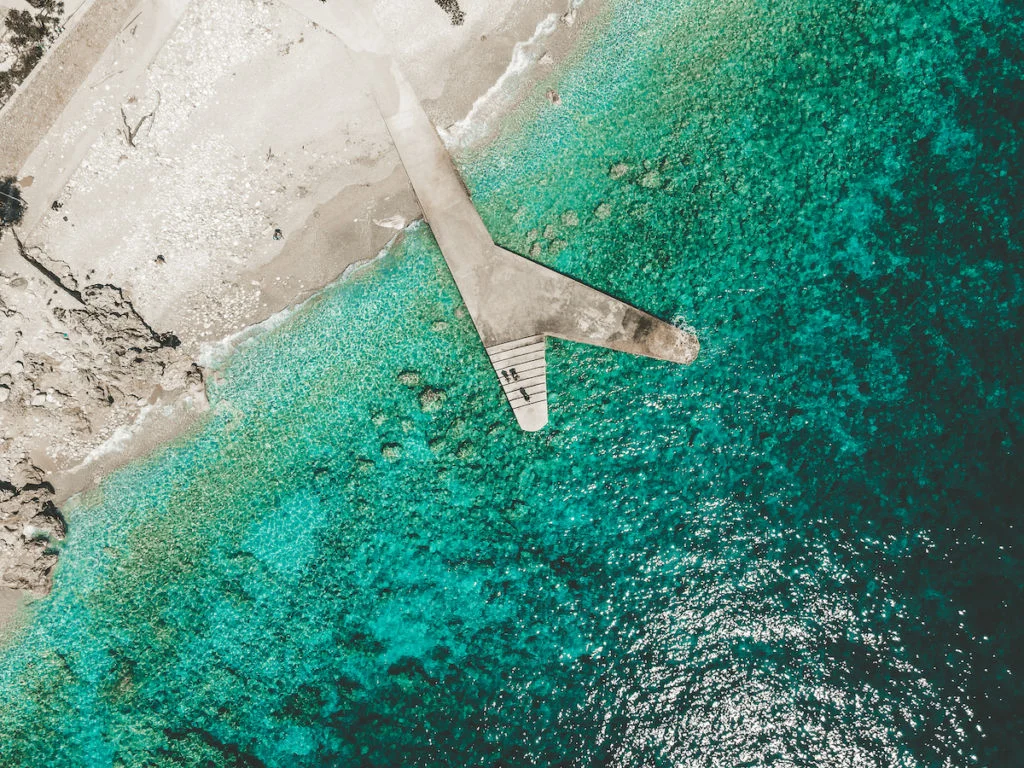 Dhermi is a town on the Albania Riviera that is about an hour from Himare. It is known for its gorgeous beaches, and it is one of my favorite spots in Albania.
If you are already planning a trip to Gjipe Beach, it's worth the extra 30-minute drive to go all the way up Dhermi.
I wrote an entirely separate travel guide to Dhermi, Albania, that you can check out here.
Himare, Albania FAQ
Now that you know what to do in Himare, let me answer some questions that you may have.
How to get to Himare, Albania?
You can either rent and a car and drive to Himare or take the bus. I HIGHLY recommend renting a car.
You also don't need an international driver's license to rent a car in Albania.
The bus system in Albania can be very unreliable.
There really isn't a proper bus schedule. Most of the time, you will show up at the bus station, say where you want to go, and someone will point you in the right direction of the bus. Buses will generally leave when they are full.
Sometimes bus drivers will leave with only a few people, sometimes they will wait for half of the bus to be full, and sometimes they will wait for the entire bus to be filled. There's no way to know in advance, so you must be flexible on time.
I decided to rent a car to do a road trip through Vlore, Dhermi, and Himare. You can also add Saranda and possibly Gjirokaster to this itinerary. I was living in Albania, so I took a separate trip to Saranda and Gjirokaster.
The closest airport to Himare is on the Greek Island Corfu. You can fly into Corfu, take a ferry to Saranda, and then drive up to Himare.
The more practical option is to fly into Tirana and drive down to Himare. The drive to Himare is quite beautiful, especially when you are driving through Llogara Pass.
When is the best time to go to Himare?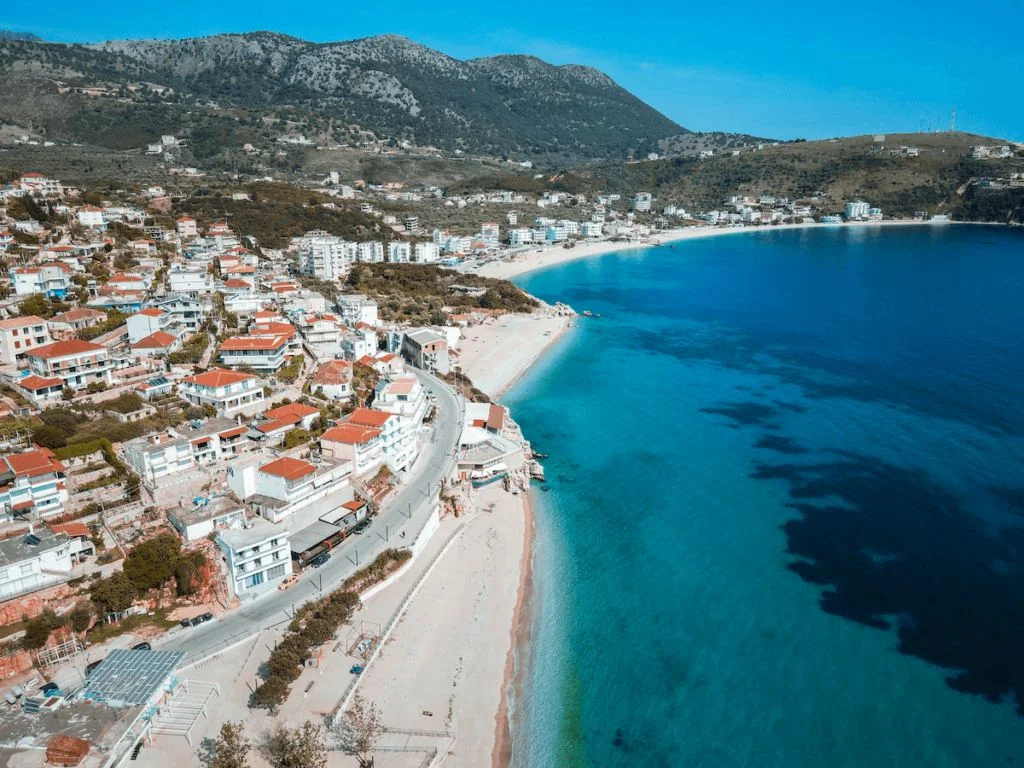 Himare is a beach town, so the best time to visit is during the summer months. It would be perfectly fine to visit in the spring or fall since the temperature is hot during the summer.
The sea in Albania does stay quite cold year-round, so I wouldn't plan on doing too much swimming unless you are there during the summer.
Where to stay in Himare, Albania?
Sea View Hotel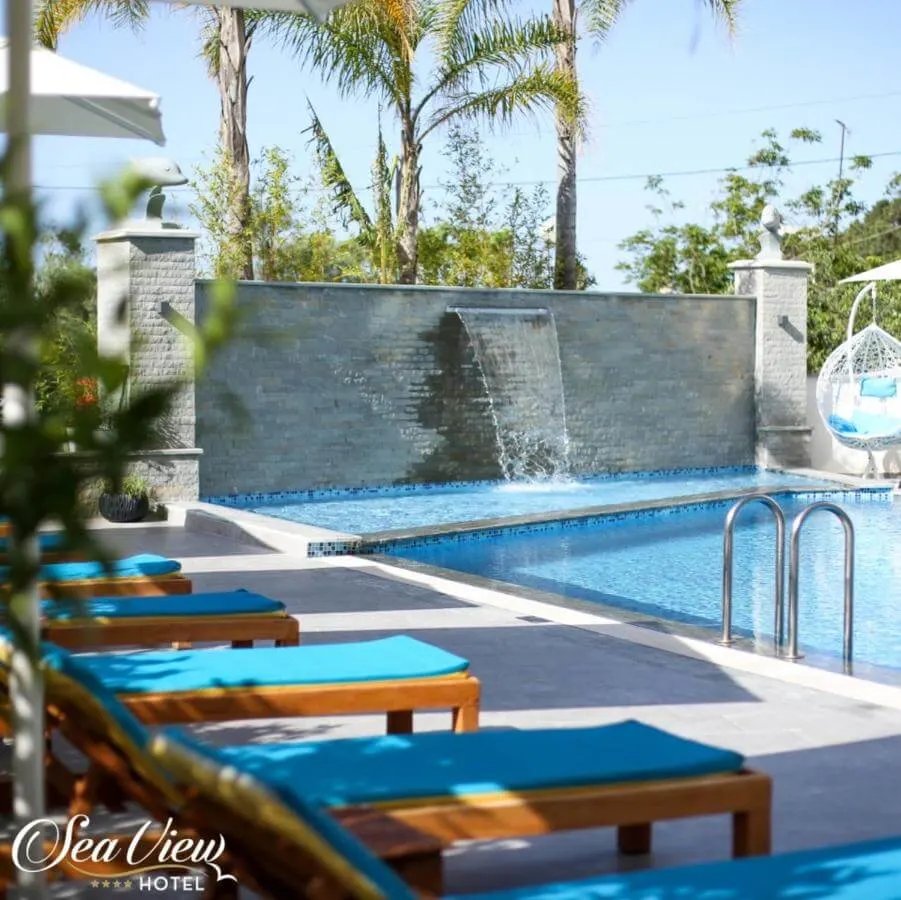 Sea View Hotel is a 4-star hotel located only 250 feet from Prinos Beach. This hotel also features a private beach area, free parking, and a restaurant.
Rea Boutique Hotel
Rea Boutique Hotel is located only 20 feet from Spile Beach, situated right over the water.
Miamar Hotel
Miamar Hotel is set in Livadhi Beach, located 3.1 miles from Himare.
This beautiful hotel offers two outdoor swimming pools and a sun terrace with sun loungers and sun umbrellas.
Breakfast is included.
Vegan/Vegetarian Food in Himare
Albania is a pretty difficult country to eat vegan in outside of Tirana. Also, the Albanian Riviera is famous for its seafood. Because of the challenges with eating vegan in Albania, I try to eat vegan when possible, but I'm okay with eating vegetarian food when vegan food isn't available.
On my first night there, I went to Taverna Stoli and ordered grilled vegetables and bruschetta.
The following day I went to a Greek restaurant called Taverna To Steki, where I ordered a few different vegetarian appetizers.
For dinner, I went to Hercules and ordered vegetable risotto.
Himare, Albania Packing Guide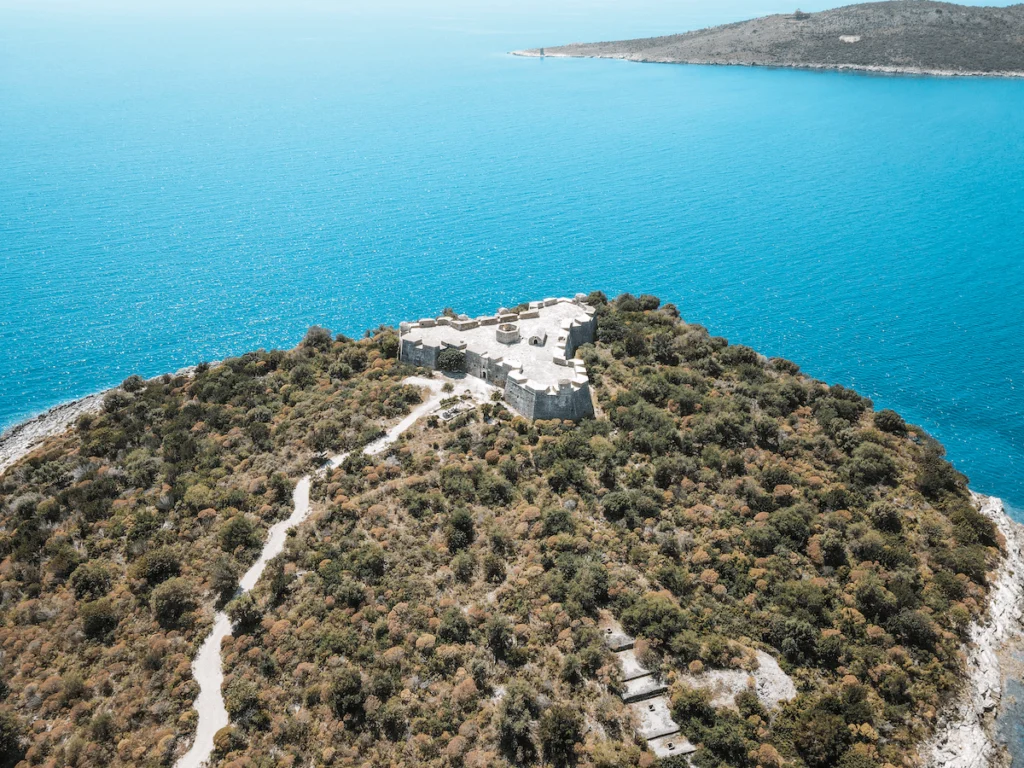 Check out all of my favorite travel products here.
The Best Resources For Traveling to Albania
Read Next: