Affiliate Disclosure: This post may contain some affiliate links, which means when you click, I get a small percentage of the purchase at no extra cost to you. This allows me to keep this website running, so feel free to click away! You can read my entire Affiliate Disclosure here.
Dhermi is one of my favorite cities in Albania. While popular among locals, it isn't a city that too many tourists visit. I lived in Albania for five months. I hadn't even heard of Dhermi until one of my Albanian friends posted about being there on her Instagram stories after I had already been living in Albania for several months.Dhermi is quite a small city, and there isn't a ton to do there. Although, it is definitely worth the visit. I visited for the day during my Vlore county road trip. I spent one day and night in Vlore, the next day I drove to Dhermi, and that night I drove to Himare and spent the following day there.In this travel guide, I will give you some tips for traveling to Dhermi, Albania.
Where Is Dhermi, Albania?
The village of Dhermi in Vlore county is composed of 3 neighborhoods: Dhermi, Gjilek, and Kondraq. They are on the side of the Ceraunian Mountains. Vlore is the nearest city and is located an hour and a half away.
How To Get to Dhermi, Albania
You can either rent and a car and drive to Dhermi or take the bus. I HIGHLY recommend renting a car. You also don't need an international driver's license to rent a car in Albania.The bus system in Albania can be very unreliable. There really isn't a proper bus schedule. Most of the time, you will show up at the bus station, say where you want to go, and someone will point you in the right direction of the bus. Buses will generally leave when they are full. Sometimes bus drivers will leave with only a few people, sometimes they will wait for half of the bus to be full, and sometimes they will wait for the entire bus to be filled. There's no way to know in advance, so you must be flexible on time.I decided to rent a car to do a road trip through Vlore, Dhermi, and Himare. You can also add Saranda and possibly Gjirokaster to this itinerary. I was living in Albania, so I took a separate trip to Saranda and Gjirokaster.
Llogara Pass
One of the main reasons I recommend renting a car on your trip from Vlore to Dhermi is to drive along Llogara Pass. Llogara Pass is a spectacular winding road that rises to 1,027m and overlooks the Ionian coast of the Albanian Riviera. You have to drive along Llogara Pass to get from Vlore to Dhermi, and this drive is worth the entire trip. The drive is breathtaking, and you will probably see flocks of sheep and mountain goats along the road.The most dangerous part of traveling in Albania is probably the driving. Albanian drivers don't follow the typical rules of the road. Cars will overtake you on Llogara Pass. The Albanians that live in this area are used to driving these windy roads frequently. Take it slow and don't feel the need to speed up just because another car is coming behind your quickly.You can also go paragliding from Llogara Pass all the way down to the beach.
Dhermi Beach
Dhermi Beach is becoming a favorite for summertime travelers on the Albanian Riviera. The beach in Dhermi is incredible with its turquoise blue water. You could easily spend the day relaxing in a lounge chair and swimming in the water.The sea in Albania does stay quite cold year-round. The temperature shouldn't be too much of a problem if you are visiting Dhermi in the summer heat. If you are coming in late spring or early fall it may be a bit too cold to swim.Also, Dhermi Beach doesn't have any sand, only rocks.
Gjipe Beach
I also recommend visiting Gjipe Beach while you are in Dhermi. It is a secluded beach located halfway between Dhermi and Himare, so I recommend visiting on your way to Himare. If you are driving to Gjipe Beach, you can drive to the furthest point, where there is a small parking lot. I was asked to pay 200 LEK to park. To reach the beach, you must walk (unless you have a 4×4). It takes approximately 40 minutes to walk down to the beach, but the view is beautiful along the way.As I just mentioned, you can drive a 4×4 down to the beach, and there were several when I was there. The road is very rocky and only fits one car at a time. I have no idea what you would do if two cars were trying to pass simultaneously. Personally, I would be too scared to do this.
Where To Stay in Dhermi, Albania
Empire Beach Resort
Empire Beach Resort is an adults only hotel. Enjoy a restaurant, free private parking, a seasonal outdoor swimming pool and a bar. This 4-star hotel offers a private beach area, a 24-hour front desk and free WiFi.
Hotel Splendor
At Hotel Splendor, all rooms are air-conditioned and feature a flat-screen TV, extra-large beds, a sofa, and a mini bar. Each room comes with a private bathroom with a shower, hairdryer, and free toiletries. Some rooms have private balcony that overlook either the sea or the mountains.
Hildon Eco Hotel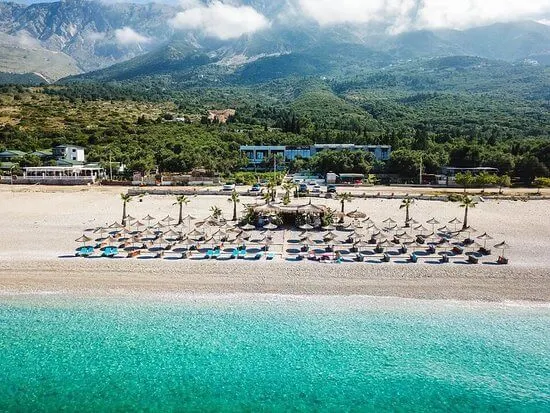 At Hildon Eco Hotel, hit the private sand beach, dine onsite at the restaurant, or enjoy a drink at the hotel's bar. All rooms provide bathrobes and slippers, plus free WiFi and flat-screen TVs with satellite channels. This hotel also offers balconies, minibars, and hair dryers to all guests.
Blue Boutique Hotel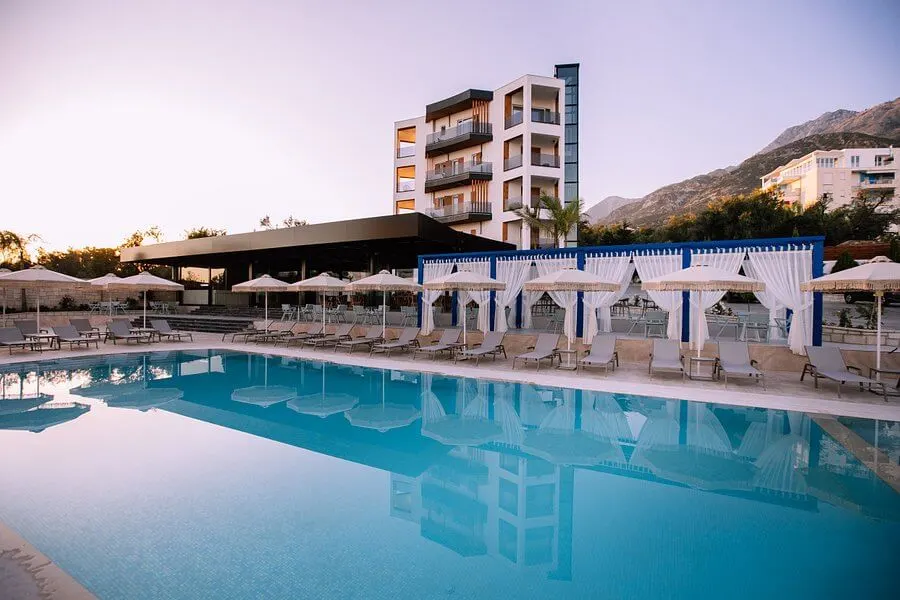 Along with a restaurant, Blue Boutique Hotel has a bar/lounge and concierge services. Free breakfast buffet, wifi, and self-parking are also provided. Additionally, dry cleaning, laundry facilities, and a 24-hour front desk are onsite. All rooms offer free WiFi, balconies, and flat-screen TVs with satellite channels. Refrigerators, room service, and safes are among the other amenities available to guests.
Eating Vegan in Dhermi, Albania
Albania is a pretty difficult country to eat vegan in outside of Tirana. I wasn't able to find any restaurants with vegan options. I decided to go to Luciano's, and I ordered a vegetarian pizza.
The Best Resources For Traveling To Albania
What To Pack For Dhermi
Check out all of my favorite travel products here.
Add To Pinterest: