Affiliate Disclosure: This post may contain some affiliate links, which means when you click, I get a small percentage of the purchase at no extra cost to you. This allows me to keep this website running, so feel free to click away! You can read my entire Affiliate Disclosure here.
Is Algenist Cruelty-Free?
Algenist is NOT cruelty-free.
Is Algenist Vegan?
Algenist claims to be a 100% vegan brand, but I wouldn't consider any of their products to be vegan since they are not cruelty-free.
I noticed that Sephora lists Algenist as a 100% vegan brand. This is incorrect since they test on animals.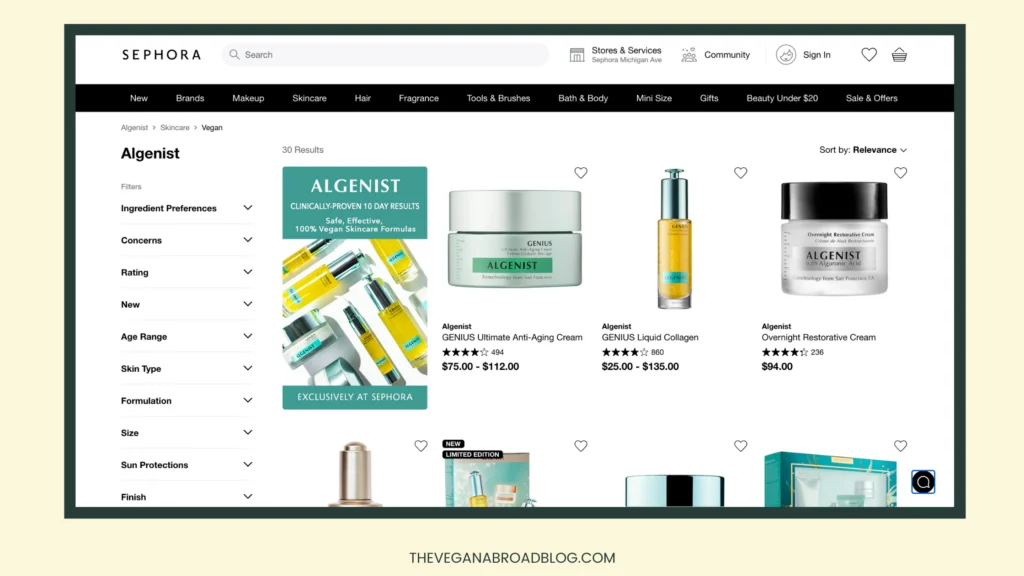 Is Algenist PETA Certified?
No, Algenist is not PETA certified, and PETA lists Algenist as a company that tests on animals.
Is Algenist Leaping Bunny Certified?
No, Algenist is not Leaping Bunny certified.
Is Algenist Owned By A Parent Company That Tests On Animals?
Algenist is not owned by a parent company that tests on animals.
From Their FAQ
"Cruelty-free" has no legal definition. Any brand can claim "cruelty-free" even if they do test on animals.
Some brands like to say that they are "cruelty-free" because it is a marketing buzzword to sell more products.
The only way to find out is to ask the company. One important question to ask is if their products are sold in China.
Algenist admits to testing on animals when the government requires it. This means that they sell their products in China.
Animal Testing in China
Animal Testing is required by law in China for all foreign cosmetics companies. All American and European cosmetic brands that are sold in China must undergo animal testing.
Any brand that chooses to sell its products in China cannot be considered cruelty-free.
Even products that can bypass mandatory tests may still be pulled from the shelves by Chinese authorities to be tested on animals.
Is Algenist Sold in Mainland China?
Yes, Algenist is sold in mainland China. You can see a screenshot of Algenist products listed on Sephora's Chinese website here:
Vegan and Cruelty-Free Alternatives to Algenist
Aesop

Aesop is a vegan and cruelty-free brand that was established in 1987 in Melbourne, Australia. They offer skin, hair, and body care formulations.
Herbivore Botanicals

Herbivore Botanicals is a vegan and cruelty-free brand that was created by a husband and wife duo in their attempt to create plant-based, food-grade skincare from scratch.
Krave Beauty

Krave Beauty is a vegan and cruelty-free brand created by YouTuber, Liah Yoo, to help customers minimize their skincare routine.
Pai

Pai Skincare is a vegan and cruelty-free brand that only includes pure, organic ingredients and no synthetics or known irritants. The products are packaged in recycled materials.
Youth to the People

Youth to the People is a vegan and cruelty-free high-end skincare brand that makes their products out of superfood ingredients.
Shop the full list of 100% vegan and cruelty-free brands.
Email to the Company
Before classifying any brand as cruelty-free and vegan, I send them an email with the following questions:
Are your products vegan? If only some are vegan, which ones?
Are any of your products or ingredients tested on animals?
Do you have a Leaping Bunny or PETA certification?
Do your suppliers or any third parties test animals on your behalf?
Does your company sell products in mainland China (except Hong Kong)?
Are you owned by a parent company that tests on animals?
Here is how Algenist responded:
Thank you for contacting Algenist.
Algenist does not conduct animal testing, nor ask others to test on our behalf unless required by law, regulation, or a governmental authority. We are committed to ethical practices and procedures through the entire process of product development – from R&D, to manufacturing, and to every step of the value chain; we rigorously vet our ingredient suppliers to ensure they share the same values and beliefs of non-animal testing. The safety and efficacy of our products are evaluated by clinical (nonanimal) methods with volunteer human panels.
As Algenist continues to expand and reach our customers around the globe, our support and commitment to eliminate animal testing is stronger than ever. Therefore, we are proud to share our partnership with the Institute for In Vitro Sciences (IIVS), a non-profit research organization dedicated to the adoption and regulatory acceptance of alternative methods to animal testing worldwide.
To learn more, visit here (http://iivs.org/education-outreach/working-with-china-2/) for IIVS's work in China.
Read Next: