Affiliate Disclosure: This post may contain some affiliate links, which means when you click, I get a small percentage of the purchase at no extra cost to you. This allows me to keep this website running, so feel free to click away! You can read my entire Affiliate Disclosure here.
It can be tough to find stylish vegan handbags that don't compromise on quality or design. But fear not – we've rounded up some of the best vegan handbag brands out there so you can strut your stuff in style! From high-end designers to affordable brands, we've got you covered. So read on and get ready to update your wardrobe with some gorgeous new vegan bags!

There's no need to sacrifice style when going vegan – check out these amazing brands!
Alexandra K
Alexandra K, a company founded in 2014, produces vegan and environmentally friendly handbags and accessories. Each bag is manufactured in Poland using cutting-edge textiles that are not only vegan but also environmentally friendly. Their goods are composed of apple, pineapple, corn leather, and other vegetable fabrics
Alexandra K is a PETA-approved vegan brand and won the Vegan Fashion Award by the German PETA in 2014 for the Best Women's Handbag.
Alkeme Atelier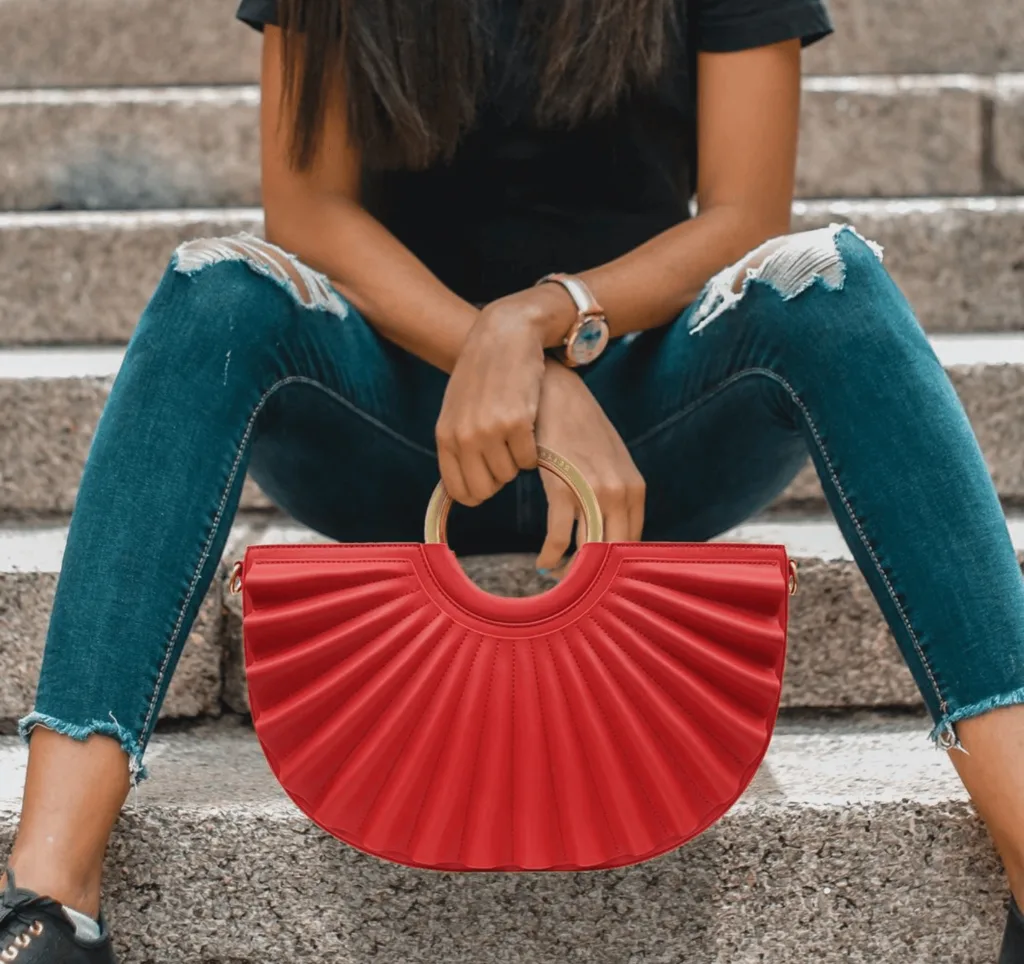 Alkeme Atelier is inspired by the ancient science of Alchemy and the process of transforming and combining the four elements (earth, water, fire, and air). This idea of breaking down and rebuilding materials led this vegan brand to produce their bags with sustainable, plant-based textiles.
Alkeme Atelier's vegan bags are made using pineapple fiber, cactus leather, grape leather, vegan fiber, recycled plastic bottles, and bamboo fiber.
Angela Roi
Angela Roi is a NYC-based luxury handbag brand that sources its materials ethically. The vegan leather purses are made ethically with premium materials while also staying relatively affordable. All of Angela Roi's cruelty-free bags are carefully handcrafted using EPUL (Exquisite Polyurethane Leather) by skilled artisans in Korea that get paid fair wages for meaningful work in clean, comfortable factories.
Angela Roi also has a collection of vegan bags made from cactus leather. Cactus leather is carbon negative, enriches local soil, and has no waste.
The company gives back to society by supporting animals worldwide who otherwise might be mistreated or poached.
Ava Carrington
Ava Carrington was created by two Swedish sisters when they weren't able to find sustainable and cruelty-free handbags that were also high-quality and well-designed.
They use a modern version of vegan leather that has the structure and softness of animal leather. The bags are lined with TopGreen, an environmentally friendly material made from recycled PET bottles. The custom hardware is plated with 24k gold to add luxurious details.
Ava Carrington's bags are approved vegan by PETA.
Corkor
Corkor is for you if you're concerned about "fake leather." Corkor is a vegan brand that produces bags, wallets, and belts from cork. Their cork bags are an excellent choice as a replacement for animal leather or fake leather handbags, and you'll love the quality.
Because cork trees require very little water and fertilizer, they are low-carbon and can be harvested without harming the tree, making them one of the most sustainable materials available.
They have a PETA-approved vegan certification and the cork they use is FSC® certified.
Corkor's purses are all hand-made by local artisans in Portugal.
Doshi
Doshi is an all-vegan bag brand that offers vegan leather handbags, briefcases, backpacks, and accessories. They are based in Southern California, and they are on a mission to design high-quality, durable, and useful products for everyone.
The brand was founded by Paras Doshi, a lifelong vegetarian, and long-time vegan. He noticed how difficult it was to find vegan accessories when he began his first job in 2001.
The highest quality of man-made leather commercially available, Microfiber PU leather and suede, are used to make Doshi's vegan bags. Doshi also gives 5% of net sales to nonprofits that benefit people, animals, and the environment.
Gunas
For over 10 years, Gunas New York has been selling vegan handbags and shoes, making it one of the first fully vegan brands. They use materials such as polyurethane, coated canvas, and plant-based faux leather, as well as recycled fabrics.
Gunas produces a wide range of vegan leather handbags, including satchels, crossbody bags, clutches, tote bags, shoulder bags, backpacks, and laptop bags. Vegan men's bags and wallets are also available. These bags are simple yet sturdy and feature bright colors that suit your taste and budget.
Starting in her Manhattan studio apartment, Sugandh Agrawal wanted to create a fashion brand centered around activism. Gunas has won several awards, including Best Green Handbag Designer by Instyle in 2018 and Macy's Best Retail Handbag by an Independent, also in 2018.
House of Want
House of Want creates refined & sophisticated bags, with a nod to retro & lady-like elegance. Silhouettes are modern & inspired, always inclusive of signature stand-out details, recognizable throughout each collection.
You can get 20% off your order with the code THEVEGANABROAD_
Hozen Collection
Hozen creates vegan bags with minimal shapes that can be worn every day year-round. Over 90% of the materials they use are made from recycled materials. All of their products are made in a fair-wage factory in LA.
Jill Milan
After years of searching for classic, luxury handbags that were leather-free and vegan, Jill Fraser founded Jill Milan in 2010 with her partner, Milan Lazich.
Each bag is made in Italy by artisans who craft the best luxury accessories in the world. Bags are sewn by hand and the metalwork on Jill Milan's bags is handmade.
Jill Milan's designers have worked for companies such as Prada and Judith Leiber. They have attended leading European design schools, and know how to make beautiful, timeless bags.
Jill Milan's bags have been carried to events ranging from the Oscars to the Met Ball. Actresses who have carried Jill Milan on the red carpet include Anne Hathaway, to premieres for films such as "The Dark Knight Rises" and "Les Miserables"; Kerry Washington, to the premiere of her film "Django Unchained"; and Eva Longoria, to the "Desperate Housewives" wrap party and the Presidential Inauguration.
JW PEI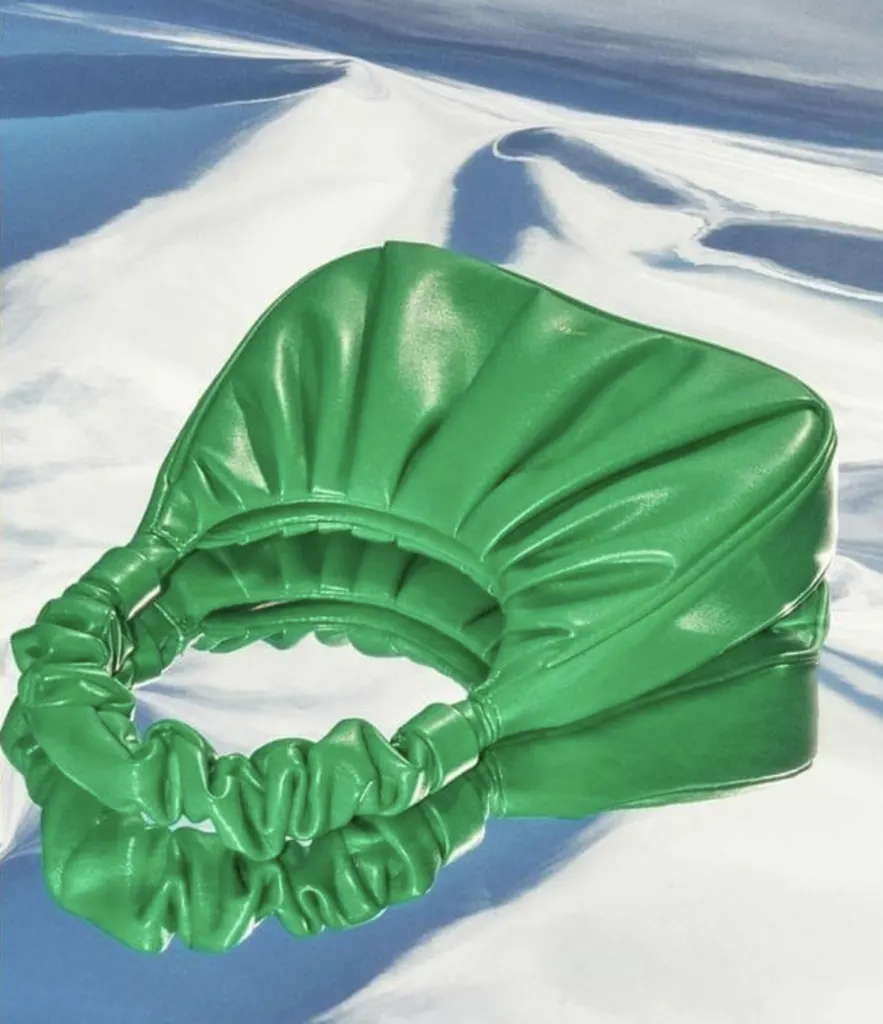 Based in Los Angeles, JW PEI was founded by a husband and wife duo inspired by the idea that fashion should be accessible, effortless, and empowering.
JW Pei's vegan handbags are made from high-grade polyurethane resin and ultra-fine microfiber bundles, and the linings are made from 100% recycled plastic bottles. The bags come in a variety of styles and colors, so there'll be something for everyone.
Their vegan purses have been featured in places like Vogue, Elle, Refinery29, and more.
Kula Bags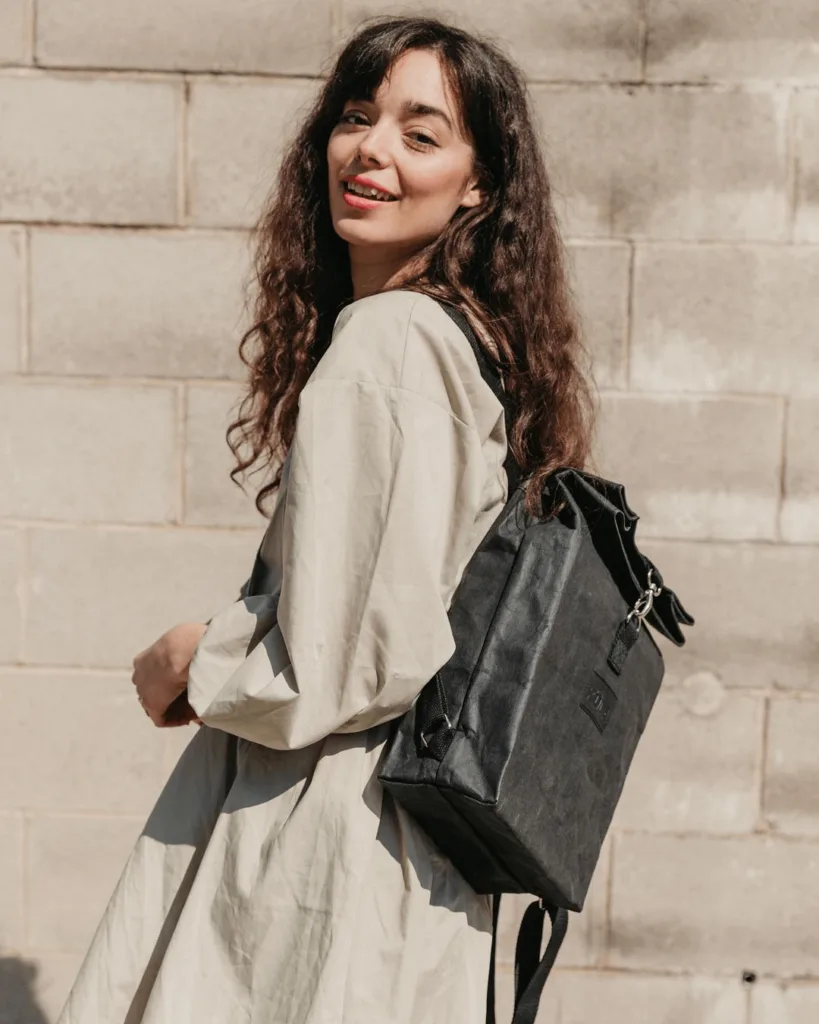 Kula is UK vegan brand founded in 2019. They don't use leather or any animal-based materials in their bags.
These vegan bags are made out of reinforced paper called Texon Vogue. These bags are sustainable as well, and the reinforced paper material is recognized by the Forestry Stewardship Council (FSC) as being sourced sustainably from responsibly managed forests.
All of Kula's bags are gender-neutral and have a minimalist style. They are also quite affordable. The most expensive bag is only 38 GBP.
Kula Bags are registered with the Vegan Society and PETA.
Luxtra London
LUXTRA was founded in 2018 by serial ethical entrepreneur Jessica Kruger. The vegan handbags are made out of innovative materials like pineapple, apple, mango, cactus, and corn.
Mali + Lili
Founded in 2017, Mali + Lili is a collection of cruelty-free handbags and accessories inspired by fashion and designed for function.
Mali + Lili has an eco-friendly approach to their designs. Their handbags and accessories are designed in Los Angeles and made from PETA-approved quality vegan leather.
Mashu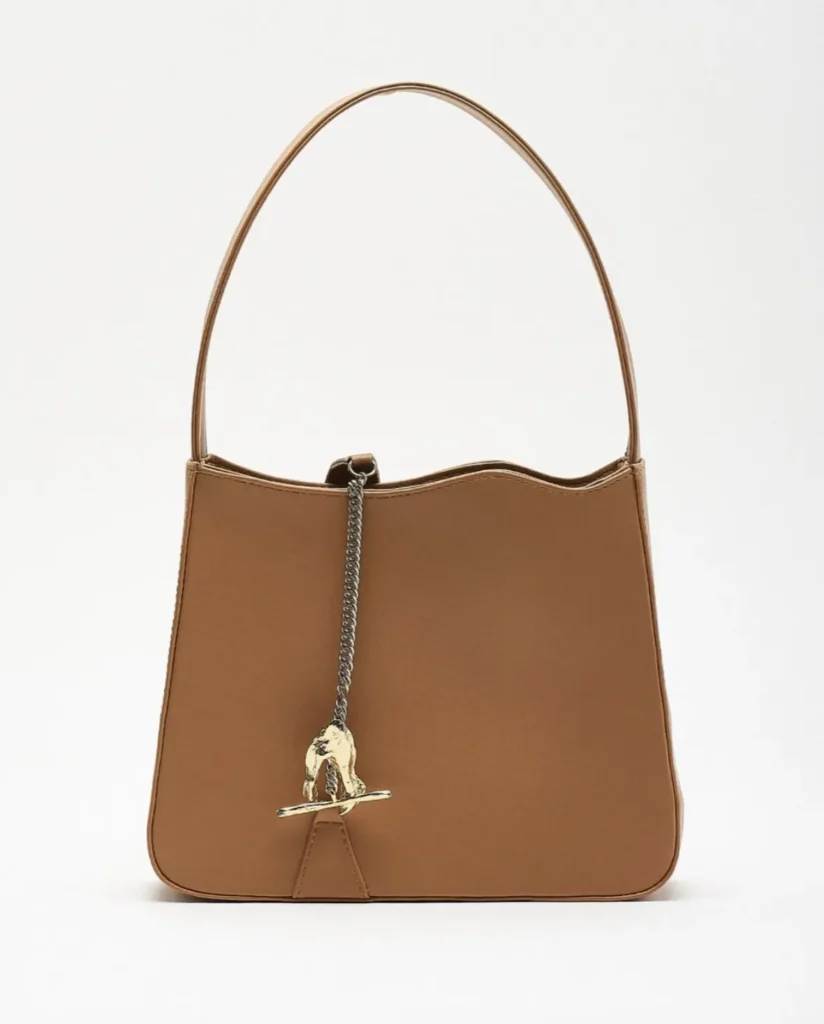 Mashu London was established in 2017 by Creative Director Ioanna Topouzoglou. The label was conceptualized in the UK and produces all their bags in Greece.
Ioanna being Greek herself, wanted to support Greek artisans and enrich the local economy as well as promote Greek craftsmanship through her products.
Mashu's vision is to create modern handbags that showcase the finest craftsmanship and materials without compromising the planet.
Matt & Nat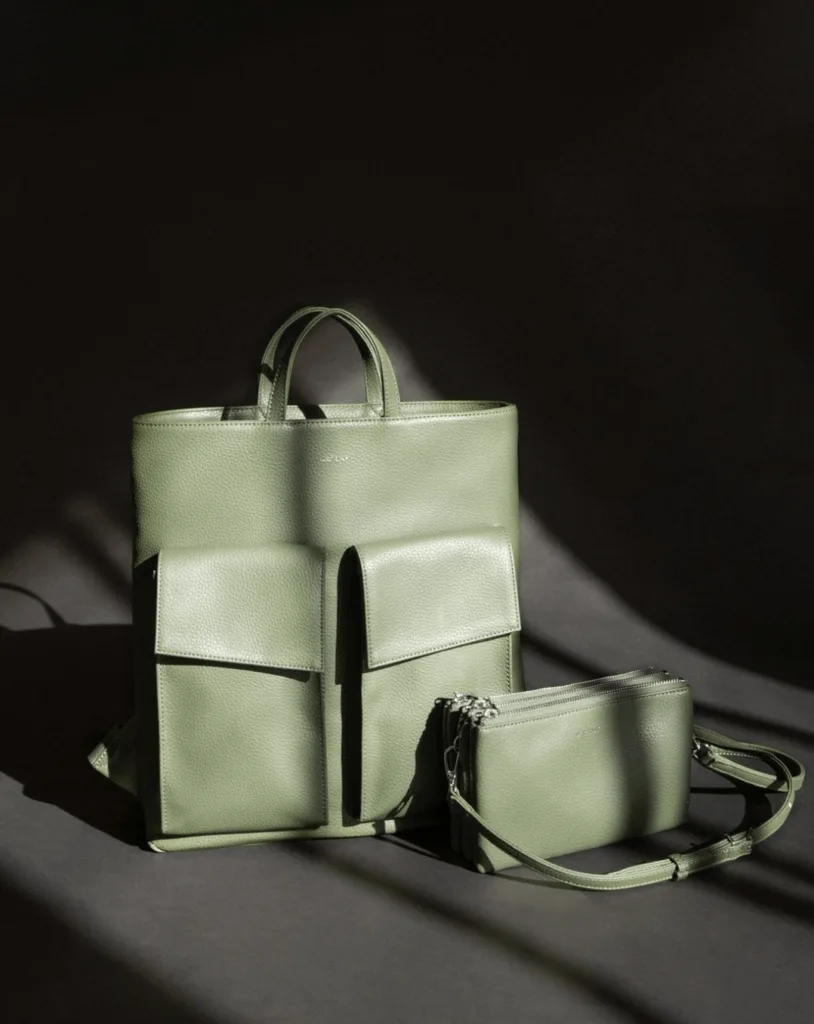 Matt & Nat is a longtime leader in the vegan fashion industry, with vegan handbags, vegan shoes, and other vegan accessories. This vegan brand employs ethical and cruelty-free practices in its production.
Matt & Nat use a variety of fabrics such as recycled nylons, rubber and cork, and recycled plastic bottles to create durable faux leather.
Check out Matt & Nat if you're looking for a vegan leather bag with a high-end, polished look.
Melina Bucher
Melina Bucher is a vegan bag and accessory brand that believes in a sustainable, cruelty-free future of fashion. They are on a mission to promote a new way of enjoying luxury and a modern, innovative approach to fashion.
Committed to a transparent supply chain and reducing their impact on the planet and its inhabitants, Melina Bucher wants a fashion world that's more cruelty-free.
Melie Bianco
Melie Bianco is a PETA-approved vegan brand. Their bags have been featured in Marie Claire, Glamour, Instyle, Oprah Magazine, Cosmopolitan, and more.
Melie Bianco's vegan bags are made using PU (Polyurethane).
Pixie Mood
Pixie Mood creates vegan bags made out of solvent-free vegan leather, lining made entirely from recycled plastic bottles, and 100% plant-based packaging.
Pixie Mood is a climate-positive brand due to its partnership with TerraPass, which funds a variety of projects to destroy greenhouse gasses and produce renewable energy.
Sans Beast
Sans Beast was launched in March 2018 by Cathryn Wills, formerly Manager and Creative Director of the Australian accessories brand, MIMCO. After living and breathing the world of leather handbags for over a decade, Wills adopted a new lifestyle in mid-2015 and progressively recognized a disconnect between her professional role and her ethical stance on animal welfare and the environment.
Their aesthetic is inspired by the intersection of menswear and womenswear with a love for classic shapes. Sans Beast mostly use synthetics in their handbags with a small but growing cohort of cactus material from the dessert in Mexico.
Sinbono
Sinbono is a leader in vegan fashion accessories. Their goal is to help fashion lovers make well-informed, ecologically friendly purchases. Sinbono is dedicated to being Earth-kind and cruelty-free throughout their supply chain, with an ongoing emphasis on sustainability.
Sinbono believes in manufacturing on-trend fashion accessories in a way that doesn't harm animals and the environment. They use recycled plastic bottles and reclaimed fruit leathers to create their vegan leather bags.
Sinbono vegan bags are built to last for years and withstand shifting trends. Their motto is "buy one, buy well" to promote buying products that stand the test of time.
I personally own the Kace Crossbody Bag from Sinbono. I have only worn it a few times, but I have gotten several compliments so far. Although I haven't had the bag long enough to say how sturdy it is over time, I can tell that it is made out of high-quality material.
Stella McCartney
Stella McCartney is the go-to brand if you are looking for a luxury vegan handbag. Stella McCarney is a celebrated name in high fashion, and she has long been a pioneer in cruelty-free and ethical fashion. Her bags are pricier than any other brand on this list, and they fall in the category of high-end designer vegan bags.
Stella McCartney is a lifelong vegetarian. She is committed to opening a responsible business and doesn't use any animal leather or fur in her designs.
All of Stella McCarney's vegan designer bags are made from materials that are PVC-free and solvent-free. They use a material that is made from polyester and polyurethane called alter-nappa.
Street Level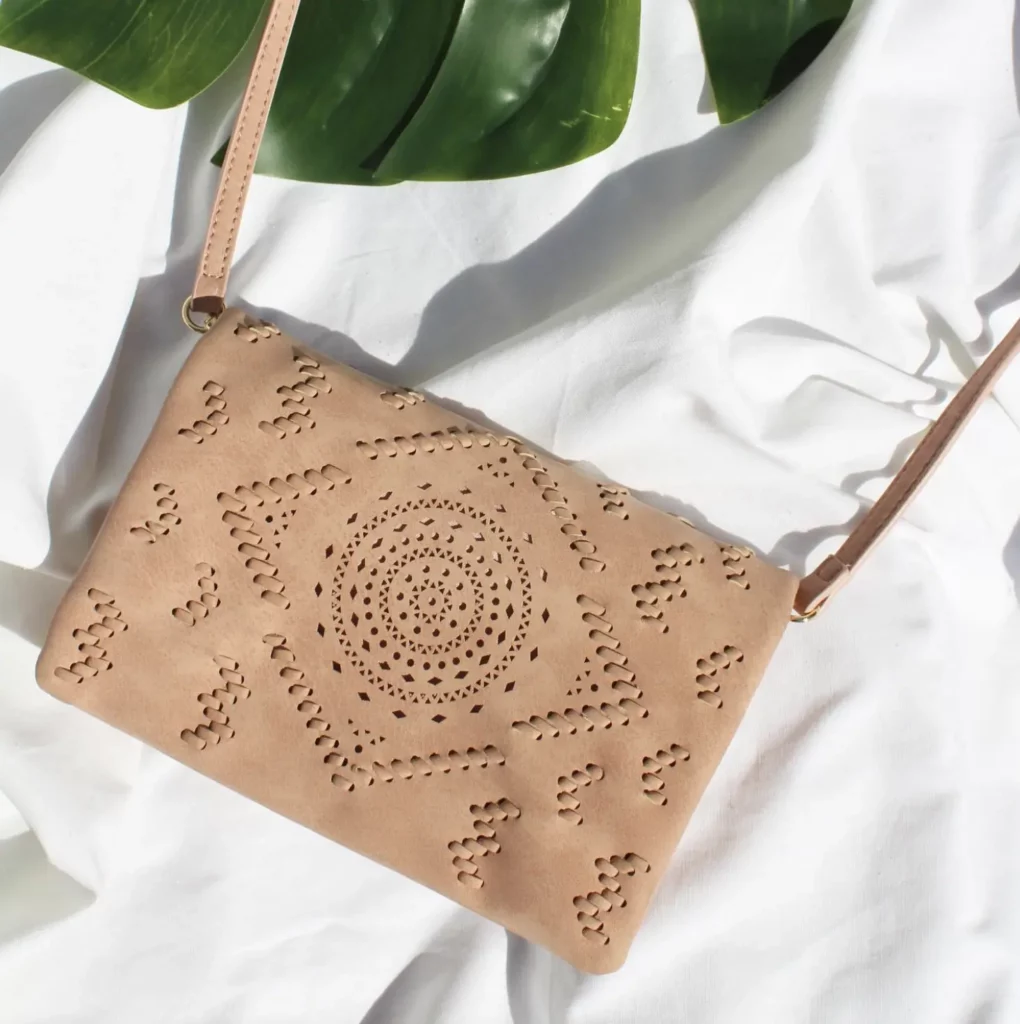 Street Level is a vegan-friendly handbag brand, founded in downtown Los Angeles.
Street Level's mission is to create stylish and functional handbag styles that are both shoulder-worthy and wallet-conscious. They use high-quality sustainably-made, recycled, and vegan materials whenever possible, with a mindset on environmental and social impact.
Street Level is a PETA-approved brand.
Svala
Svala is a line of luxury vegan handbags, handcrafted from premium, innovative fabrics.
Helga Douglas, Svala's founder, was unable to find stylish and sustainable animal-friendly bags and accessories, which led her to start her own label.
Svala is committed to using the highest-quality vegan fabrics. Each Svala handbag is lined with organic cotton and recycled plastic bottles, and the brand was one of the first brands worldwide to include pineapple leather Piñatex in their collection. A by-product of pineapple harvest, Piñatex brings new income streams to subsistence farmers. No extra land, water, fertilizer or pesticides are required to produce the raw material.
Svala's cork fabric is sourced from Portugal – it is waterproof, stain-resistant, and durable. The harvesting of cork is done in a sustainable manner so that no tree is damaged during the process – the harvesting actually helps the tree absorb CO2 and therefore the environment.
The polyurethane used by Svala is sourced from a family-owned factory in Italy that supplies several high-end European luxury designers.
The Morphbag by GSK
The Morphbag by GSK is an award-winning sustainable, season-less handbag solution for the busy and stylish woman.
It is the 'every-day bag' reinvented as a versatile styling solution that adapts to a practical lifestyle in color-coordinated options.
"I wanted to innovate the everyday handbag to a design concept that 'does it all' by morphing with our busy lifestyles, our wardrobe, and activities. My solution was to create a unique handbag concept that is sustainable in use as well as products and made from lusciously buttery vegan leather. The designs needed to be chic, timeless, seasonless, color-coordinated, and so versatile to take us from day to night flawlessly. All these are my brand deliverables." – Giovanna Sessi-Knott, Founder of The Morphbag by GSK
Urban Originals
Urban Originals creates practical vegan bags. They use the finest quality vegan leathers and recycled materials where possible while also working to very low chemical requirements.
All products are made in fair trade conditions and have passed Department Store and Industry ethical standards. They also donate 10% of profits to organizations that help prevent human trafficking.
Urban Original bags are designed in Australia but can be found in boutiques across Australia, the United States, Mexico, Japan, South Korea, and the UK.
von Holzhausen
von Holzhausen began when former car designer Vicki von Holzhausen decided to make a vegan leather that could rival animal leather. They plan on replacing all animal leather with sustainable non-animal leather by supplying our materials to all industries: fashion, furniture, airplanes, and even cars.
Will's Vegan Store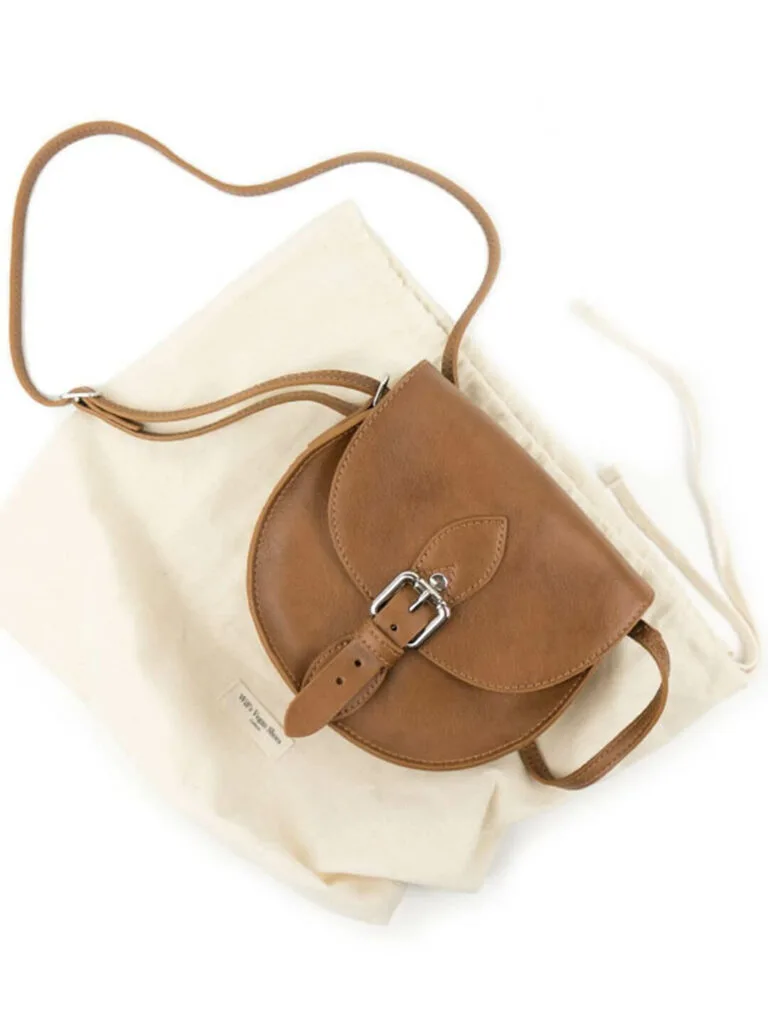 Will's Vegan Store launched in 2013 as a vegan shoe company. They have expanded their product line to now include vegan bags, vegan clothes, and vegan accessories.
The majority of their goods are made from Italian bio-based vegan leather produced from plant materials (cereal crops). The newest version includes 69 percent bio-oil and a viscose (a natural eucalyptus tree material) backing layer. Despite this, it still has 31% polyurethane in its makeup, so there is still room for improvement. None of their products uses PVC or contains PFC's.
They do not use plastic bags or plastic packaging. All the packaging materials are environmentally friendly, sustainable, and can be recycled.
In 2020 they invested in nature-based offsetting projects like avoiding deforestation in Papua New Guinea and Columbia to offset their carbon emissions to zero, making the brand carbon neutral.
Read Next: