Affiliate Disclosure: This post may contain some affiliate links, which means when you click, I get a small percentage of the purchase at no extra cost to you. This allows me to keep this website running, so feel free to click away! You can read my entire Affiliate Disclosure here.
One of my favorite things to do when visiting a new country is to take a cooking class. You can learn so much about a culture by learning about what they eat on a day to day basis.
When I moved to Chiang Mai, Thailand, in May 2018, I knew that I had to take a Thai cooking class. Thailand was my new home, and I was excited to learn as much about the culture that I possibly could, including how to make their most popular dishes.
After living in Chiang Mai, Thailand for 16 months, I can easily say that one of my favorite parts about Thailand was the food. I fell madly in love with spicy food and exotic fruits. That love all began with a vegan cooking class during my first week in Chaing Mai.
Chiang Mai has an overwhelming number of Thai cooking classes. I was able to narrow down the list a bit because I needed the course to be vegan-friendly. At the time, I wasn't able to find any fully vegan or vegetarian cooking classes in Chiang Mai.
A Lot of Thai
I was very impressed when I discovered A Lot of Thai because Yui, the woman that teaches all of the cooking classes at A Lot of Thai, has been on TV several times for how incredible of a cook she is.
Schedule
A Lot of Thai is open Monday-Friday. There is only one class per day from 10:00 – 3:30. Every day has a different menu, so make sure that you check out the website to choose which dishes you want to make.
On the morning of the class, she picked us up from our Airbnb. We arrived at her house in a residential part of Chiang Mai. The cooking space was outside but completely covered to protect you from the hot sun and any rain. There were ten cooking stations. Each had its own utensils, prepping station, prepping surface, wok, stove, etc.
Even though Yui is quite a Thai celebrity, she is very down-to-earth and funny. She was able to change the recipes to make them fully-vegan. She also did an excellent job of explaining how to swap out fish oil (a prevalent ingredient used in Thai cooking) for a vegan alternative.
Before each dish, we would gather around Yui's workstation as she explained and demonstrated to us how to cook each meal from start to finish. We would then sample her complete meal to make sure that we knew how it was supposed to taste. I wasn't able to taste-test every dish since she did not make her dish vegan.
We would then all go to our workstation and start cooking! Yui was helpful to everyone in the class and was able to give directions if you forgot a step and didn't know what to do.
What dishes do you make?
We made four different dishes and ate each meal immediately after cooking them. The day that I took the cooking class, we made Pad-Thai, Stir-Fried Chicken with Cashew Nut (I was able to substitute tofu for the chicken), Red Curry, and Mango Sticky Rice.
Other meal options on other days include green curry, panaeng curry, tom-yam-goong, pad-si-ew, som-tam, kao-soy.
Here are the four dishes that we made in order!
[the_ad id="2489″]
Pad Thai
Pad Thai is the ultimate classic Thai food, so I was excited to learn how to make it on my own. You make traditional Pad Thai with fish sauce, but Yui taught us how to get the same flavors without the fish sauce. It was delicious!
Stir-Fried Vegetables and Cashew Nuts
The actual name for this dish is stir-fried chicken and cashew nut. This dish is not very vegan-friendly (for obvious reasons). We were able to swap the chicken for tofu, and it still tasted great!
Red Curry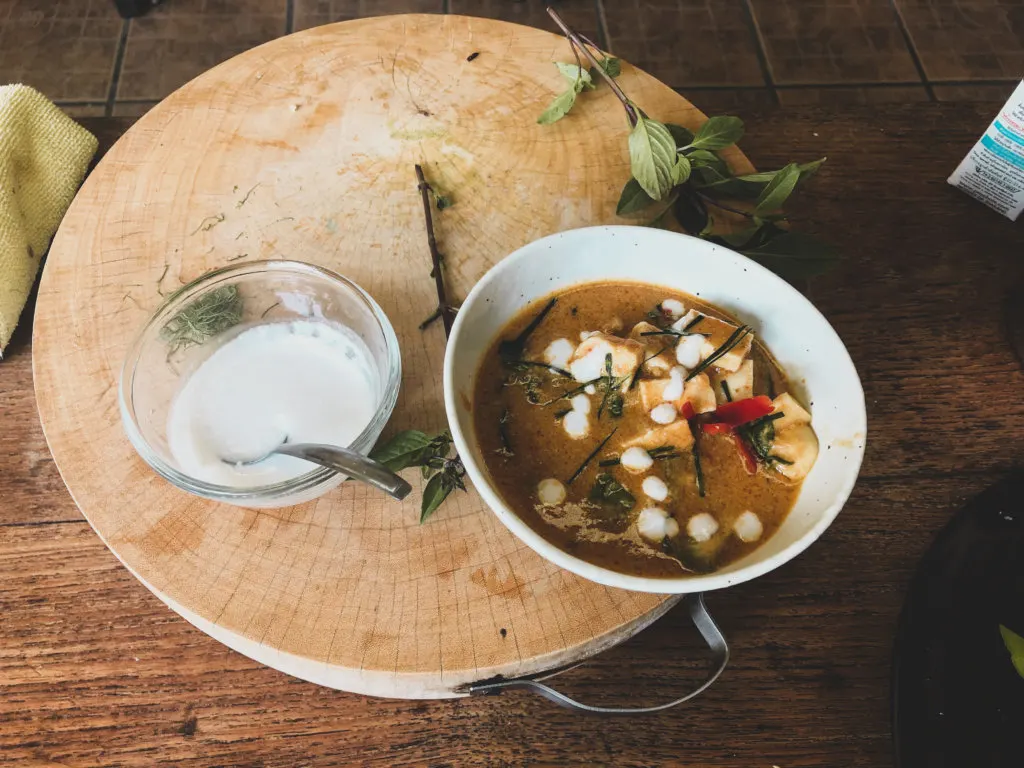 Curry is probably the food that I ate the most while I was in Thailand. Both red curry and green curry are very popular, and I ate one of these almost every day.
The original red curry recipe also had chicken and fish sauce, but we were able to use alternatives without compromising the flavor.
Mango Sticky Rice (also called Sweet Sticky Rice)
This Mango Sticky Rice was probably my favorite dish that I made all day. I even forgot to take a picture of it until I was halfway done eating it (oops!).
In my experience, mango sticky rice is either a hit or a miss. I had heard a lot about mango sticky rice before moving to Thailand. Then, I ate it for the first time on the first day that I was there. I was a bit disappointed, and I didn't think that it tasted that great.
I then ate it again a few days later when taking this cooking class. This mango sticky rice tasted entirely different from the first one that I ate. This was probably my favorite mango sticky rice that I ate the entire time that I was in Thailand because it was so fresh.
Trip to the Market
After cooking all four dishes, Yui took us on a trip to the local market. I loved that we went to the market after cooking because we were able to learn more about the different ingredients that we had just finished cooking with and eating.
Yui's cooking class was one of my favorite things that I did while in Chiang Mai, and it was an excellent start to my life living in Thailand. There was so much food that she gave us take away boxes for the food that we didn't finish. The best part of the lesson was that she gave us a cookbook that included over 30 different Thai recipes, including the four that we made that day.
NOTE: Since taking this cooking class, a vegetarian/vegan cooking class opened up in Chiang Mai. I found out about this cooking class because the woman who teaches the cooking class also owns the yoga studio that I visited frequently. Unfortunately, I never took a cooking class with her.
There is also another vegan and vegetarian Thai cooing class that I discovered if you are looking for a fully vegan class.
Affiliate Disclosure: There are some affiliate links on this page, which means when you click I get a small percentage of the purchase at no extra cost to you. This allows me to keep sharing great travel tips, so feel free to click away!
Pin for later…
Related Posts