Affiliate Disclosure: This post may contain some affiliate links, which means when you click, I get a small percentage of the purchase at no extra cost to you. This allows me to keep this website running, so feel free to click away! You can read my entire Affiliate Disclosure here.
Thailand has been a popular destination for many tourists around the world because of its rich culture, vibrant nightlife, and stunning beaches. However, behind the glitter and glamour, Thailand has been grappling with its long-standing elephant welfare issues. Elephants play a significant role in Thai culture and history, but these gentle giants have been mistreated for the sake of tourism.
The Rise of Elephant Tourism in Thailand
The mistreatment of elephants in Thailand can be traced back to the country's logging industry. Elephants were used to transport large tree trunks through the dense forests. However, with the ban on logging in 1989, many elephants have been relegated to the streets of big cities, forced to beg for food and perform in shows for tourists. Unfortunately, the conditions these elephants live in are often poor, with limited access to food, water, and shelter. Worse yet, these elephants are often subjected to abuse and even torture to make them more docile and perform tricks.
Elephants used for tourism purposes are often separated from their mothers and trained using cruel methods such as the crush method, where they're tied up and beaten until they submit. These elephants are also forced to carry heavy loads, walk on concrete surfaces for long hours, and endure crowded and unsanitary living conditions.
One of the biggest animal welfare issues that elephants face in Thailand is the elephant trekking industry. Tourists are often drawn to the idea of riding on elephant's backs amidst the beautiful scenery, but this form of tourism is harmful to elephants. Trekking elephants often carry heavy loads for long hours, leading to stress, exhaustion, and health issues. Additionally, elephants are not designed for carrying heavy loads on their back and often suffer from spinal injuries from being ridden. These animals should be spending their leisure time socializing and foraging in the forest, not carrying tourists on their backs.
The Impact of Elephant Tourism on Their Well-Being
The impact of elephant tourism on their well-being is significant. With the high demand for elephant rides, shows, and interactions, many tourist companies operate without proper guidelines or regulations, leading to a lack of basic care for the animals' welfare.
Elephants used for tourism purposes often suffer from stress, anxiety, and depression. They're also prone to injuries and diseases due to their living conditions and lack of proper care. Additionally, elephants in captivity often suffer from obesity, foot problems, and skin diseases.
Efforts to Improve Elephant Welfare
For many years, animal welfare organizations have been tirelessly advocating for the welfare of elephants in Thailand. They provide a more ethical approach to elephant tourism, giving these gentle giants a safe haven to live in while educating the public about the necessity of elephant conservation. These organizations also take steps to rescue and rehabilitate elephants that are in poor condition. They actively campaign against cruel practices like elephant rides and street begging.
As a responsible tourist, there are ways in which you can help improve the welfare of elephants in Thailand. One of the best ways is by choosing ethical tourism companies that focus on promoting sustainable and responsible tourism. Continue reading to discover 11 elephant sanctuaries in Thailand that are ethical to visit.
1. Elephant Nature Park, Chiang Mai
Elephant Nature Park in Chiang Mai, Thailand, is a must-visit for any animal lover looking for an unforgettable experience. Hundreds of elephants, rescued from various unfortunate situations, call this peaceful sanctuary their home. Visitors to the park have an opportunity to feed and interact with elephants in a safe and ethical environment. Moreover, it's not just about up-close encounters with giant mammals; the Park is a haven for other animals, including dogs, who get to enjoy their freedom at the Park too.
I visited Elephant Nature Park during my first week living in Thailand, and it was an unforgettable experience. We were able to feed and walk with the elephants. A vegetarian lunch is provided with each booking, and you are able to request a vegan meal if needed.
2. Elephant Hills, Khao Sok National Park
At Elephant Hills, guests have the unique and incredible opportunity to observe Asian Elephants in their natural habitat. The park actively works to improve the well-being of its elephants who have been rescued from inhumane captivity, so much so that Elephant Hills attained 100% of the core criteria in an audit by Global Spirit. Beyond their pristine setting amidst Khao Sok National Park, visitors can opt for a truly extraordinary stay at one of their two glamping camps deep within the wild landscape. While there, you may observe elephants wallowing, explore mangrove forests on foot or kayak, visit local markets, and generally explore the stunning biodiverse environment of the area.
3. Phuket Elephant Sanctuary, Phuket
Phuket Elephant Sanctuary completes an incredible mission – to provide retirement and a proper sanctuary for rescued elephants. Established by Mr. Montri Todtane, a former Phuket elephant camp owner, and Lek Chailert, the 30-acre tropical jungle serves as home to 12 retired and overworked elephants, with more expected to join in the future. It is truly an amazing feat that these exhausted animals have been given the opportunity to reclaim their natural freedoms and roam around happily in this refuge.
Not only can people visit the sanctuary for daily tours but also volunteer for 1 to 7-day programs. These volunteering programs offer physical challenges but everything is worth it for those who wish to help Thailand's majestic creatures as well as sustain an ethical elephant sanctuary.
4. Boon Lott's Elephant Sanctuary, Sukhothai
BLES is a sanctuary based in Baan Tuek, Sukhothai, Thailand – which offers visitors the opportunity to experience life and help with the care of rescued and retired elephants. Founded by Katherine Connor in 2007, BLES was born out of her chance encounter with a baby elephant called Boon Lott – whose name translates to "survivor" in Thai. The sanctuary aims to actively involve visitors in all aspects of their daily activities, from exploring the jungle for food for their elephant residents to maintaining their herding areas and grazing grounds. Unfortunately, due to its remote location, single-day visits are not possible; however, those interested can design an individually-tailored itinerary that allows them to stay over multiple days.
5. Phang Nga Elephant Park, Phang Nga Province
Nestled in the heart of Phang Nga Province, not far from a stunning nature reserve, lies a small family-run park that offers a unique and sustainable elephant experience. Phang Nga Elephant Park has been around since 2015, although for over 150 years, the family has been devoted to caring for these beautiful creatures.
Step into the forest and witness these gentle giants roam free, planting food as part of the park's love for conservation. Take the time to visit the education center and learn about the vital importance of elephant conservation in Thailand. You can enjoy a day surrounded by nature, knowing that your visit is making a positive impact on the elephants' lives.
6. Burm and Emily's Elephant Sanctuary, Chiang Mai
Burm and Emily's Elephant Sanctuary (BEES) is a haven for some of the most gentle and intelligent creatures on the planet. Founded by a Thai-Australian couple passionate about animal welfare, BEES offers safe refuge to old, injured, or retired elephants. Unlike some other elephant sanctuaries, BEES operates a 'no contact, hands-off' policy, which means that visitors can observe these majestic animals in their natural habitats but cannot ride or bathe with them. Nevertheless, visitors are still able to engage with the elephants in many ways, such as by caring for them, preparing their food, cutting grass, or cleaning their living spaces. A visit to BEES allows for an unforgettable, up-close experience with these impressive creatures.
7. Elephant Haven, Kanchanaburi
Elephant Haven in Kanchanaburi is a place of transformation. Once known as Sai Yoke Elephant Camp, this sanctuary has turned away from a past that involved chains and hooks and toward a future that values freedom and socialization for all of its resident elephants.
Whether you choose to visit for a day or stay overnight, you'll have the opportunity to walk with these majestic creatures through the jungle without the imposition of riding them. For those interested in volunteering, the sanctuary offers one-week opportunities where you can help prepare fresh fruit and rice-and-millet ball treats for the elephants, take jungle walks, and care for the wide variety of animals residing on the land. Elephant Haven is a haven indeed.
Book a day at Elephant Haven Kanchanaburi with a private transfer from Bangkok.
8. The Surin Project, Baan Tha Klang
Elephant abuse is a pressing issue in Thailand that deeply concerns animal rights advocates around the world. A particularly problematic aspect of this issue is the uncomfortable reality that many traditional trainers, known as mahouts, face financial difficulties and must resort to using their elephants for unsustainable tourism in order to make ends meet.
The Surin Project in Baan Tha Klang is an initiative that aims to tackle this problem by providing a safe haven for mahouts and their elephants. The center houses almost 200 mahouts and elephants and offers meaningful employment opportunities for the former while giving the latter the freedom to roam around forested lands. The project heavily relies on volunteers who can contribute to the effort by dedicating at least a week of their time.
9. Samui Elephant Sanctuary, Koh Samui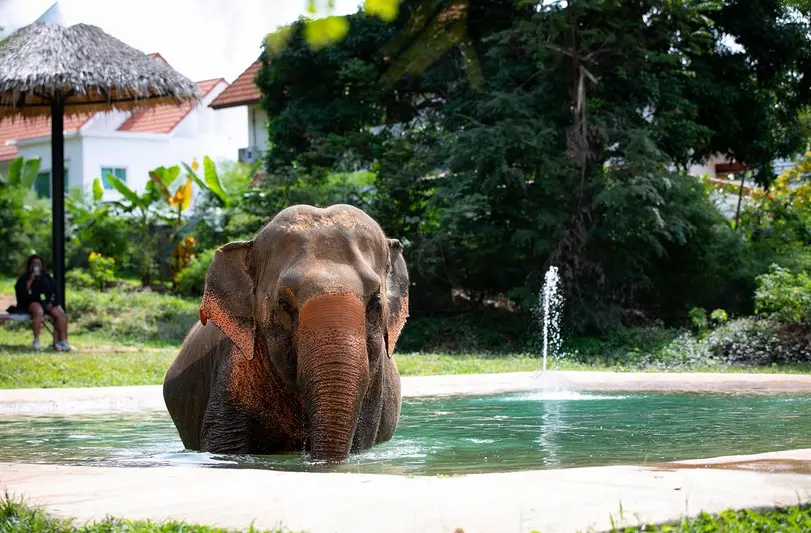 Samui Elephant Sanctuary is a unique destination for animal lovers visiting Samui Island. It is a safe haven for elephants that have been rescued from the logging industry and trekking camps. The sanctuary was founded by Wittaya Sala-Ngam, who drew inspiration from the Elephant Nature Park in Chiang Mai. The sanctuary provides a wonderful space for these wonderful animals to live their lives without the burden of work or exploitation. Tourists on the island can delight in the chance to witness the beautiful creatures at peace and in the environment they deserve.
10. ChangChill, Chiang Mai
ChangChill stands out among the many elephant tourism options in the Chiang Mai area. With support from World Animal Protection, this venue has taken the bold step of transitioning to an observation-only model. Visitors are treated to a jungle hike that lets them witness the four resident elephants in their natural habitat, frolicking among the hills and jungle. In the afternoons, viewing platforms offer the perfect spot to relax and take in the stunning scenery as the elephants socialize by a stream. And with a guide on hand to explain their natural behaviors, visitors leave with a deeper understanding and appreciation for these magnificent creatures.
11. Following Giants, Ko Lanta
Nestled in the lush jungle of Ko Lanta is a spectacular elephant venue that is sure to take your breath away. Following Giants offers an observation-only model, which means that visitors can witness majestic elephants in their natural habitat without causing any harm. During a day's visit, guests are taken on a jungle walk where they can shadow these gentle giants and even plant treats for them to find while foraging. For those staying for the full-day program, you can look forward to a scenic hike to a stunning cave and waterfall, followed by sharing herbal drinks with the friendly and knowledgeable local mahouts. Supported by World Animal Protection, Following Giants is the perfect place to experience a heartwarming and unforgettable encounter with these amazing creatures while respecting their welfare.
The Best Resources For Traveling To Thailand:
Thailand Travel Guides:
Read Next: