Affiliate Disclosure: This post may contain some affiliate links, which means when you click, I get a small percentage of the purchase at no extra cost to you. This allows me to keep this website running, so feel free to click away! You can read my entire Affiliate Disclosure here.
I lived in Chiang Mai, Thailand for 16 months. I ate at my fair share of vegan restaurants during this time. Previously, I wrote a blog post about my top 3 favorite vegan restaurants in Chiang Mai. Those three restaurants are also included in this post. I was searching on Happy Cow to make sure that I mention all of the restaurants that I have been to, and there are so many that I didn't make it to. To be fair, I am quite a creature of habit. Once I find a restaurant that I like, I want to go to it over and over again.
Every restaurant on this list is not entirely vegan. While there are a number of vegan restaurants in Chiang Mai, there are even more restaurants that have incredible vegan options. I have chosen to include those restaurants in this post because I don't have a problem with eating vegan food at a non-vegan restaurant. I figured that it would also be helpful for those of you who may be traveling to Chiang Mai with family or friends who aren't vegan. From my experience, non-vegans aren't always so jazzed to eat at vegan restaurants. Hopefully, my inclusion of vegan-friendly restaurants will allow you to pick a restaurant that everyone will be happy with.
Asa Vegan Kitchen
Asa Vegan Kitchen is a vegan restaurant located just outside of Old City. It is mostly westernized food, but it does have a few Thai food options as well. Personally, I didn't love the Thai food at Asa because it wasn't as spicy and flavorful as Thai food that I've eaten at other restaurants.
My two favorite dishes at Asa are the Chai Masala Pancakes and the Peanut Butter and Jelly Smoothie (both pictured above). I had to force myself to branch out from these two things to try something new because they are so good.
As with most westernized restaurants in Thailand, Asa is more expensive than traditional Thai restaurants.
Bodhi Tree Cafe
Bodhi Tree Cafe is a vegetarian restaurant located in Old City. I only went to Bodhi Tree Cafe one time, and I did not take a picture of my meal. I ordered a smoothie and veggie burger. The veggie burger was just okay. There are much better veggie burgers at Goodsouls Kitchen (mentioned later in this post), and the one at Bodhi Tree Cafe was a bit disappointing. The biggest disappointment was the smoothie. It was literally warm. Not just not cold, but warm. I had to force myself to drink it and never came back here again. I have seen a lot of raving reviews for this restaurant online, so you might have a better experience than I did.
By Hand Pizza Cafe
By Hand Pizza Cafe makes wood fire pizzas with imported Italian ingredients. This is not a vegan restaurant, but they do have five vegan pizzas on the menu. The vegan pizzas are delicious, and I ate several pizzas from here during my time in Chiang Mai. I do wish that they had the option to add vegan cheese to the pizza though.
If you want your pizza delivered, Grab delivers pizzas from By Hand.
Cat House
Cat House serves meat but does have a few vegan options available as well. The only pictures that I have of my food from Cat House don't really do it justice. They do have a number of actual vegan meals like salads, falafels, curries, and sandwiches. I would only give this restaurant 3/5 stars though. A lot of food at Cat House lacks flavor in my opinion.
Chiang Mai Bread
Chiang Mai Bread is not a restaurant, but I couldn't write this post without including it. It is a vegan bakery where almost everything is homemade. They sell bread (obviously), hummus, peanut butter, kombucha, nutritional yeast, desserts, and the best vegan cheese I have eaten in my entire life.
Chiang Mai Bread is a little out of the way of the main tourist part of the city, but I highly recommend you take a few minutes out of your trip and visit this shop.
The Falafelist
The Falafelist serves meat but does have a number of vegan options as well. It is also the sister restaurant of By Hand Pizza Cafe (mentioned above). The Falafelist is mostly a Mediterranean restaurant, but it also has a few Italian options. I've never eaten the Italian options though.
Freebird Cafe
Freebird Cafe is a vegan restaurant that also includes an eco-friendly shop. I have seen so many rave reviews about this restaurant, but I am going to have to disagree with the majority and say that I don't think this restaurant is all that great. I ate here several times, and every time I either thought the food was overpriced, didn't taste that great, or the portion was tiny. The only meal that I actually liked from this restaurant was the smoothie bowl pictured above. It was still very expensive though for Chiang Mai.
I like that they have an eco-friendly shop, but I also found that most of the items there were overpriced. A lot of westerners love this restaurant and eco shop, so I may just be an anomaly.
Goodsouls Kitchen/ Reform Kafe
I am going to be talking specifically about Goodsouls Kitchen in this post, but there is also a sister restaurant in Chiang Mai called Reform Kafe. They are basically the exact same restaurant except that Reform Kafe is outside and doesn't serve breakfast (Goodsouls Kitchen is inside and does serve breakfast).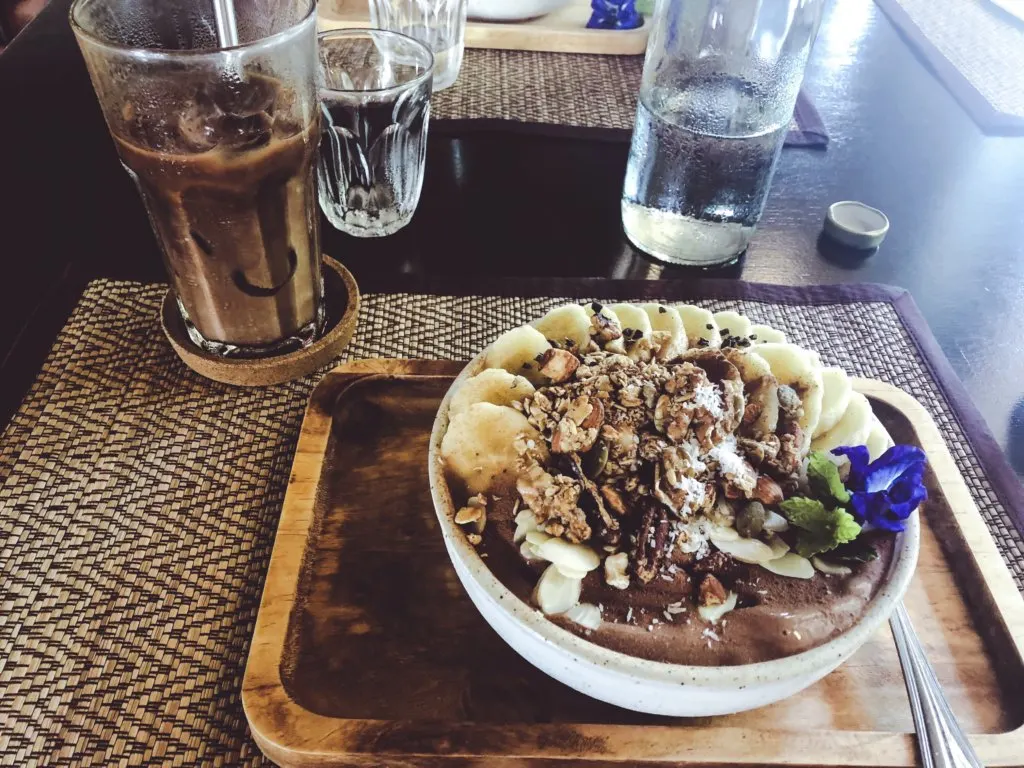 Goodsouls Kitchen is predominately a westernized vegan restaurant. They do have some Thai food options, but I have never eaten any of their Thai dishes. This is because Goodsouls Kitchen is more expensive than a traditional Thai restaurant. I know that I can get delicious Thai food for a much lower price at Happy Time (mentioned later in this post). I have only eaten the westernized food at Goodsouls Kitchen because westernized food isn't available cheaply throughout Chiang Mai.
Goodsouls Kitchen has everything from smoothie bowls, to pasta, to vegan burgers, to desserts. Their most popular dish is probably their burgers. They have several options like a mushroom burger, beetroot burger, quinoa burger, and tempeh burger. I think the most popular burger is the mushroom burger, but I am not a fan of mushrooms, so I prefer the beetroot burger. The only burger that I don't like is the tempeh burger. You can also add a piece of vegan cheese to the burgers for an additional 50 baht.
Graph Cafe
Graph Cafe at One Nimman isn't as much a restaurant as it is a coffee shop. I visited this cafe during my first week in Chiang Mai while walking around One Nimman. I ordered the Monochrome iced coffee (pictured above) which was one of the coolest looking and best-tasting coffees I've ever had. The Monochrome iced coffee is made with espresso, activated charcoal, vanilla, and milk (I subbed non-dairy milk). It is a bit pricy for Chiang Mai but worth trying at least once.
Happy Time
I ate hundreds of meals at Happy Time. This is also the only restaurant on this list that serves 100% authentic Thai food. Thai food is generally not vegan-friendly because they use fish sauce and/or eggs in most dishes. Finding this restaurant was a dream come true because it allowed me to eat real Thai food without worrying if the meal was vegan or not.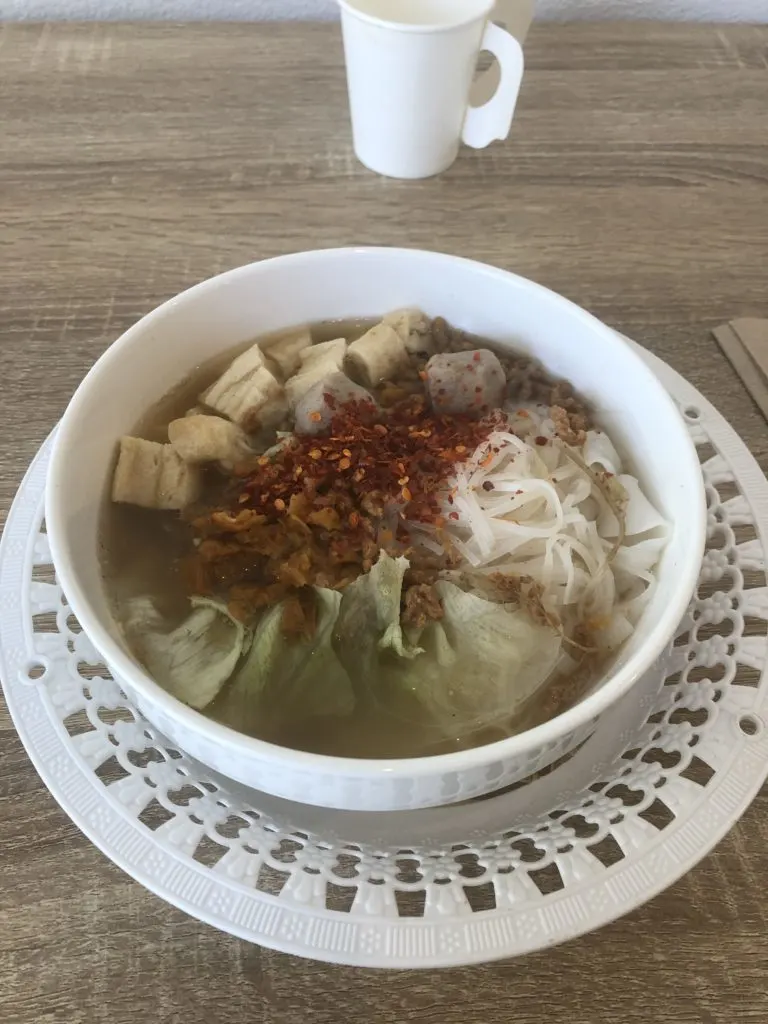 There is no set menu at this restaurant. They have around 5 or 6 dishes that they make every day. They set out the pots on the counter, and you can choose which dishes you want along with a side of rice. There is also a noodle soup that is available every day (pictured above).
One of the best parts about this restaurant is how cheap it is. Most vegan restaurants in Thailand are more expensive than local Thai places. This one might be slightly more expensive, but not by much. You can get one dish with rice for 40 baht, two dishes with rice for 50 baht, and 3 dishes with rice for 60 baht. They also have various "extras" like sushi, spring rolls, steamed buns, and desserts that cost around 35 baht each.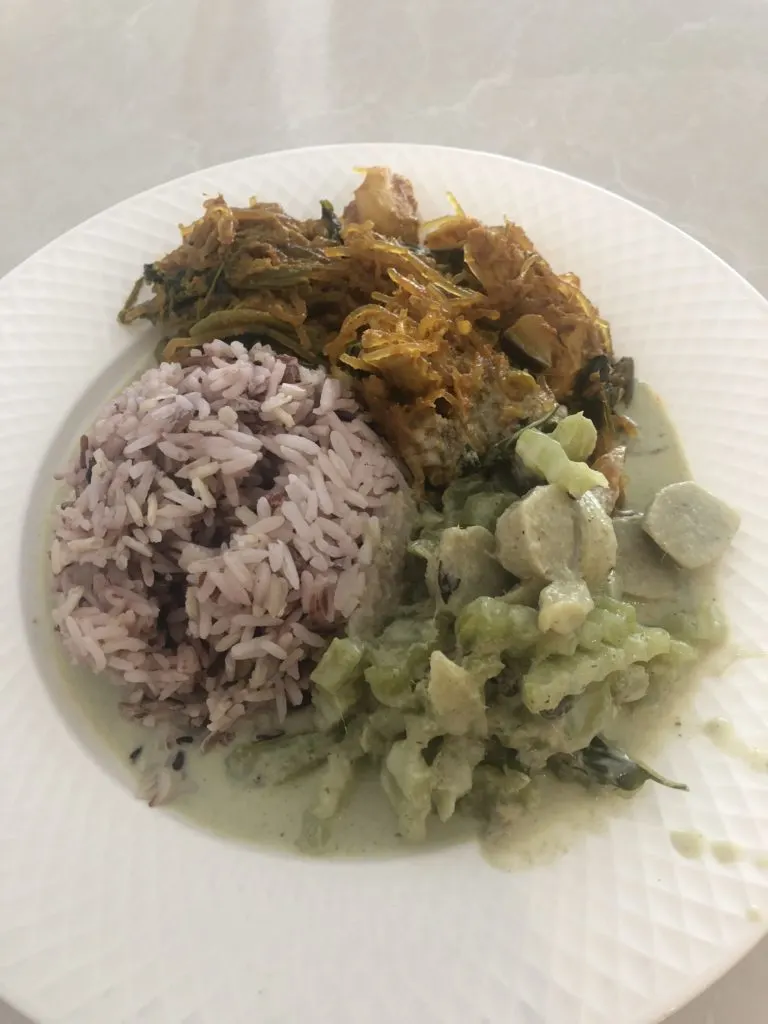 The woman that owns this restaurant speaks English well, and she can explain what each dish is. I am a HUGE fan of spicy food, so she would tell me which dishes were really spicy. If you aren't a fan of spicy food, then she can tell you which dishes aren't spicy or are less spicy.
Hummus
Hummus is a Lebanese vegetarian restaurant. I never visited the actual restaurant, and instead only ordered at Hummus from the food delivery service, Food Panda. Hummus was added to Food Panda's list of restaurants just a few months before I left Chiang Mai. Once I discovered this restaurant, I ordered from here at least once a week. My two favorite dishes were the falafel sandwich and the roasted cauliflower.
Moreganic Restaurant
Moreganic Restaurant is a vegetarian restaurant. I ate here twice during my time in Chiang Mai. The first time was in the actual restaurant and the second time I ordered from Food Panda (Moreganic Restaurant no longer has their food available on Food Panda at the time of this writing). This is more of an upscale restaurant, especially for Chiang Mai, which also means that it is more expensive. The food is delicious though.
Munchies
If you are a vegan for health reasons, Munchies is NOT the restaurant for you. This restaurant is perfect for the "junk-food vegan." I don't consider myself to be a junk-food vegan, but I don't mind indulging every once in a while. I actually avoided this restaurant for a very long time because I try to eat healthy, and I knew that this restaurant does not fall in the category of healthy. I decided to check it out when I only had one month left in Chiang Mai, and, boy oh boy, am I glad that I did.
I ordered the Big Bad Boo burger with a side of green bean fries. The Big Bad Boo burgers had two patties, cheese, bacon, and a fried egg. It was out of this world delicious. If I have a choice in the matter, I want my last meal to be this burger.
I decided to order the green bean fries because they sounded interesting, but they weren't that great.
Pure Vegan Heaven
There has never been a more accurately named restaurant than this one. Pure Vegan Heaven is seriously pure, vegan heaven. This is mostly a westernized restaurant although they do also have some Thai food. I have never eaten Thai food at Pure Vegan Heaven though.
Pure Vegan Heaven also has a wide range of food options from waffles, to smoothies, to pasta, to dessert. My favorite dish at Pure Vegan Heaven is either the Mexican bowl or the falafel bowl. Although I am a fan of Pure Vegan Heaven's smoothies, I don't think that their smoothie bowls are that great.
I would like to note that Pure Vegan Heaven is out of the central tourist part of town. I think that it is 100% worth the trip, just know that it will take a little longer to get there.
Rad Rabbit
Rad Rabbit is a fully vegan restaurant in Chiang Mai. I never actually went to the restaurant. I only ordered the pizzas from the food delivery app, Food Panda. The pizzas are a little pricey, but they taste delicious. There are several pizzas available with fake meat and cheese. I am normally not a big fan of fake cheese, but the vegan cheese on this pizza is delicious.
Rustic & Blue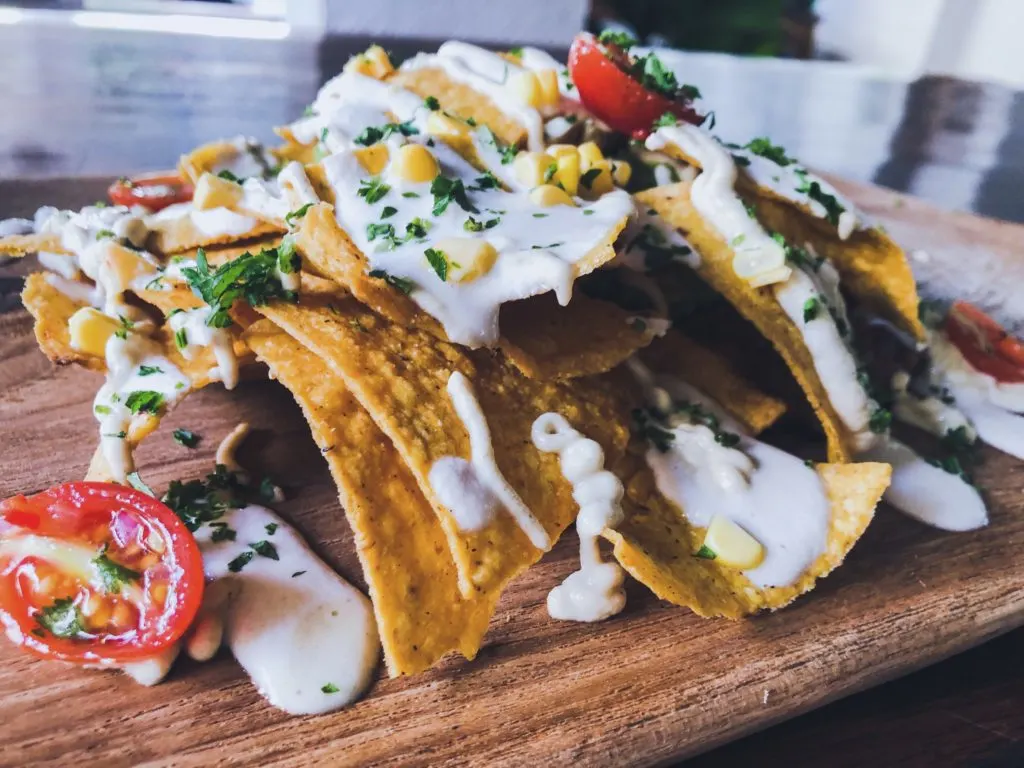 Rustic & Blue is one of my favorite restaurants in Chiang Mai even though it is not a vegan restaurant. They do have a number of vegan-friendly dishes including smoothie bowls, tacos, a burger, a falafel bowl, and desserts.
The one thing that I will warn you NOT to order is the Rawesome Green Smoothie. I don't say this to be dramatic, but this was literally one of the worst smoothies that I have ever had. It's not that I just don't like the taste of greens in smoothies; I normally love green smoothies. This smoothie contains broccoli, and the broccoli overpowers the entire smoothie. It tasted like I was drinking liquid broccoli. Not appetizing! I ended up not finishing it, and I would never order it again. Their other vegan smoothies are incredible though, and I recommend them.
The Salad Concept
Doesn't this picture just make you want to book a flight to Chiang Mai right this second to eat this salad?? Joking, obviously. Yes, I know this picture is a horrible representation of this restaurant. 99% of the time I ordered food from The Salad Concept from a food delivery service called Food Panda. There are other toppings on this salad like pasta, croutons, olives, and beans. They are just hiding underneath the bed of lettuce in this picture.
The Salad Concept is not a vegan restaurant, but it does have a few vegan options. The main reason that I loved this restaurant is that they have the option to make your own salads. Salads aren't very popular in Chiang Mai, so I was always happy to get my salad fix at The Salad Concept.
The vast majority of the time I did just order a salad, but they do have a few other vegan options like a burger, smoothies, and macaroni and cheese. I will warn you about the macaroni and cheese because it comes with a "tofu steak." The tofu steak is just a block of cooked tofu that has no flavor. I liked the flavor of the macaroni and cheese, but the tofu steak was lacking in flavor.
Salsa Kitchen
Salsa Kitchen is a Mexican restaurant that serves meat, but they do have a separate vegan menu that includes a burrito, chimichanga, cauliflower tacos, and nachos. Unfortunately, I didn't take any pictures of my meals at Salsa Kitchen even though I ate here several times.
Chiang Mai doesn't have a lot of Mexican food options, so I loved coming here when I wanted my Mexican fix. The prices are standard for a westernized restaurant, but the food is delicious.
Vegan Heaven
Vegan Heaven is obviously a vegan restaurant. They serve a good mix of western food options and Thai food options. This restaurant is fairly cheap as well. Most of the western food options are vegan fast food items. I did eat at this restaurant a number of times, including ordering from Food Panda, but I do think that there are better vegan food options in Chiang Mai that are better than Vegan Heaven.
Note: There is another restaurant called Taste From Heaven that is owned by the same people as Vegan Heaven. Taste From Heaven has a very similar menu except it is a vegetarian restaurant.
Leaving soon? Shop my favorite travel products!
Read Next:
Pin for later…