Affiliate Disclosure: This post may contain some affiliate links, which means when you click, I get a small percentage of the purchase at no extra cost to you. This allows me to keep this website running, so feel free to click away! You can read my entire Affiliate Disclosure here.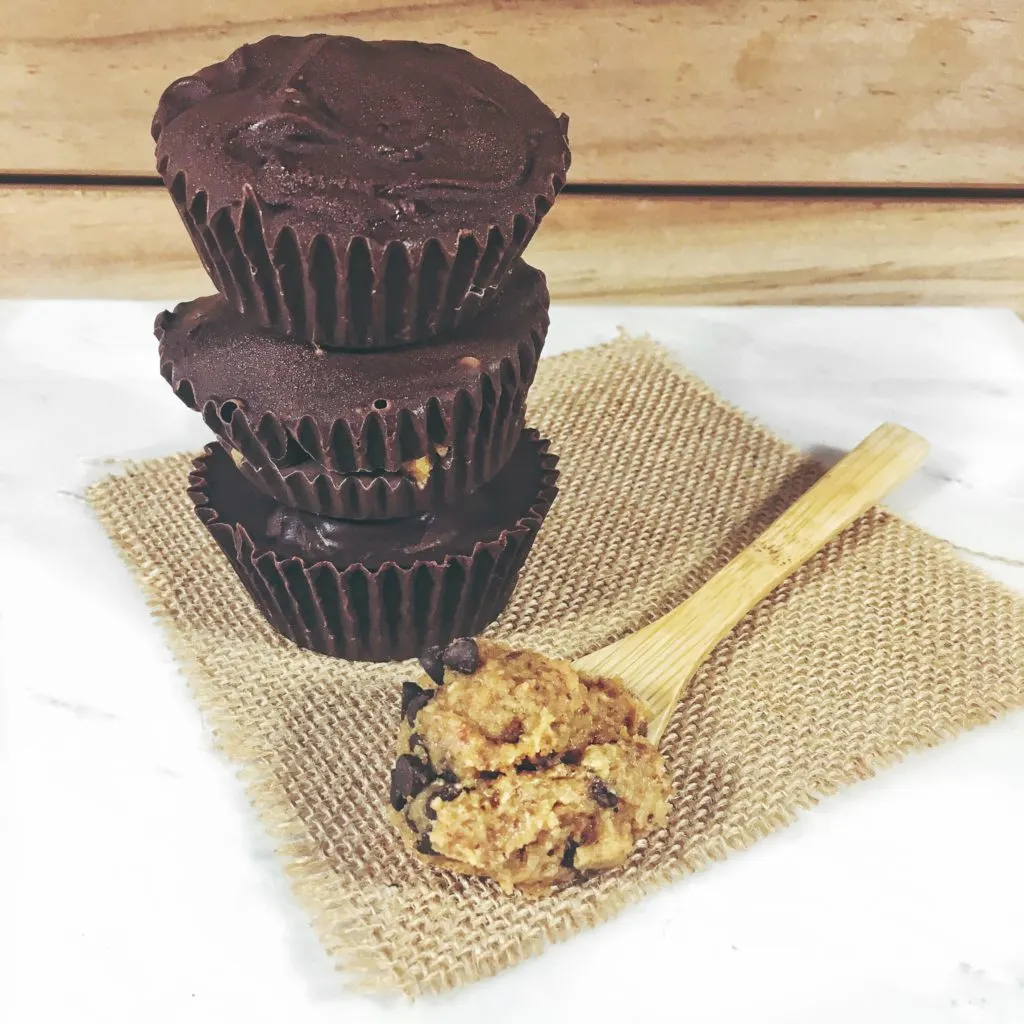 I get a lot of inspiration for the recipes that I make from non-vegan food blogs. One day I was scrolling through Pinterest and came across a recipe for chocolate chip cookie dough cups. My eyes widened. I wanted them now. I clicked on the link to see the recipe, and to my horror, it was filled with a lot of nasty ingredients. Typical. So as I do with most things, I decided that I would make some myself, and boy oh boy was it a success.
I am a huge fan of peanut butter cups, but these vegan chocolate chip cookie dough cups take it to a whole new level. Cookie dough and chocolate? Double yum.
My favorite part about baking is eating the batter. When I was younger my mom would sometimes just buy a huge tub of cookie dough at the store that we would just eat spoonfuls straight out the tub, and never actually make the cookies. That kind of grosses me out today with how health-conscious I am. Luckily these chocolate chip cookie dough cups are made out of more wholesome ingredients, and completely vegan (no eggs!).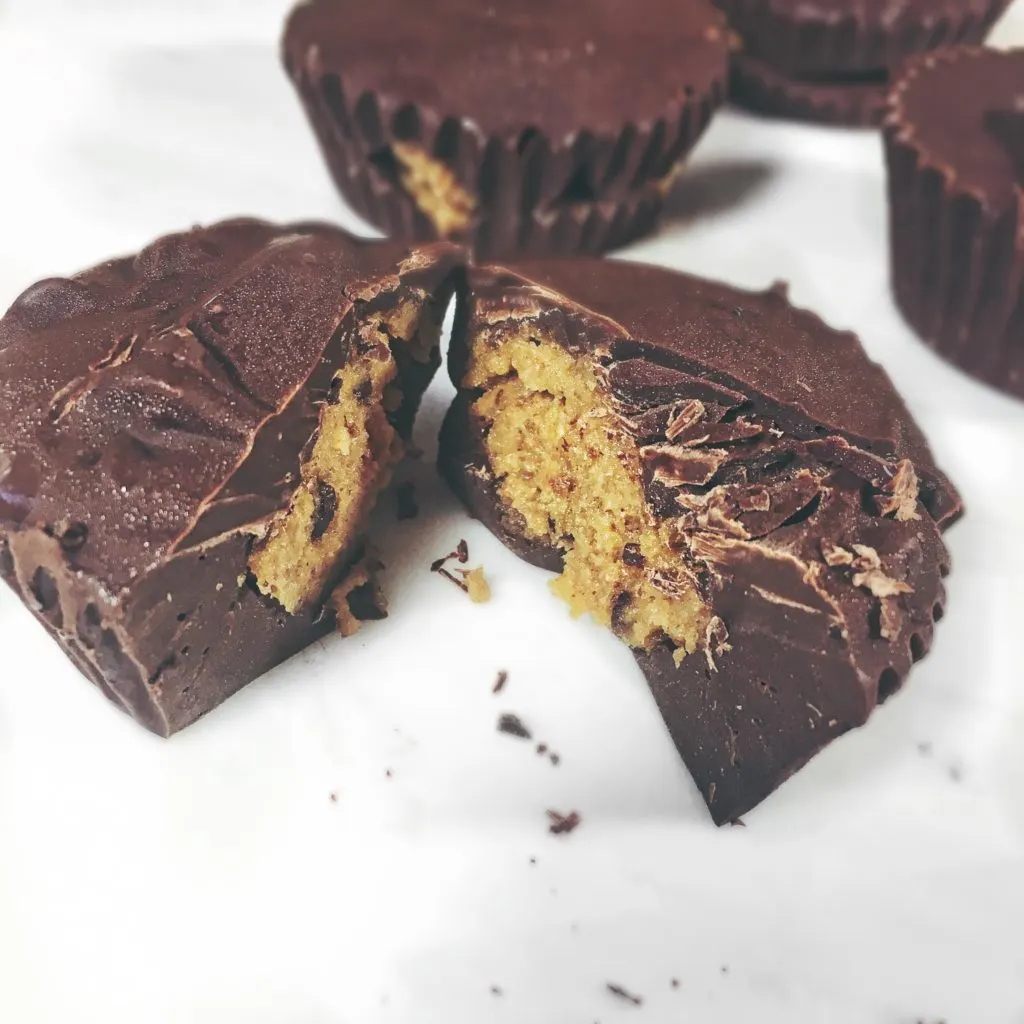 Vegan Cookie Dough Chocolate Cups
Ingredients
2½ cups vegan chocolate chips
½ of a 15 oz. can of chickpeas, drained and rinsed
2 tsp. of vanilla extract
2 tbsp. almond butter
½ cup pitted Medjool dates
2 tbsp. maple syrup
1 tbsp. oats
pinch of salt
2 tbsp. + 2 tsp. vegan chocolate chips
Instructions
Add all ingredients, except chocolate chips, to a food processor, and process until very smooth.
Fold the 2 tbsp. + 2 tsp. of chocolate chips into the batter.
In a double boiler melt the chocolate chips. If you do not have a double boiler, you can do what I did, and put a heat-safe bowl over a pot. The bowl should be big enough that it sits in the pot with a few inches of room for water underneath. Fill the pot with an inch or two of water, put the bowl on top and add your chocolate chips. Bring the water to a boil and gently stir the chocolate chips until completely melted, then remove from heat.
To make the cookie dough chocolate cups, line a muffin tin with cupcake liners.
Add just enough chocolate to the cupcake liners to just cover the bottom.
Take a piece of the cookie dough and form a ball that is just smaller than the mold so that there is room for the chocolate to go around the edges. Place the cookie dough into each mold.
Now pour more chocolate over the top of the cookie dough so that the chocolate goes around the sides of the cookie dough and covers the top.
Put in the freezer to cool and set for about 30 minutes. Once it has solidified, you can tear the cupcake liners off.
Store in an airtight container in the refrigerator.
Pin for later…
Related Posts