Affiliate Disclosure: This post may contain some affiliate links, which means when you click, I get a small percentage of the purchase at no extra cost to you. This allows me to keep this website running, so feel free to click away! You can read my entire Affiliate Disclosure here.
Are you planning a trip to Croatia? Wondering where to find vegan restaurants in Zagreb? Look no further, this guide will show you the best places for vegans.
As a vegan traveler, I am always on the hunt for restaurants that serve delicious plant-based food. To be completely honest, I wasn't overly impressed with the vegan food in Zagreb. That might be because I spent three months living in Athens, Greece right before moving to Zagreb, and Athens has an amazing vegan food scene.
Nonetheless, there are still plenty of restaurants to eat at during your trip to Zagreb, Croatia!
Tips For Finding Vegan Food in Zagreb, Croatia
It's not too difficult to eat vegan in Zagreb, but Croatia also isn't the most vegan-friendly country either.
You should be able to find vegetarian food at almost any restaurant, but you will have to search a bit more for vegan food options.
Here are some of my top tips for finding vegan food while in Zagreb:
Happy Cow – Happy Cow is an app (and website)that will show you restaurants near you that are vegan, vegetarian, or have vegan options.
Food Delivery Apps – My favorite way to find vegan food when traveling is by searching food delivery apps. This way you can view the entire menu instead of just hoping that the vegan food available is something that you are interested in. The food delivery apps availabe in Zagreb are Wolt and Glovo. I never tried Glovo, but I ordered food from Wolt several times.
Google Maps – Another way to find vegan food is my searching on google maps, especially if you are looking for a specific type of food. Type the words "vegan," "vegan ice cream," or "vegan pizza" into the search bar and see what comes up. Normally it is pulling the results from reviews that people write. Make sure you actually read the reviews because someone may write something like, "This restaurant does not have any vegan options" and it will show up because that review has the word "vegan."
Vegan Restaurants in Zagreb
Food Expert
Food Expert is a mostly raw vegan fast food restaurant.
I never went into the physical store, but I ordered their food on Wolt several times.
My favorite dishes at Food Expert are the spring rolls and norimaki.
OAZA Joyful Kitchen
OAZA Joyful Kitchen is a fast-casual vegan restaurant.
I ordered the country tofu wok which is made out of noodles, vegetables, and tofu. I liked it, and I would order it again.
Some of their other dishes include vegan burgers, burger balls, vegan wraps, and falafel.
Simple Bake by Jelena
Simple Bake by Jelena is a vegan and gluten-free bakery.
The dishes include various types of bread, vegan burek, vegan sandwiches, and vegan desserts.
Vegehop
I visited Vegehop once while living in Zagreb, and I ordered once from the food delivery app Wolt.
I ordered the falafel burger and kombucha when I went to the restaurant. Falafel is one of my favorite foods, but I thought the falafel burger was just okay.
When I ordered from Wolt, I ordered the caesar salad which I loved, and would definitely order again.
The other dishes available include pesto pasta, avocado burger, tofu burger, zucchini cannelloni, greek salad, many gluten-free dishes, and several vegan desserts.
Zrno Bio Bistro
Zrno Bio Bistro is a certified organic vegan restaurant.
I only went to this restaurant once while living in Zagreb and I ordered the breaded tofu that also came with a salad. I also ordered a side of sweet potato fries. Overall, I thought the meal was pricey and a bit bland, so I wasn't too keen on going back.
Some of the other dishes available at Zrno Bio Bistro include miso-sesame soup, seitan cordon bleu, garden burger, caesar salad, carrot cake, and more!
Vegetarian Restaurants in Zagreb
Green Point
Green Point is a vegetarian restaurant in Zagreb. When I ate at the restaurant, one of the employees told me that it was vegan, but I think she made a mistake. After looking at their menu, it does seem like they use cheese in some of their dishes.
I ordered the vegetable tortilla with seitan along with a side of sweet potato fries. This was one of my favorite meals that I ate while living in Zagreb.
Some of the other vegan items on their menu include a seitan burger, wok with seitan or tofu, and spring rolls.
Restaurants With Vegan Options in Zagreb
Eggspress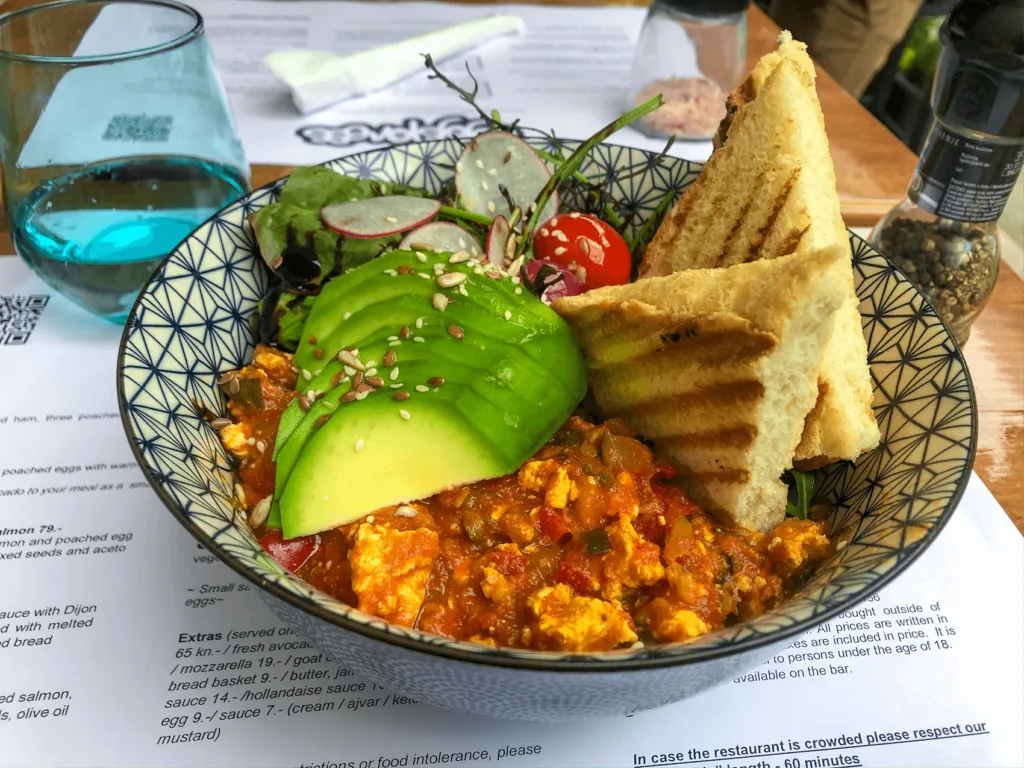 If you can't tell by this restaurant's name, Eggspress is a breakfast restaurant that sells eggs.
An egg restaurant may be one of the last places you would expect a vegan to eat, but they do have a vegan tofu scramble. Tofu scramble is one of my favorite meals, so I was so happy to find it in Croatia.
Evergreen Sushi Bar
While I was living in Albania, I developed a love for vegan sushi.
Vegan sushi isn't too easy to come by in Zagreb, but I was happy to find some at Evergreen Sushi Bar.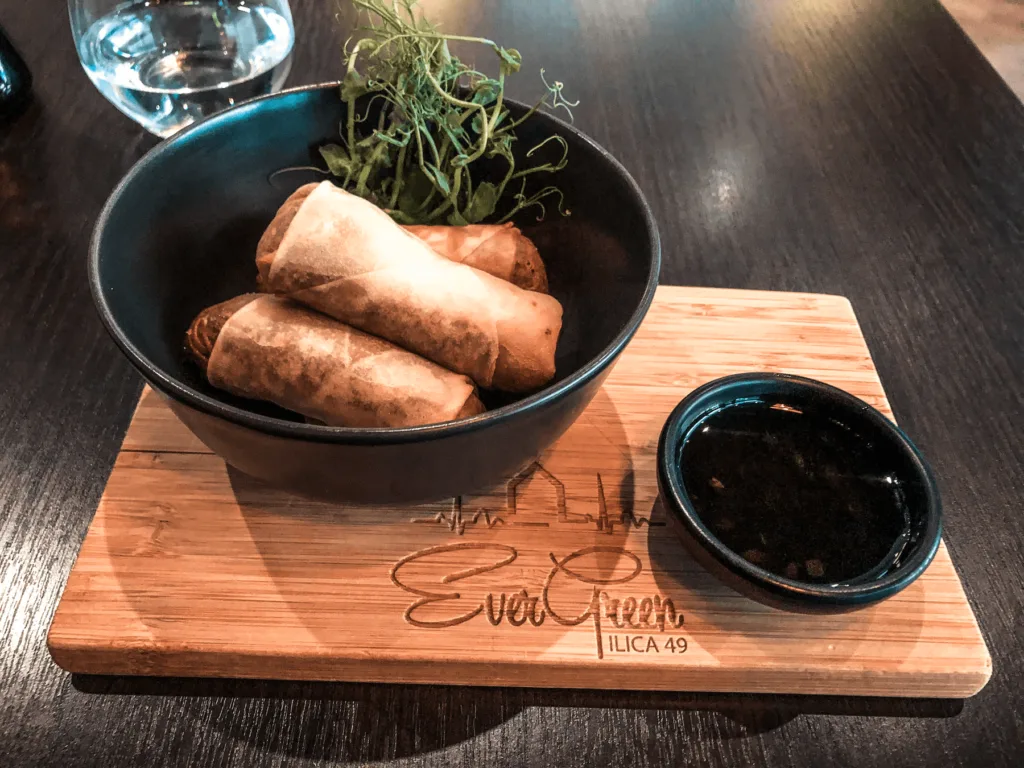 I ordered the vegetable spring rolls and the tiger veggie roll. The vegetable spring rolls were pretty good, but the tiger veggie roll was some of the best sushi I've ever had. It is made with avocados and vegetables fried in tempura.
They do have other vegan sushi options available as well.
Unfortunately, the vegan or vegetarian dishes are not clearly labeled on the menu so you will have to read the ingredients or ask one of the employees.
Hector's Gyro House
If you are in the mood for Greek food, you have to eat at Hector's Gyro House.
They have six different vegetarian gyro dishes available. All of them either come with a yogurt sauce, tzatziki sauce, or cheese, so you will have to ask to remove that to keep the dish vegan.
I spent three months living in Greece, and the gyro I ate at Hector's Gyro House definitely competed with some of the vegan gyros I ate in Greece.
Lazeez
Lazeez is a Lebanese fast-food restaurant. Their vegan dishes include a falafel plate, tabbouleh salad, hummus, foul, fatoush salad, falafel salad, and a falafel sandwich.
I ordered the falafel sandwich and it was very average.
Lazeez is also supposed to be a fast-food restaurant. I only went one time and I was the only person at the restaurant, and my falafel sandwich took a very long time to come out.
Melt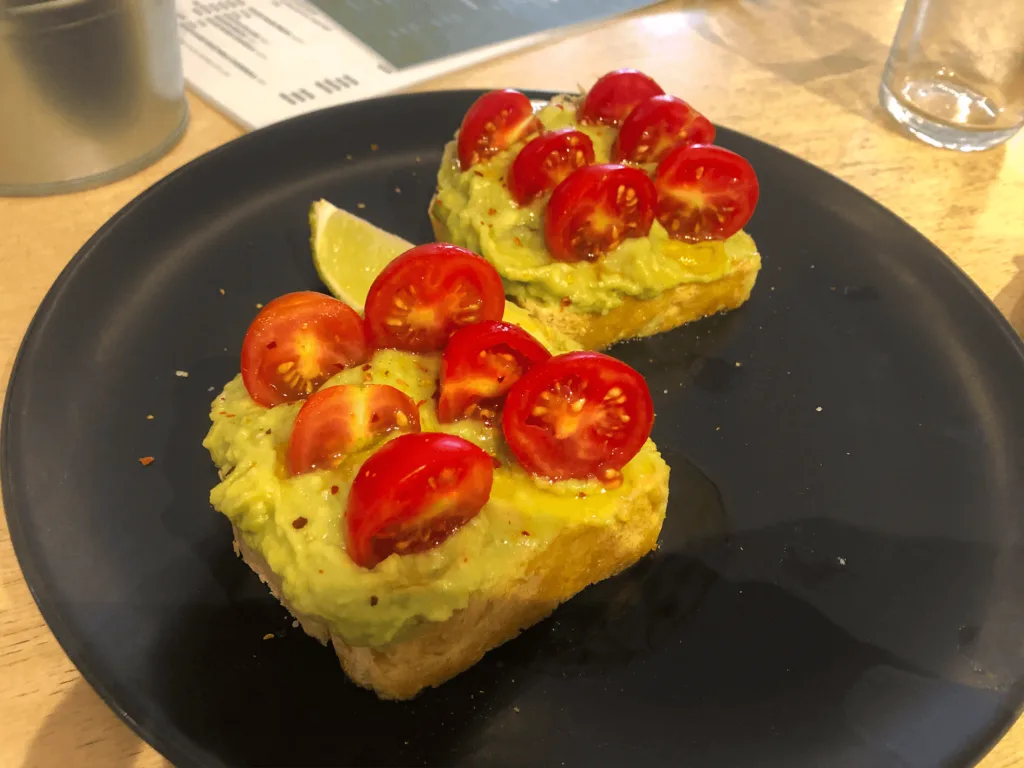 Melt is a gelato and brunch bar, and it is one of my favorite restaurants in Zagreb.
I ordered avocado toast and an acai smoothie bowl. Both were very good and I would definitely order them again.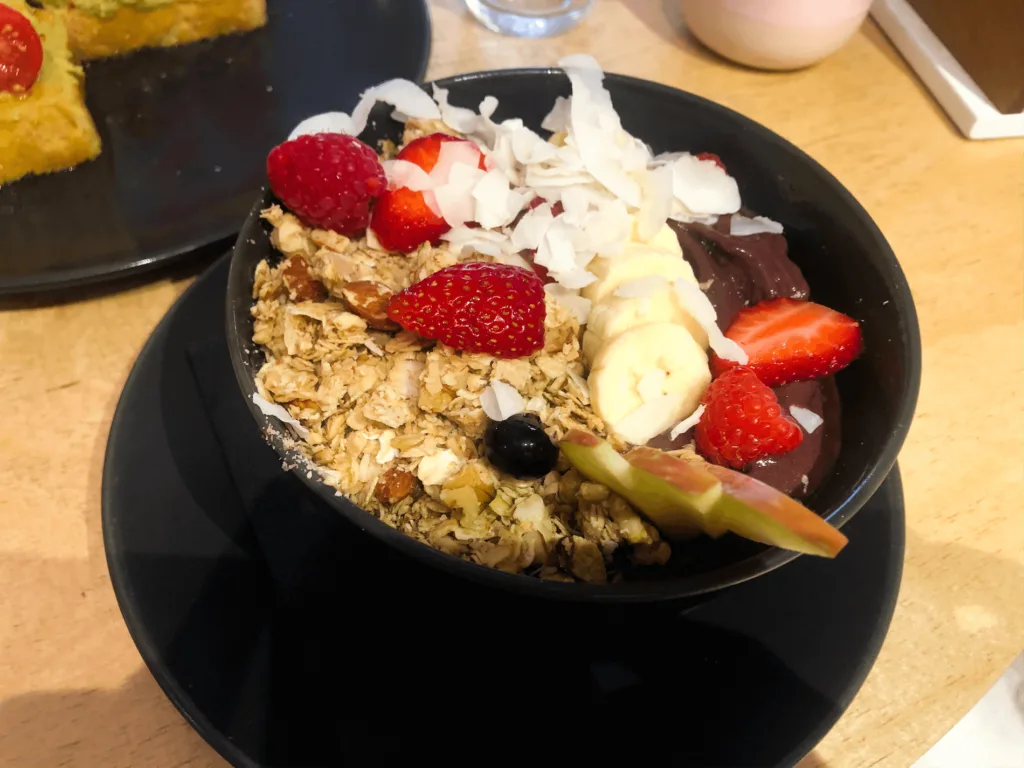 They have a few other vegan dishes available like smoothie bowls and peanut butter toast. They also have several flavors of vegan gelato.
Namaste Bistro
Namaste Bistro is an Indian restaurant. They have their vegetarian dishes clearly labeled on the menu, but not the vegan dishes.
I ordered the vegetable biryani, which came with a side of raita. I didn't know what raita was when I ordered it, but it turns out that it is an Indian sauce that is made with yogurt.
If you want to order the vegetable biryani and keep it vegan, I recommend ordering it without the raita.
Namaste Bistro has a few other dishes that seem to be vegan like idly, vegetable uttapam, vegetable korma, vegan salad, and coin paratha.
Roots
Roots is a juice and cocktail bar.
Their vegan dishes include smoothie bowls, hummus toast, and avocado toast.
Their smoothie bowls are made with cow's milk, but you can request vegan milk instead.
I ordered an acai bowl with vegan milk and an iced coffee with vegan milk. The iced coffee was good, but the acai bowl at Melt is better than the one at Roots.
Sri Lankan Curry Bowl
Sri Lankan Curry Bowl has their vegan options clearly labeled on the menu.
I ordered the Deviled Dish with soy as the meat. The Deviled Dish is made out of vegetables and comes with a side of rice. You could also choose how spicy you wanted the sauce.
I also ordered the deep-fried lentil cakes, which I loved.
Submarine
Submarine is a gourmet burger restaurant and they have four different vegan burgers: original vegan, avocado vegan, truffle vegan burger, and superfood vegan burger.
They also have vegan sliders that allow you to try three of their vegan burgers. I ordered the vegan sliders, and I loved them!
Vis a Vis by Vincek
Visa a Vis by Vincek is a gluten-free dessert shop located near the main square in Zagreb.
All of the desserts are sweetened with brown sugar, stevia, or agave syrup, and many of the desserts are vegan.
When I visited this dessert shop, they had two cases of cakes and one entire case was with vegan cakes.
All of the labels are in Croatian, so make sure to ask the employees which desserts are vegan if you don't speak Croatian.
Grocery Shopping As A Vegan in Zagreb
bio&bio
bio&bio is where I did almost all of my grocery shopping while living in Croatia.
bio&bio is not a 100% vegan grocery store, but they have so many vegan options like tofu, vegan cheese, vegan meat, vegan yogurt, vegan desserts, premade vegan salads and sandwiches, produce, and so much more!
This store can be pricey, but it is worth visiting to buy vegan staples that you can't find at a regular grocery store.
Read Next: