Affiliate Disclosure: This post may contain some affiliate links, which means when you click, I get a small percentage of the purchase at no extra cost to you. This allows me to keep this website running, so feel free to click away! You can read my entire Affiliate Disclosure here.
Rome is a haven for the greatest art and history. It is also a great place to eat amazing food. When you think of Italian food, you might think of the traditional dishes like mozzarella, pizza, pasta, prosciutto, gelato, and more. Luckily, eating vegan in Rome, Italy is actually quite easy.
When traveling, I normally suggest using apps like Happy Cow and abillionveg (use the code THEVEGANABROAD when signing up) to find delicious vegan meals, but I actually don't recommend these apps while in Rome. This is because Rome is a bit of a paradox. There are more than 20 vegan restaurants in Rome. You would think that would make it a vegan paradise, but almost all of the vegan restaurants are outside of the city center.
Just look at this map. The red circle is where you will be spending most, if not all, of your time.
My least favorite part of Rome is the lack of reliable public transportation. While there is a subway system in Rome, you can't use it to get to many parts of Rome. The bus system goes almost everywhere in the city, but it is unreliable.
Luckily, you don't have to find a way into the suburbs to eat a good vegan meal in Rome. Not to mention that the vegan restaurants in Rome aren't even that good. I was in Rome for a month, so I stayed at an Airbnb in the suburbs. I ate at a few vegan and vegetarian restaurants in Rome, but most of them didn't serve traditional Italian food and weren't even that great.
My favorite part of Italy is probably the food. If you are coming on a trip to Italy, there is no need to skip out on amazing Italian food just because you are a vegan.
No matter which restaurant you go to in Rome, you should always be able to find a vegan meal. That is because Italian cuisine is naturally vegan-friendly. This guide will mostly focus on real vegan Italian food in Rome, but there are a few restaurants that are mentioned that aren't in case you are in Italy for a while and need a break from the endless pizza and pasta.
Eating vegan in Rome is not only possible but easy and fun. Keep reading for the ultimate Rome vegan food guide!
Do you want to learn how to make delicious Italian pasta yourself? Try this vegan pasta making class in Rome, Italy.
If you are also visiting Florence, be sure to read my ultimate guide to vegan restaurants in Florence, Italy.
Where to Eat Vegan in Rome, Italy
Buddy
Buddy serves meat, but has several vegan options available. It is located in the heart of Rome, and it is very close to Piazza Navona and Campo de' Fiori.
Buddy has a buffet every day for lunch with vegan options. I suggest going to Buddy for dinner though because you can try their full vegan menu.
I actually only went to Buddy for dinner. I went there twice and ordered a pizza both times. I find that vegan cheese can either be a hit or miss, and the vegan cheese at Buddy is definitely a hit. The vegan truffle pizza was one of the best pizzas I have ever eaten.
Origano Trevi
Origano Trevi is located between the Spanish Steps and the Trevi Fountain. There is also a location near Campo de' Fiori, but I have never been to that location.
The vegan options on the menu are clearly marked. Their vegan menu includes vegan pizza, vegan carbonara, vegan gnocchi, vegan desserts, and more.
Origano Trevi offers several vegan pizzas with cheese and a few are made with vegan meat. The dough is thicker than typical Italian pizza. I only ordered one pizza, but I wasn't a big fan of it. Both the vegan cheese and the vegan meat tasted a bit off to me.
There was also vegan cheese on the gnocchi, but there was so little of it that it didn't bother me.
In my opinion, the best dish that I had was vegan carbonara. It isn't as good at the vegan carbonara at Rifugio Romano (mentioned below), but it is still worth trying if you are a carbonara lover like I am.
Rifugio Romano
Rifugio Romano might as well be named vegan paradise. It is probably my favorite restaurant in Rome. It is near Termini station, which is a bit of a strange location. Luckily, I was staying at a hostel that was very close to Termini train station, so I was able to eat here twice.
Rifugio Romano will make vegans and non-vegans happy. It has a double menu with half being traditional recipes and the other half the vegan version.
I ordered a vegan calzone the first time that I ate here and vegan carbonara the second time. The vegan calzone was incredible, but it didn't even hold a candle to how good the vegan carbonara was. The vegan carbonara at Rifugio Romano might have been my favorite meal the entire time that I spent in Italy.
You could eat every meal here for a week and you still wouldn't make it through the whole vegan menu. Seriously, be prepared to have your mind blown.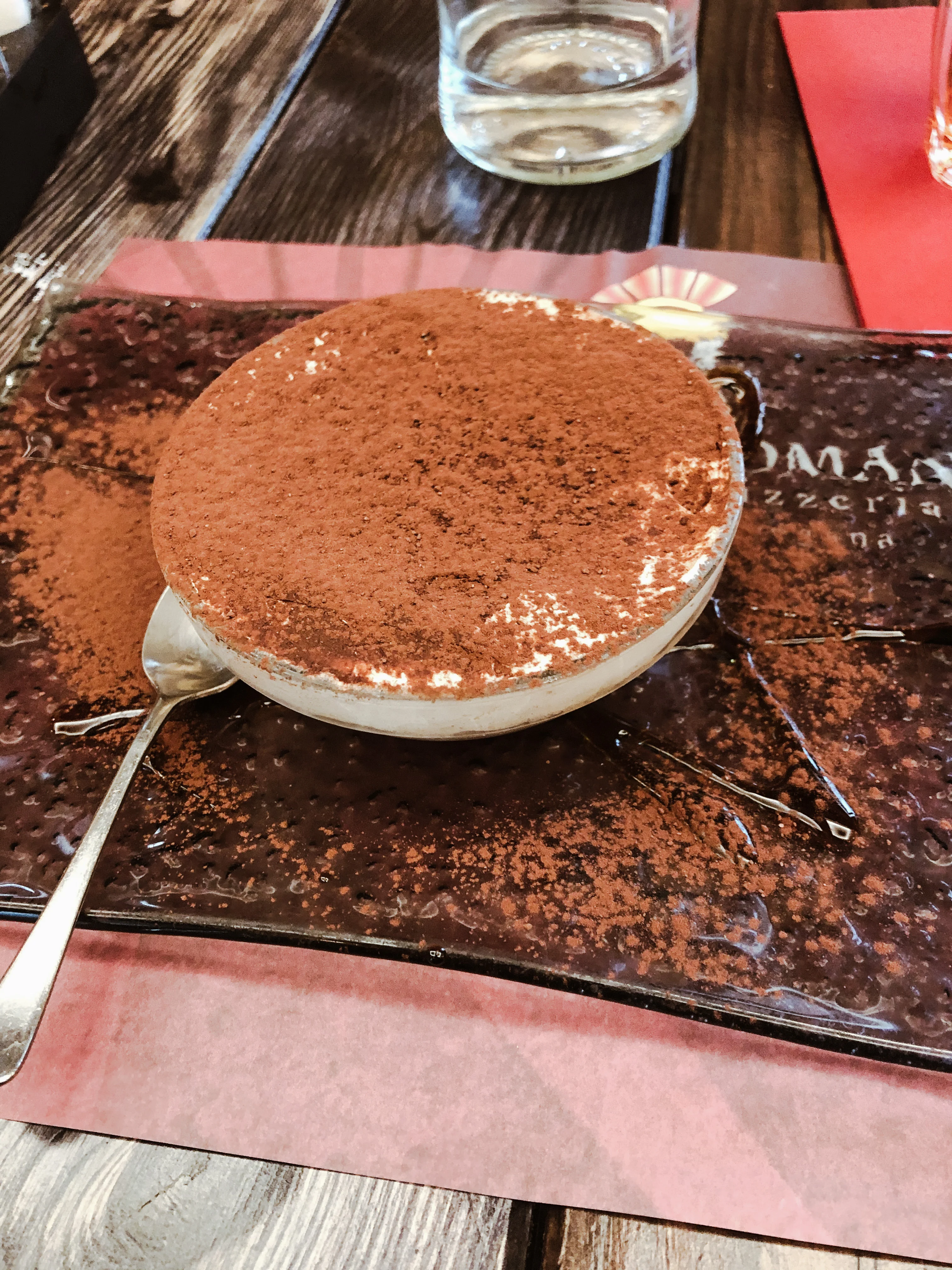 Vegan tiramisu is fairly difficult to find in Italy. The only time that I ate it while in Rome was at Rifugio Romano. I also ate vegan tiramisu twice in Florence.
Ops!
Ops! is also located close to Termini train station. It is an all-vegan buffet. You grab a plate, choose from a huge assortment of dishes, and pay by the weight of your plate.
This was my least favorite restaurant that I ate at while in Rome. It wasn't that the food was bad, but that it had all started to go cold. It would be different if maybe a few dishes were going cold (it is a buffet after all!), but every single dish that I tried was going cold or already cold. Maybe I just went at a bad time though, and you may have all hot food.
Pizzeria Frontoni
Pizzeria Frontoni has a large selection of vegan pizzas. Some are traditional Italian pizzas and others are more different like the lentil pizza that I ordered.
Pizzeria Frontoni is located a bit outside of the city center. It was located somewhat near the Airbnb that I was staying at, so that is why I decided to check this place out. It is worth trying if you are in the area, but I wouldn't go out of my way to go here again if it wasn't nearby.
Pizza Forum
I highly recommend eating at Pizza Forum if you are near the Colosseum. It has been certified by the Associazione Verace Pizza Napoletana, which means that you can be sure their dough is made according to the traditional recipe with just flour, water, yeast, and salt. There are no extra ingredients like milk or lard.
I ordered the pizza marinara. Marina pizza is traditionally vegan, but some restaurants in Rome, including Pizza Forum, add anchovies. They were easily able to make it without anchovies though. My waiter also told me that they could change any of the items on the menu to being vegan if requested.
Taverna della Scala
Taverna della Scala is located in Trastevere, a trendy neighborhood located on the far side of the Tiber River. Trastevere is known as a place that is full of great restaurants.
The staff at Taverna della Scala are willing to accommodate a vegan diet. I ordered the bruschetta as a starter and penne all' arrabbiata as my main meal. Both of those are already vegan.
Flower Burger
Flower Burger is a far cry from a traditional Italian restaurant. It is a fast-food restaurant that specializes in burgers with lightly spiced fries. The buns come in different colors. There are several locations in Italy, and I also ate at a Flower Burger in Florence.
I don't recommend eating at Flower Burger if you are only taking a short trip to Italy. I was in Italy for over two months, so it was nice to get a break from traditional Italian food every once in a while.
Jaipur
Jaipur is an Indian restaurant that is also located in the trendy Trastevere neighborhood. There are a few vegan options available.
Nonna Betta
Nonna Betta is an authentic Roman Jewish restaurant located in the Jewish ghetto. Rome's Jewish ghetto is a great place to go if you are looking for a kosher restaurant.
I wanted to visit the Jewish ghetto solely for the purpose of trying a fried artichoke. They are entirely deep-fried which turns its outer leaves crispy and delicious.
The fried artichoke is only an appetizer. Nonna Betta had a few vegan options for a meal as well like couscous and falafel.
Wok to Walk
Wok to Walk is located in Campo de' Fiori. It is an Asian inspired restaurant where you get to choose all of the ingredients and see them cook it right in front of you. Because you can choose your own ingredients, it is very easy to eat a vegan meal here. Make sure that you ask for it to be made without eggs though.
Vegan Gelato in Rome, Italy
Vegan gelato is easy to find in all of Italy since most gelato shops have sorbet options available. I'm not a huge fan of sorbet, so I always try to seek out gelato shops that have other vegan flavors like chocolate or coffee.
Fonte della Salute
Fonte delle Salute is located near Trastevere. They have a wide variety of vegan gelato flavours that are clearly labeled. They even have vegan cones, and all of the gelato is organic.
Gelarmony Arte del Gelato Siciliano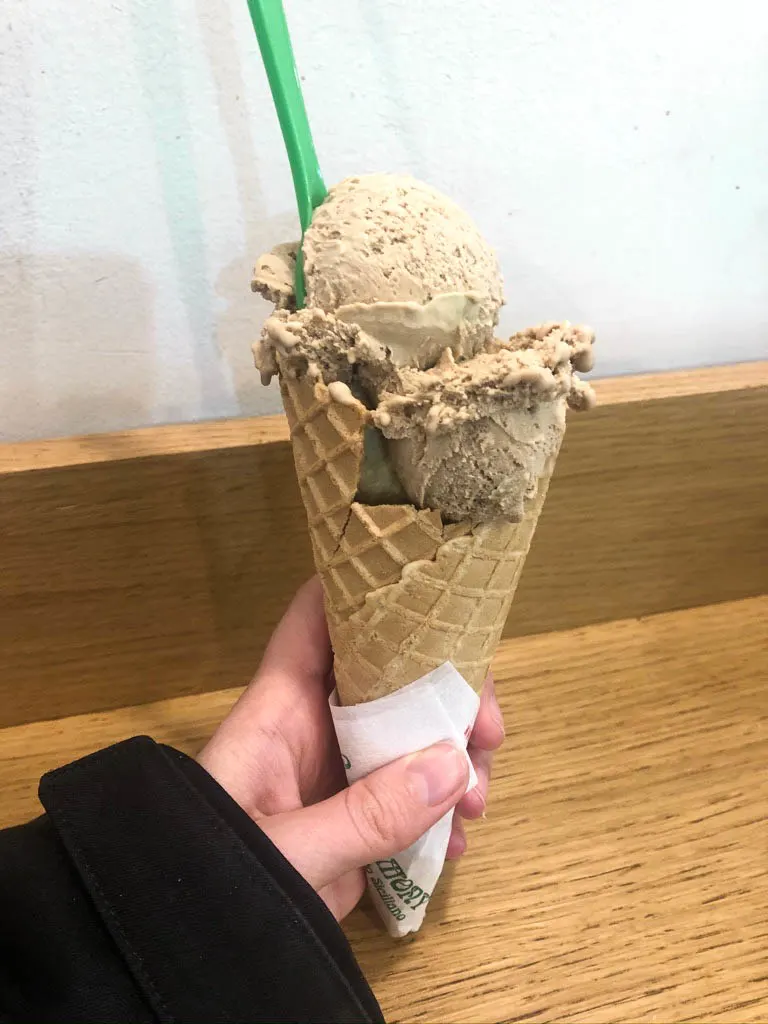 Gelarmony Arte del Gelato Siciliano is a Sicilian Gelateria with multiple locations. You will find may vegan gelato flavors at the back of the shop like pistachio, coffee, cinnamon, and walnut. They also have vegan cones available.
Gelateria CamBIOvita Roma
Gelateria CamBIOvita Roma is my favorite gelato shop in Rome. They don't have a large selection of vegan gelato flavors, but they have a delicious bounty flavor and chocolate flavor. The bounty flavor is a coconut milk gelato with chocolate pieces mixed in. They also have vegan cones available.
Grezzo Raw Chocolate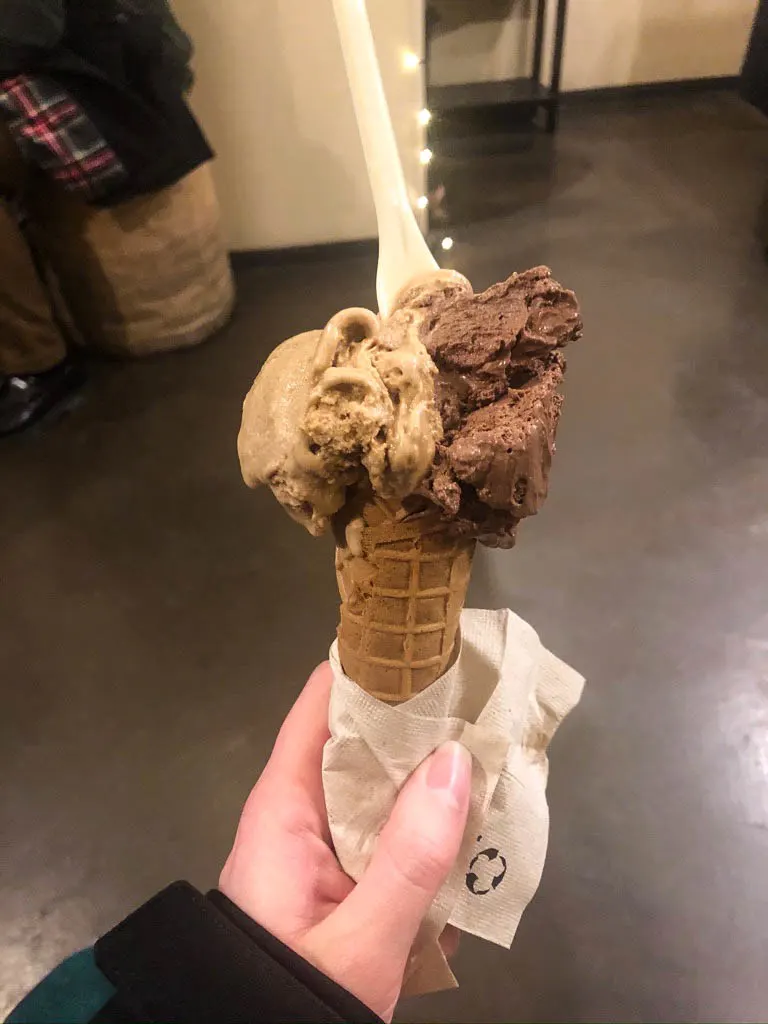 Grezzo Raw Chocolate is the first raw vegan patisserie in the world. All of their raw chocolate desserts are vegan and gluten-free. They use high-quality ingredients which means that it is a bit on the pricer side. They also have a nice range of vegan flavors.
Book Your Trip
[the_ad id="3068″]
Vegan Breakfast in Rome, Italy
La Licata
I am generally not a fan of Italian breakfast. Italians normally only have an espresso and a croissant for breakfast. Breakfast cookies are also fairly popular. I am the type of person that likes to eat a big meal for breakfast, and Italian breakfasts often leave me feeling unsatisfied.
Although vegan croissants have become easier to find over the past few years, La Licata has the best vegan breakfast by far. Their vegan set breakfast includes a variety of pastries, fruit juice, and a coffee drink of your choice. It is still a bit too sweet for me to want to eat every day, but it was a nice treat.
Pin for later….
Related Posts