Affiliate Disclosure: This post may contain some affiliate links, which means when you click, I get a small percentage of the purchase at no extra cost to you. This allows me to keep this website running, so feel free to click away! You can read my entire Affiliate Disclosure here.
It is incredibly easy to eat vegan in Florence. Italian food, in general, is very vegan friendly. You won't have a problem finding a vegan-friendly meal at restaurants that serve meat.
My favorite part of Florence is how walkable it is. I spent a month in the city, and never once took any form of transportation. There are also a number of vegan or vegan-friendly restaurants. Because of how small Florence is, you should be able to easily be able to find a vegan meal no matter where you are in the city.
I highly suggest checking out the apps abillionveg (use the code THEVEGANABROAD when signing up) and Happy Cow while you are in Florence. Hopefully, this guide will give you some ideas of restaurants to check out while in Florence, and abillionveg and Happy Cow will help you to know which of these restaurants are located near you.
If you are also visiting Rome, be sure to read my ultimate guide to vegan restaurants in Rome, Italy.
Vegan and Vegetarian Restaurants in Florence
Dolce Vegan
Dolce Vegan is easily my favorite vegan restaurant in Florence. It has a wide range of vegan food including classic Italian dishes and some American style dishes. Dolce Vegan has vegan cheese and beyond meat products. I often feel like vegan cheese is either a hit or a miss. The vegan cheese at Dolce Vegan was some of the best I've ever tasted.
Vegan tiramisu isn't very easy to come by in Italy. The tiramisu at Dolce Vegan was actually the first vegan tiramisu I've had in all of Italy. It was very good, but I actually preferred the tiramisu at Universo Vegano (mentioned below).
Universo Vegano
Universo Vegano is a franchise vegan fast food outlet. Fast food is very different from American fast food though. In Italy, fast food just means that the food might be prepared ahead of time and then reheated. Universo Vegano also doesn't prepare all of its ingredients from scratch either.
Universo Vegano is a very casual restaurant. You order at the counter, and there isn't any table service. The food was still very good though. Universo Vegano has traditional Italian dishes along with various other types of cuisines. I do recommend that you order the Italian food here though because I think it is better than the other cuisines (this is Italy after all).
Tiramisu is my absolute favorite dessert. Vegan tiramisu is somewhat difficult to find in Italy, but I did have a few of them during my trip to Italy. The vegan tiramisu at Universo Vegano was easily the best one out of all of them
I also ordered this cannoli one day. It costs around 5 euros (the same price as the tiramisu). I think the 5 euros for the tiramisu was worth it, but the price wasn't worth it for the cannoli.
Libreria Brac
Libreria Brac is a library, cafe, and vegetarian restaurant. It is located down a narrow street, which made it a bit difficult to find. It also looks more like a bookstore from the street than a restaurant.
While the restaurant is entirely vegetarian, there are quite a few vegan options on the menu as well. They generally don't have what you might think of as traditional Italian food like pizza and pasta, but the food was delicious nonetheless.
It's a very popular spot, so be sure to book reservations for dinner.
#RAW
#Raw is a vegan, organic, gluten-free, and mostly raw restaurant. If you need a healthy break from traditional Italian food than I highly suggest visiting #Raw. If you aren't into raw food than you probably won't be such a big fan of this restaurant.
Flower Burger
Flower Burger is a vegan fast-food chain. They specialize in, you guessed it, burgers. You might only want to eat authentic Italian food while you are Italy, but if you are spending a lot of time in the country and want something different, I highly suggest trying Flower Burger. They have several different burgers to choose from and they all come with different colored buns.
Santo Falafel
Santo Falafel is an all-vegan, fast food restaurant. You can pretty much make whatever dish you want with falafel whether it is a wrap, bowl, or salad. This is another great restaurant to try if you need a break from traditional Italian food.
5 e Cinque
5 e Cinque is a vegetarian restaurant with a few vegan options. The menu changes daily which means that the number of vegan options also changes. The menu is in Italian, but the owner came up to the table and explained each item on the menu to me even though I do speak Italian. It was very busy when I went there, so I suggest making a reservation if you can.
Vegan-Friendly Restaurants in Florence, Italy
Carduccio
Carduccio serves primarily vegetarian food, but they do have a few dishes with fish. All dishes can be made vegan though. I ordered a falafel salad and iced coffee. I only ate here once, and I didn't think it was that great. It is very close to Palazzo Pitti. I would only suggest eating here if you are in the area.
Mister Pizza
I am mostly recommending this restaurant because of its location. Mister Pizza is directly next to the Duomo. There are a few vegan pizzas with vegan cheese, but I actually just went with the classic marinara when I visited. You can look out to the Duomo while eating pizza. It doesn't get much better than that! There are also gluten-free options available.
Quinoa
Unless you are gluten-free, I wouldn't suggest Quinoa. The entire menu is gluten-free and has several vegan dishes available as well. I ordered the Pad Thai. I am a bit hard to please when it comes to Thai food since I lived in Thailand. The Pad Thai was just so-so and way too overpriced.
Shake Cafe
Shake Cafe was easily my least favorite restaurant that I ate at in Italy. It is not a vegan restaurant, but it does have a few vegan options available. I ordered a vegan wrap and a smoothie. The wrap was subpar and the smoothie was so terrible that I didn't even finish drinking it.
Tamarindo Juicery
Tamarindo Juicery has various fast, yet healthy meal choices from salads, to smoothies, to toast. I ordered a smoothie bowl and a salad, and both were delicious. The salads were premade, and the smoothie bowl was made very quickly. I sat in the restaurant, but it would be a great meal if you need to grab something on the go.
Vegan Gelato in Florence, Italy
Vegan gelato is generally very easy to find in Italy because most gelato shops have sorbet flavors. I am not a huge fan of sorbet, and I would much rather eat a flavor like chocolate than sorbet.
Amorino Gelateria
Amorino Gelateria has multiple vegan sorbet flavors along with a vegan chocolate flavor. I really liked this gelato shop because they put your gelato in a cone in the shape of a flower. I suggest asking for whatever flavor you think you will want to have the most of first since that is the flavor that you will get the most of.
Edoardo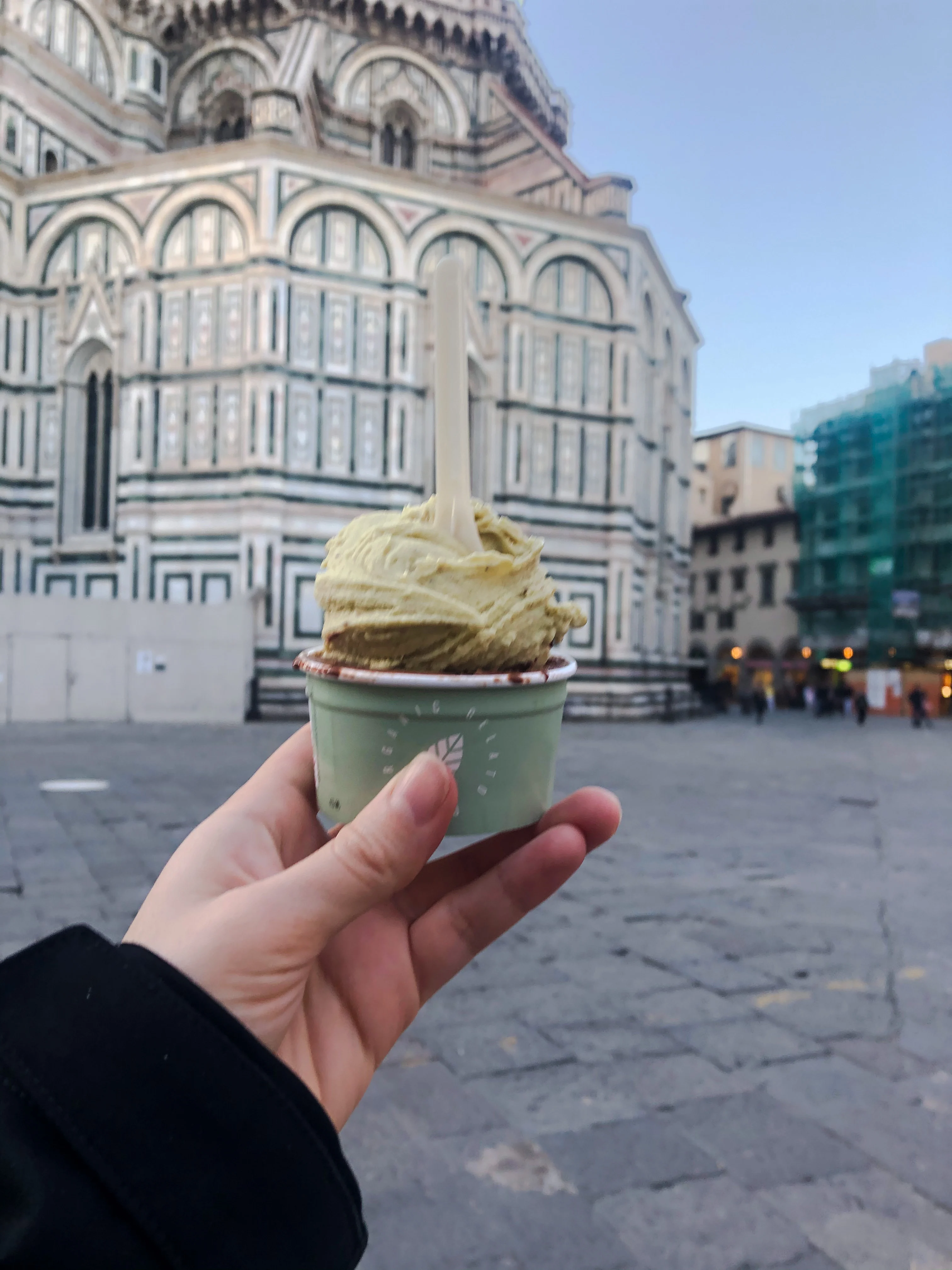 Edoardo is an organic gelateria in front of the Duomo. I was very happy with this gelato shop because they had a lot of vegan gelato flavors besides sorbet. I ordered the chocolate and pistachio.
Perche No!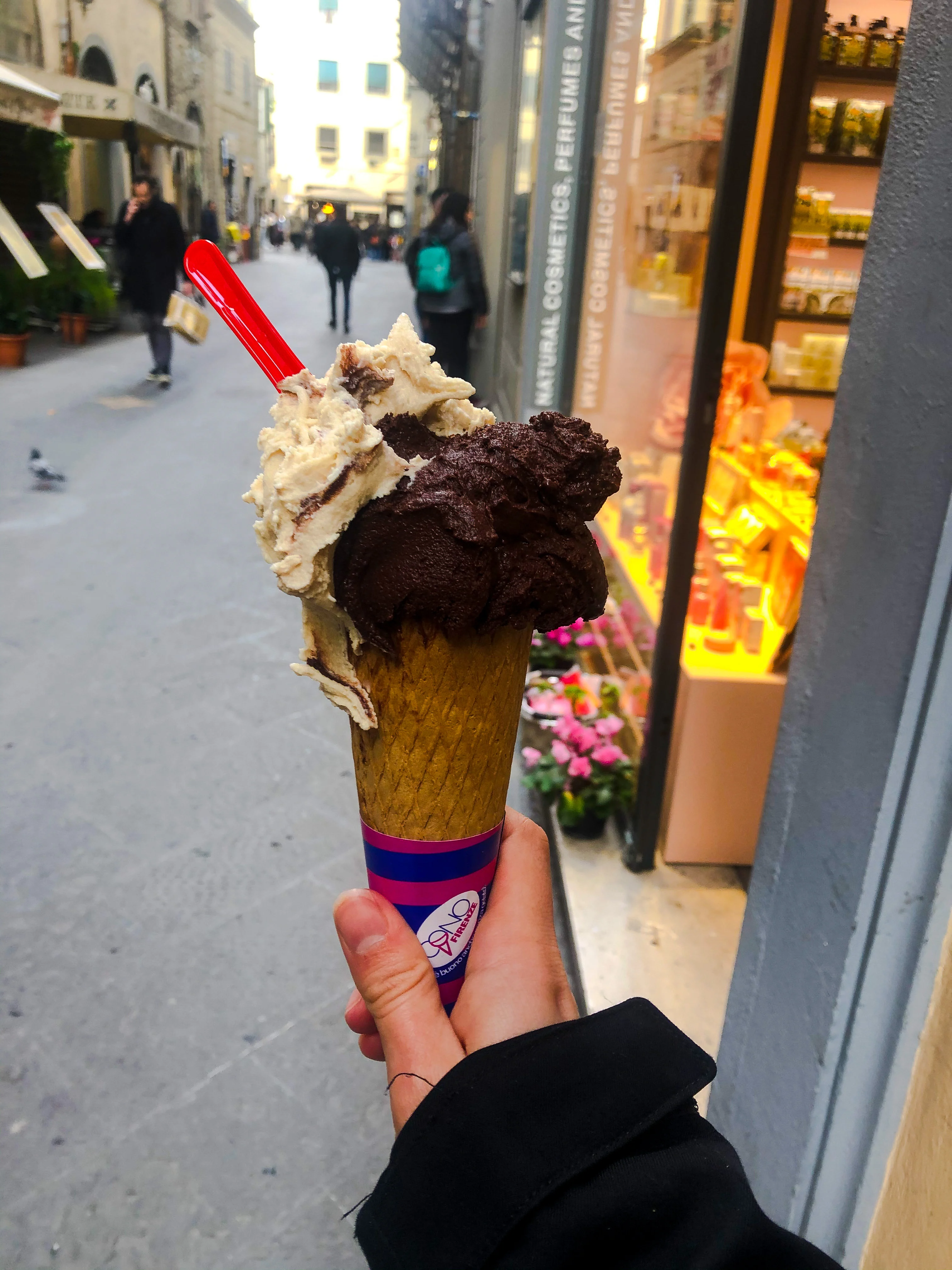 Perche No! offers soy milk, rice milk, and sorbet gelato.
Vegan Coffee in Florence, Italy
It is very easy to find coffee as a vegan in Italy. Italians drink a lot of espressos which is always vegan. Italians also never drink cappuccinos after lunch. Soy milk isn't too difficult to find for a cappuccino in the morning. I am adding coffee to this guide because of a coffee bar called Teatro Niccolini Caffe. It is very close to the Duomo, and they serve iced coffee with non-dairy milk. Iced coffee is hard enough to come by in Italy let alone vegan iced coffee. I highly recommend checking it out if you are an iced coffee lover like I am.
Have you been to Florence? What is your favorite vegan or vegan-friendly restaurant? Let me know in the comments!
The Best Resources for Traveling to Italy
Pin for later…
Related Posts