Affiliate Disclosure: This post may contain some affiliate links, which means when you click, I get a small percentage of the purchase at no extra cost to you. This allows me to keep this website running, so feel free to click away! You can read my entire Affiliate Disclosure here.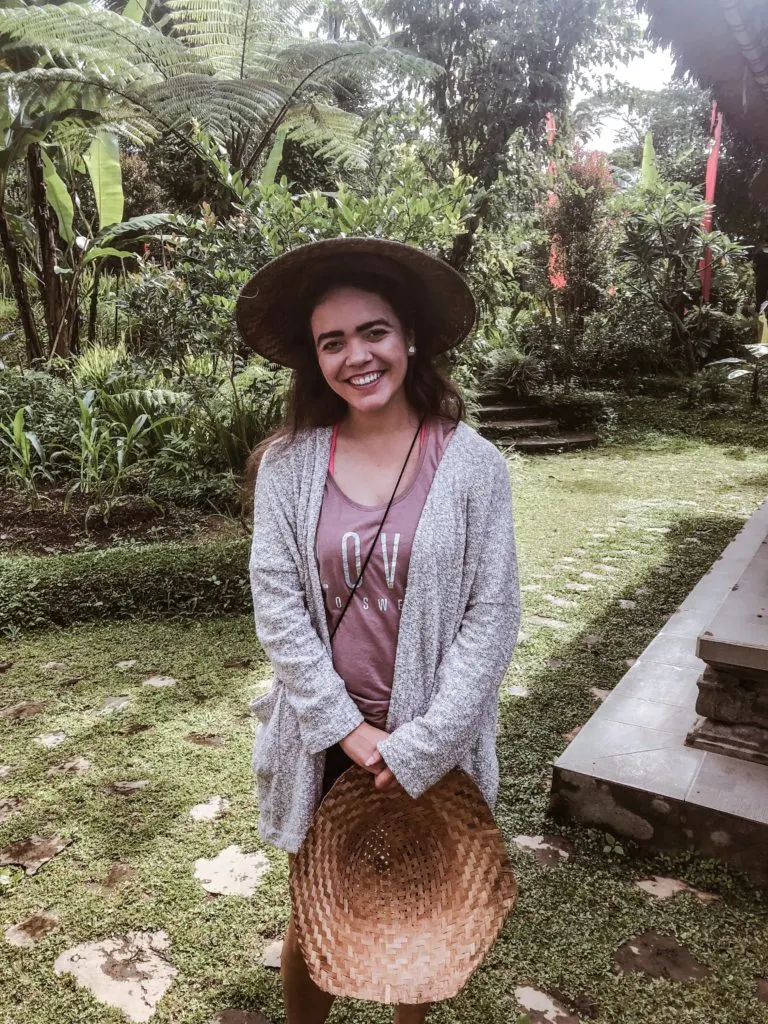 One of my favorite things to do when traveling to a new country is to take a cooking class. Cooking has been a passion of mine for a few years now, and I love trying the food from different countries and cultures. Taking a cooking class takes that one step further by getting to make a country's most popular dishes! Because of all of the incredible food in Bali, I knew that I had to take a vegan cooking class in Ubud.
I did a little bit of research and found the Pembulan Balinese Farm Cooking School. This cooking school has three different class options: regular (AKA including animal products), vegetarian, and vegan. You will be cooking and eating along with people from all three categories. There were 9 people in my cooking class, including myself. Six of them made the "regular" food, and 3 of us took the vegan cooking class. While the dishes that we made were somewhat similar, they had 2 different instructors, one teaching the regular class and one teaching the vegan class. We were cooking alongside each other, though, and we all ate together. Although I am always happy to see other vegans traveling, you shouldn't feel left out if you end up being the only vegan in class.
This cooking school is open 7 days a week and offers two classes per day. The morning class is from 7:30 am to 2:00 pm, and it includes a trip to the local market. The afternoon class is from 12:30 pm to 6:00 pm, and it does NOT include a trip to the market. I did the morning class, and I recommend that one because I really enjoyed the trip to the market.
A Trip to the Local Market
After everyone was picked up from our hotels, we took a trip to the local market. We tried several different exotic fruits at the market. I had tried some of them from my time living in Thailand, but some were still new to me.
While the market sold mostly fruit, vegetables, and flowers, it also sold animals. Not animal products, but live animals. I did witness a woman buying a live chicken. The man selling the chicken wrapped its legs up and tossed it into a plastic bag. It was definitely a disturbing way to start my day, but also a good reminder of why I am vegan.
Picking Vegetables From the Garden
After leaving the market, the van took us to the garden where the actual cooking class takes place. This was probably my favorite part of the day because I loved seeing how all of the plants were grown. We also picked all of our own vegetables that we would cook with that day.
Learning How to Cook
After picking vegetables from the garden, we returned to our food stations where we had coffee and tea. We then learned what was on the menu for the day.
Base Gede/Bumbu Bali (traditional spice paste)
Tempe Asam Manis (sweet and sour tempeh)
Gado Gado (steamed vegetables with peanut sauce)
Opor Tofu (Balinese tofu curry)
Bergedel (fried corn with Balinese spice)
Tum Bambu (young bambu wrapped in banana leaves)
Black Rice Pudding
We ate three different times throughout the class. First, we made the Gado Gado and Tempe Asam. Then we made the Opor Tofu, Bergedel, and Tum Bambu. We finished off the day with Black Rice Pudding.
Base Gede
I completely forgot to get a picture of the final product. I only have this picture of the ingredients before they were smashed into a paste.
Base Gede is not eaten directly but is used as a basic spice in cooking.
Gado-Gado
Gado-Gado means at least two vegetables mixed together and served with peanut sauce. This dish was made with green beans, cabbage, spinach, bean sprouts, tempeh, and a spicy peanut sauce.
Tempe Asam Manis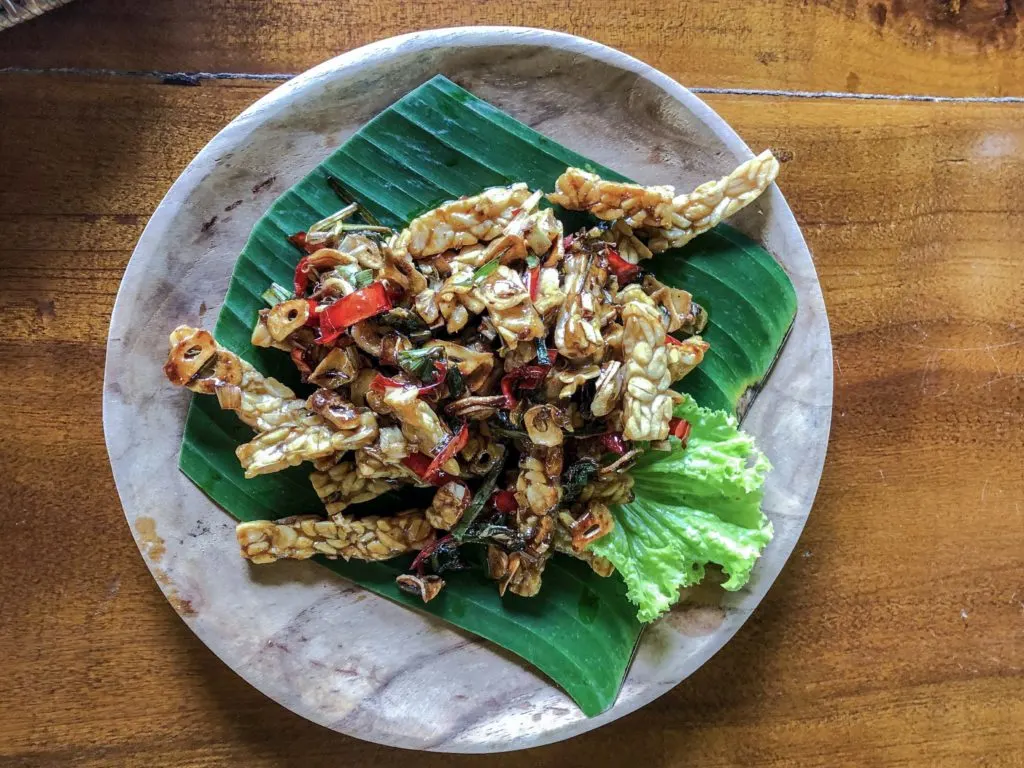 Like many Balinese dishes, this dish includes tempeh. Besides tempeh, it also includes garlic, onion, chilis, and a few other spices.
Opor Tofu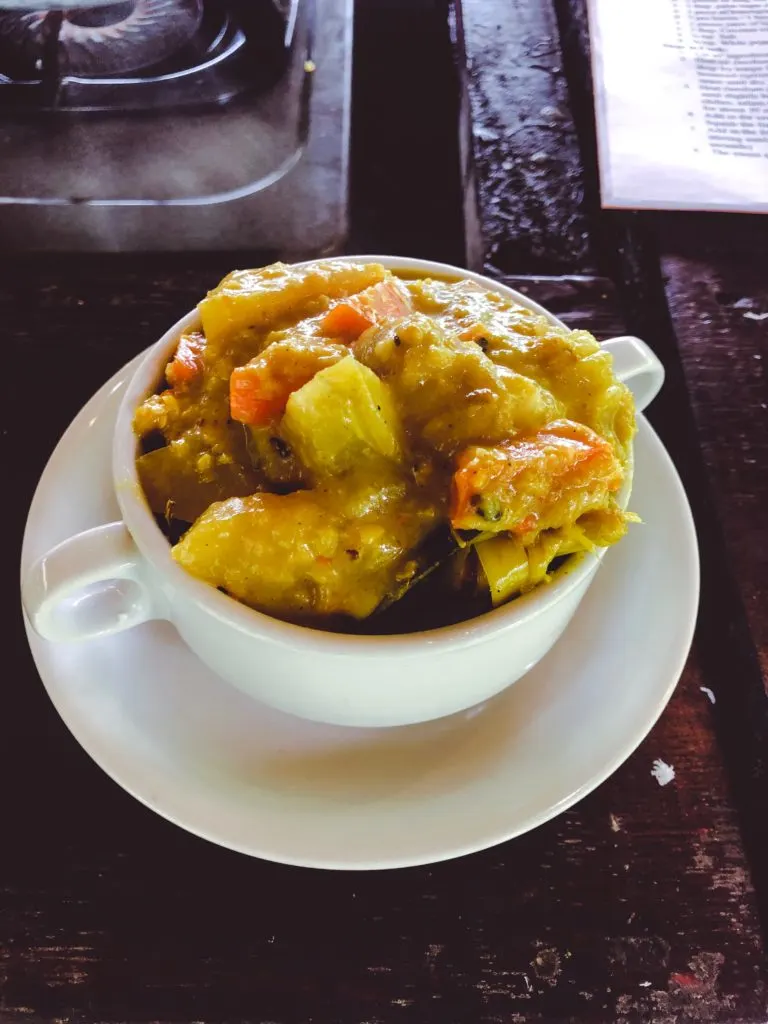 This tasted somewhat similar to a Thai curry. Although I found the food in Bali to be much less spicy than the food in Thailand.
This dish was made with tofu, tempeh, vegetables, coconut milk, and spices.
Bergedel
This was probably my favorite dish of the day. It is typically made with eggs, but I was easily able to omit those. Bergedel is made with fresh corn, flour, and a few different spices.
Tum Bambu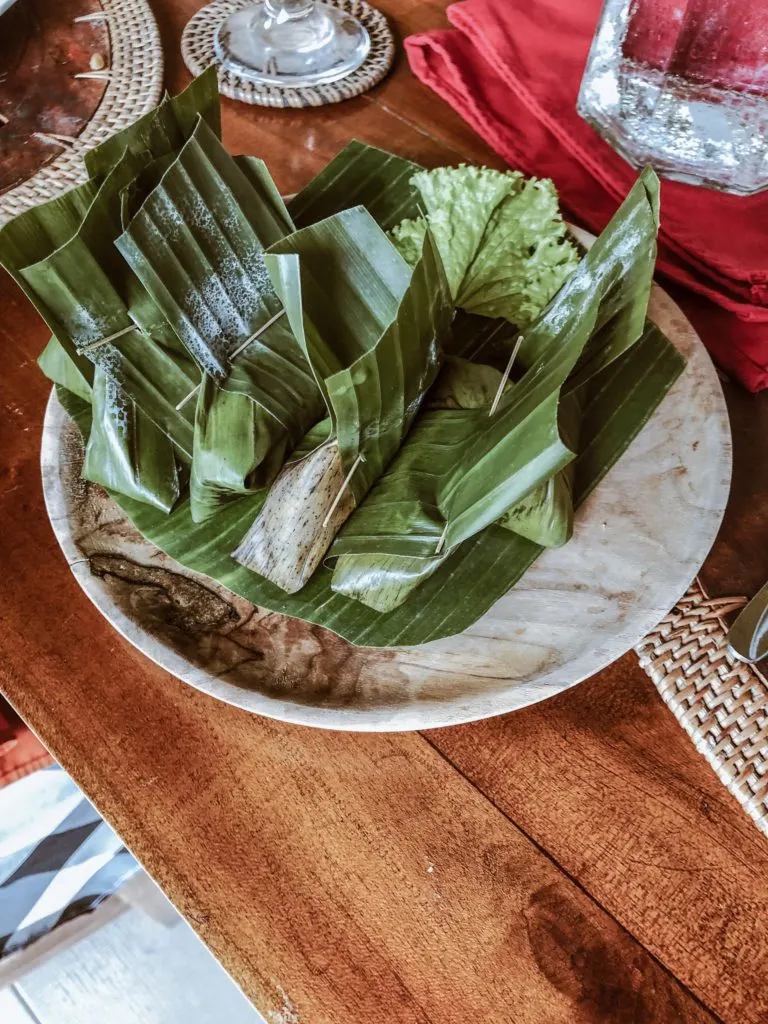 Tum Bambu is also typically made with eggs, but I was easily able to omit them. It is made out of young bamboo, flour, palm sugar, lime leaves, vegetables, salt, and pepper. These were probably the most fun to make because you mixed all of the ingredients together, wrapped it in a banana leaf, and then steamed them for 30 minutes.
Black Rice Pudding
The cooking class ended like all great meals do: with dessert! This black rice pudding is made with boiled black and white rice and topped with coconut milk and bananas.
I highly recommend that you take a cooking class while in Bali. Whether it is this cooking class or another one, cooking classes are a fun and interactive way to learn about another culture.
Read Next:
Pin for later…