Affiliate Disclosure: This post may contain some affiliate links, which means when you click, I get a small percentage of the purchase at no extra cost to you. This allows me to keep this website running, so feel free to click away! You can read my entire Affiliate Disclosure here.
One of my favorite things to do when traveling is to take a cooking class. You can learn so much about a culture through the food that they eat. I am also a vegan which can make taking a cooking class a bit trickier at times. I knew that I wanted to take a vegan cooking class in Rome, and I was luckily able to find a vegan pasta-making class in Rome.
The cooking class in Rome, Italy wasn't technically a vegan pasta-making class. The hand-made pasta dough is traditionally made with eggs and the ravioli is stuffed with ricotta and spinach. This was a small group pasta-making class with a local chef in Rome, so the owner was easily able to accommodate my vegan dietary restriction. There was also a girl in my class that was gluten-free, and she was able to make pasta as well. If you are vegan and gluten-free, I don't recommend taking this class though since you need the egg to bind the pasta together without the gluten.
Check out my ultimate guide to vegan restaurants in Rome, Italy.
About the Vegan Cooking Class in Rome
This vegan cooking class in Rome took place at a Pastificio. A Pastificio is a place where pasta is handmade and sold to customers. This Pastificio has been named one of the best in Rome for four years.
Last year, the owner decided to start a pasta-making class during an Italian holiday, and he ended up loving it so much that he closed down the Pastificio and the shop is only open for the pasta making class.
There are two classes each day: one at 11:30 am and the other at 4:55 pm. Both pasta lessons last three hours. The class is taught in English, but the instructor also speaks Italian (obviously) and French.
Making Vegan Pasta in Rome, Italy
Vegan Hand-Made Pasta Dough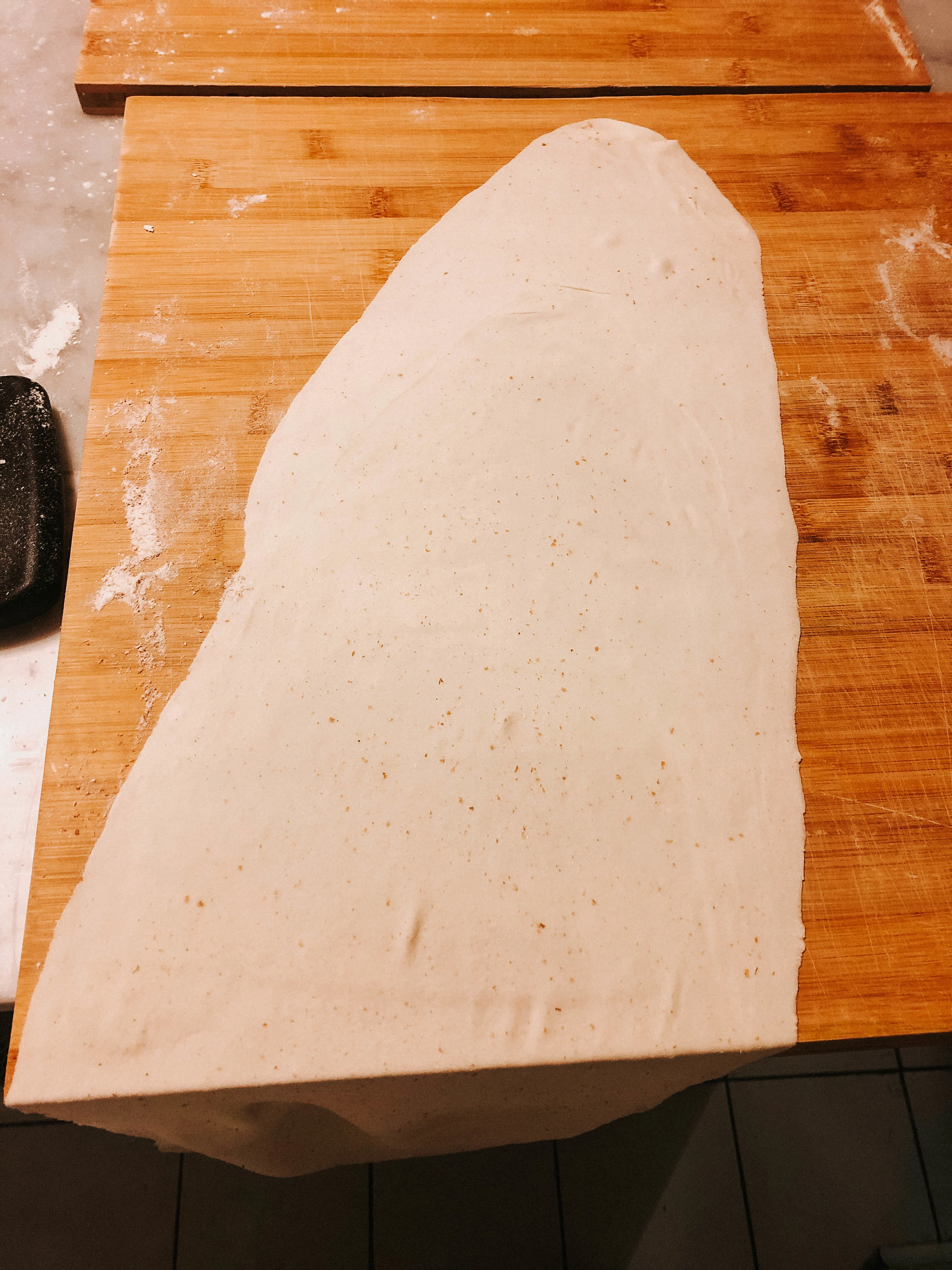 We started off the class by learning how to hand-made pasta dough. The rest of the class used an egg in their pasta dough, but I was easily able to substitute the egg with more water.
Vegan Raviolli and Tortellini
After making the vegan hand-made pasta dough, we used some of that dough to make vegan ravioli and tortellini. They are made the exact same way, the only difference is how to form the shape of the pasta.
The rest of the class filled their ravioli and tortellini with ricotta and spinach while I filled mine with spinach and tomatoes.
Vegan Fettuccine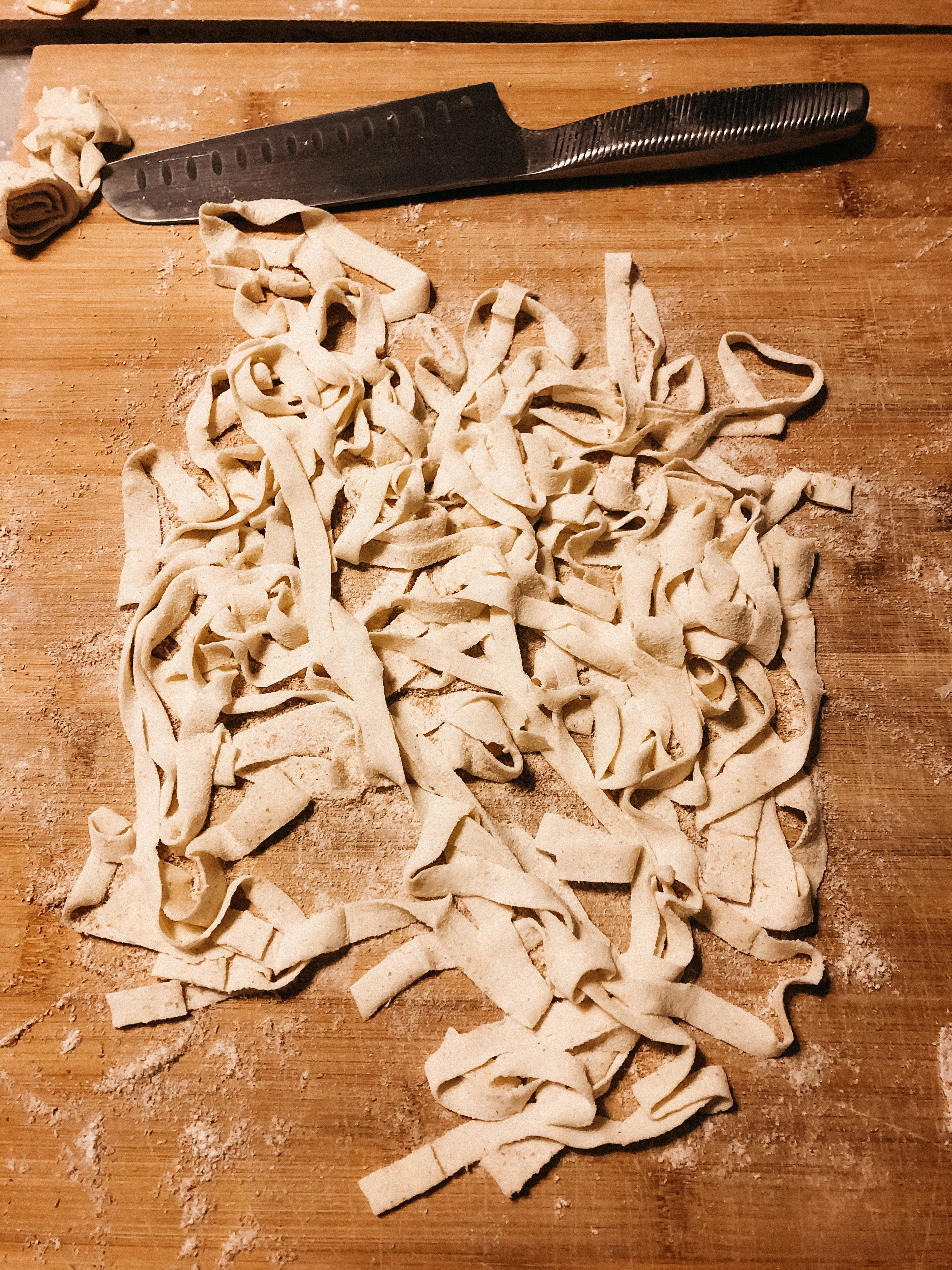 After making the ravioli and tortellini, we used the remaining pasta tough to make fettuccine. This was actually my favorite part of the class. It was so much fun learning how to cut pasta dough into fettuccine!
Eating Vegan Pasta
The one thing that I didn't like about this vegan pasta making class was that we didn't get to actually cook our own pasta. The owner and his assistants cooked the pasta while we drank wine.
Don't get me wrong, the wine was delicious, but I wish we could have drunk it with our meal and been able to cook the pasta.
The owner also selected which sauces we would top the pasta with. Everyone else used sauces that weren't vegan friendly, but he made sure to use a vegan sauce for me.
We ate dessert afterward. The chef brought out a non-vegan dessert for everyone else and brought me strawberries that were cut up and covered in sugar. They were delicious!
Final Thoughts on the Vegan Cooking Class in Rome
Overall, I really enjoyed this vegan pasta making class. There were only eight of us, so it felt like we were getting some individual attention from the instructor. The food tasted delicious, and we were even given the recipes so we could make these pasta dishes on our own back at home. As I mentioned earlier, my only complaint is that we weren't able to cook the pasta ourselves. It was a fun experience though, and I would recommend trying this vegan pasta making class if you are ever in Rome.
Pin for later…