Affiliate Disclosure: This post may contain some affiliate links, which means when you click, I get a small percentage of the purchase at no extra cost to you. This allows me to keep this website running, so feel free to click away! You can read my entire Affiliate Disclosure here.
Eating vegan in Athens, Greece is not only possible but it's delicious. This guide has everything you need to know to enjoy your time and still eat cruelty-free.
Athens is a hotspot for vegan food. I lived in Athens for three months and tried many of the restaurants, but there are still so many left to try! This list includes some restaurant recommendations as well as what grocery stores I recommend.
Perhaps you'll find something new on this list, or maybe it will help you plan your next trip to Athens!
There are plenty of options when it comes to finding vegan food in Athens, Greece. Here is my guide to eating vegan in Athens.
Tips For Finding Vegan Food in Athens, Greece
Greece is a very vegan-friendly country, and you really shouldn't have a problem finding vegan food no matter which restaurant you decide to go to.
Here are some of my top tips for finding the vegan food you are craving while in Athens:
Happy Cow – Happy Cow is an app (and website)that will show you restaurants near you that are vegan, vegetarian, or have vegan options.
Food Delivery Apps – My favorite way to find vegan food when traveling is by searching food delivery apps. This way you can view the entire menu instead of just hoping that the vegan food available is something that you are interested in. The food delivery apps availabe in Athens are Wolt and efood. I prefer Wolt because you can change the language of the menus to English.
Google Maps – Another way to find vegan food is my searching on google maps, especially if you are looking for a specific type of food. Type the words "vegan," "vegan ice cream," or "vegan pizza" into the search bar and see what comes up. Normally it is pulling the results from reviews that people write. Make sure you actually read the reviews because someone may write something like, "This restaurant does not have any vegan options" and it will show up because that review has the word "vegan."
Vegan Restaurants
Cats & Monsters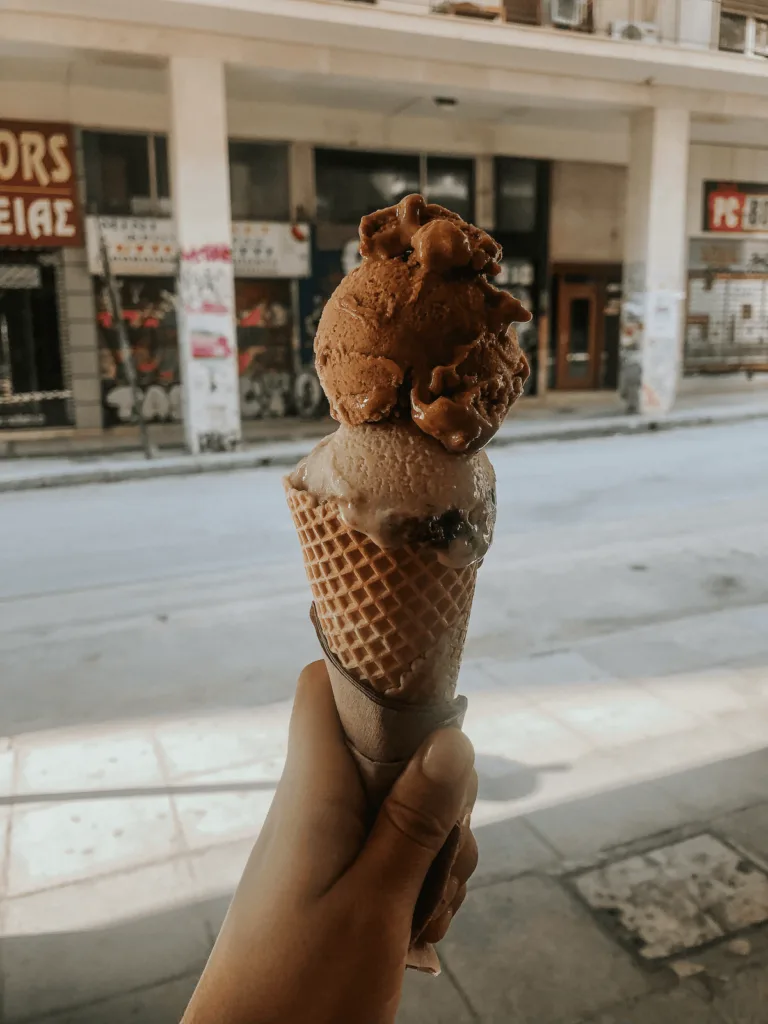 Cats and Monsters is a 100% vegan ice cream shop. The base of the ice cream is soy milk, almond milk, oat milk, or rice milk. Each flavor has its non-dairy base clearly labeled.
This vegan ice cream shop has so many fun and interesting vegan ice cream flavors. Here are most of their flavors: snickers, oreo, hazelnut Bueno, mille-feuille, cappuccino caramel, pure strawberry, pure lemon, chocolate chips, Bounty, mint chocolate chip, greek yogurt, mango vanilla touch, strawberry brownie, banoffee, havla chocolate, white peach with strawberry swirl, and pear with feta.
I ordered the cappuccino caramel and havla chocolate with a vegan cone. Both flavors were delicious, but I did prefer the cappuccino caramel.
Cookoomela Grill
Cookoomela Grill serves souvlaki, pita wraps, kebabs, and dessert. The "meat" that they use is made from mushrooms. I don't like mushrooms, so I wasn't a huge fan of the food at Cookoomela Grill. It's a great option if you enjoy mushrooms though.
Mama Tierra
Mama Tierra is a vegan restaurant located about a 5-minute walk from Omonia metro station.
Here are some of the dishes that Mama Tierra offers: vegan moussaka, falafel, salads, vegan soutzoukakia, burrito, burgers, and desserts.
When I visited the restaurant, I ordered the oven-baked nachos and soutzoukakia. I find that vegan cheese is a hit or miss (although it's getting much better as the years go on). The vegan cheese with the nachos was really good.
Soutzoukakia is a traditional Greek recipe made with meatballs in a tomato sauce.
Mama Tierra was the first time that I have seen vegan soutzoukakia on a menu. I decided to order it to try this traditional Greek dish, but I didn't like it that much I wouldn't order it again.
I've also ordered from Mama Tierra from the food delivery app, Wolt. I've ordered the burrito and falafel portion, and I recommend both of those dishes over the soutzoukakia.
Mother Vegan Cafe Bistro
Mother Vegan Cafe Bistro was probably my least favorite fully vegan restaurant that I ate at while in Athens. I ordered a burger and it was just okay.
They also sell pies, desserts, ice cream, and drinks.
Peas Vegan & Raw Food
I ordered the Greek salad and tofu nugget souvlaki at Peas Vegan & Raw Food.
The tofu nugget souvlaki was probably my favorite souvlaki that I ate while in Athens. I found that most restaurants that offered vegan souvlaki used mushrooms as the "meat." Mushrooms are one of my least favorite foods, so I was so happy to find one without it.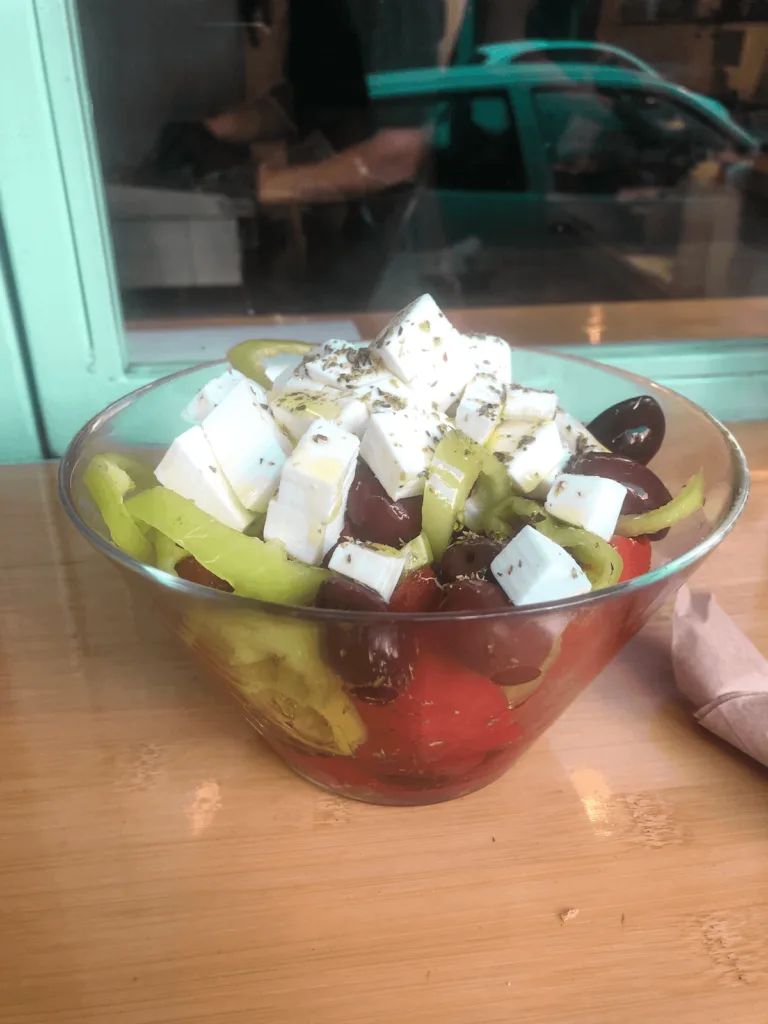 I actually don't like Greek salad very much, but I figured I had to order it at least once while I was in Greece. I really liked the vegan feta cheese that they put on this vegan Greek salad.
Some of their other dishes include a jackfruit burger, seitan gyro pitta, buddha bowl tofu, raw zucchini spaghetti, seitan fillet, chocolate cake, and more.
The Vegan Vandal
The Vegan Vandal sells vegan street food. I ordered the parmesan salad and crispy cauliflower sandwich. Both were very delicious and I would order them again.
Here are some of the other dishes available: crispy cauli nuggets, jack burger, mushroom skewer, and chocolate brownie.
Treis Laloun
Treis Laloun is a must-visit vegan restaurant in Athens. I visited the actual restaurant once, but I ordered from them through a food delivery app several times.
Treis Laloun has so many vegan options. Here are a few dishes you can look forward to: caesar's salad, french fries with cheddar and bacon, chicken free a la creme, carbonara, chicken free nuggets pita, meatless skepasti, chicken free gyros, plant-based schnitzel, fishless sticks, snickers pancakes, vegan donuts, and so much more!
Although I wasn't able to try as many dishes at Treis Lalou that I would've liked, I have to say that my favorite was the no shrimps with fennel.
Shrimp was the only seafood that I used to like back when I ate meat. I've never been able to find vegan shrimp in all of my years of being either vegan or vegetarian, so I was beyond excited when I saw it on Treis Laloun's menu.
The vegan shrimp is so good too. I have no idea what they make it with, but it definitely mimics the flavors of real shrimp.
Veganaki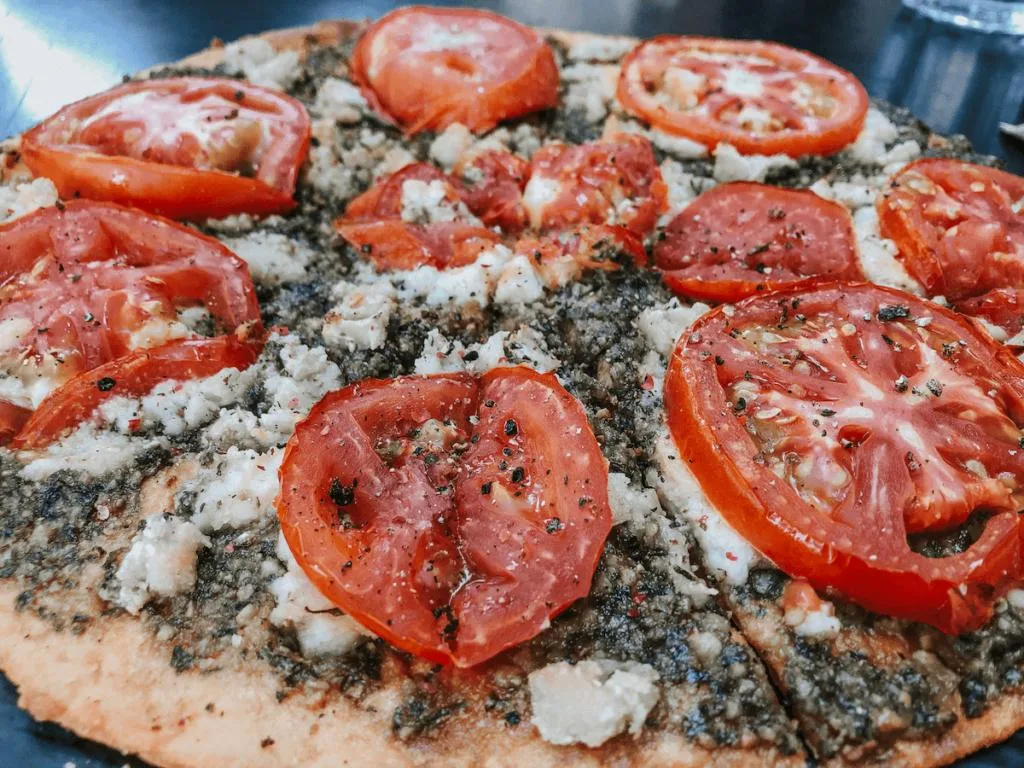 Veganaki sells a variety of vegan Mediterranean dishes such as feta cheese, tzatziki, falafel wrap, soutzoukakia wrap, moussaka, pasticcio, vegan pizzas, and more!
I ordered the basil pesto pizza, which was delicious and I would order it again.
Vegan Beat
I ordered the gyro burger and spiral potato at Vegan Beat. I really liked the spiral potato, but the burger was just okay. As I mentioned earlier, I'm really not a fan of mushrooms, and the "meat" in the gyro burger is mushrooms. I still ate it, but I wouldn't order it again.
Veganonlypizza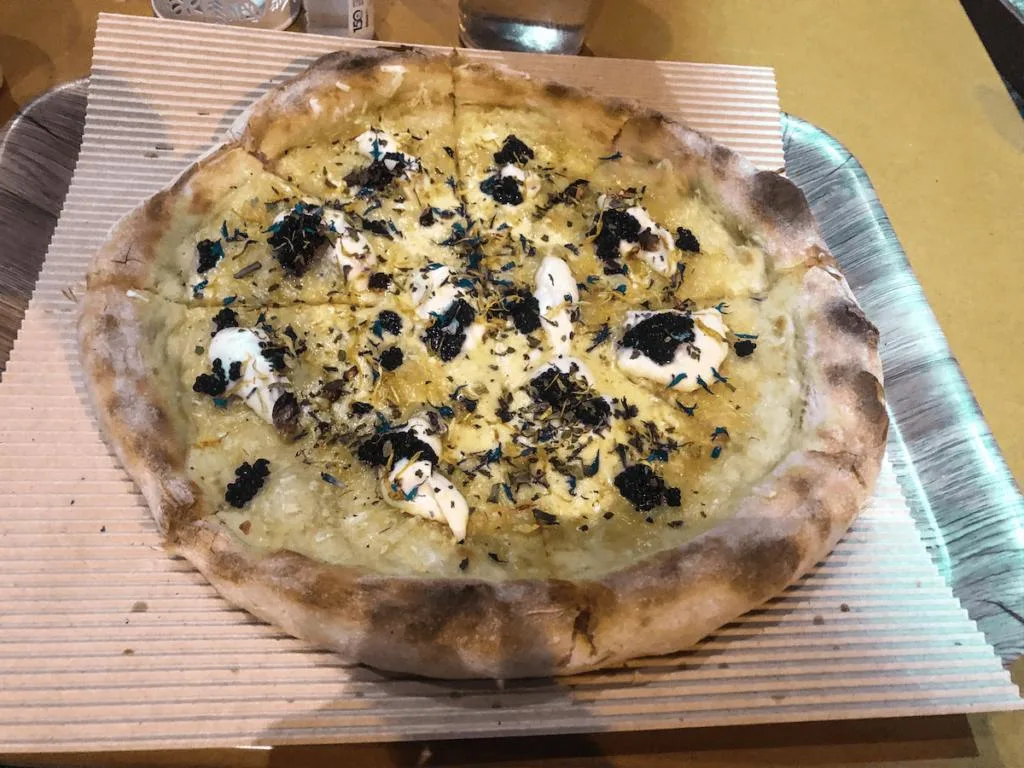 It should be pretty obvious, but Veganonlypizza sells vegan pizza. These are the pizzas available: pizza margarita, pizza pepperoni, pizza gyros, pizza "chicken" ala cream, pizza caviar, pizza marinara. They also have a few vegan salads available.
I decided to order the pizza caviar because it sounded the most interesting to me. I've never eaten real caviar before, so I'm not sure how the vegan caviar on this pizza compares.
The base and vegan cheese were really good, the caviar was okay, but there were globs of white cheese on top of the pizza that I did not like so I took it off.
Winners Vegan Restaurant
Winners Vegan is located at Niki Athens Hotel, but you definitely don't have to stay at the hotel to eat here.
I ordered the Indonesian Bowl, which was delicious. The restaurant also offered to bring me a free brownie for dessert. The chocolate in the brownie was very dark, but I still liked it.
Winners is on the pricier side, but it would be a nice restaurant to visit for a fancy dinner in Athens.
Vegetarian Restaurants
Avocado
Avocado is located just a short walk from Syntagma Square.
I ordered the crispy tofu and caesar salad. You have to request for the crispy tofu to be made vegan instead of vegetarian.
I liked both dishes, but I preferred the crispy tofu.
Falafel House
Falafel House is a takeaway restaurant that sells falafel. I love spicy food, so I ordered the Mexican falafel and spicy pita chips. They also have falafels that aren't spicy if you don't like spicy food.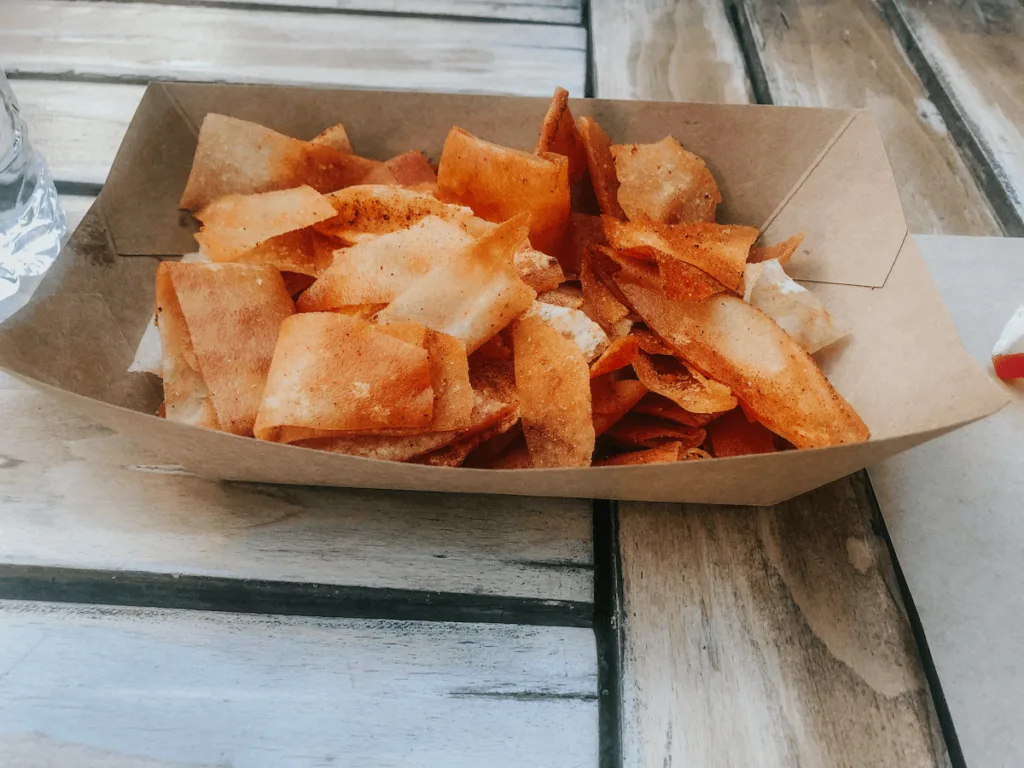 Happy Blender
Happy Blender is my favorite restaurant to get acai bowls in Athens. They are thick and have delicious toppings.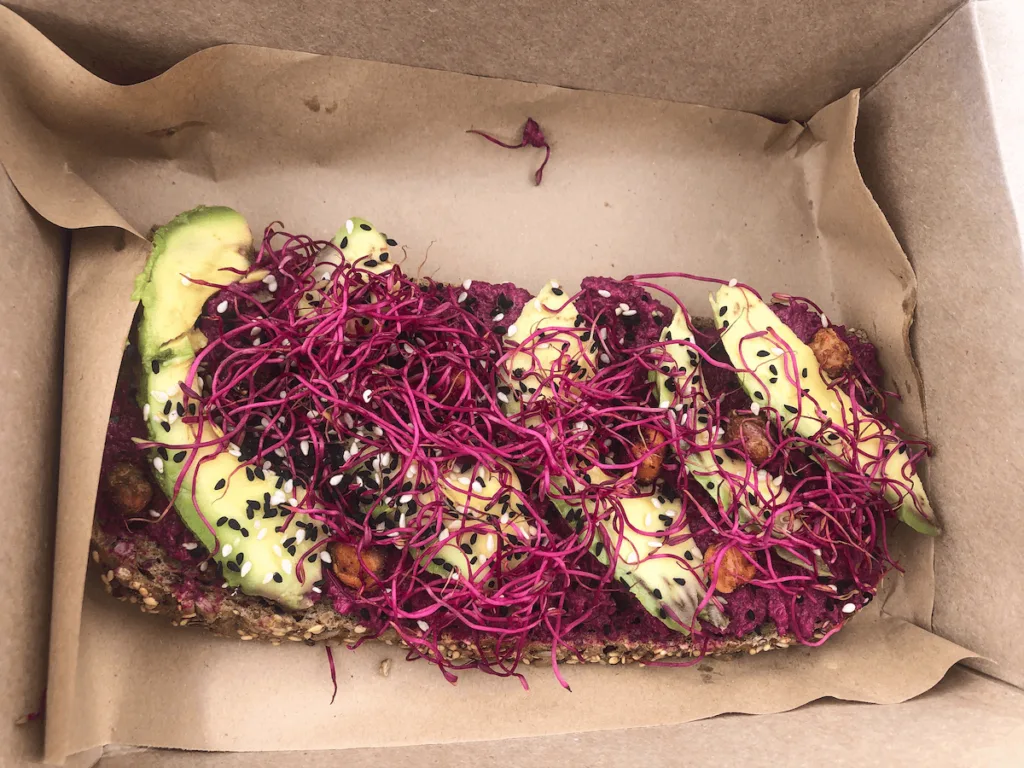 Happy Blender sells more than just smoothies and smoothie bowls, though. Their other vegan options include beet hummus avo toast, quinoa avocado beet hummus wrap, vegan burger, buddha bowl, greek salad, vegan pizza, and a few vegan desserts.
I liked everything that I ordered except for the beet hummus avo toast because I do not like beets.
Joshua Tree Cafe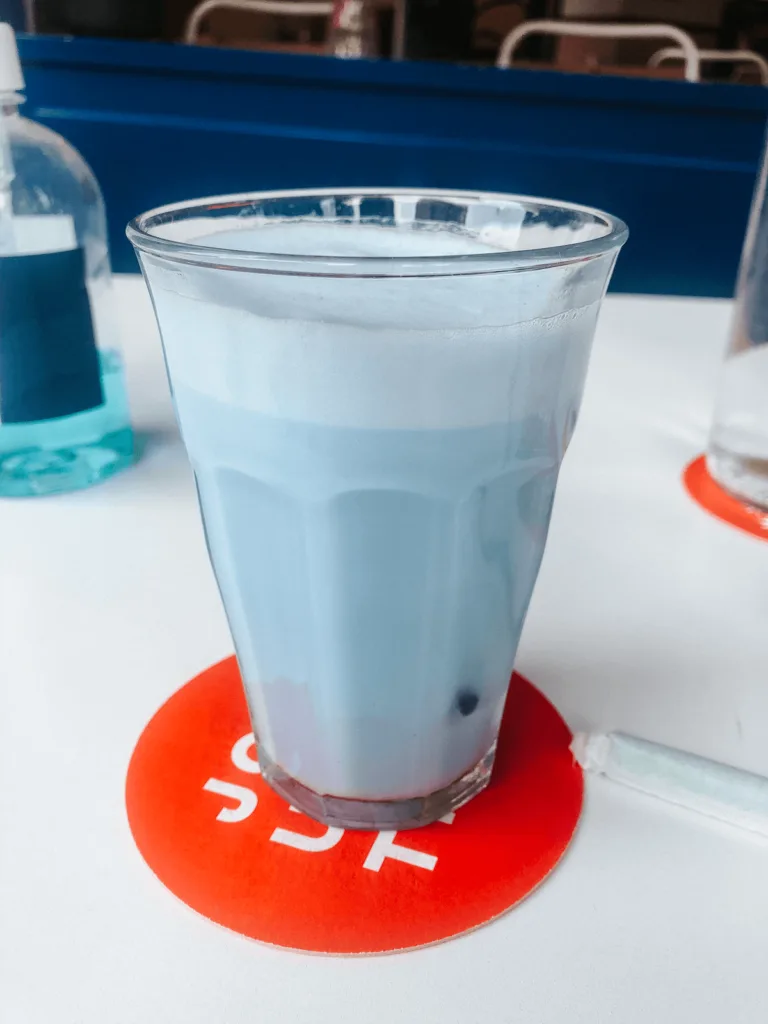 Joshua Tree Cafe is the perfect breakfast spot for your trip to Athens. They have a variety of vegan pancakes, cakes, and lattes.
If you decide to go here for lunch, they have several options as well like vegan sandwiches, vegan hot dogs, and sweet potato fries.
I ordered food from Joshua Tree through Wolt one time. I did try visiting the location once as well. The restaurant doesn't close until 7 pm, but their kitchen closes around 4. I didn't get to Joshua Tree Cafe until around 6, so I was only able to order a latte.
To Revithi Falafel Bar
To Revithi Falafel Bar is my favorite place to get falafel in Athens.
This was actually the first restaurant that I went to when I first arrived in Greece. I ordered the falafel pocket, and I kept going back here and ordering the same thing several times during my stay in Athens.
Restaurants With Vegan Options
Baldo – The Saucy Pasta
Baldo is a pasta takeaway restaurant with two vegan options. It's a great option for a quick lunch on the go. It wasn't the best pasta in the world, but it was good enough that I would get it again.
Dickie Dee
Dickie Dee is an ice cream shop with two vegan flavors: a fruit sorbet and dark chocolate. I ordered the dark chocolate.
fullSPOON
fullSPOON is an ice cream shop with 4 flavors of vegan ice cream. I ordered the chocolate and vanilla. I normally prefer chocolate, but I actually preferred vanilla at fullSPOON.
Ice Queen Gelato
Ice Queen Gelato is located very close to the Acropolis. It is the perfect place to stop right after visiting the Acropolis in the summer heat.
Ice Queen Gelato only has a few vegan ice cream options, but they are clearly labeled.
IceRoll
IceRoll is such a fun way to get ice cream in the heat of the summer, and I recommend that you try it at least once while you are in Athens (although, it can be a bit pricey).
When you visit IceRoll, you basically get to design your own ice cream. You pick your iceroll base and then pick whatever you want to be mixed into it.
The menu has a leaf next to the vegan items, so you can know how to design your own vegan mixture.
For the vegan iceroll base, you can choose between coconut milk and almond milk. They have several vegan flavor options like banana, pineapple, strawberry, mango, forest fruits, kiwi, cherry, peach, melon, dark chocolate, espresso coffee, and digestive.
I got an almond milk base with espresso coffee. Then I got it in a waffle cup with dark chocolate.
Keenkies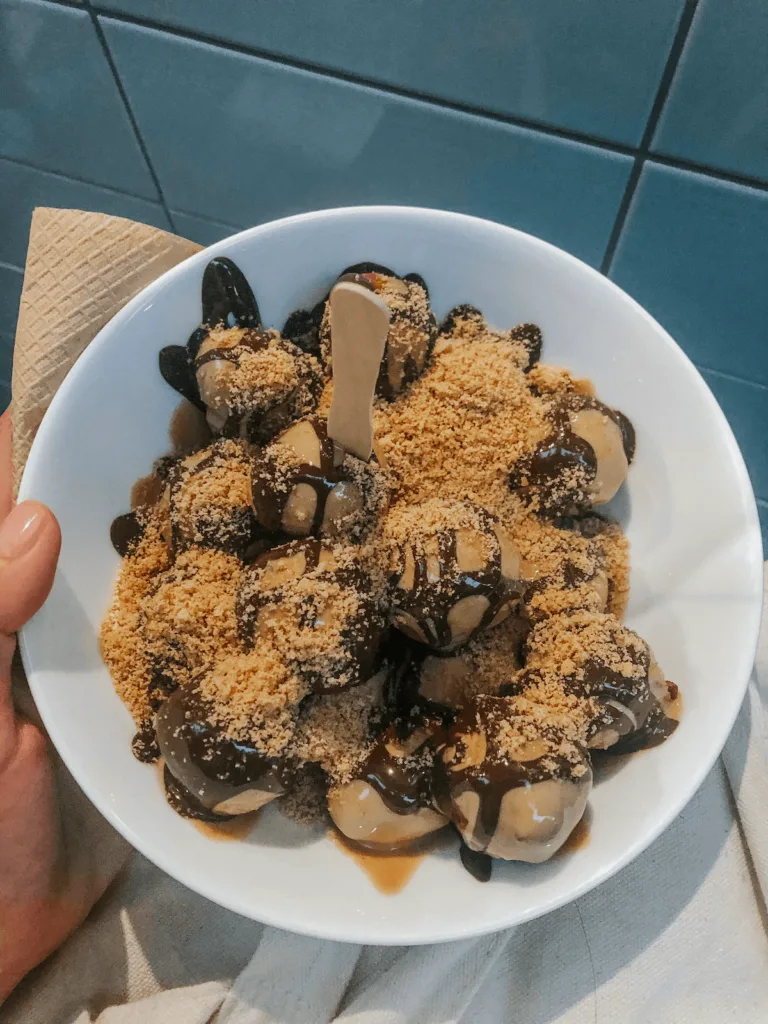 Keenkies sells loukoumades and peinirli, two traditional Greek dishes.
Loukoumades are normally sweet, but Keenkies does have several savory options as well.
These are the vegan dishes available at Keenkies: carbonara not vegan, pastitsio vegan, pitsini vegan, hangover vegan, vegan chicken run, hot sinful vegan, healthy vegan, power vegan, foundoukara vegan, vegan Lila pause, Argentina vegan, banoffee vegan, classic vegan, tomahawk vegan brownies, tomahawk blondies vegan, vegan brownies, blondies brownie vegan, cheesecake oreo snickers vegan, cheesecake Argentina vegan, noisetta Ferrero vegan, and cheesecake Lila pause vegan.
I ordered loukoumades covered in peanut butter and chocolate, and they were so good.
Lukumades
Just like Keenkies, Lukumades sells loukoumades.
Lukumades has fewer vegan options than Keenkies, but I think I prefer the loukoumades from Lukumades.
The vegan options available at Lukumades are lukumades with icing sugar, lukumades with bitter chocolate, lukumades with peanut butter, lukumades with agave syrup, lukumades with vegan chocolate praline, and lukumades with wild cherries.
Lukumades also sells a dessert called "Vegano" which is made with chocolate sorbet ice cream, vegan chocolate praline, peanut butter, and almonds.
I ordered the loukoumades filled with bitter chocolate and covered with bitter chocolate and pistachios.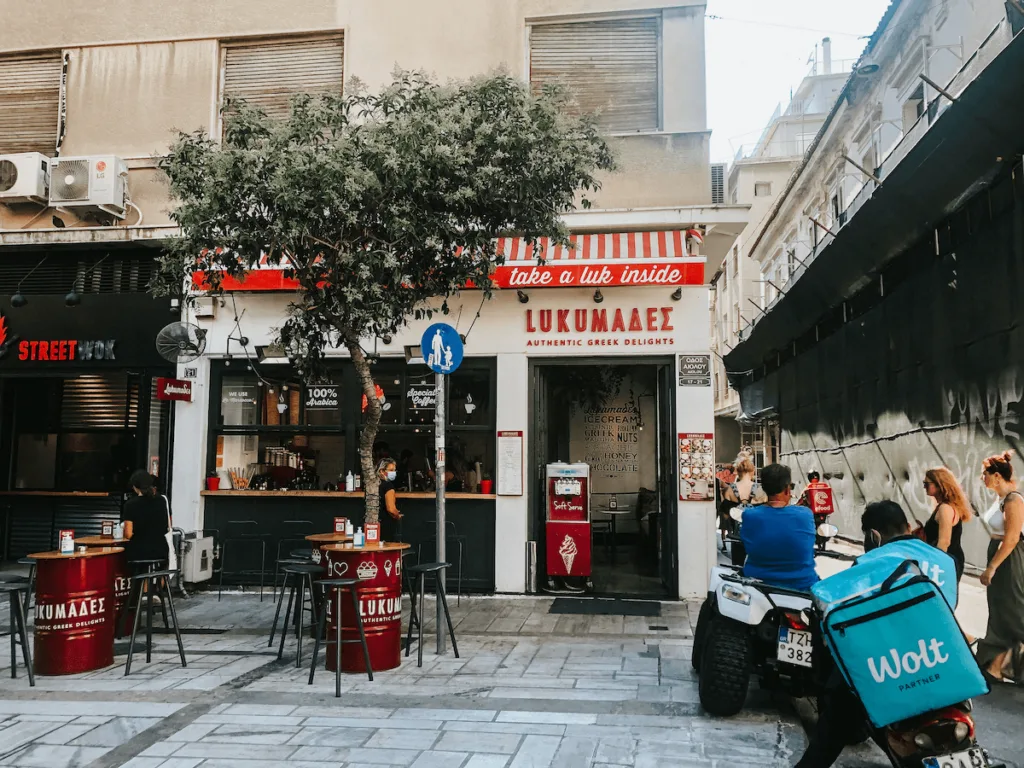 Loukoumades are such a delicious dessert that you must try at least once while you are in Greece. They are really filling though, so I recommend sharing.
Mystic Pizza
Mystic Pizza is the one restaurant on this list that I suggest you avoid.
I ordered garlic bread and spaghetti. The garlic bread didn't taste like any garlic bread that I've ever eaten before, and I wasn't a fan of it. The spaghetti was just okay, and you can get much better vegan food at any of the other restaurants mentioned in this post.
Nudie Foodie
Nudie Foodie is a gluten-free restaurant located near Omonia station. They are also a pescatarian restaurant, but most of their menu items are vegan or vegetarian.
When I visited the restaurant, I ordered a vegan burger with a side of sweet potatoes. The burger comes with beets. I don't like beets, so I pulled them off, and the burger was great.
I also ordered from Nudie Foodie on Wolt, and I ordered the vegan scrambled tofu. This is one of the few restaurants in Athens that offers scrambled tofu, which is one of my favorite foods.
Patpong Thai Restaurant
I used to live in Thailand for 16 months in 2018-2019, and I fell madly in love with Thai food during that time. Since I've left Thailand, I haven't had Thai food that even compares to what you can get in Thailand.
I decided to check out Patpong Thai Restaurant, and I was so impressed with their vegan pad thai. It is definitely my favorite that I've had outside of Thailand.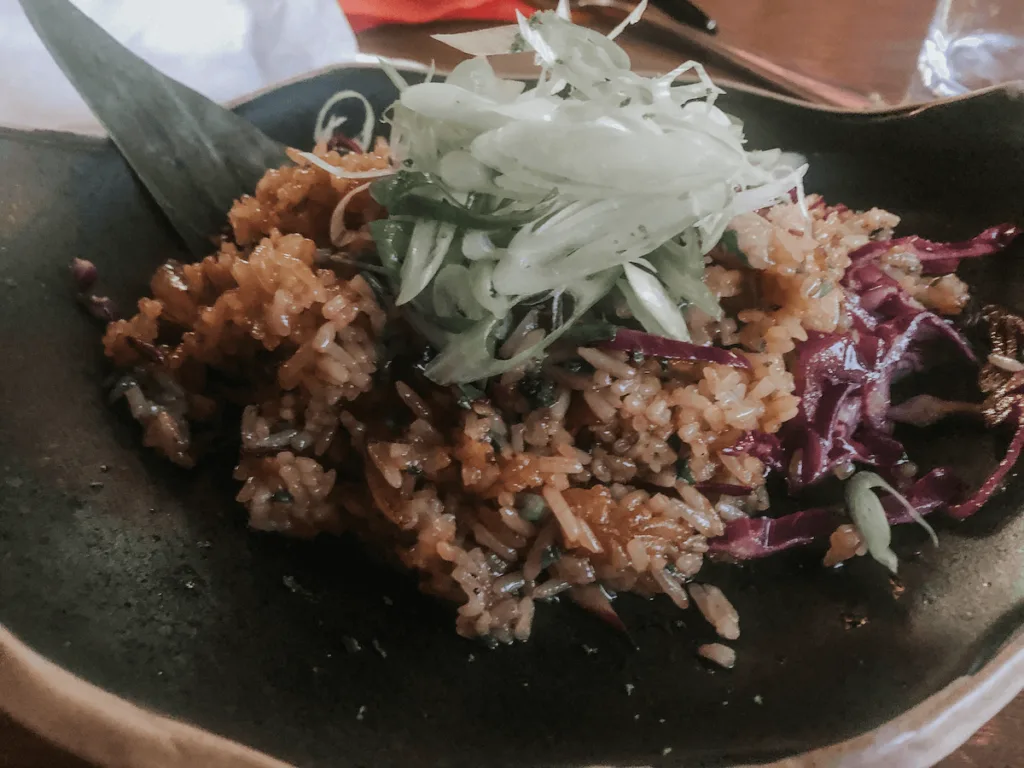 I also ordered the vegan fried rice. It was good, but I preferred the pad thai.
Po'Boys BBQ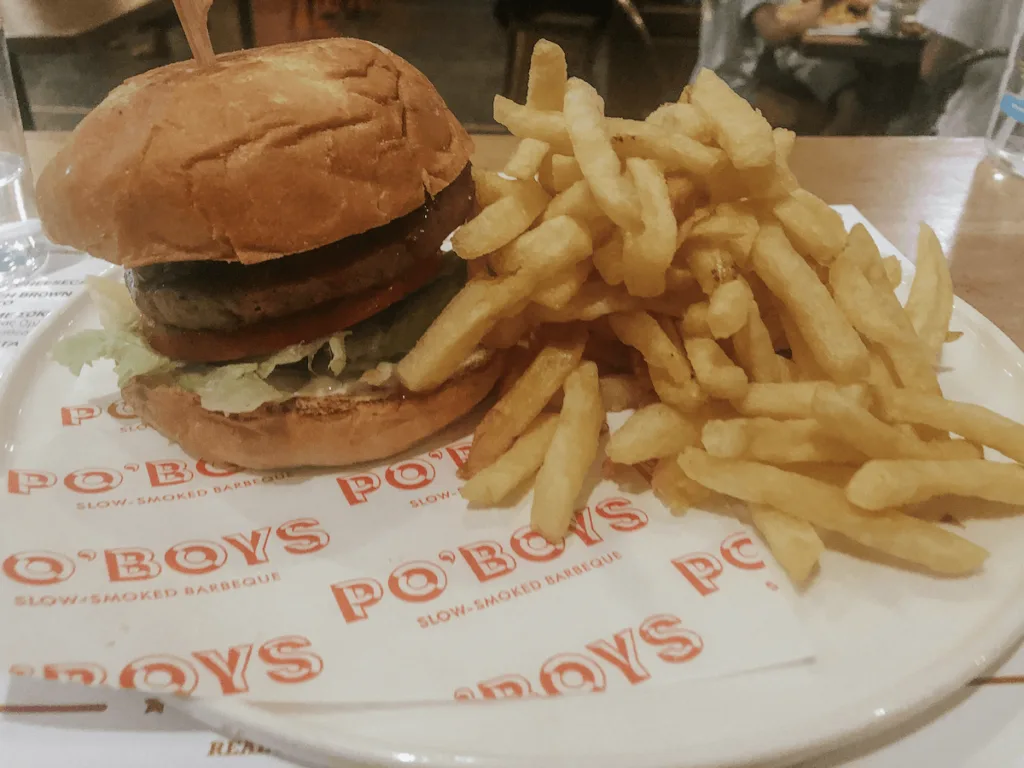 Po'Boys BBQ is the perfect restaurant to go to if you traveling with a group of non-vegans who want burgers.
They only have one vegan option, a vegan burger, that will satisfy your greasy burger cravings.
Royo
Royo is a frozen yogurt ice cream shop. Most of their flavors are made with dairy, but they do have a few vegan options. I ordered the dark chocolate and pistachio.
Smak
Smak is one of my favorite restaurants in Athens. They sell pizza and peinirli. Peinirli is a Greek dish that is like pizza but shaped like a boat instead of a circle.
In my opinion, peinirli is even better than pizza.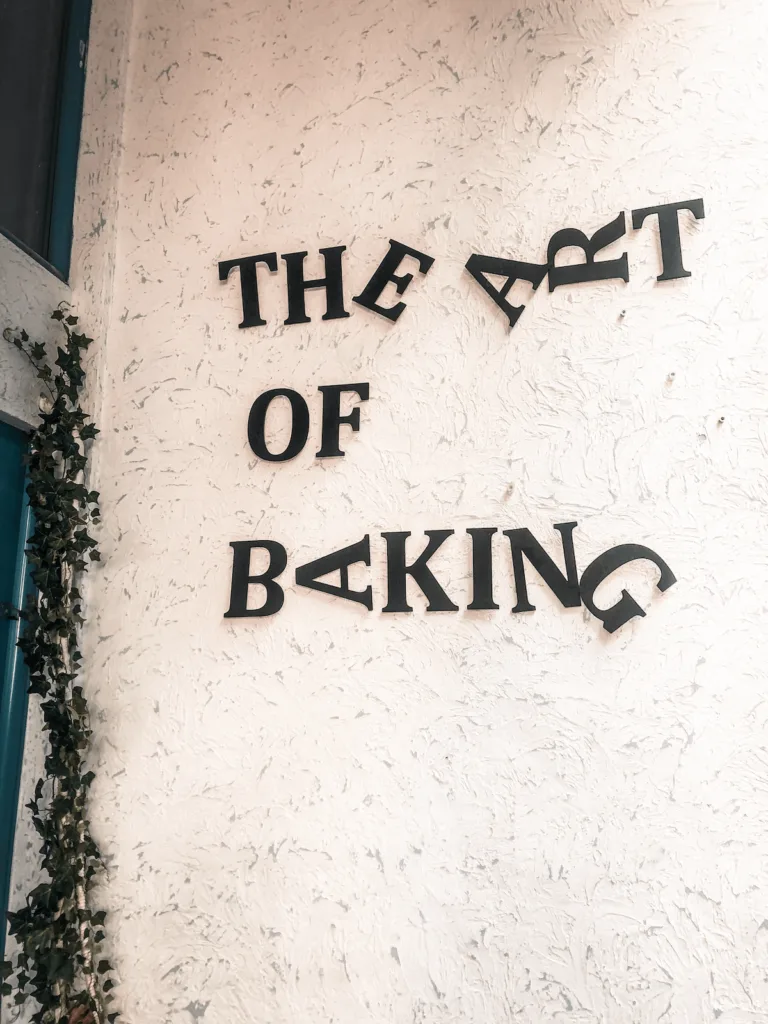 Smak has several vegan options: avocado, hummus, truffle, and pesto. My favorite peinirli is the avocado which is made with vegan cheese, avocado, cherry tomatoes, and onions.
Tamarind Thai Kitchen
Most of the dishes at Tamarind can be made vegan. I ordered the raw spring rolls and a curry. Both dishes were decent, but I recommend Patpong Thai Restaurant over Tamarind.
Twist East
I never went to the Twist East restaurant, but I did order from them from the food delivery app, Wolt. They have several vegan kabab options along with vegan burgers and other vegan appetizers.
I ordered a vegan kabab and vegan cheese croquettes. The vegan kabab was one of my favorites that I ate while in Greece.
Grocery Shopping As A Vegan
4 Seasons Bio
4 Seasons Bio is my favorite store to buy vegan groceries, but it is quite pricey.
They sell vegan cheese, vegan meat, fruits, vegetables, tofu, vegan snacks, frozen vegan products, and natural beauty products.
Bamboo Vegan
Bamboo Vegan is a 100% vegan grocery store that sells any vegan groceries that you could possibly desire from vegan meat to vegan cheese to vegan snacks.
Brinky's Organic Groceries
Brinky's Organic Groceries is where I recommend you shop if you are more on a budget. Just like 4 Season Bio and Bamboo Vegan, they sell pretty much any vegan food that you could possibly want.
Dinner In The Sky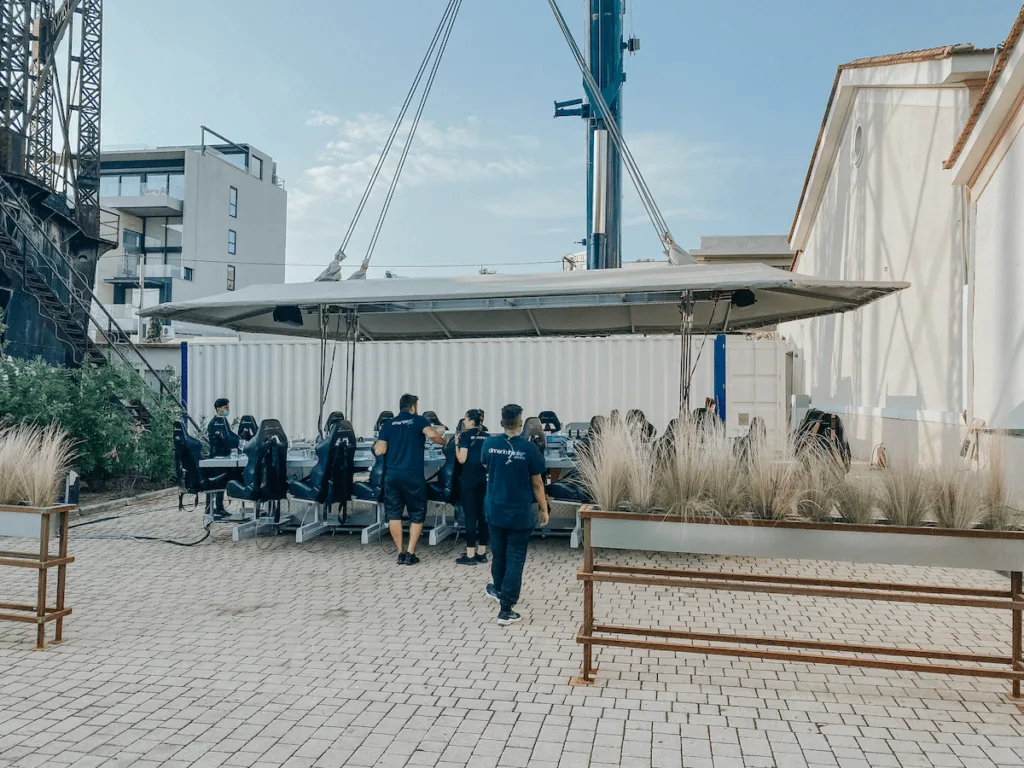 Dinner in the Sky was one of my favorite activities that I did while living in Greece, so I had to mention it on this list.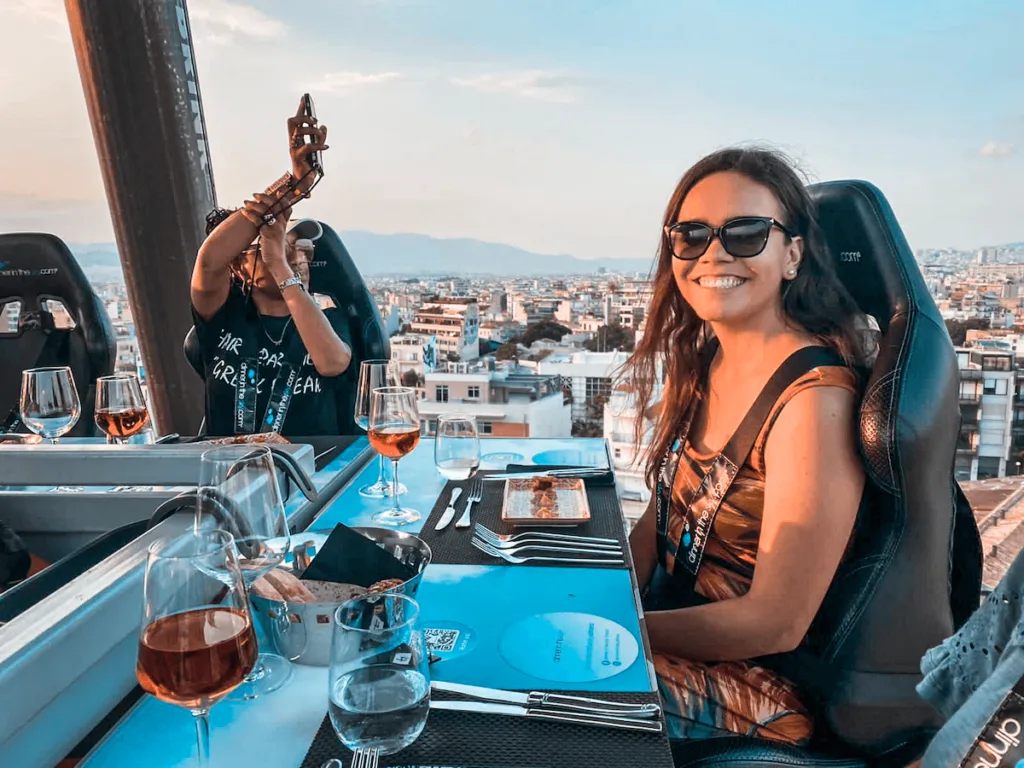 Dinner in the Sky lifts you up on a crane with the most amazing view over Athens. You are strapped in the entire time, and I felt very safe.
They have a set menu, but they do provide vegan options if you tell them at least 24 hours in advance of your scheduled dinner time.
Read Next: