Affiliate Disclosure: This post may contain some affiliate links, which means when you click, I get a small percentage of the purchase at no extra cost to you. This allows me to keep this website running, so feel free to click away! You can read my entire Affiliate Disclosure here.
Looking for the perfect gift for your vegan friend or family member this holiday season? Look no further than this Ultimate Vegan Christmas Gift Guide for 2020.
If you aren't vegan, thinking of a great gift idea for a vegan might be difficult. Many non-vegans don't fully understand what they can or cannot buy vegans. Even the fact that vegans don't use anything made with silk, wool, or leather surprises many people.
Even as a vegan, finding gifts can be difficult at times because I don't want to buy gifts for my non-vegan friends and family that come from an animal.
This vegan gift guide will provide a wide range of gift ideas for your loved ones whether they are vegan or not. The gifts are also at various price ranges so you are covered if you want to spend less than $20 or a couple hundred dollars.
I have an updated vegan Christmas gift guide for 2021 with all new items!

Vegan Fashion Gifts for Women
Ettitude Women's Bamboo Lyocell Robe
Slip into luxury with this classic, sateen weave women's robe made from silky-soft sustainable CleanBamboo™ fabric. Made from PETA-approved vegan silk. This robe is also hypoallergenic, which is ideal for sensitive skin.
Noize Voila Boots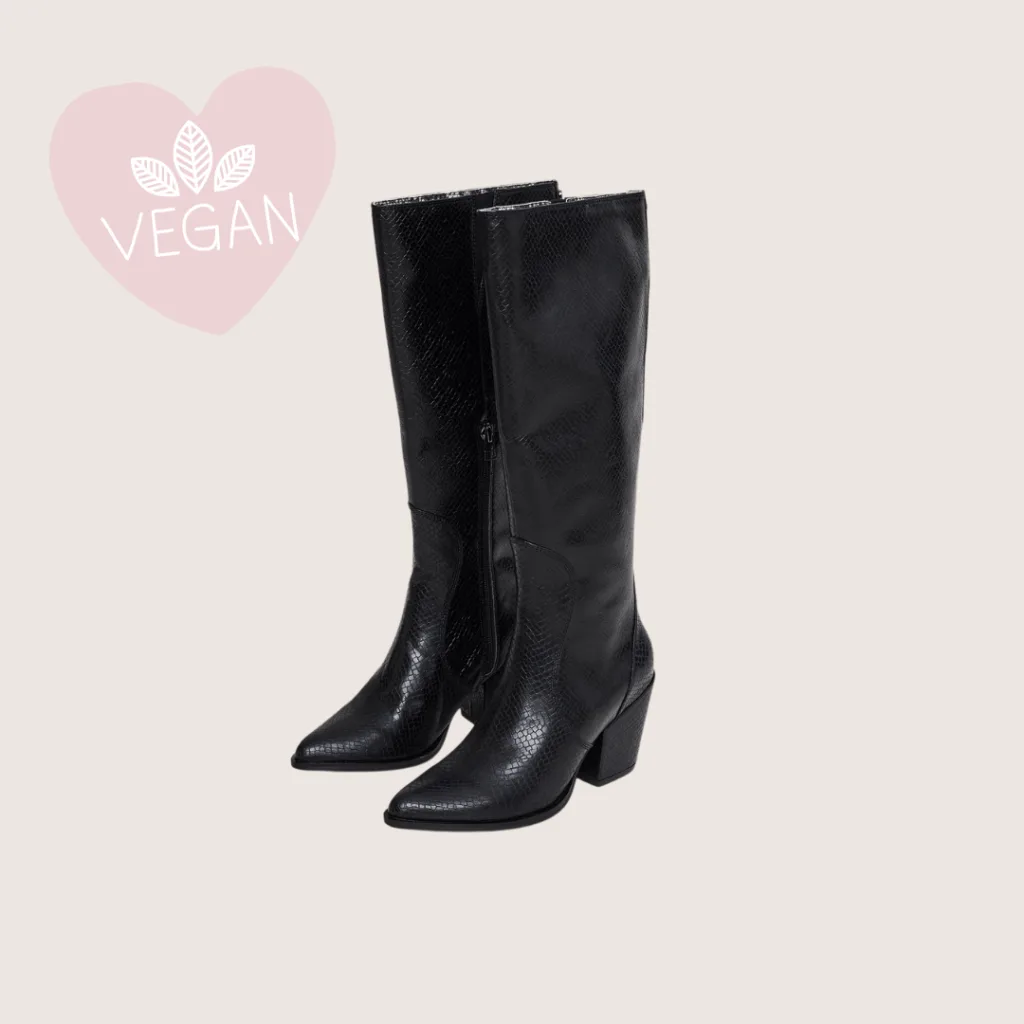 Designed with a knee-high silhouette, the Noize Viola boots feature a Cuban heel and a stylish almond toe. They are made from water-resistant vegan leather printed with a snake pattern. The slightly wide cuffs ensure they will fit nicely over jeans.
Noize Flora Ankle Boots
The Noize Flora Ankle Boots are Wester vegan leather ankle booties. They feature a 3-inch heel.
Noize Isabel Coat
The Isabel coat is cut from warm vegan wool with a detachable faux fur collar. Its longline silhouette is defined by a detachable belt and a row of buttons. This is an elegant style for mild winter days.
Free People Cleo Hooded Vegan Suede Moto Jacket
Add an effortless edge to any look with this seasonless suede moto jacket from Free People's We The Free collection featured in a vegan fabrication with hood detail and exaggerated buckles for added dimension.
Cariuma's Rose Knit Sneakers
These vegan sneakers are knit from self-regenerating bamboo & recycled plastics from heel to toe. IBI is high-performance, low-impact, and ultra-lightweight. Wearing IBI, you'll be lighter on your feet and leave behind a smaller footprint.
Matt & Nat DEAN Bakcpack
A beautifully designed vegan backpack that features adjustable straps, laptop compartment, and 100% recycled nylon lining. A woman or a man could easily use this bag.
Veja Nova Sneakers
Since 2005, VEJA has been making sneakers differently infusing each stage of production with a positive impact. They decided to make sneakers because this product is a symbol for our generation and our era. It's also a product that crystallizes the major issues of globalization through its production, dissemination, and usage.
Doshi Vegan Crossbody Phone Bag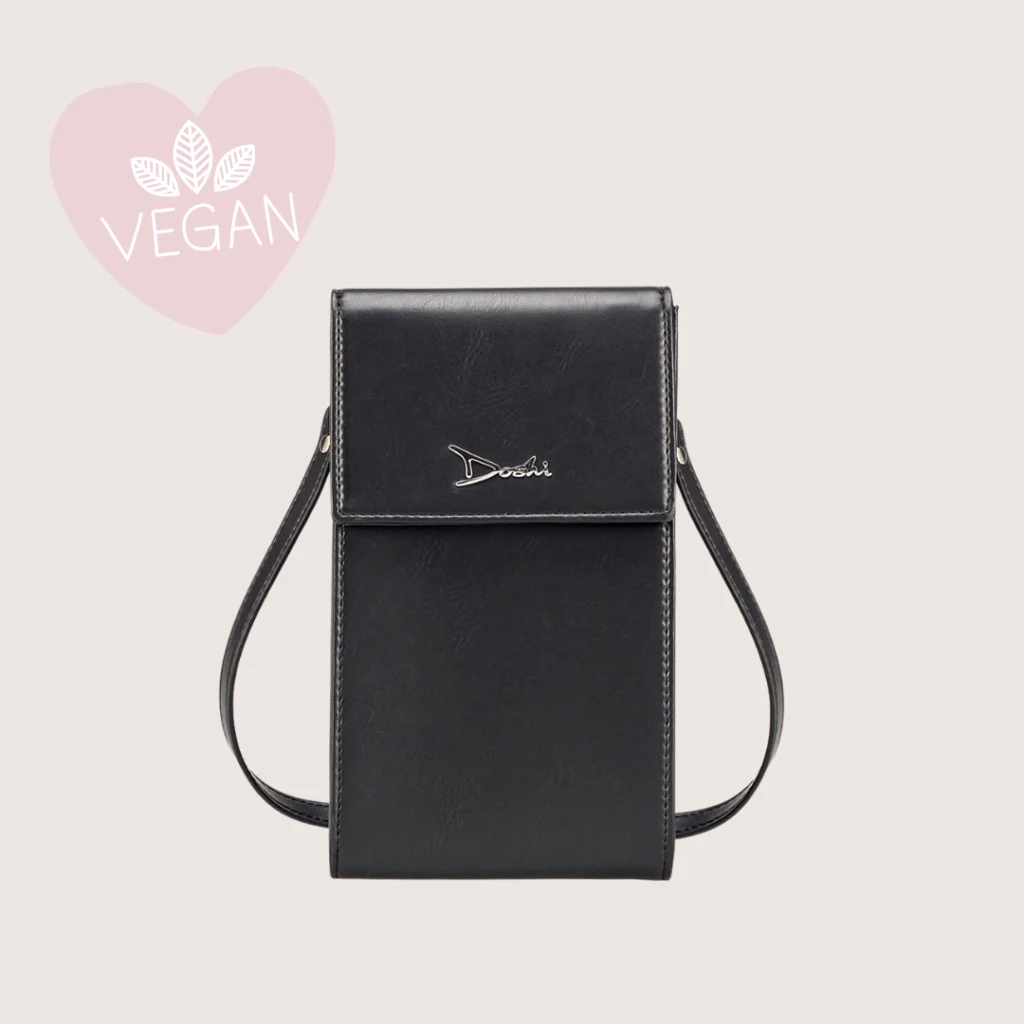 When you need just the essentials, this vegan phone bag holds your phone and three credit cards.
Hurtig Lane Amalfi Petite Vegan Watch
The new Amalfi range is elegant, sophisticated, and most importantly cruelty-free. Beautiful dainty vegan leather or mesh straps, available in 8 different colors. The Amalfi vegan watch can be worn in any setting, with any outfit, the perfect watch for day or night.
Yoga Avocado Shirt
This yoga avocado shirt is so cute for a young vegan that also loves to practice yoga.
Vegan Gifts for Men
Matt & Nat Magistral Notepad Cover
Note pad sleeve with removable paper pad and pencil. Two loops on the side to lock with a pencil.
Matt & Nat OFIN Vegan Laptop Case
A laptop case with a back luggage handle slip. Interior: Padded for safely storing a 13" laptop. 100% recycled nylon lining, and logo-embossed Vintage patch.
Hurtig Lane Moderno Vegan Leather Watch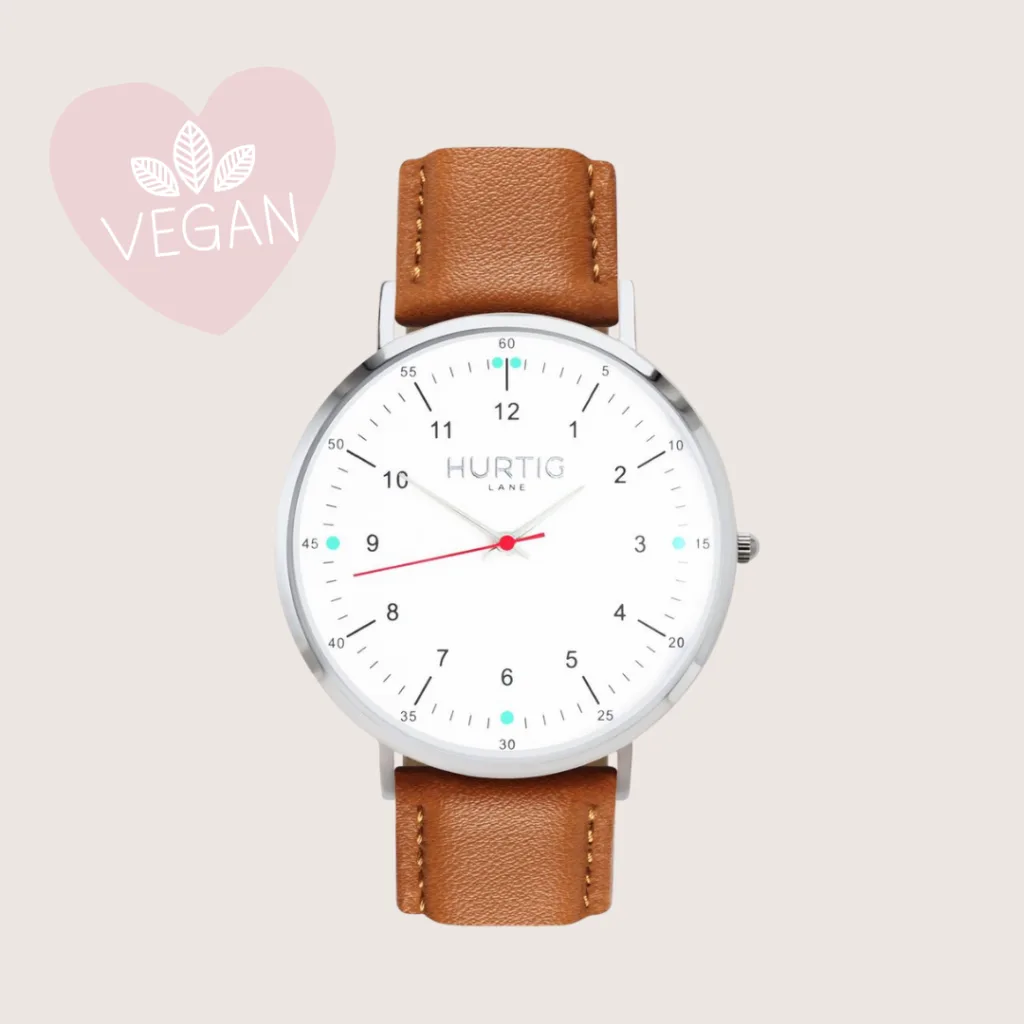 The Moderno vegan watch range was designed for the fashion conscious minimalist. Elegant and sophisticated yet highly fashionable it can be worn in any setting, with any outfit. Its versatility and style make it the perfect vegan watch for any occasion.
Doshi Vegan Auto Belt
Simple, clean, and smart. The Professional Belt combines modern, microfiber with an adjustable, automatic buckle.
Vegan Gifts for the Kitchen
Crate & Barrel's Fellow Corvo EKG Electric Kettle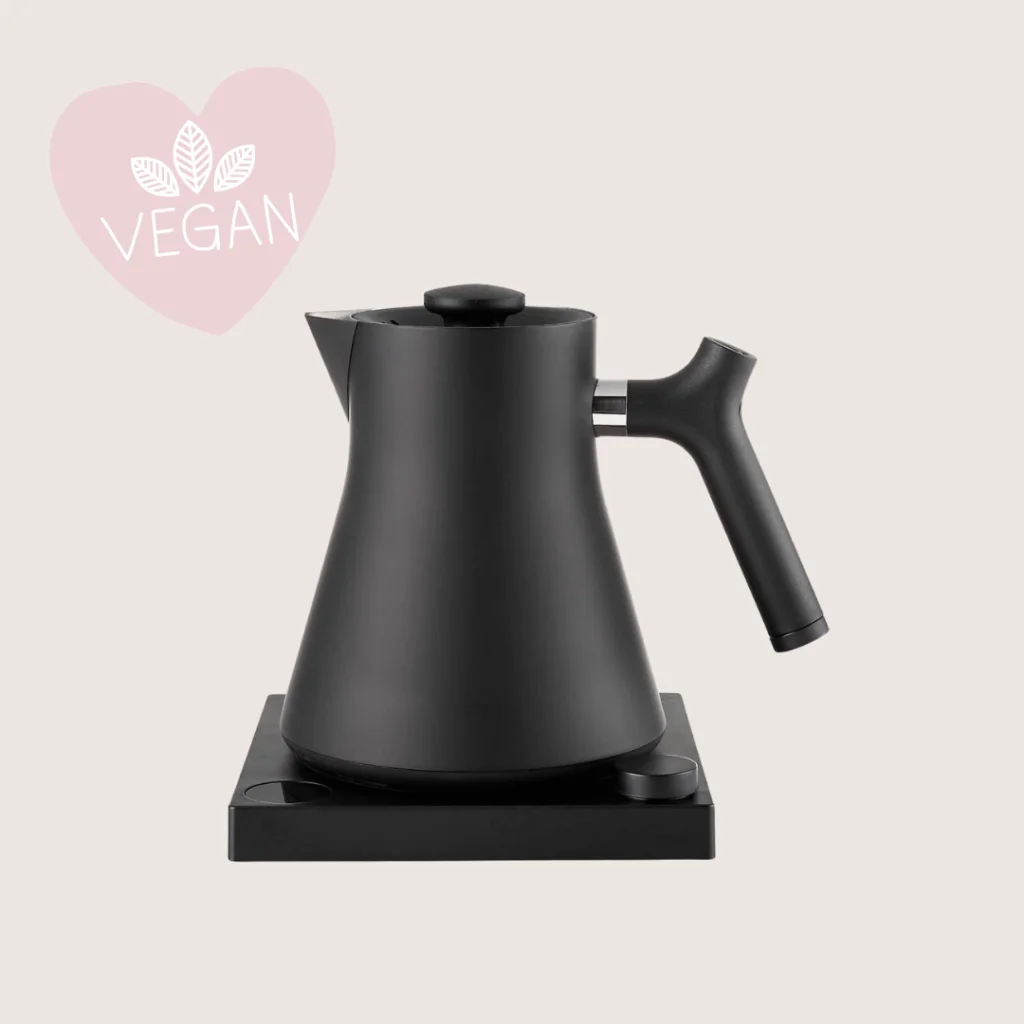 An electric kettle modern enough for your kitchen. Matte black stainless steel is accented with understated, elegant controls and a discreet black LCD screen.
Emile Henry Pizza Stone
Just because you are vegan, doesn't mean that you can't enjoy excellent pizza. Finished with Emile Henry's proprietary glaze, this pizza stone produces perfectly crispy crusts and doubles as a cutting surface. The piece withstands exceptionally high heat, so it can be used in the oven or on the grill, and it's dishwasher safe.
Bodum Pour Over Coffee Maker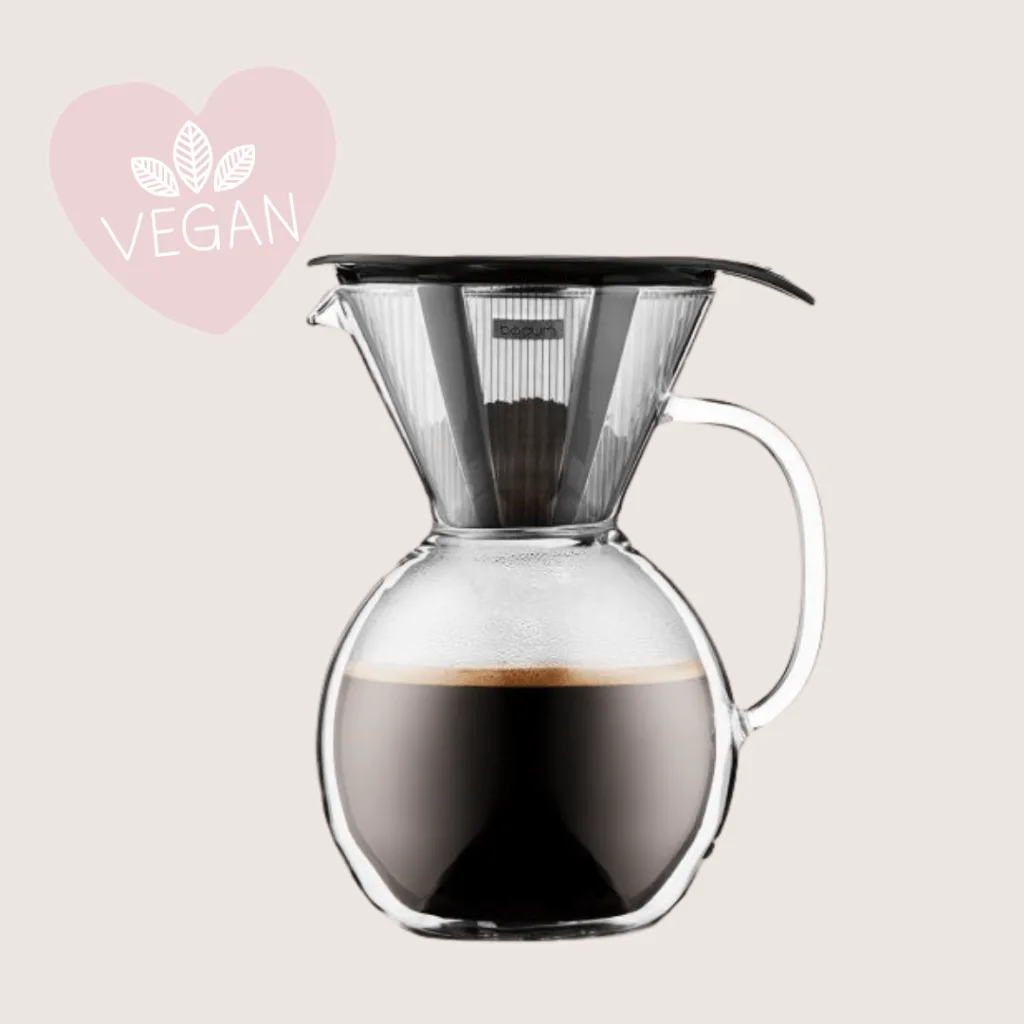 BODUM's Pour Over coffee maker with a handle is the key to making richer, bolder coffee from the comfort of your home. It's made from premium quality double wall borosilicate glass that doesn't absorb taste or aroma. There are no wasteful paper filters that trap essential oils and flavor, just pure flavorsome coffee. All you need is filter coffee grounds, hot water, four minutes of your day, and you have all the ingredients for a delicious brew.
Anthropologie's Bamboozle Compost Bin
Convert organic waste into compost to enrich the soil in your own backyard – and send less to the landfill all at once.
Our Place's Dinner for Four Set
This set's for you. 4 hand-painted, porcelain plates (for feasting), 4 just-the-right-size nesting bowls (for slurping), and four hand-blown stackable glasses (for toasting). Plus, the cult-favorite, do-it-all Always Pan. The perfect set for anyone looking to start their kitchen collection or just give it a major upgrade.
Glass Tumblr
This 20oz. Mason jar style glass tumbler with protective silicone sleeve and matching straw makes the perfect on the go tumbler! This Mason jar style tumbler is a healthy way to stay hydrated and will make the perfect addition to your home, office, and or as a gift for someone that is looking to go into the reusable route!
N'ice Cream Cook Book
N'ice Cream offers 80 decadent and healthy ice cream recipes made from all-natural, wholesome vegan ingredients like fruits, berries, and plant-based milk and nuts–as the authors say, "no weird stuff." Get ready to have your ice cream and eat it too.
Vegan Mug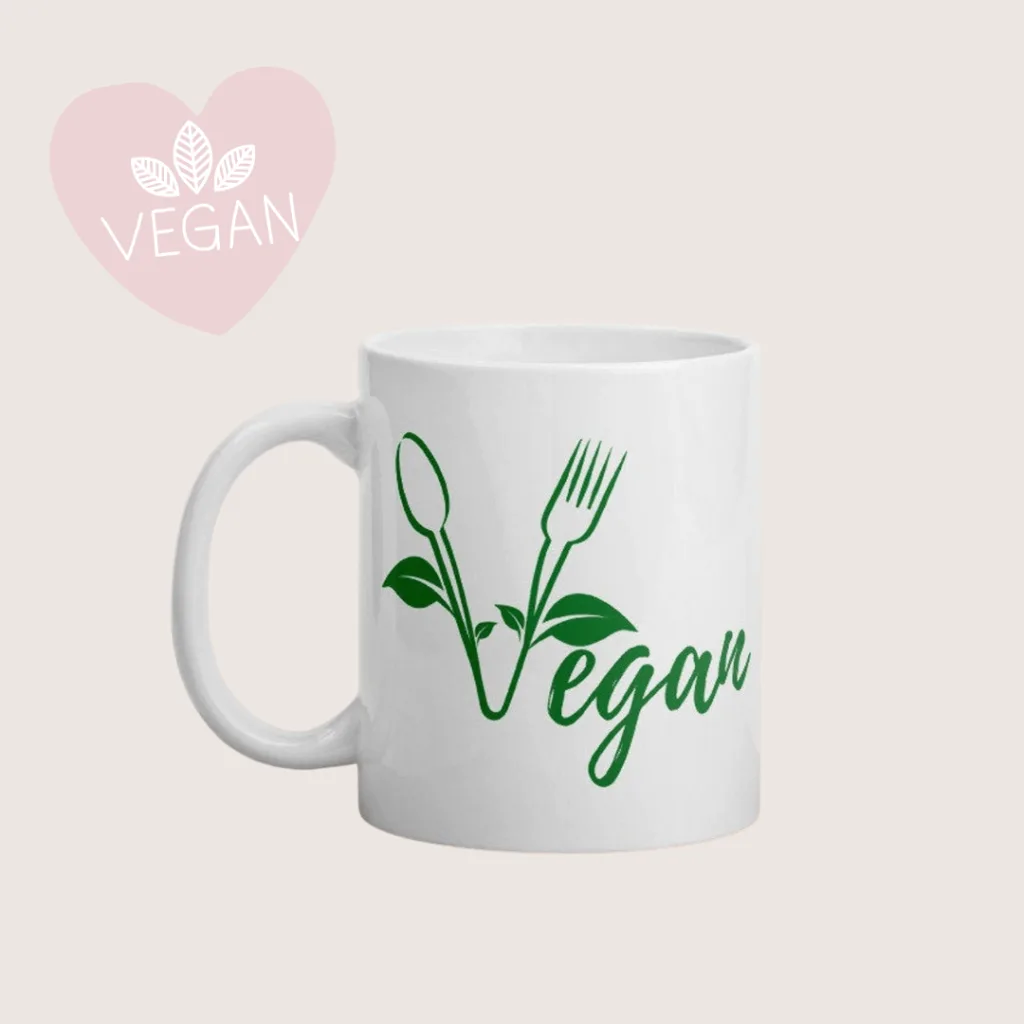 Whether you're drinking your morning coffee, evening tea, or something in between – this vegan mug is for you! It's sturdy and glossy with a vivid print that'll withstand the microwave and dishwasher.
Vitamix
Vitamix blenders are popular for a reason: they work really well! They are on the pricier side, but they also last a very long time. There is a range of prices on their website for different blenders. All Vitamix blenders work great. I actually bought mine refurbished from the website which lowered the cost as well.
Brownble Vegan Cheese Making Course
If you have a vegan loved one that likes to cook, they will love Brownble's "Melt" course. In this vegan cheese making course, you will learn how to make amazing vegan cheese right at home.
Natural Coconut Bowls & Spoons
These boho style coconut bowls originate from the Bên Tre region in Southern Vietnam. By using Jungle Culture coconut bowls, you are helping to provide the local farmers with a secondary income, as well as preventing more coconuts and trees from being needlessly burned as waste.
Vegan Food
Ultimate Hot Chocolate Kit
Everything you need to make the perfect vegan hot chocolate at home. The Ultimate Hot Chocolate Kit includes:
Elmhurst Chocolate Milked Oats
Elmhurst Original Milked Oats
W&P Design Porter Mug
Dandies Vanilla Mini Marshmallows Packet
Four Sigmatic Mushroom Cacao Mix Packet
Enjoy Life® Semi-Sweet Mini Chocolate Chips Pack
Homade Ice Cream Kit
Make vegan ice cream at home with Elmhurst's homemade ice cream kit. The gift set includes:
2x cartons of 16oz Vanilla Ice Cream Mix
2x cartons of 16oz Chocolate Ice Cream Mix
1x Zoku Ice Cream Making Bowl
Vegan Snack Box
This curated vegan gift box features incredible products that even omnivores will love, such as sweet vegan chocolate sauce, mouth-watering plant-based fruit jerky, crunchy Maple granola, salty-savory popcorn and more.
Vegan Gifts for the Home
Bearaby Cotton Napper
This buttery soft and breathable GOTS-certified organic cotton weighted blanket is ideal for all seasons.
Weighted blankets have been medically proven to aid naturally deeper sleep cycles. The weight on your body stimulates the production of serotonin (the happy hormone), reduces cortisol (the stress hormone), and increases melatonin, which helps you fall (and stay) asleep.
Boll & Branch Down Alternative Pillow
This refined down alternative pillow feels like down because it works like down: dimensional fibers provide a gentle, allergy-safe loft.
Coyuchi Cloud Brushed Flannel Sheets
Thicker, warmer, and more durable than your average flannel, the Cloud Brushed Organic Flannel is in a class of its own when it comes to cold-weather comfort. These weighty six-ounce sheets keep you luxuriously comfy and warm. The brushed, velvety finish is more than just soft — it helps keep wear and pilling under control.
Aleski Faux Fur Throw Blanket
Treat yourself or a vegan loved one to the luxurious feel of faux fur with this oh-so-soft throw blanket.
Faux Olive Tree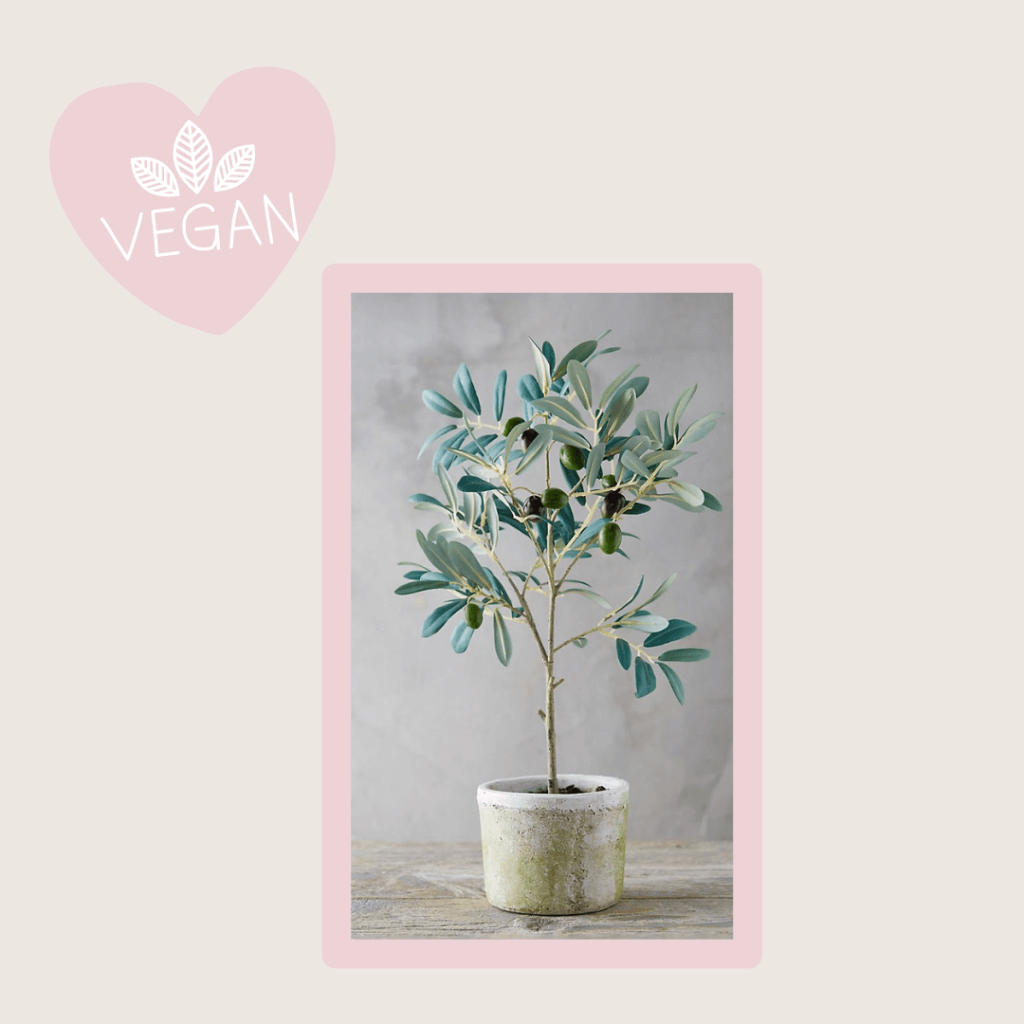 Add dimension and color to any room all year long with this faux olive tree that arrives in a rustic clay pot.
Vegan Beauty
Moon Juice's Collagen Protect
Protect and preserve your natural collagen with Collagen Protect. A vegan creamer and skin supplement formulated to help minimize fine lines and hydrate skin from the inside out.
Monogram Vegan Leather Cosmetics Case
This vegan travel-ready cosmetics case features a roomy interior and zip-around bottom compartment to keep your cosmetics and other essentials neatly organized. Plus, it can be personalized with an initial of your choice.
Aether Beauty's Rose Quartz Crystal Gemstone Eyeshadow Palette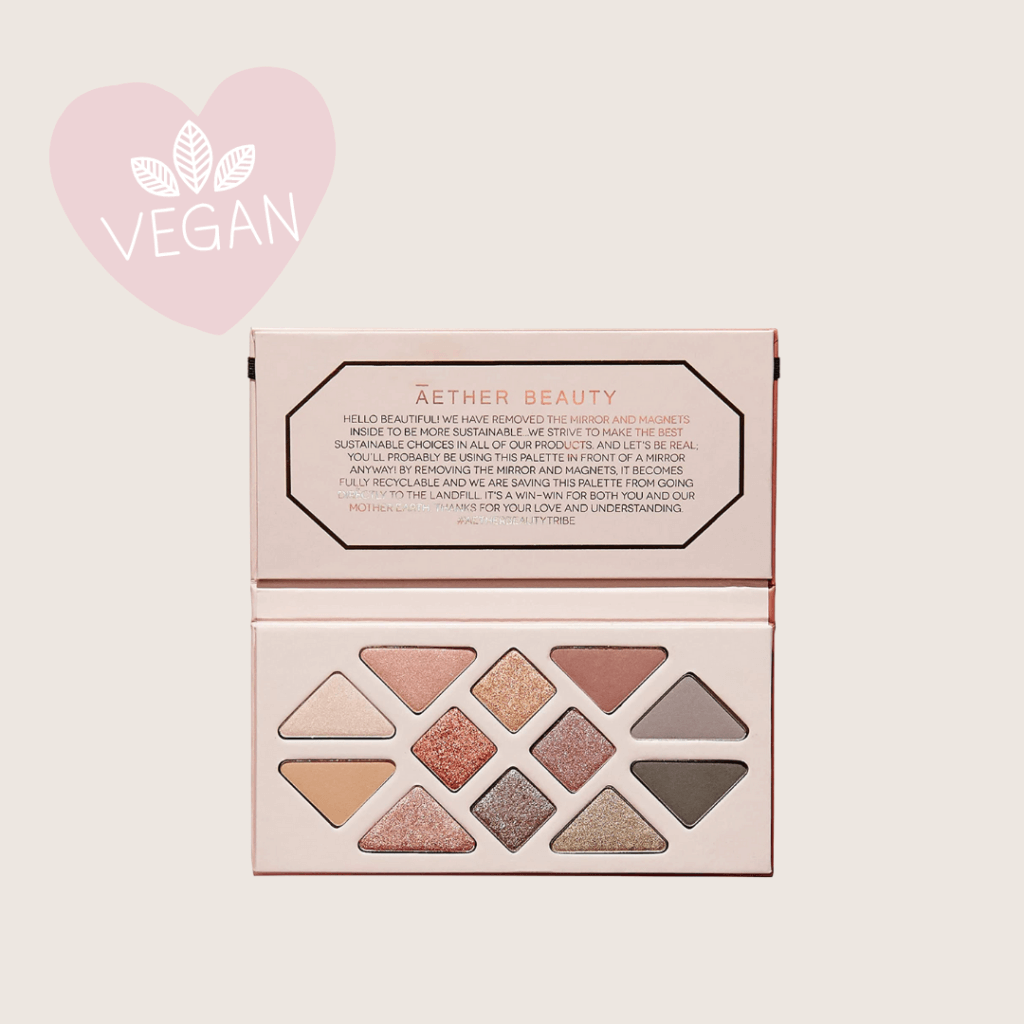 Aether is a 100% cruelty-free and vegan brand. The Rose Quartz Crystal Gemstone Eyeshadow Palette includes 12 shades infused with rose quartz in ultra-matte, shimmer, duo-chrome, and metallic finishes that let you create softly-glamourous looks anytime.
Vegan Gifts for the Health Nut
Manduka PRO Yoga Mat
A yoga mat built to last a lifetime. Ultra-dense cushioning provides superior support, stability and joint protection. The PRO® is guaranteed to never wear out.
Organic Olivia Guardian Bundle
This bundle features a 3-part care package designed to support healthy immune defenses and a healthy lung microbiome.
Each formula complements the next and works synergistically to maintain a healthy immune system and upper respiratory health, as well as to support the always-connected gut, oral, and lung microbiome.
The Sustainability Set
Reduce, Reuse, Recycle. Replace your everyday single-use plastics with these earth-friendly essentials. This set includes a BAGGU, Stasher Bag, and Jungle Straws.
Vegan Chrismtmas Decor
Avocado Glass Ornament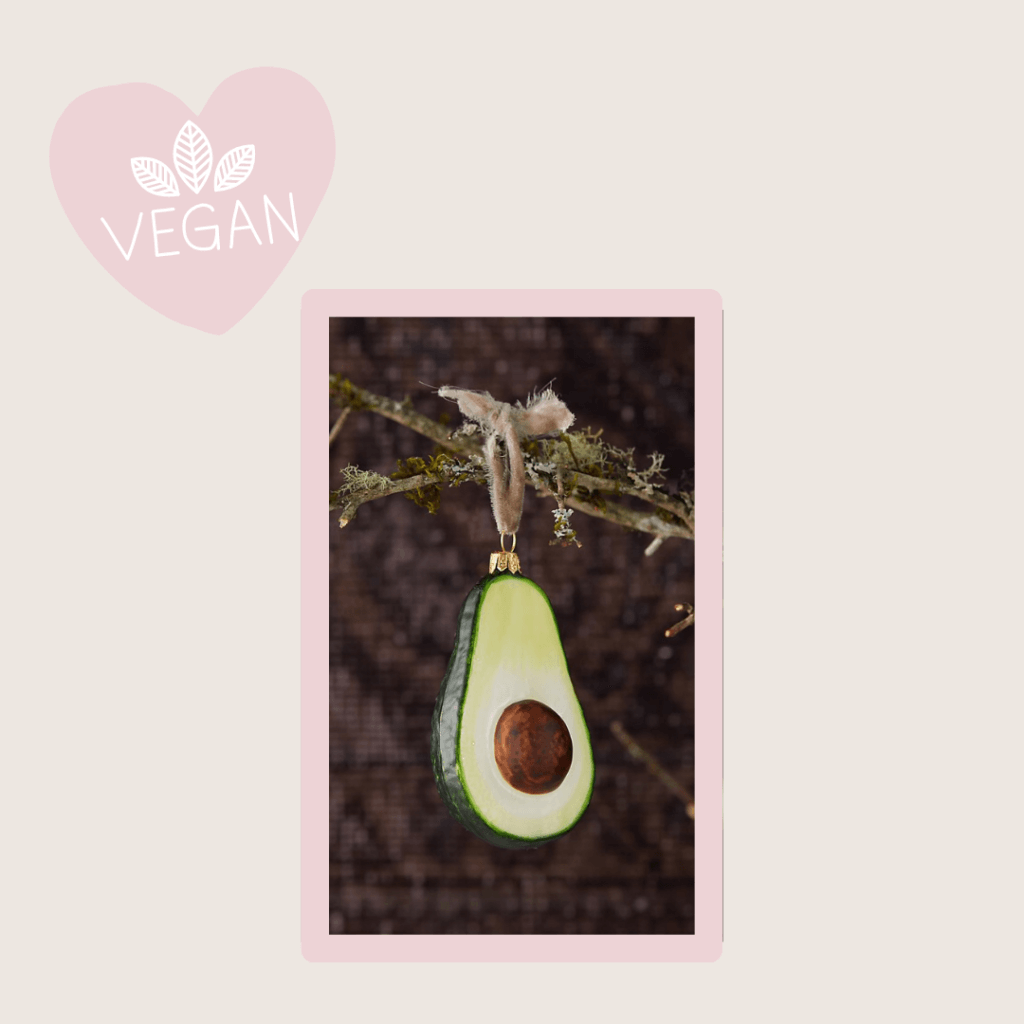 What vegan doesn't love avocado? I know I do! This avocado glass ornament is the perfect small gift for a vegan friend.
Juniper Stocking Holder
With a snow globe-inspired design, this holder offers an enchanting way to display festive stockings on your mantel all season long.
Faux Fur Josie Stocking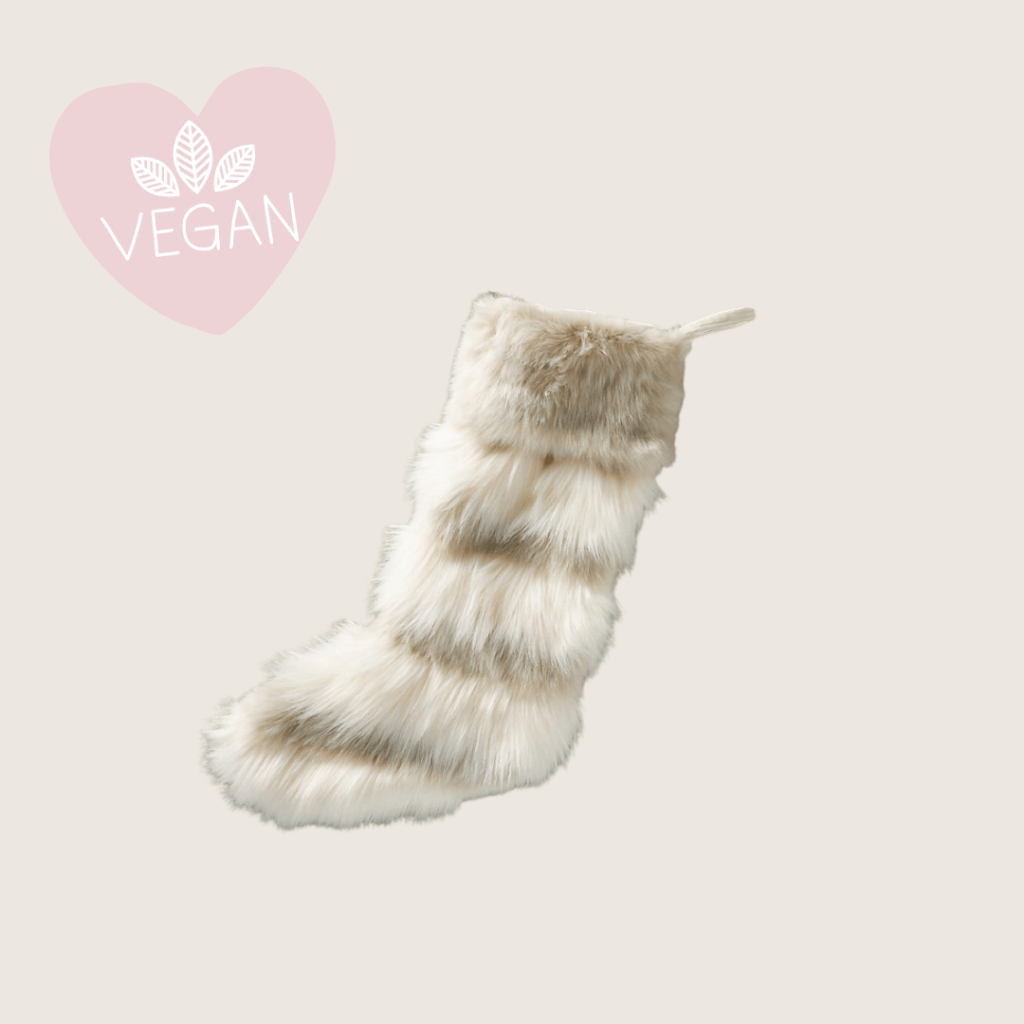 With charm to spare, this stocking is ready to be filled with treats and tiny toys – it's a festive decoration you'll love to hang by the chimney for years to come.
Faux Fur Josie Tree Skirt
This plush tree skirt offers a charming backdrop for beautifully wrapped presents and packages.
Gingerbread House Doormat
A cute (vegan) gingerbread house doormat to put at your front door this holiday season.
Dear Santa Postcard Doormat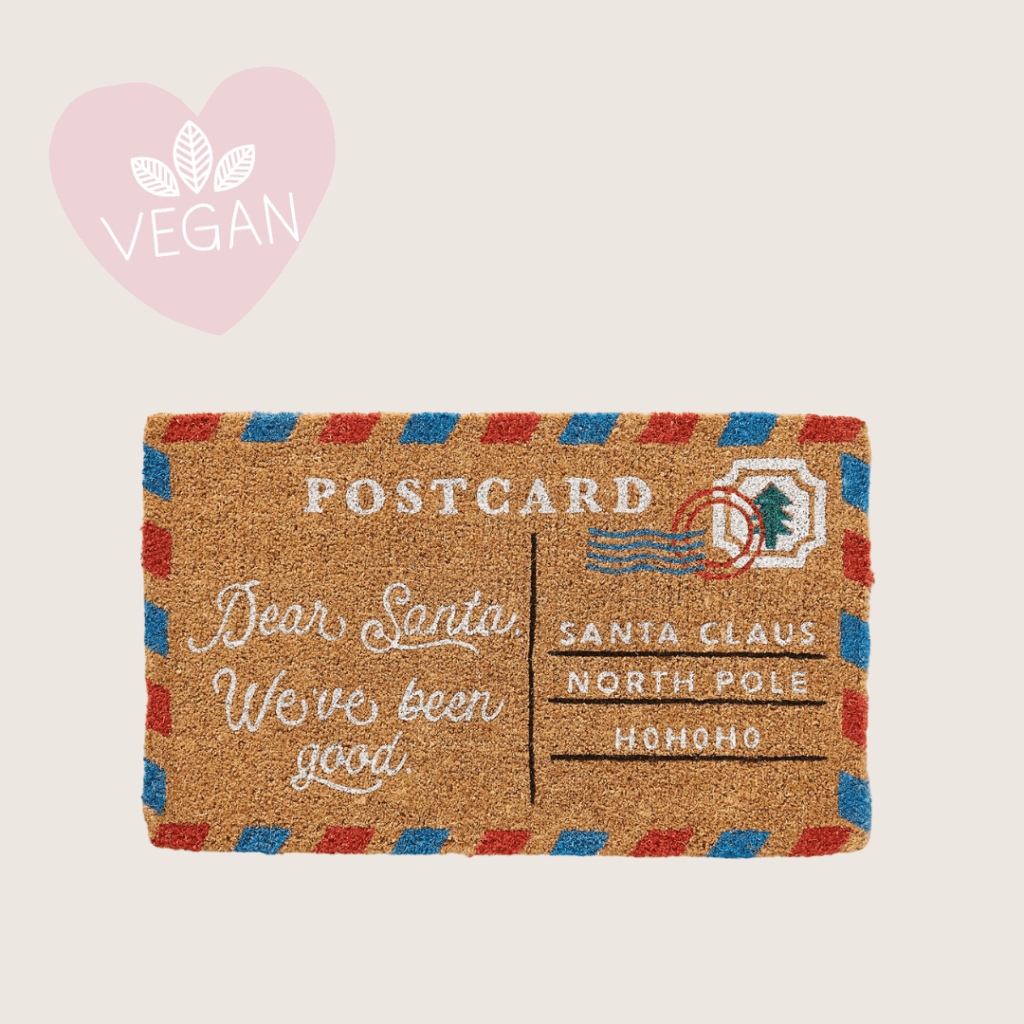 A fun doormat for the Christmas season.
BIRDCANFOX Joyeux Noel Mug
These whimsical mugs will make your vegan Christmas drinks taste all the more festive.
Kris Kringle Oven Mitt
This oven mitt makes a thoughtful holiday gift for the vegan culinary aficionado or a hard-to-please hostess.
Christmas Time In The City Mug
2020 hasn't been great for most people, including those of us that love to travel. This mug would make a great gift to bring a bit of Paris home to them.
BIRDCANFOX Joyeux Noel Salt & Pepper Shakers
This whimsical salt and pepper set is a welcome addition to your holiday kitchen decor.
Holiday Tree Teaspoons
Stir your vegan hot cocoa, coffee, or tea with these charming tree-shaped spoons – they add a festive touch to warm drinks enjoyed throughout the season.
BIRDCANFOX Joyeux Noel Snowman Cookie Jar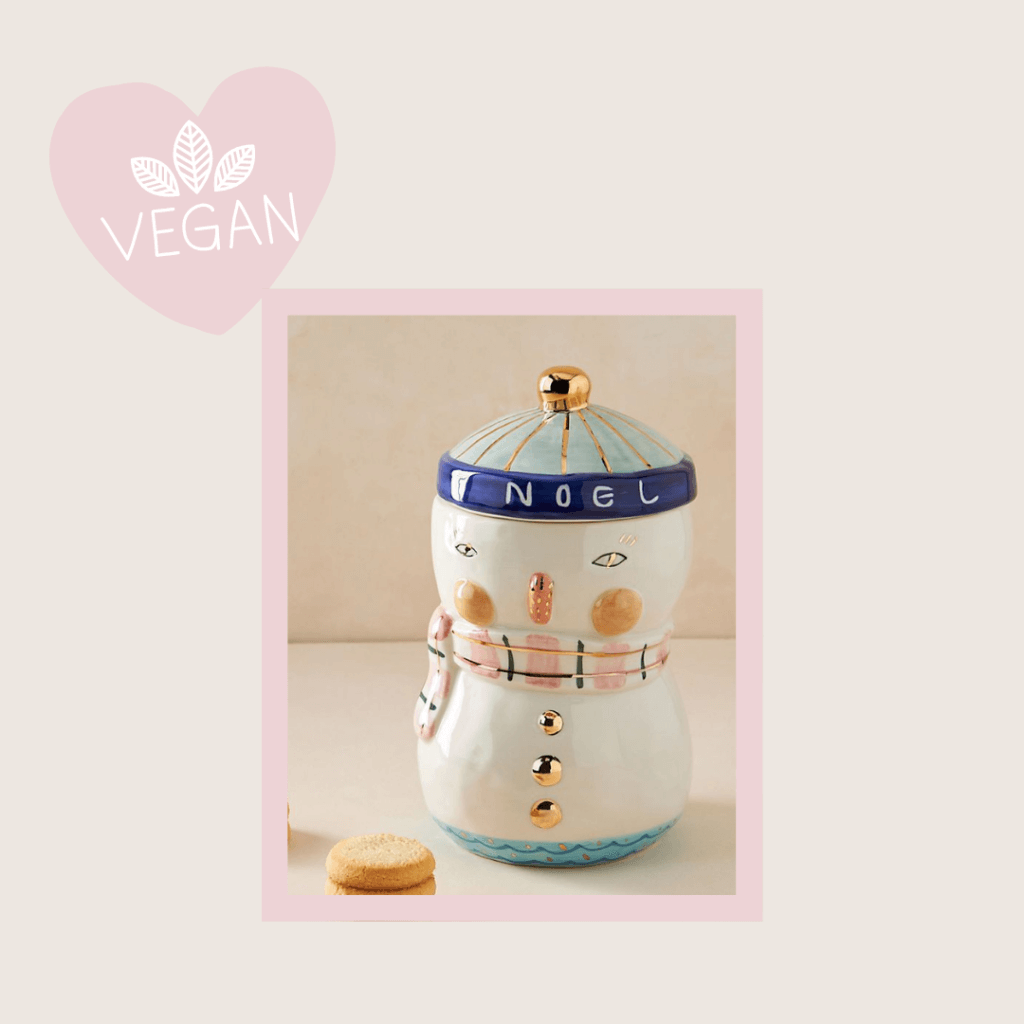 This whimsical cookie jar is perfect for storing homemade, vegan creations for the family – and Santa!
Inslee Fariss Twelve Days of Christmas Dessert Plates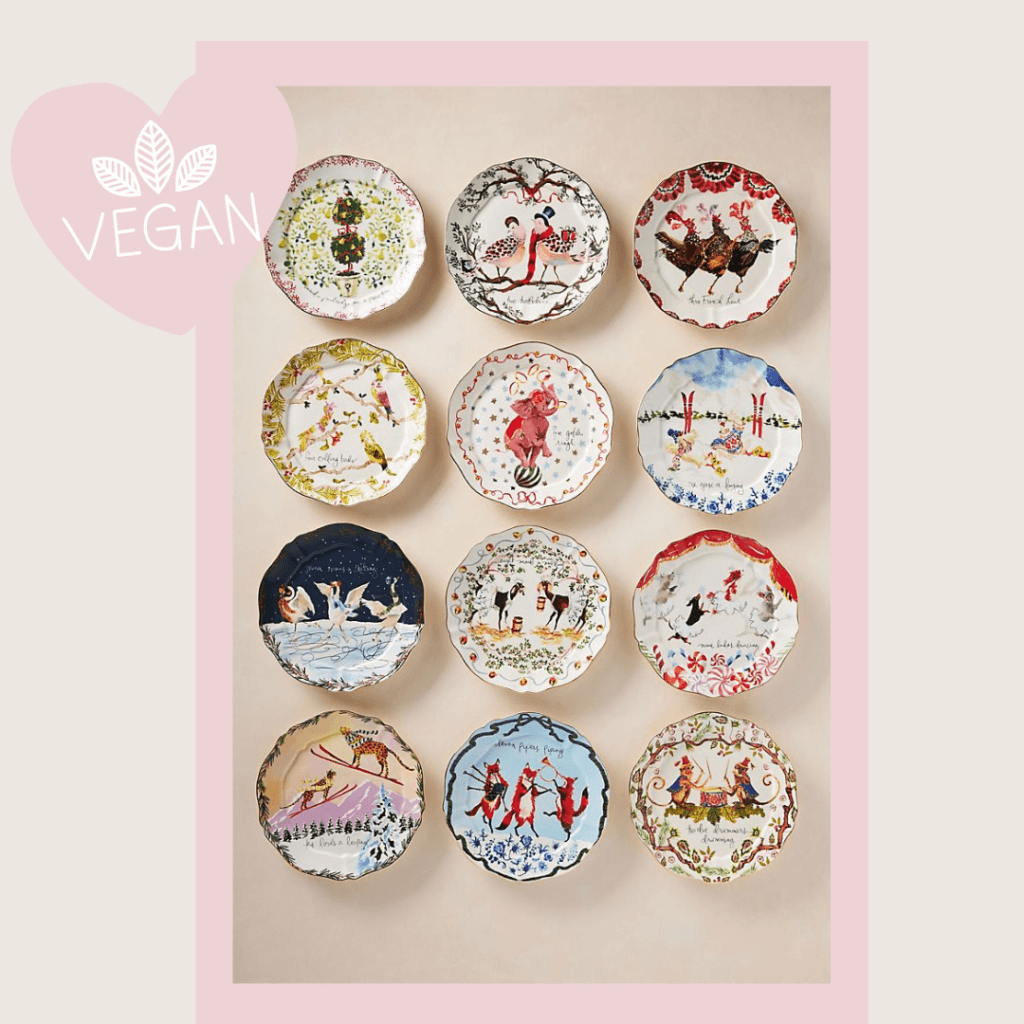 This festive dessert plate brings an age-old Christmas carol to life at your vegan holiday table.
Read Next: