Affiliate Disclosure: This post may contain some affiliate links, which means when you click, I get a small percentage of the purchase at no extra cost to you. This allows me to keep this website running, so feel free to click away! You can read my entire Affiliate Disclosure here.
It has been a long journey for me to learn Italian. In this post, I will share the best programs, apps, and books to learn Italian along with my review of some of the most popular language learning programs.
My Experience Learning Italian
University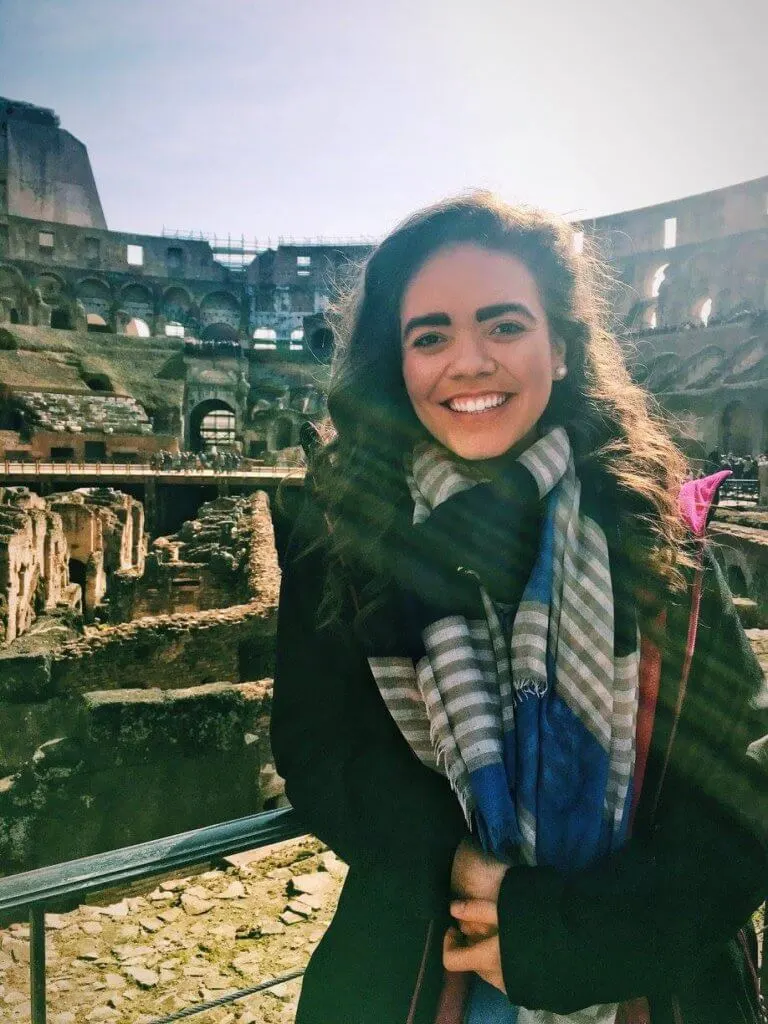 I started learning Italian during my first year at university. After three semesters of learning Italian, I decided to study abroad in Milan, Italy for a semester. Although studying abroad was a great experience, I lost almost all of my motivation to learn Italian after returning back home to the United States.
I decided to stop studying Italian for various reasons, but the number one reason was that I didn't like my Italian professor at my university.
Self-Study
I moved to Thailand one week after graduating from university. After living in Thailand for a few months, I decided that I wanted to become fluent in another language. I didn't want to study Thai, but I decided to try to learn Italian again.
Studying Italian on my own has been so much more enjoyable than my experience learning Italian at school. While I am still not fluent in the language, I am much more advanced than I ever thought that I would be, and I am easily able to hold a conversation with native Italian speakers. I also spend almost three months living in Italy at the beginning of 2020, and speaking Italian made my life so much easier!
Because I don't plan on stopping learning Italian anytime soon, I will continue to update this post with new resources that I discover along the way.
Italian Language Learning Programs
Duolingo
Let's get the most well-known language learning program/app out of the way: Duolingo. Duolingo is such a popular language learning program because it is free. You can buy the premium version, but the only difference between the free version and the premium version is that you don't have any ads on the premium version.
As for Duolingo's ability to actually teach you a language: Don't use Duolingo. I started using Duolingo a few weeks before starting my Italian course in college, and I was CONFUSED. Duolingo doesn't teach grammar rules, which is actually very important for learning a language. I continued to use Duolingo throughout college. I actually thought that Duolingo was a good program for practicing my Italian outside of class, and it was much more fun than reading a textbook.
Once I stopped studying Italian in school and started learning Italian on my own, I realized how bad of a language learning program it is. If you are someone who has limited time to learn a language, I wouldn't waste that time using Duolingo.
Busuu
Busuu is a language learning program that allows you to practice reading, writing, speaking, and listening in Italian. There is a free and a paid version, and I have used both.
The paid version gives you access to more lessons, specifically the lessons that explain grammar concepts. You also can get official certificates to show your level in Italian. One of the best perks to being a premium (paid) member is that you are given writing or speaking prompts at the end of lessons and native speakers can correct you.
If you are looking for free resources to learn Italian, I recommend Busuu much more than Duolingo. Although you are somewhat limited to what you can learn versus the paid version, you can still learn so much more than you can with Duolingo.
One thing that I like (but also dislike) about Busuu is that almost all instructions and questions are written in Italian. In theory, this is a good idea because it allows complete immersion, but it can also be difficult to understand if your Italian level isn't very high.
Babbel
I think that Babbel is one of the best language learning programs to learn Italian because they provide a wide variety of lessons. When you first join Babbel, you take a test to find your correct Italian level. You can also start with lesson 1 if you are an absolute beginner.
Babbel has six different levels: Newcomer, Beginner I, Beginner II, Pre-Intermediate, Intermediate, and Independent. Along with the six levels, they have a variety of extra courses where you can learn specific topics like travel, culture, home, education, and much more. Babbel also has a review feature where you can review previously learned vocabulary words.
The main reason that I like Babbel is that they teach grammar. To be honest, Italian grammar is my least favorite part about learning Italian, but it is very important to becoming a skilled Italian speaker.
italki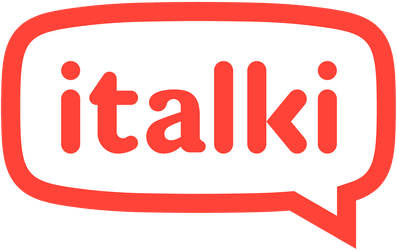 italki is by far my favorite (and the most expensive) way to learn Italian. You can book lessons with native Italian speakers. There are two different types of teachers on italki: community tutors and professional teachers. Professional teachers have some sort of certification to teach Italian, where community tutors are just regular Italians that want to get paid to have conversations or teach people Italian. I have used both types of teachers on italki, and I prefer the community tutors.
I prefer passive or natural Italian learning, which I can get with the community tutors. While professional teachers can be great as well, I think they are a bit expensive for just learning Italian grammar. There are so many Italian language learning programs and books out there that can teach you Italian grammar for much cheaper than lessons on italki.
Unless you are living in Italy, it is not so easy to have conversations in Italian. That is where the community tutors come in. It is great if you can find a community tutor that you like and can continue to book lessons with them. At the time of writing this post, I have taken 55 lessons with the same community tutor. Because I have taken so many lessons with this community tutor, it has allowed us to branch out from "small talk" into much more interesting and complex conversations that have improved my Italian skills greatly.
italki is also a great way to get over the fear of speaking a language with native speakers. Speaking to a native Italian in Italian can be very daunting, especially if you have never done it before. When I studied abroad in Italy, I was always very nervous to say anything in Italian. Partially because I didn't know the language very well and partly because I had never spoken to a native Italian in Italian before besides my Italian professor.
When I traveled around Italy for three months at the beginning of 2020, I felt much more comfortable and confident speaking to Italians because I had done it so many times previously.
Pimsleur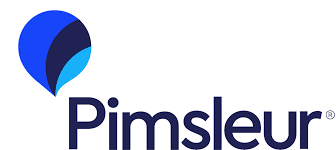 Pimsleur is one of my favorite programs to learn Italian because you can practice speaking and pronunciation. It is an audio program (they have an app you can download on your phone) so you can practice listening and speaking in Italian while you are on a walk, driving, getting ready in the morning, or doing chores around the house.
While Pimsleur doesn't teach grammar, I feel that my grammar greatly improved while speaking after using it. Before using Pimsleur, I could understand Italian grammar when reading or listening to Italians, but my grammar wasn't very good while speaking. While I am still not perfect, it has dramatically improved since using Pimsleur. Pimsleur is also a great program to use if italki is too expensive to use every week or you want some speaking practice in Italian before signing up for lessons on italki.
Apps to Learn Italian
HelloTalk
HelloTalk allows you to message, send voice messages, and call native speakers from any language. I really like HelloTalk because you can translate messages within the app. The native speaker that you are talking with can also easily correct your mistakes. I am a big fan of natural or passive language learning, and that is what you can get with HelloTalk.
HelloTalk is free to use, but they do have a premium version. In the free version, you are limited to the number of translations you can do per day.
Overall, I like HelloTalk. After some use, I became a bit bored with the conversations that I was having with native Italians because most of the conversations were very similar. If you find some interesting people to talk to, it can be a fun way to learn Italian.
Anki
Anki wasn't created for language learning, but many language learners use it today. It is a free and open-source flashcard program using spaced repetition, a technique from cognitive science for fast and long-term memorization.
I make flashcards in Anki for the words that I learn during my italki lessons, from books, YouTube videos, and language learning programs like Busuu and Babbel. Basically, any new words or phrases that I learn in Italian go into my Italian flashcard deck.
Within Anki, you can add pictures and audio to flashcards to help to learn the correct pronunciation of words.
Anki is free for Android, but the IOS version costs $25 for lifetime use (it's worth it). You can also use the web version of Anki for free.
Reverso Context
Reverso Context is my favorite translation app because it provides context and examples for the word that you are translating. This is great for more complex words and phrases, or you want to make sure that you are using the correct word for the sentence you are trying to say.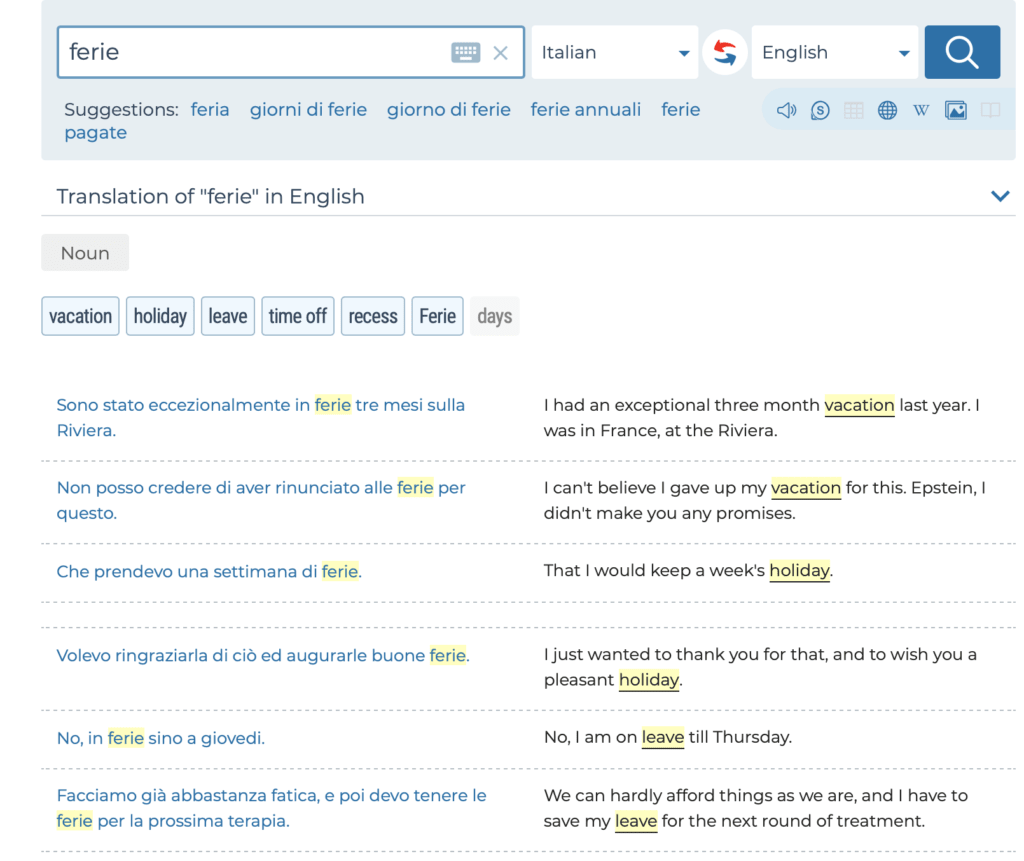 Change Your Phone Setting to Italian
Okay, this isn't a phone app, but it is on your phone. Around six months ago I decided to change the language on my iPhone from English to Italian. I tried this a few years ago when I started learning Italian in college, but it was too difficult for me at the time.
I don't recommend changing the language of your phone unless you are at least an intermediate in Italian.
Changing the language of my phone has allowed me to learn so many new words in Italian and see Italian at least a little bit every day.
Books to Learn Italian
101 Conversations in Simple Italian
101 Conversations in Simple Italian is actually only one story but broken down into 101 small chapters. This book is great for learning Italian because more difficult words are bolded, and then the English translation of the bolded words are given at the end of every chapter.
To be honest, I didn't really like the story very much and I definitely wouldn't recommend it if was only a book in English. I do think that this is a good book to begin with if you are interested in getting started reading books in Italian.
Short Stories in Italian
Short Stories in Italian was written by the same author as 101 Conversations in Simple Italian. The concept of Short Stories in Italian is similar except that this book has a few different stories where 101 Conversations in Simple Italian only has one story.
This book also has the bolded words and English translation at the end of each chapter. I'm also not a huge fan of the stories in this book, but this one might be slightly better since there is more of a variety of stories.
Harry Potter
The Harry Potter series can be a great way to learn Italian once you are an intermediate in Italian. I wouldn't suggest starting with Harry Potter if the previous two books that I mentioned are too difficult for you.
Harry Potter books get more difficult (and longer) as the series goes on. They can be helpful for language learning because you are able to read the more complex books as you improve your Italian.
I am currently reading through the Harry Potter series in Italian and I have been enjoying it so far.
YouTube Channel to Learn Italian
YouTube can be a great place to learn Italian. There are native speakers who make Italian language learning videos. Once you become more advanced in Italian, you can also find Italian YouTubers for different subjects that you are interested in.
If you are going to YouTube to learn Italian, it is important that you are watching videos in Italian. If you are watching a video in English about learning Italian then you aren't really learning very much Italian even if it feels like you are.
Learn Italian with Lucrezia
Learn Italian with Lucrezia shares a variety of Italian videos on YouTube from vlogs to grammar lessons to talking about Italian culture. She speaks at a pace that is easy to understand, and she only speaks in Italian.
Podcast Italiano

Podcast Italiano is more like a regular YouTube channel in Italian with some language learning thrown in. I enjoy the videos because they are entertaining to watch and you can learn more about Italian culture.
Marcello Ascani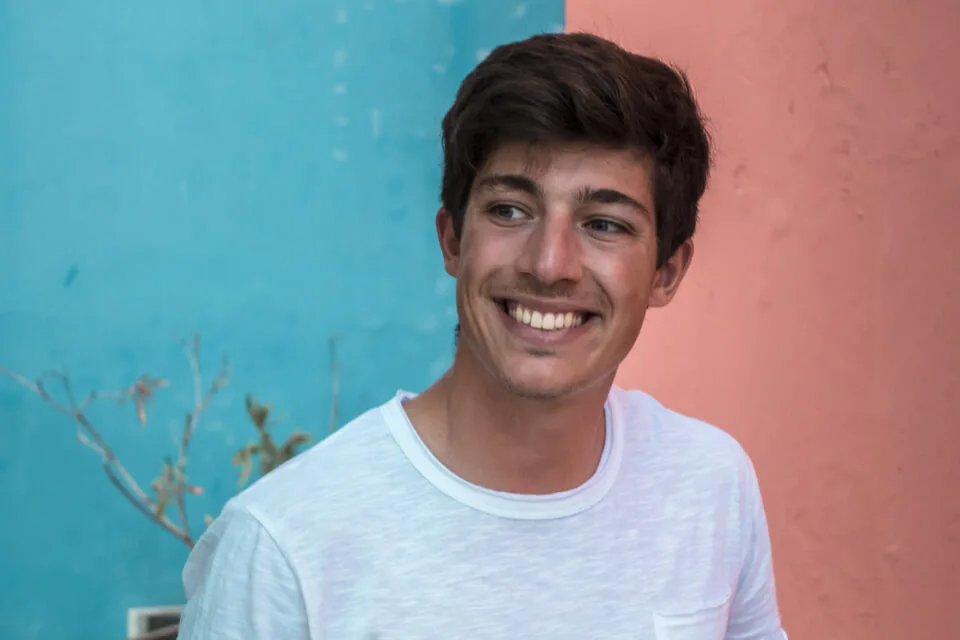 Marcello Ascani is NOT a YouTuber for learning Italian; he is just an Italian YouTuber. He makes YouTube videos about a lot of random topics. My favorite videos of his are his travel videos. I do NOT suggest watching Marcello's videos if you are new to learning Italian. He speaks very fast. I've even heard Italians say that he speaks fast for an Italian. Because he isn't an Italian language YouTuber, his videos also don't have subtitles in Italian. You can turn on the subtitles from YouTube, but I find that they are often wrong.
Project Happiness
Even though this doesn't sound like an Italian YouTube channel, it actually is. Project Happiness is not a YouTube channel for learning Italian, but I enjoy the videos because the man that runs the channel is an Italian who likes to travel. He sometimes speaks in English, especially in some of his travel videos, but most of his videos are in Italian.
Netflix
Once you become more advanced in Italian, a great and enjoyable way to improve your Italian skills is by watching Netflix in Italian. Almost all Netflix original series are dubbed in Italian, so all you have to do is change the language of the show that you are watching.
VPN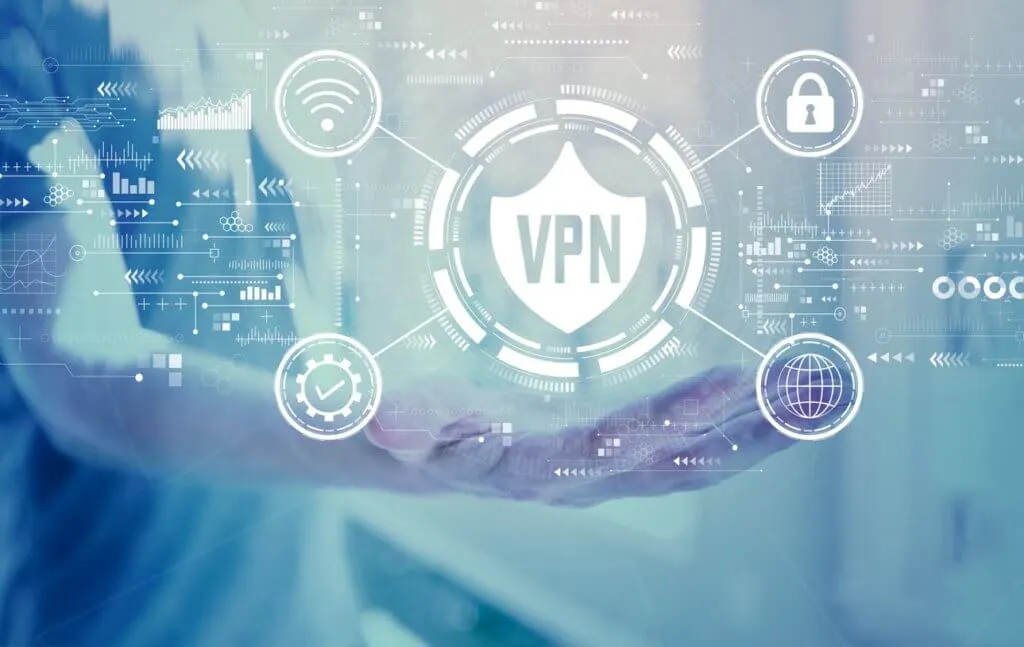 A VPN, Virtual Private Network, is an encrypted connection over the Internet that ensures sensitive data is safely transmitted. Not only is a VPN great for added security, but you can change your location to almost any country in the world.
Did you know that your Netflix selection depends on where you are in the world? If you use a VPN, you can easily change your location to Italy, and watch anything and everything that Italians can watch on Netflix.
My favorite VPN service is Express VPN.
Language Learning with Netflix
Language Learning with Netflix is a Chrome extension that allows you to study your target language while watching a Netflix show. I found this YouTube video to explain how the extension works.
---
Do you have a favorite book, program, or app to help you learn Italian that I didn't mention? Leave a comment below to let me know!
Read Next:
Pin for later…