Affiliate Disclosure: This post may contain some affiliate links, which means when you click, I get a small percentage of the purchase at no extra cost to you. This allows me to keep this website running, so feel free to click away! You can read my entire Affiliate Disclosure here.
Are you a vegan looking for an adventure? We've got the perfect list for you! From New York City to Tel Aviv, we've rounded up 16 of the best cities in the world that offer a variety of vegan-friendly dining options and activities that will make your travels hassle-free.
Whether you're craving some delicious plant-based cuisine or wanting to explore all that each vibrant city has to offer, these destinations are sure to please any traveler who loves both exploring new places and living according to their plant-based lifestyle.
Get ready because this list of vegan havens is brimming with exciting places where compassionate eats abound—so come along as we take a tour around the globe in search of some truly awesome havens for vegans everywhere!
16. Tel Aviv, Israel
53 Vegan Restaurants in Tel Aviv
One of the great things about eating vegan in Tel Aviv is that there are so many restaurants that offer vegan options. From cafes like Anastasia and Cafe Eva to an all-vegan sushi restaurant like Green Roll, you can find something to fit every budget and taste.
If there's one thing that makes Tel Aviv unique, it's the city's vibrant and colorful markets. You can find everything from fresh produce to homemade cheeses and pastries—all made with vegan ingredients. The Carmel Market is arguably the most popular spot in town for vegans. Here, you can find locally grown organic fruits and vegetables, as well as various prepared foods like falafel and hummus. If you want to experience some of the city's best vegan eats, then the Carmel Market is definitely worth checking out!
Where to Stay: Sheraton Tel Aviv is leading the way for veganism in Israel! This revolutionary hotel has partnered with Ori Shavit, a culinary advisor, and Dudi Sharon, an expert marketing strategist, to offer guests plant-based treats across all its food outlets – restaurants, bars & room service. Plus, you can enjoy delicious vegan dishes from their signature chef at Olive Leaf Restaurant or feast on fresh delights poolside at Deck 115.
Find out more: Check out Tel Aviv Vegan Food Guide – The Best Vegan Restaurants In Tel Aviv on My Adventures Across the World
15. Ho Chi Minh City, Vietnam
119 Vegan Restaurants in Ho Chi Minh City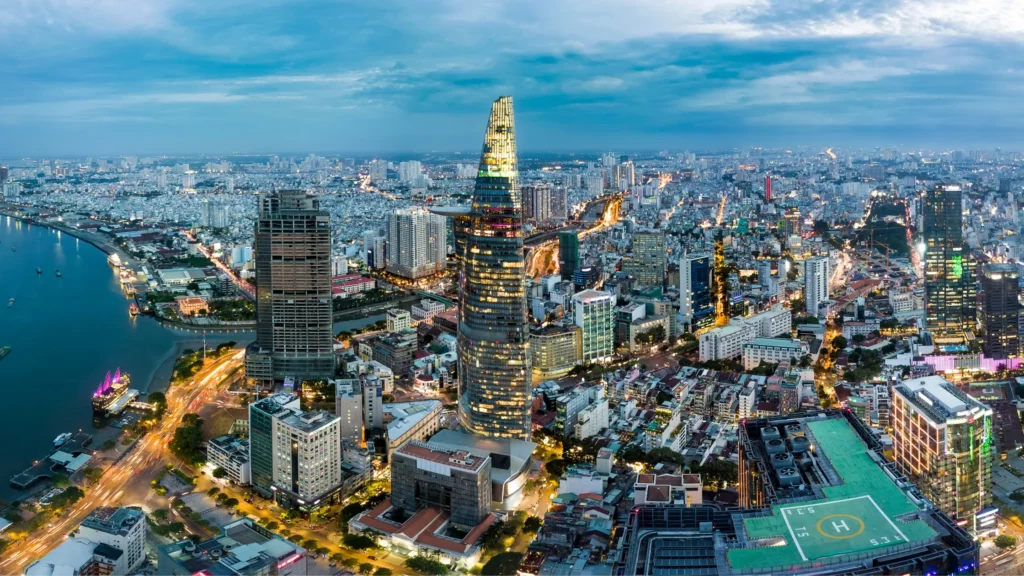 Vietnam is a country that does not typically come to mind when you think about vegan cuisine. But surprisingly, Ho Chi Minh City (HCMC) has an array of vegan options for plant-based eaters.
One of the great things about Ho Chi Minh City is that you don't have to go far to find delicious vegan food. Whether you're craving a traditional Vietnamese dish or something more exotic, you can find it at one of the many street food stalls scattered around the city. Be sure to sample some banh mi chay (vegan baguette sandwiches) and bun rieu cua (rice vermicelli soup). You can also explore one of Ho Chi Minh City's many markets and sample local specialties such as banh xeo (savory crepes) and nem ran (fried spring rolls).
Don't let traditional Vietnamese restaurants scare you away if you're looking for vegan options. Many of these places offer dishes that are already meat-free, such as spring rolls and pho noodle soup. However, be sure to check the ingredients list before ordering any dish; some may contain fish sauce or other non-vegan ingredients. If you're unsure what's vegan, ask the server for assistance!
If you're looking for more than just traditional Vietnamese dishes, there are plenty of vegetarian eateries around town that specialize in vegan fare. For example, Filthy Vegan offers a variety of western-style dishes, such as hot dogs and burgers, that are all made with 100% vegan ingredients. There is also Vegan Family Restaurant, which serves up traditional Vietnamese food with a twist – all without the use of meat or fish! And last but not least is Kashew Cheese Deli, which specializes in making cashew cheese and sells a variety of vegan sandwiches.
Where to Stay: Vegan guests staying at Villa Song can look forward to a relaxed dining experience with their tailor-made vegan menu featuring an array of both Western and Vietnamese cuisine. From light bites for breakfast to hearty lunches and sumptuous dinners – including delectable desserts – diners won't be disappointed by the variety on offer. Plus, they're free to order any time that suits them!
Find out more: Check out Vegan Guide to Ho Chi Minh City, Vietnam on Uprooted Traveler
14. Portland, USA
59 Vegan Restaurants in Portland, USA
Portland, Oregon, is the mecca for vegans across the United States. With its abundance of vegan restaurants, cafes, and bakeries, it's no wonder that so many people are flocking to the city to sample vegan cuisine from all over the world. From delicious vegan tacos to creative plant-based burgers, there is something for everyone in Portland's vegan scene.
Portland has an impressive array of vegan restaurants and eateries to please any palate. Whether you're looking for a light lunch or a five-course dinner, there's something for everyone in this foodie paradise. Some of the top vegan restaurants in Portland include Homegrown Smoker—which serves up delicious vegan BBQ—and Secret Pizza Society—which offers a variety of vegan pizzas. For those with a sweet tooth, Doe Donuts has some delicious vegan donuts.
In addition to its many restaurants, Portland also boasts an abundance of food trucks serving up plant-based fare from all over the globe. For example, Sushi Love truck specializes in sushi made with vegetables instead of fish, while Uncle Tsang's Kitchen serves up comforting Chinese dishes.
If cooking at home is more your style, you can find everything you need at one of Portland's many organic grocery stores. Food Front Cooperative Grocery stocks an extensive selection of organic produce, while Food Fight! Grocery carries high-quality vegan junk food.
Where to Stay: If you're looking for a truly unique experience while visiting Portland, then the Jupiter Hotel is a must. Located in southeast Portland, this boutique hotel offers 81 brand-new renovated motor lodge rooms. Not only that, but there's also another sister property located just nearby in case you need even more room – 67 at Jupiter NEXT! The hip, ever-changing aesthetic of these hotels always keeps guests coming back for something fresh and exciting. There are plenty of surprises waiting for the curious visitor – including the Doug Fir, one of the city's top live music venues located on site. So come to Jupiter Hotel and take in all southeast Portland has to offer!
Find out more: Check out Vegan Guide to Portland on Travel Portland
13. Toronto, Canada
94 Vegan Restaurants in Toronto
The city of Toronto is full of delicious vegan-friendly restaurants and cafes. From traditional vegan dishes to creative plant-based creations, there is something for everyone when it comes to vegan food.
The popular restaurant Fresh offers an entirely plant-based menu with a focus on healthy, organic ingredients. If you're looking for something hearty and comforting, be sure to try their tempeh Reuben sandwich or rice bowl.
If you're looking for something more casual, check out Urban Herbivore. This cozy cafe serves up classic comfort food with a modern twist – all plants!
Avelo is another fantastic vegan restaurant in Toronto that serves up creative takes on classic comfort food dishes. Whether it's their delicious black rice risotto or their scrumptious pumpkin gazpacho, there's something for everyone here.
Where to Stay: Shangri-La Hotel is an ideal staycation destination in Toronto; they offer five-star luxury with perfect proximity to the city's best sights and vegan restaurants. Besides quality accommodations, their restaurant serves vegan high tea in the late afternoon featuring a selection of treats like sandwiches and desserts.
Find out more: Check out Best Vegan Restaurants in Toronto: Ultimate Toronto Vegan Guide on Justin + Lauren
12. Taipei, Taiwan
122 Vegan Restaurants in Taipei
Taipei is a vibrant city full of delicious vegan dishes, from street food to high-end restaurants. Whether you're a long-time vegan or just getting started, Taipei has something for everyone.
There are plenty of restaurants and cafes in Taipei that serve up delicious vegan fare. From trendy health food spots like Plants to vegan dumpling takeaway restaurants like Lái Xīn SùShí, there are plenty of quality options for vegans looking for a tasty meal.
Where to Stay: Enjoy an unparalleled culinary experience at the Regent Taipei, renowned for its luxurious suites and 25 years of polished service. Dine in Silks House restaurant to feast on a tantalizing vegan set menu filled with Cantonese-Szechuan fusion flavors that will surprise your taste buds! Treat yourself today to one of the best meals you can find in Taipei city – no matter how picky a vegan foodie you may be.
Find out more: Check out Vegan Food Guide to Taipei, Taiwan on The Nomadic Vegan
11. Paris, France
96 Vegan Restaurants in Paris, France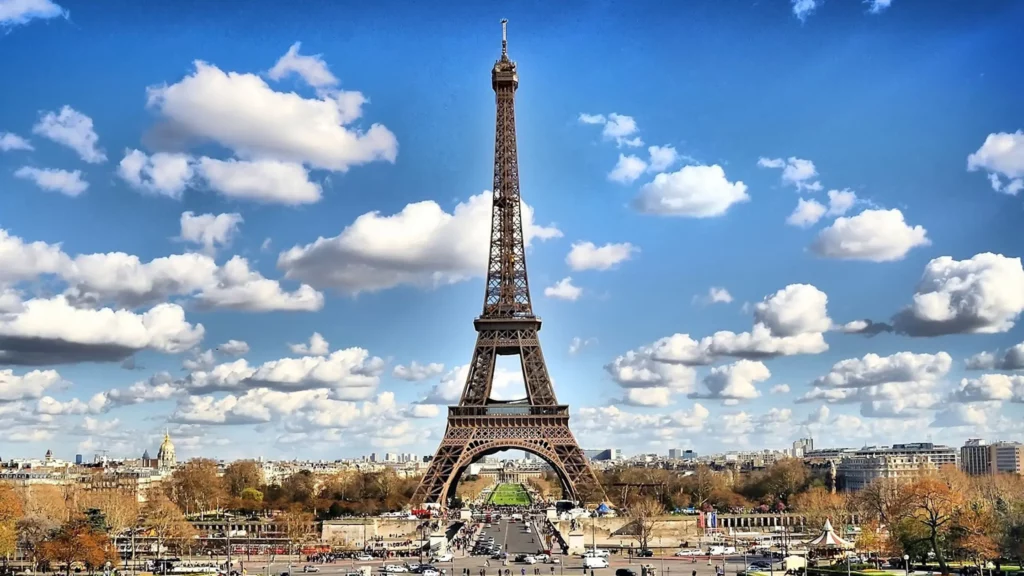 Paris is a city known for its culinary offerings—from crepes to croissants, and the best of French cuisine. But what about vegan food? While it may seem like an oxymoron to many people, there are actually plenty of vegan options to explore in Paris.
If you're looking for an upscale meal without sacrificing your animal-free lifestyle, there are several restaurants in Paris that offer plant-based dishes. For starters, try Le Potager de Charlotte. Here, you can find gourmet vegan dishes like rigatoni carbonara style and chickpea and rice pancake. For something a bit more casual (but equally delicious), check out Hank Burger. This spot specializes in vegan burgers made from fresh ingredients.
Paris has plenty of great snacks to choose from when it comes to vegan eats. If you're craving something sweet, head over to Land & Monkeys, where they bake up tasty treats like bread and cakes. For savory snacks on the go, grab some falafels at L'as du Fallafel.
Where to Stay: Shangri-La Paris is the epitome of luxury and stands as a testament to French standards of excellence. Enjoy three exquisite dining options, from classic L'Abeill's sophisticated cuisine in an enchanting atmosphere ideal for special occasions, Shang Palace's authentic Chinese delights or La Bauhinia, which showcases delectable fusion choices combining traditional French flavors with Southeast Asian influences! For early birds seeking something energizing and delicious, why not take advantage of breakfast at La Bauhinia – the vegan (and gluten-free) section will tantalize your taste buds with chia pudding, tapioca coconut pudding complemented by two plant milks and even a dairy-free soft cheese served atop fruit compote; all finished off perfectly by seasonal berries – Bon Appétit!
Find out more: Check out The Complete Vegan Guide to Paris on Devour
10. Barcelona, Spain
67 Vegan Restaurants in Barcelona, Spain
Barcelona, Spain, is a vibrant and colorful city where you'll find art, culture, and breathtaking architecture. This city has something for everyone—including vegans! Whether you live in the area or are just visiting, eating vegan in Barcelona is easy to do.
Barcelona is home to numerous vegan restaurants that offer traditional dishes with a plant-based twist. Some of the most popular vegan restaurants in the city include Santa Vegana (a cozy cafe serving sandwiches and pastries), Monchito (a vegan taqueria), and Blu Bar (known for its vegan pizza).
Where to Stay: Petit Palace Museum is in Eixample, a little bit above the Gothic Quarter, 10 minutes' walk from Placa Catalunya, which is the central point of Barcelona. The rooms have air conditioning and free wifi. In addition, the hotel has a roof terrace and it allows people to bring their dogs. This 4-star boutique design hotel advertises that it has vegan breakfast options on the breakfast buffet.
Find out more: Check out Vegan Barcelona: The Ultimate Guide to All You Need to Know on Vegan Word
9. Warsaw, Poland
57 Vegan Restaurants in Warsaw
Warsaw, Poland, is known for its cultural diversity and historical charm. But did you know it is also a great destination for vegans? While there are not many exclusively vegan restaurants, there are plenty of places that offer vegan-friendly options.
Try one of Warsaw's trendy plant-based restaurants, such as Vege Miastro or Lokal Vegan Bistro (serves traditional Polish food made vegan), or opt for one of the many international vegan eateries offering such as Edamame Vegan Sushi or Uki Green.
Where to Stay: Ibis Warszawa Stare Miasto is a modern and budget-friendly hotel. You can rely on it for a comfortable place to stay at an affordable price! It is located close to The Stare Miasto (Old Town), right by a tram and bus line. It also offers a breakfast buffet in the morning, which often has vegan options.
Find out more: Check out Your Guide to Vegan Warsaw: Where to Eat, What to Eat on Vegan vs Travel
8. Amsterdam, Netherlands
75 Vegan Restaurants in Amsterdam
Amsterdam is a vibrant city with plenty to offer, including an impressive selection of vegan-friendly restaurants and eateries. Whether you're looking for traditional Dutch cuisine or international flavors, the city has something to satisfy every vegan's palate.
Amsterdam is full of small cafés and eateries offering everything from sandwiches and salads to pizzas and tacos. Miami Burger is a fully-vegan burger bar serving traditional fast-food-type dishes. If you are looking for a vegan breakfast spot, make sure to check out Deer Mama. You can't go wrong with vegan sushi from Vegan Sushi Bar or vegan pizza from Mastino Vegan Pizza.
Where to Stay: De Bedstee capsule hotel is a boutique capsule hotel using traditional vintage Dutch 'box beds'. If you're looking for a vegan hotel in Amsterdam, De Bedstee is the best option, as it's 100% vegetarian and the only vegetarian hotel in the city.
Find out more: Check out 10 Vegan Restaurants to Visit in Amsterdam on Vegan Food & Living
7. Bangkok, Thailand
111 Vegan Restaurants in Bangkok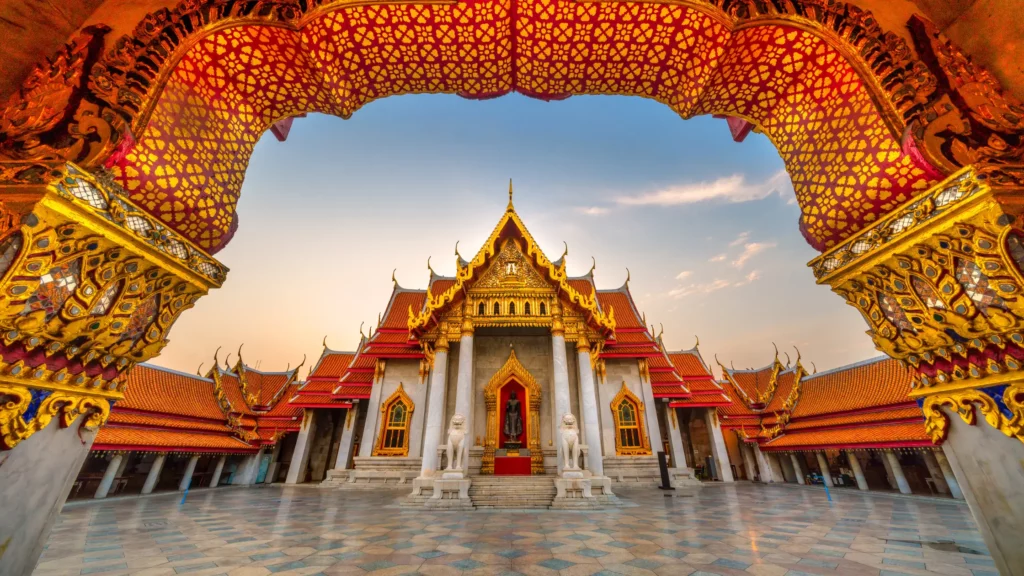 Bangkok offers vegans plenty of options when it comes to eating out. From classic Pad Thai and hearty curries to dairy-free ice cream and freshly made smoothies, there are dishes to suit all tastes and budgets. Many traditional Thai dishes can easily be made vegan by omitting the meat, eggs, and fish sauce, so even if the restaurant doesn't offer explicitly vegan dishes, they may still have something suitable for vegans on the menu.
Bangkok also has several dedicated vegan restaurants that serve up everything from pizza and burgers to sushi and ramen. Try Bonita Cafe and Social Club for an American-style cafe, Barefoot Bangkok for vegan burgers and lasagna, and Veganerie Concept for vegan waffles and pancakes. Looking for traditional Thai food turned vegan? Check out Mango or So Vegan.
Street food is another great way for vegans to explore local cuisine in Bangkok. Stalls selling fresh fruit, smoothies, and coconut milkshakes line many of the city's busy streets, while larger food markets serve up an array of plant-based dishes such as pad thai noodles and spicy soups. The key here is communication—if you speak Thai, then you'll have no problem letting vendors know that you don't eat meat or fish sauce—but if not, then it's best to stick with dishes that already appear vegetarian or vegan on the menu boards outside each stall.
Where to Stay: Na Vayla PaPlern is a vegan/vegetarian boutique hotel. The property offers a car park free of charge. It is conveniently situated in the Thonburi part of Bangkok and puts you close to attractions and interesting dining options. The famous Wat Phra Chetuphon is nearby. This 5-star property has many in-house facilities to improve the quality and joy of your stay.
Find out more: Check out Vegan Guide to Bangkok on Vegan Food Quest
Planning a trip to Thailand? I lived in Chiang Mai, Thailand, for 16 months as a vegan. Check out my Ultimate Guide to Vegan Restaurants in Chiang Mai, Thailand, and Vegan Cooking Class in Chiang Mai, Thailand.
6. Los Angeles, USA
152 Vegan Restaurants in Los Angeles
Los Angeles is a foodie paradise, and for vegan diners, it's no different. From trendy eateries to classic dives and everything in between, there are so many vegan options to explore in this sprawling city. Let's take a look at some of the best places to eat vegan food in LA.
Located on Melrose Avenue, Crossroads Kitchen is an upscale restaurant that serves gourmet vegan cuisine. Vegan crab cakes, lasagna, the impossible burger, artichoke 'oysters,' vegan cheese plate, and flatbreads are some of the food you can choose from. For dessert, you might have chocolate ganache tartlet, cannoli, hot fudge sundae, panna cotta, or berry tart.
If you're looking for Mexican-inspired vegan food, Gracias Madre is the place to go. This popular spot offers an expansive selection of tacos, burritos, quesadillas, nachos, and more—all made with plant-based ingredients.
At Vromage in West Hollywood, you can indulge your cheesy cravings without compromising your morals (or your health). The menu features a variety of delicious cheese platters made from nuts and vegetable proteins—as well as sandwiches and flatbread pizza—that will satisfy even the most discerning cheese lover.
Where to Stay: The Four Seasons Hotel Los Angeles at Beverly Hills has a special vegan wellness package. This includes a stay in a wellness room, organic juices, helipad yoga sessions, a group meditation class, and more. The hotel also has a plant-based menu with avocado gazpacho, blistered shishito peppers, roasted vegetable quinoa bowl with green tahini sauce, avocado toast with smoked tempeh, green herb tacos with housemade corn tortillas, kelp noodle pasta with pesto and crispy black olives, hibiscus strawberry cheesecake, and coconut cream pie with a macadamia nut crust.
Find out more: Check out the Comprehensive Vegan Travel Guide to Los Angeles on Veggies Abroad
5. Singapore
95 Vegan Restaurants in Singapore
Thanks to the city-state's vibrant culinary scene and its commitment to sustainability, there are plenty of vegan dining options available for everyone in Singapore.
Singapore is home to many restaurants specializing in vegan cuisine, ranging from fine dining establishments serving up gourmet meals to casual eateries offering quick bites. Some popular spots include VeganBurg, NomVnom Bistro, and Analogue Initiative. There are also plenty of vegan restaurants, such as The Kind Bowl, Gokul Raas Vegetarian, and Herbivore Japanese Vegetarian Restaurant, where one can enjoy tasty Asian eats without worrying about animal products being added to the mix.
Where to Stay: The Sheraton Towers Singapore is a great hotel with lots of vegan options. They have a fantastic vegan breakfast with pancakes, banana bread, granola, and more. You can also get vegan cocktails in the Towers Executive Lounge and dine at Li Bai, the Sheraton Towers Singapore's Cantonese restaurant. A stay here gets you a vegan banquet in the morning, but make sure to leave room for all the other vegan food on offer!
Find out more: Check out our Vegan in Singapore Guide
4. Melbourne, Australia
56 Vegan Restaurants in Melbourne
Melbourne is a city known for its vibrant culture and rich culinary scene. And for vegans, the city is an absolute paradise! From cafes to full-service restaurants, the vegan options are endless. Let's take a look at some of the best places to get your vegan fix in Melbourne.
Lord of the Fries began in 2004 when it first sold fries from a mobile van. Within one year, it had its flagship store. The company has expanded to include franchise stores across Australia and New Zealand. The menu offers vegan versions of fast food like burgers, hot dogs, nuggets, onion rings, and fries (chips) in addition to shakes, ice cream, and all-day breakfast foods.
Red Sparrow Pizza is a vegan pizzeria that has a lot of different kinds of pizza, salads, chips, dips, and hot drinks. They also have gluten-free options.
Cornish Arms has food for everyone, including vegan options! They have pub food like burgers and chips, as well as a separate vegan menu with items like pizza, faux chicken parmigiana, and falafel. They also have vegan specials like burgers, fish and chips, and BBQ.
Where to Stay: Ovolo South Yarra Hotel is a 123-room Melbourne hotel with retro glamour and disco charm. Its unique interior design is something right out of the pages of Vogue Living. From the free mini-bar to the rockstar 'Sonny and Cher' suite and the in-house vegan-friendly restaurant Lona Misa, your stay at Ovolo South Yarra will be anything but dull.
Find out more: Check out the Best Vegan Restaurants in Melbourne on Broadsheet
Planning a trip to Australia? Check out my guide to Eating Vegan in Byron Bay.
3. New York City, USA
200 Vegan Restaurants in New York City
New York City is one of the most exciting and bustling cities in the world. It also happens to be an excellent destination for vegan travelers! With a huge variety of vegan-friendly restaurants, cafes, and grocery stores, it's easy to find delicious vegan food no matter what you're craving. Here are just a few of the many vegan gems that NYC has to offer.
Beyond Sushi is a vegan sushi restaurant with six locations in New York City. It is famous for its unique roll combinations, noodle soups, dumplings, and more.
P.S. Kitchen is the ideal destination to treat yourself to a healthy yet delectable plant-based meal while also doing your part for charity. With its 100% profits going towards worthy causes that contribute to community building and sustainability, this socially responsible restaurant is sure to satisfy. The menu offers something for all occasions, from dinner's Maitake Steamed Bao or Orzo Alfredo to brunch's bottomless mimosas and tantalizing desserts. Delicious drinks such as creative cocktails are also available for a rounded-out evening of dining in style and with a conscience.
At Jajaja Mexicana, you can find the best Latin American fusion cuisine. With two locations – one in Brooklyn and the original in Chinatown – you can always find something delicious and authentic. Whether you're looking for classic empanadas, pupusas, tacos, or something a little more out of the box like kale pancakes or challah french toast, there is something for everyone at Jajaja. And don't forget about brunch! The menu features signature dishes like Chilaquiles that are sure to tantalize your taste buds and make for a truly enjoyable experience.
Where to Stay: Arlo Soho NYC is the answer to vegan travelers' dreams, offering thoughtfully designed and modern rooms that make it the perfect location for an unforgettable New York City adventure. Not only vegan-friendly, it is also eco-friendly, with initiatives like energy conservation programs and organic cleaning products. Plus, their vegan menu items include sausage breakfast sandwiches with Impossible and Just Egg, pasta Pomodoro, spiced cauliflower, and more! On top of all this, Arlo donates back to the community and provides guests with vegan and cruelty-free shampoo from Blind Barber in their rooms. It's no wonder Arlo is a favorite among vegan tourists seeking comfort and convenience during their stay in NYC.
Find out more: Check out A Vegan's Guide to New York City on Vegan Food & Living
2. Berlin, Germany
105 Vegan Restaurants in Berlin
Berlin, Germany, is known for its delicious traditional cuisine, but many vegans may not know that this city is also one of the best places to find delicious vegan food.
Berlin is full of amazing street food vendors who offer vegan-friendly options such as falafel, sausages, and doner kebab. Many vendors also offer plant-based burgers and salads. The most popular vegan street food dish is Currywurst. This dish is made with seitan (wheat gluten) which is spiced with curry powder and paprika and served with fries or bread. Another popular option is the Doner Kebab which features seitan "meat" slices on a pita or wrap with lettuce, tomatoes, pickles, and vegan sauces.
Berlin has a huge selection of bakeries and cafes where vegans can find sweet treats like cakes, cupcakes, and other baked goods. One popular bakery called Brammibal's Donuts offers an array of delicious baked donuts made without any animal products.
Where to Stay: The Almodovar Hotel is a vegetarian, organic, and eco-friendly 4-star hotel in Berlin. Located in the trendy Friedrichshain area, vegan vacationers can enjoy free wifi facilities and modern rooms. Double rooms even have yoga mats and beanbag chairs to further enhance relaxation time! There's also an onsite spa offering treatments, as well as a vegan breakfast buffet with vegan options such as vegan currywurst sausage and vegan croissants. Additionally, Bistro Bardot serves vegetarian food items, while Devozione provides vegan pasta dishes. Last but not least, this vegan hotspot has bicycle facilities, so there's no need to worry when sightseeing around Berlin. With all these vegan amenities available, travelers are sure to have a comfortable stay at the Almodovar Hotel.
Find out more: Check out the Berlin Vegan-Friendly Food Guide on Natalie Etc
1. London, England
202 Vegan Restaurants in London
London is one of the most vibrant, diverse cities in the world—and it's also home to a thriving vegan restaurant scene. Whether you're looking for a quick bite or a fancy meal out with friends, there are plenty of delicious vegan options to choose from throughout the city.
London has no shortage of fast-food eateries offering cheap, delicious plant-based meals. For an easy lunchtime treat, try Club Mexicana for their vegan chick'n wings and tacos, or head over to Temple of Seitan for some classic junk food like seitan hot wings and seitan burgers.
There are plenty of fantastic vegan restaurants where you can enjoy a full sit-down dinner with friends or family. One popular option is Mildreds Vegetarian Restaurant which has locations throughout London and offers both inventive veggie dishes as well as traditional favorites like curries and pasta.
London is also home to numerous grocery stores that cater exclusively to vegans or have plenty of vegan-friendly products on offer. Planet Organic has several stores scattered across the city where you can find everything from meat substitutes and dairy alternatives to healthy foods and organic produce. Another great option is GreenBay, which is a 100% vegan grocery store.
Where to Stay: Hilton London Bankside has a vegan suite that was approved by the Vegan Society. Everything in the vegan suite is vegan, from the pineapple leather furniture to the eco-friendly cotton carpet and vegan mini-bar. Vegans will also appreciate the vegan room service menu and vegan toiletries provided. As for dining, the hotel's restaurant serves a vegan menu, and vegan guests of the vegan suite are seated at a special 'vegan table', where every chair is upholstered with pineapple leather to ensure vegan standards are met in every department. So if you want more than just peace of mind on your travels, be sure to choose the vegan suite when you make your booking at Hilton London Bankside.
Find out more: Check out 44 of the Best Vegan Restaurants in London on Squaremeal
Methodology
The following factors were used to create this list:
1. The number of vegan restaurants near each city center
2. The number of vegan businesses (stores, bakeries, etc.)
3. The number of all restaurants (vegan, vegetarian, veg-friendly) listed on HappyCow
4. The number of vegan businesses per person in the area
5. How fast the vegan businesses are growing
Other Vegan Travel Guides
Here are some vegan travel guides from cities that I have personally traveled to:
Read Next: