Affiliate Disclosure: This post may contain some affiliate links, which means when you click, I get a small percentage of the purchase at no extra cost to you. This allows me to keep this website running, so feel free to click away! You can read my entire Affiliate Disclosure here.
Is La Roche-Posay Cruelty-Free?
La Roche-Posay is NOT cruelty-free.
Is La Roche-Posay Vegan?
La Roche-Posay is not a 100% vegan brand, and some of their products contain ingredients derived from animals.
What Is The Difference Between Cruelty-Free and Vegan?
Cruelty-Free means that the ingredients and final product have not been tested on animals.
Vegan means that a product does not contain any ingredients that are derived from an animal.
A product can be cruelty-free but not vegan, and a product can be vegan but not cruelty-free.
Is La Roche-Posay PETA Certified?
No, La Roche-Posay is not PETA certified.
Is La Roche-Posay Leaping Bunny Certified?
No, La Roche-Posay is not Leaping Bunny certified.
Is La Roche-Posay Owned By A Parent Company That Tests On Animals?
Yes, La Roche-Posay is owned by L'Oréal, a company that tests on animals.
L'Oréal brags about its success in the Chinese market in this article.
Animal Testing in China
Animal Testing is required by law in China for all foreign cosmetics companies. All American and European cosmetic brands that are sold in China must undergo animal testing.
Any brand that chooses to sell its products in China cannot be considered cruelty-free.
Even products that can bypass mandatory tests may still be pulled from the shelves by Chinese authorities to be tested on animals.
Is La Roche-Posay Sold In Mainland China?
Yes, La Roche-Posay is sold in mainland China.
Vegan and Cruelty-Free Alternatives to La Roche-Posay
Biossance
Biossance is a mid-range skincare brand that believes in pioneering sustainable beauty through biotechnology.

Youth to the People
Youth to the People is a high-end skincare brand that makes its products out of superfood ingredients.

Ghost Democracy
Ghost Democracy is a direct-to-consumer skincare brand whose mission is to make exceptionally clean skincare accessible to everyone. It's focused on a higher standard of clean and higher ingredient concentrations for results you can see, at a price that doesn't break the bank.

Herbivore Botanicals
Herbivore Botanicals was created by a husband and wife duo in their attempt to create plant-based, food-grade skincare from scratch.

Kypris
Kypris is a high-end brand that sells body care and skincare products. They launched in 2011 in the natural medical market serving physicians, their practitioners, and their patients before transitioning into traditional spa and retail in 2014. Kypris products are organic, wild-crafted, and sustainably grown.

Shop the full list of 100% cruelty-free and vegan brands.
Email to the Company
Before classifying any brand as cruelty-free and vegan, I send them an email with the following questions:
Are your products vegan? If only some are vegan, which ones?
Are any of your products or ingredients tested on animals?
Do you have a Leaping Bunny or PETA certification?
Do your suppliers or any third parties test animals on your behalf?
Does your company sell products in mainland China (except Hong Kong)?
Are you owned by a parent company that tests on animals?
Here is how La Roche-Posay responded:
The L'Oréal Group, which includes La Roche-Posay, is always attentive to respecting the personal choices of its consumers throughout the world and therefore offers a very wide range of products to meet their diverse beauty needs.
L'Oréal does not use any ingredient from rare or endangered animal species, nor any ingredient of porcine, bovine, or ovine origin; except lanolin (which is taken from live sheep). We use derivatives of raw materials of animal origin in restricted quantities, such as honey, beeswax, lanolin, as well as fish derivatives and poultry egg derivatives.
Save to Pinterest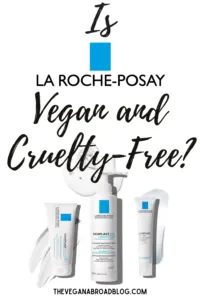 Read Next: