Affiliate Disclosure: This post may contain some affiliate links, which means when you click, I get a small percentage of the purchase at no extra cost to you. This allows me to keep this website running, so feel free to click away! You can read my entire Affiliate Disclosure here.
Are you planning a trip to Nice, France and want access to delicious vegan meals? Look no further! In this blog post, we will explore some of the best places to find tasty vegan food in Nice. So grab your passport and get ready for a culinary journey around one of the most beautiful cities in France!
Koko Green
With all 100% plant-based dishes on its menu, Koko Green offers endless delicious plant-based meal options as well as flavor combinations of international fusion dishes to tantalize your taste buds. I ordered the vegan nachos and a side salad. Their loaded vegan nachos are served with an array of toppings that bring excitement to traditional flavors and allow them to shine without the addition of animal products. The side salad was average.
Utopia
Utopia has taken vegan cuisine to the next level! As an Italian restaurant, they offer all the classic dishes you know and love, such as pizzas, pasta dishes, and burgers. But with a twist: everything's vegan. On my visit, I decided to try their vegan cheese board and creamy vegan carbonara. To say it was delicious just doesn't come close to doing them justice; every bite was just perfect! I would order both dishes again without hesitation.
Paper Plane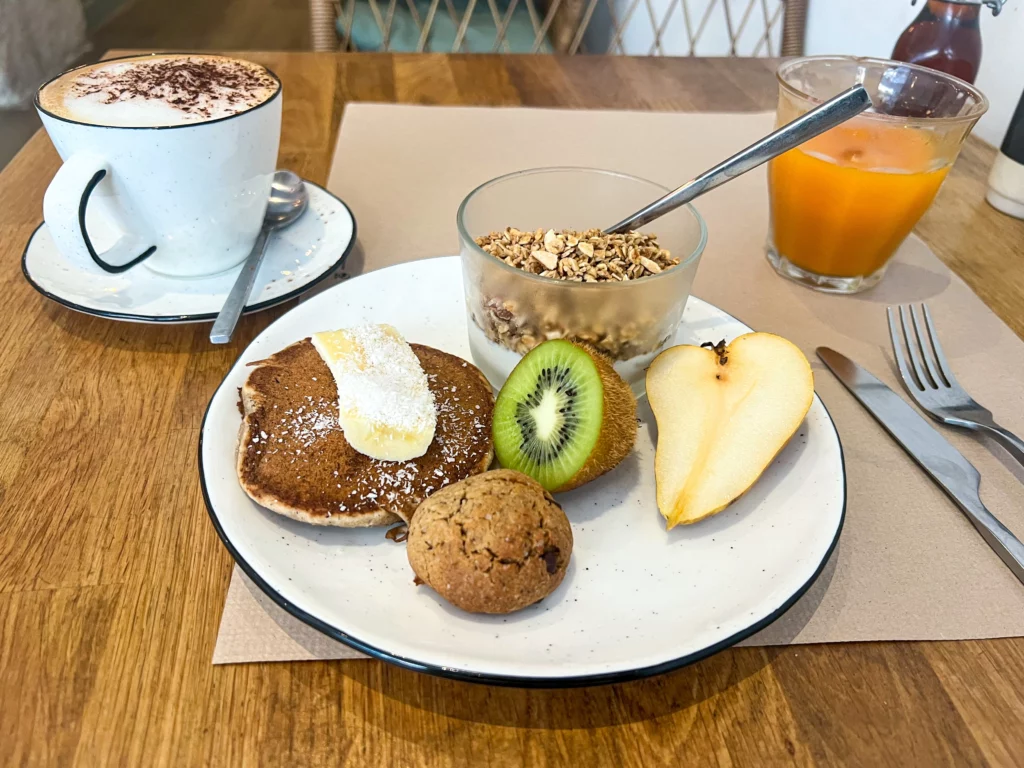 Paper Plane was established in 2015, and its modern decor, including hanging plants and bamboo, gives it a Mediterranean feel. Every week their menu changes featuring items like avocado toast, bao buns, and vegan Thai curry. Though most of their menu is vegan, they still offer eggs as an option for breakfast or brunch.
On my visit on a Sunday, they only had a set savory or sweet vegan breakfast available. I ordered the sweet breakfast that included a pancake, yogurt, fruit, and a cookie. The food was quite nice, but I wish they had more options available.
Oakberry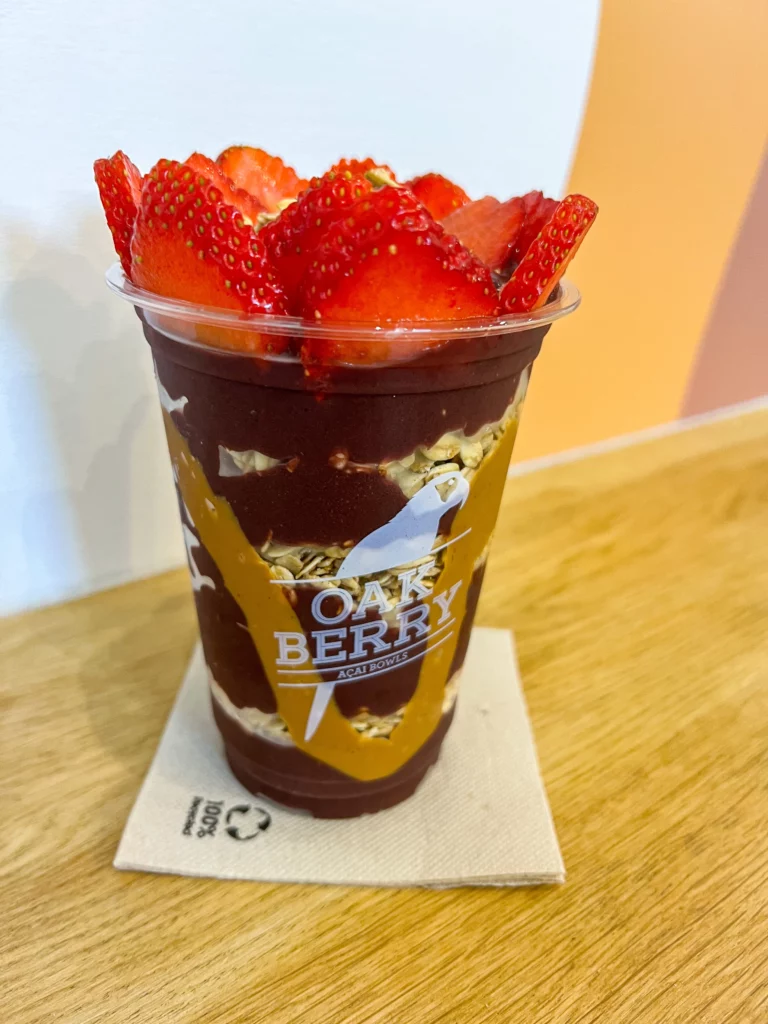 Oakberry is the perfect spot for an energizing and delicious snack or meal. Their menu boasts Açaí bowls featuring the freshest vegan ingredients and toppings like fresh fruits and cereals. Not only do they create a nutritious bowl, but they also make sure to include flavors that everyone will enjoy. With every bite, you are sure to taste the satisfaction of eating a balanced and healthy dish.
Amour Patisserie Vegetale
For vegan and organic lovers alike, Amour Patisserie Vegetale is the perfect solution for a sweet and savory treat! Established in 2018, this pastry shop and café offers a wide array of goodies: 6 to 8 kinds of vegan cakes are available each day, as well as vegan cookies, pastries, breakfast dishes like vegan pancakes and vegan omelets, avocado toast, and many more. Every item served is gluten-free and organic – an ideal spot for a healthy brunch or snack. With its rotating lunch options, sweet treats galore, and vegan comfort food cravings sure to be fulfilled, Amour Patisserie Vegetale is one place not to miss out on!
Caju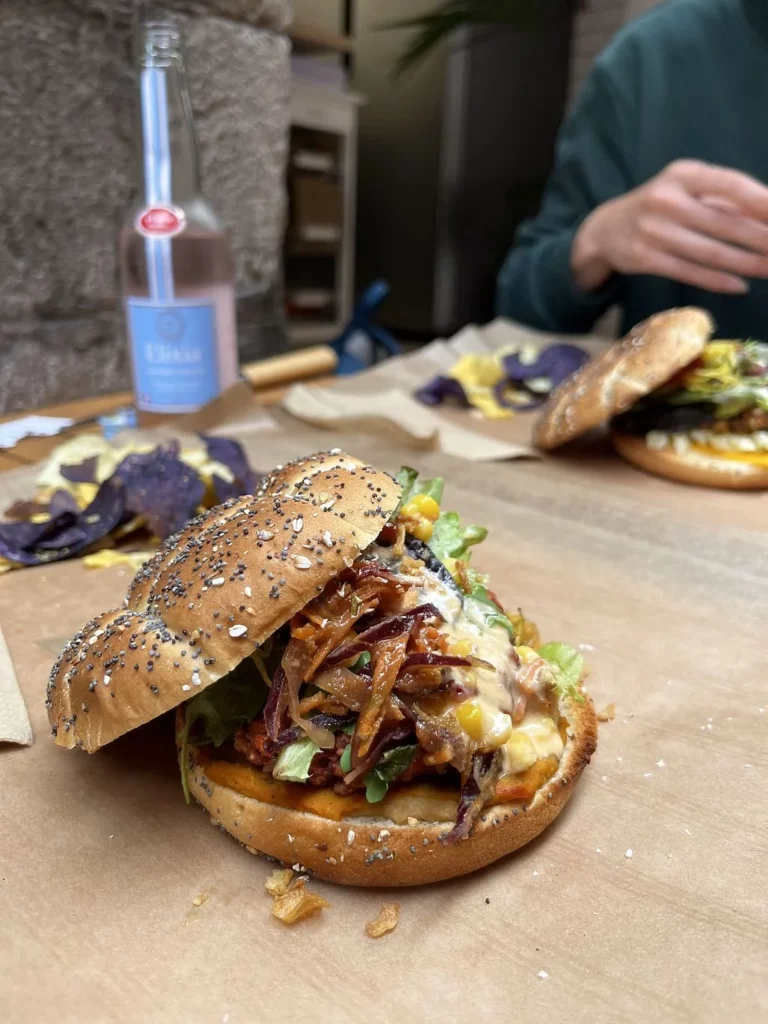 From vegan burgers to smoothies and vegan cakes, Caju offers vegan cuisine that celebrates flavor as well as ethics. Diners eat in a small but welcoming café space, enjoying delicious vegan meals from start to finish. The vegan menu items come packed with taste that's difficult to find anywhere else.
La Dame au Cerf
La Dame au Cerf is a vegan cafe and retail store that offers guests a unique experience to nourish their bodies with vegan food. From daily changing lunch and dinner dishes, vegan-friendly alcoholic beverages, a dessert corner, and even vegan bulk produce, this vegan haven has it all! Not only do they offer delectable vegan dishes, but also provide customers with vegan books to continue the journey of exploring veganism outside the restaurant. With its range of vegan options available both on its menus and retail section, La Dame au Cerf is sure to satisfy those vegan cravings.
Not Dog
Not Dog is a vegan restaurant that offers vegan hot dogs made with house-made ingredients, including their signature vegan bread. They also serve beer and other vegan refreshments.
The Healer
The Healer is a vegan-friendly juice shop ready to provide you with all of your health needs. Freshly cold-pressed juices, smoothies, raw cakes, and grab-n-go light food in the fridge make for a quick and nutritious meal or snack whenever you need it most.
The Best Resources For Traveling To France
Read Next: