Affiliate Disclosure: This post may contain some affiliate links, which means when you click, I get a small percentage of the purchase at no extra cost to you. This allows me to keep this website running, so feel free to click away! You can read my entire Affiliate Disclosure here.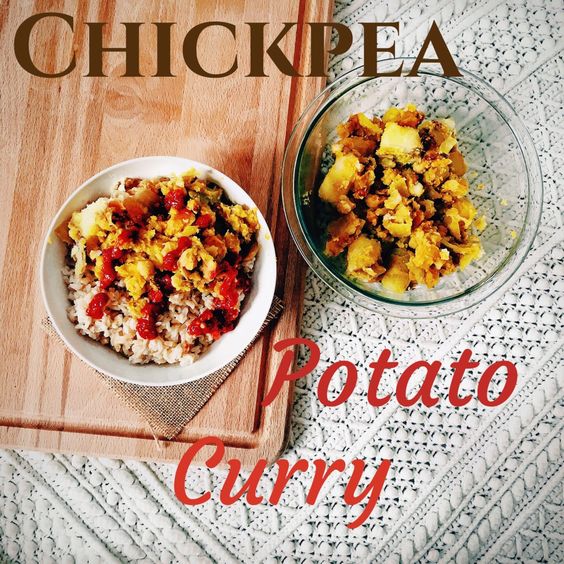 Confession time: I am currently in Milan, Italy for the semester. Before I left I made enough recipes to post for the few months that I will be here so this blog wouldn't be a graveyard. This meal is one of the last meals that I made before I left, and is honestly one of the best. Since I have been in Italy I keep on thinking about this meal, and how I can't wait to make it again once I return home in June. It's potatoes, chickpeas, and rice. Literally three of my favorite foods. The food in Italy is amazing, but I will just have to continue dreaming about this meal until I return home.
Chickpea Potato Curry
Ingredients
2 medium-sized potatoes
½ onion
1 clove of garlic
½ can of chickpeas
1 chopped tomato
½ cup nut milk of choice (I used almond milk)
½ tbsp. ground cumin
½ tsp. ground ginger
½ tsp. turmeric
½ tsp. curry powder
pinch of cayenne pepper
Instructions
Cut the potatoes into bite-sized pieces, and boil them until cooked through (about 20 minutes).
Dice the onion and garlic and cook in a pan with water until translucent.
Then add the spices and cook about 1 minute
Add the diced tomatoes and nut milk.
Stir for a few minutes and then add the potatoes and chickpeas.
Let it simmer over low heat for about 10 minutes.
Serve with brown rice. I also topped mine with chili garlic sauce to give it a little kick.
Related Posts