Affiliate Disclosure: This post may contain some affiliate links, which means when you click, I get a small percentage of the purchase at no extra cost to you. This allows me to keep this website running, so feel free to click away! You can read my entire Affiliate Disclosure here.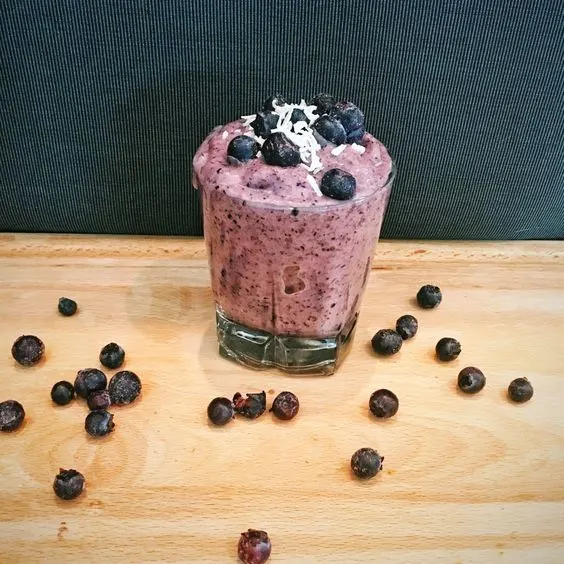 Since I have been in Italy, I have only had a few smoothies because I don't have a blender in my apartment. The first one that I had was an extreme disappointment. I was at the airport with my friend on the way to Copenhagen, and we decided to stop at a juice bar for some breakfast. I was so excited for my smoothie because at this point in time I hadn't had a smoothie in over 2 months! All of the smoothies were made with yogurt so I asked the cashier if I could get a blueberry smoothie made with water instead of yogurt. When I got the smoothie it was hands down the worst smoothie that I had ever had in my entire life. I guess the yogurt was what was supposed to make the smoothie cold, so when I asked for my smoothie to be made with water they never added any ice. It was warm and disgusting!
Luckily, that smoothie is the complete opposite of the smoothie recipe that I am sharing with you today. This Blueberry Banana Superfood Smoothie is bursting with flavor, is nice and cold, and has a ton of delicious nutrients that your body will love.
Blueberry Banana Superfood Smoothie
Ingredients
1 cup frozen blueberries
1 frozen banana
4 soft pitted dates
1 tbsp. chia seeds
1 tbsp. flax seeds
1 tsp. vanilla bean paste
⅓ tsp. cinnamon
1 cup almond milk
Instructions
Add all ingredients to a blender and blend until smooth.
Related Posts